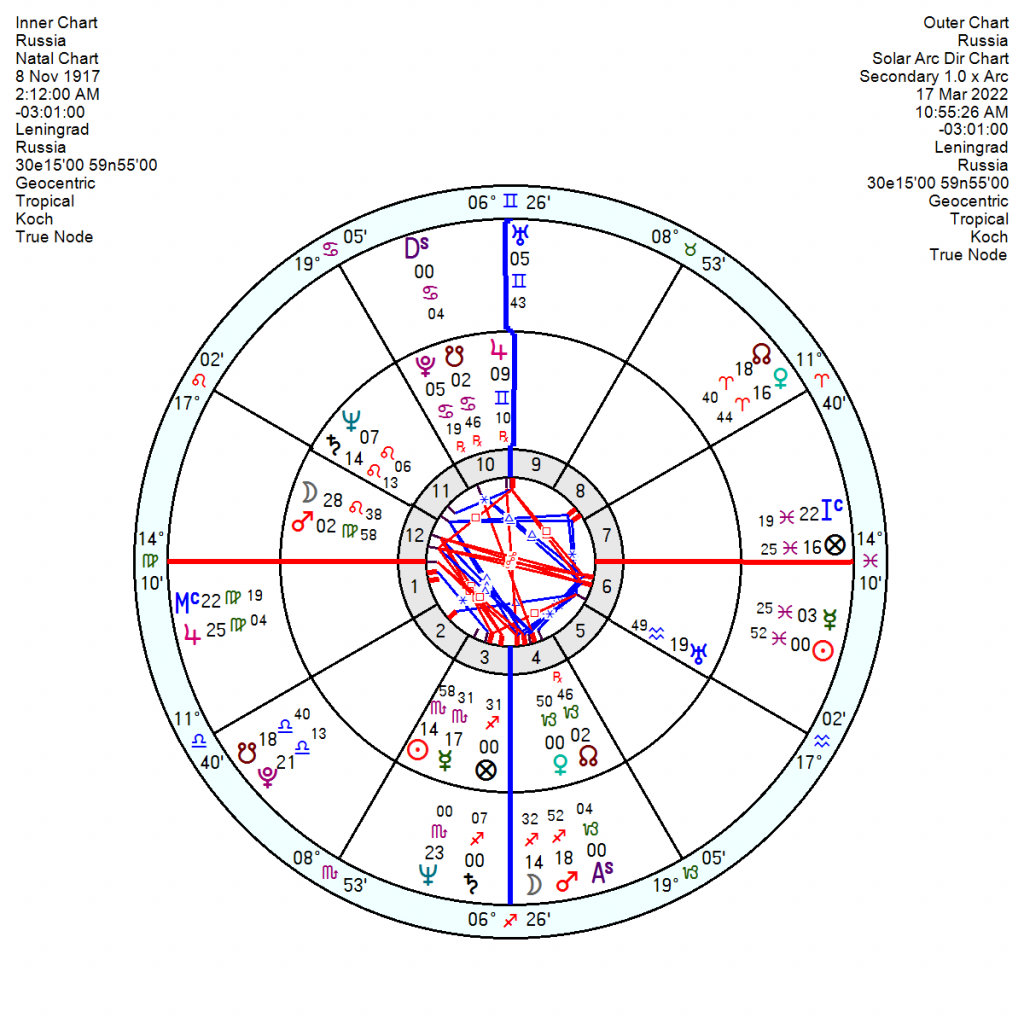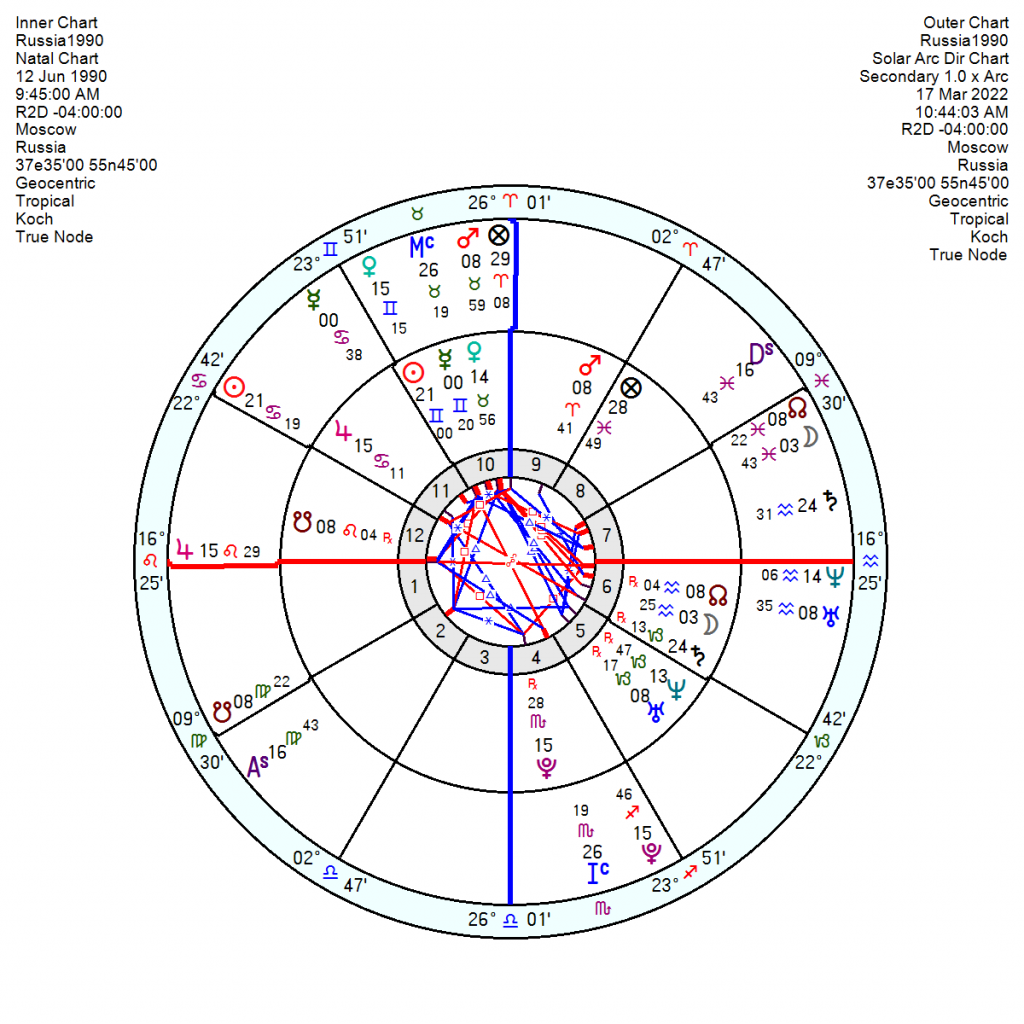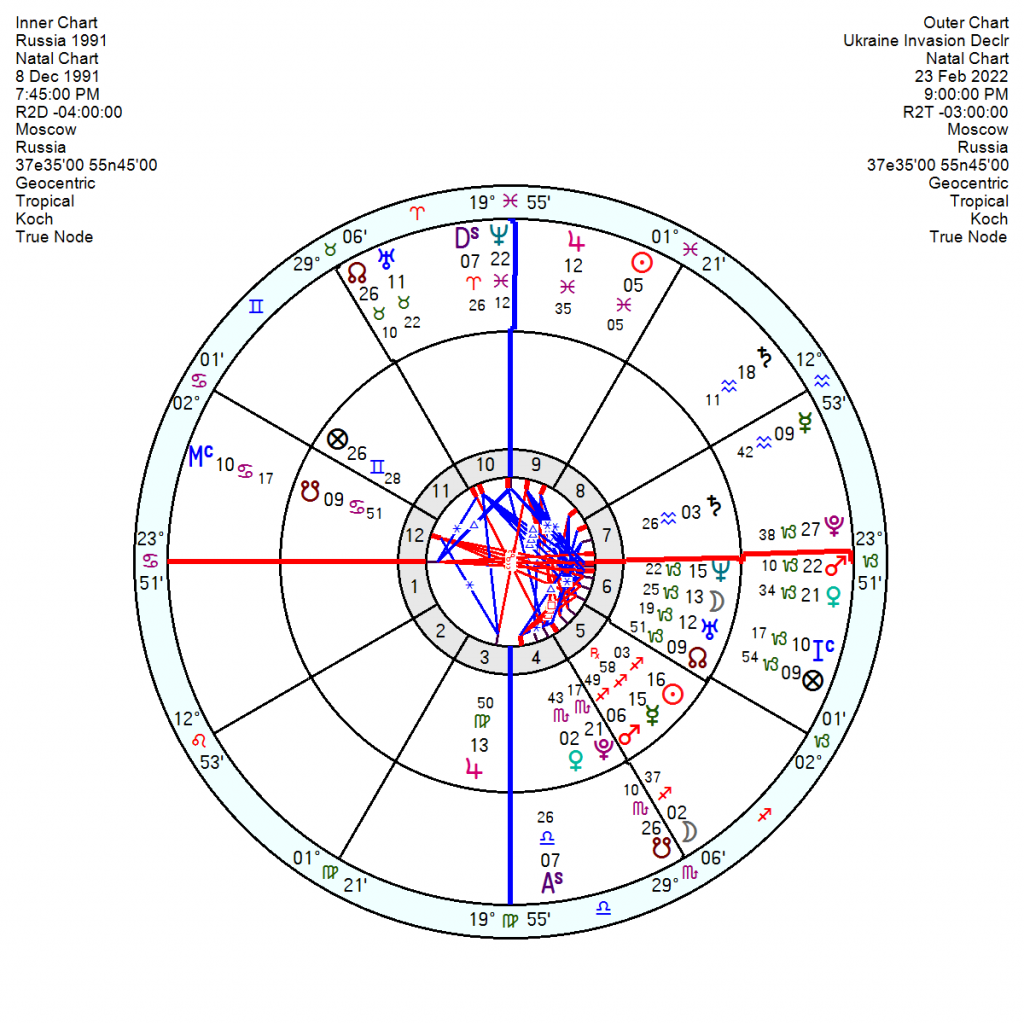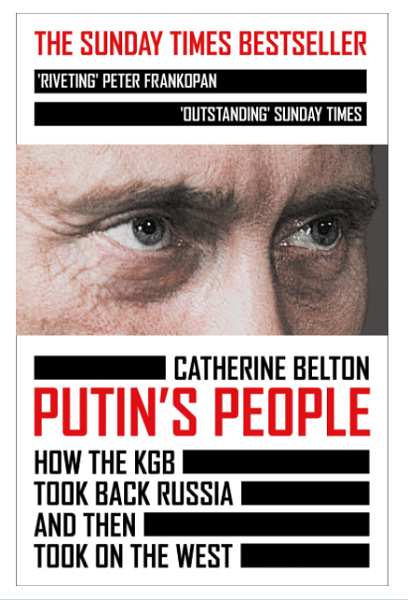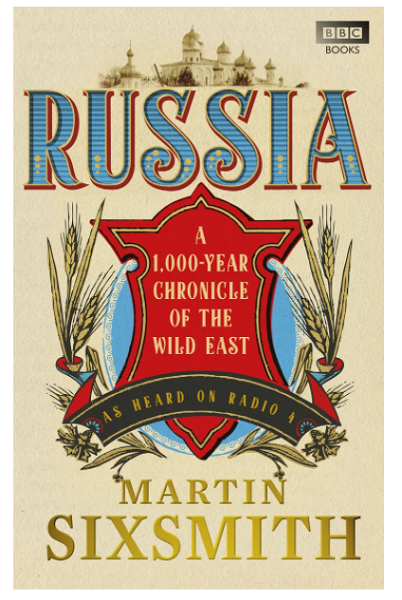 Nailing down the definitive chart for modern Russia isn't easy in the chaos which followed the collapse of the USSR. Astrologers argue endlessly and often bitterly that one symbolic moment means more than another. Since working charts have to be just that – produce illuminating answers – I tend to ignore pronouncements about which start date makes political or historical sense and check subsequent events against a range of charts to see which works best.
Not surprisingly key moments in a country's history will share astrological similarities to earlier incarnations in the same way that an individual's chart will highlight lifechanging moments in future years. So where there are charts erected for different times in a country's history, they often have and should have markers which echo the earlier ones. On the whole older charts work better than more recent ones though there's no rationale for that.
The revolutionary Russia 8 November 1917 2.12am chart is fairly established and makes sense with a 14 degree Scorpio Sun square a 14 degree Saturn in Leo opposition 1 9 degree Uranus in Aquarius. When the Russo-Afghan War ended in ignominy in 1989, followed by the collapse of the USSR, tr Pluto was then in mid Scorpio conjunct the Russian 1917 Sun and square Saturn.
At the first Chechen War, 11 December 1994, the tr North Node was conjunct the Russia Scorpio Sun; at the second Chechen War, 26 August 1999, tr Uranus was square the Scorpio Sun with tr Pluto crossing the IC into the 4th house.
The Beslan School siege of 1 September 2004 which was a humiliating debacle ending in over 300 dead, occurred when tr Neptune was square the Scorpio Sun. Ten years on Putin grabbed the Crimea when tr Pluto was crossing the Russia 1917 10th house conjunct the Pluto – successful and consolidating power. This Ukraine invasion occurred when the tr Saturn at 18 Aquarius square tr Uranus at 11 Taurus was triggering the Fixed T Square on the 1917 chart.
The two modern charts mainly used are 12 June 1990 9.45 am Moscow and 8 December 1991 7.45 pm Moscow.
The 1990 chart is appealing since it has Pluto at 15 degree Scorpio exactly opposition Venus in Taurus which was impacted during both the start of both Chechen Wars, the Beslan siege and this Ukraine invasion.
Though the 1991 chart does have its merits with indicators during both Chechen Wars, Beslan and Crimea.
Start times which set the chart axis and houses positions are almost as tricky as dates but for the ones which seem to be accepted – the 1990 chart with a 9.45am time has tr Pluto square the Midheaven this year which is often a damaged image and lack of progress; with the Asc/Desc axis as well as the Solar Arc Neptune (Uranus) catching the high-tension, erratic tr Saturn square tr Uranus.
The 1991 8 December 7.45pm Moscow chart has tr Neptune just into the 10th having crossed the Midheaven which suggests an undermining of career ambitions for years ahead; with the tr Mars Pluto which kicked off the conflict crossing the Descendant into a hostile-relations-with-neighbours 7th house. The Solar Arc Neptune, Moon, Uranus are also now in mid Aquarius catching the tr Uranus square tr Saturn.
The 1917 chart has its Fixed T square of Sun square Saturn opposition Uranus being tossed this way and that by the tr Saturn square tr Uranus – and that extends through 2023 as well. Followed by a major series of setbacks in 2024 as the Solar Arc Sun square Saturn collides with the 1917 Mars.
The point to watch in the immediate future is when tr Uranus gets to 14 degrees Taurus April 24th to May 8th and again in January 2023. That seems to be a sensitive degree for triggering significant events.
When Uranus was last in Taurus in the late 1930s, this degree in 1938 oversaw the tail end of Stalin's Great Purge to brutally eliminate dissenting members of the Communist Party. Experts believe at least 750,000 people were executed between 1936 and 1938. By the time Russia invaded Poland in 1939 tr Uranus had moved to 21 degrees Taurus.
 Apologies to non-astrologers for the welter of stats but it was supposed to clear my thinking on which chart was best. Which it hasn't.  They all reflect events ongoing so you can take your pick.   
Add On: An individual has a set birth chart which can't be swapped in for a 'nicer' or luckier one. When a person does not recognize parts of their personality from their chart I  put it down to lack of self-awareness; and when transits/progressions don't appear to be mirrored in life events, as an astrologer I would dig deeper to find out what has been going on. The explanation is almost always there somewhere. Many people do not live their chart out to its fullest potential which is why certain traits/talents lie hidden. For a tiny minority the birth date may be wrong but that would be rare. An individual birth chart is what it is and is not a matter of choice.
  Countries do not have a cut-the-umbilical-chord moment, apart from Israel for example. Unification dates can be sound, when smaller entities come together under one broad umbrella as happened with many European countries.
Ancient countries will have several reincarnation moments, though they have to be treated with caution. South Africa for instance would have been better pleased to wipe the past clean and be reinvented in 1994, but that's like saying you can have a new birth chart after you divorce from a bad marriage. Often sentiment or wishful thinking points to a cherished symbolic rebirth date. But that does not mean it coincides with the deeper reality of the country's journey and new identity.
  Astrology has to work otherwise there would hardly be any point in it. So in trying to establish a new start date for  country the only sensible approach is to test alternative dates. For example with modern Russia from 1917 and circa 1990 – plot the astrological influences of major events like the Soviet breakup in 1989, two Chechen Wars, a disastrous school siege and the annexation of Crimea. 'Picking' one chart rather than others is not a matter of whim but of seeing which resonates to the destiny of the nation.   
  The Russia 1917 chart for example had tr Pluto conjunct the Scorpio Sun when the USSR broke up – which is a classic civil war indicator or accompanies a phase of destruction and reconstruction. I recollect Liz Greene pointing ahead to a split-up exactly like this some years before. The events of the late 1930s and more recent times are also flagged up which would suggest it is a chart that divulges pertinent information about the past, present and future.
None of this is easy or clear cut. The 2001 Gujarat earthquake which killed 30,000 showed most clearly on the India 1877 chart, which was unification under Queen Victoria, the old Raj rejected after Indian independence in 1947 when it split from Pakistan. The quake also showed up in the modern 1947 chart but not as prominently.
 The coronavirus pandemic did not register markedly on the China 1949 chart but did on the 1912, end of the Chinese Imperial dynasty chart, which predates the split with Taiwan. What does this imply?  I have no idea. With astrology you sometimes have to observe and stick a post-it note on the question mark whiteboard. And keep tracking both or several charts though it is irksome.
Astrology is an ongoing learning-in-progress,