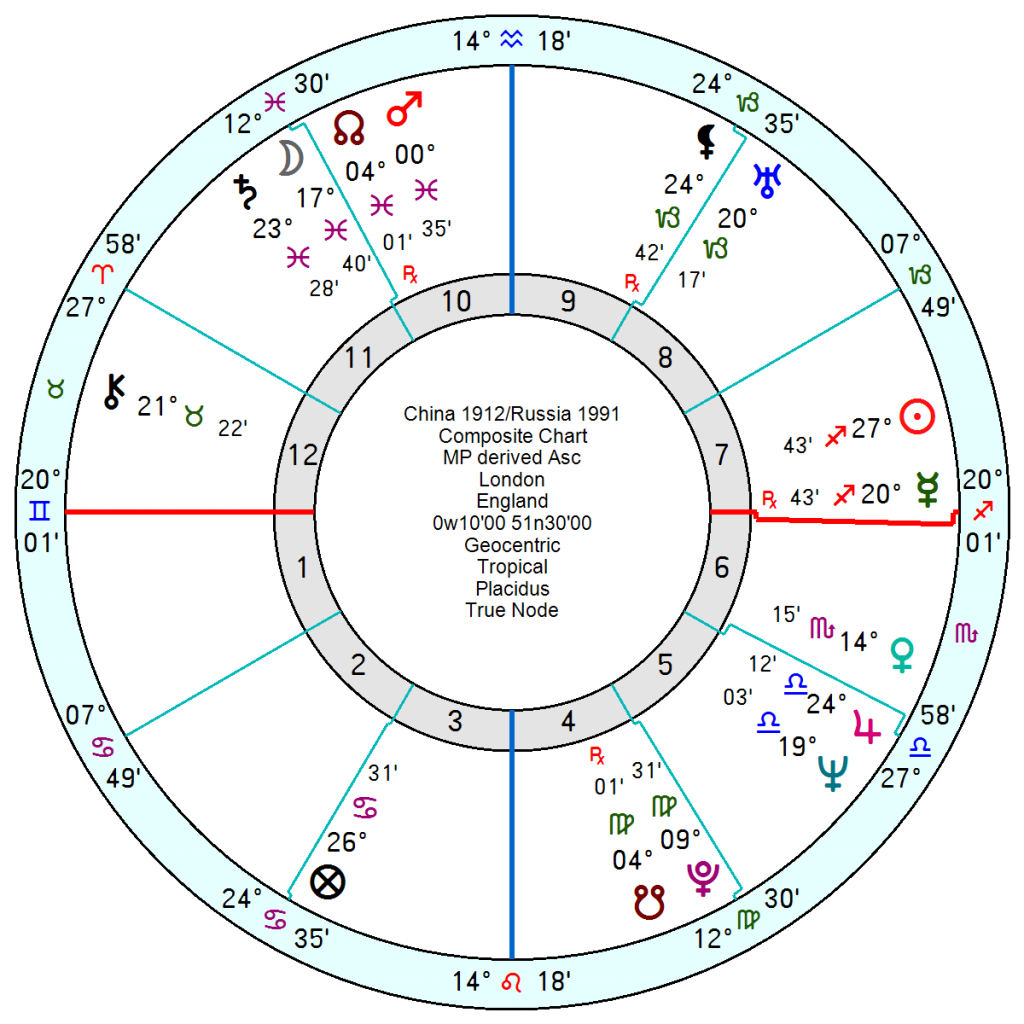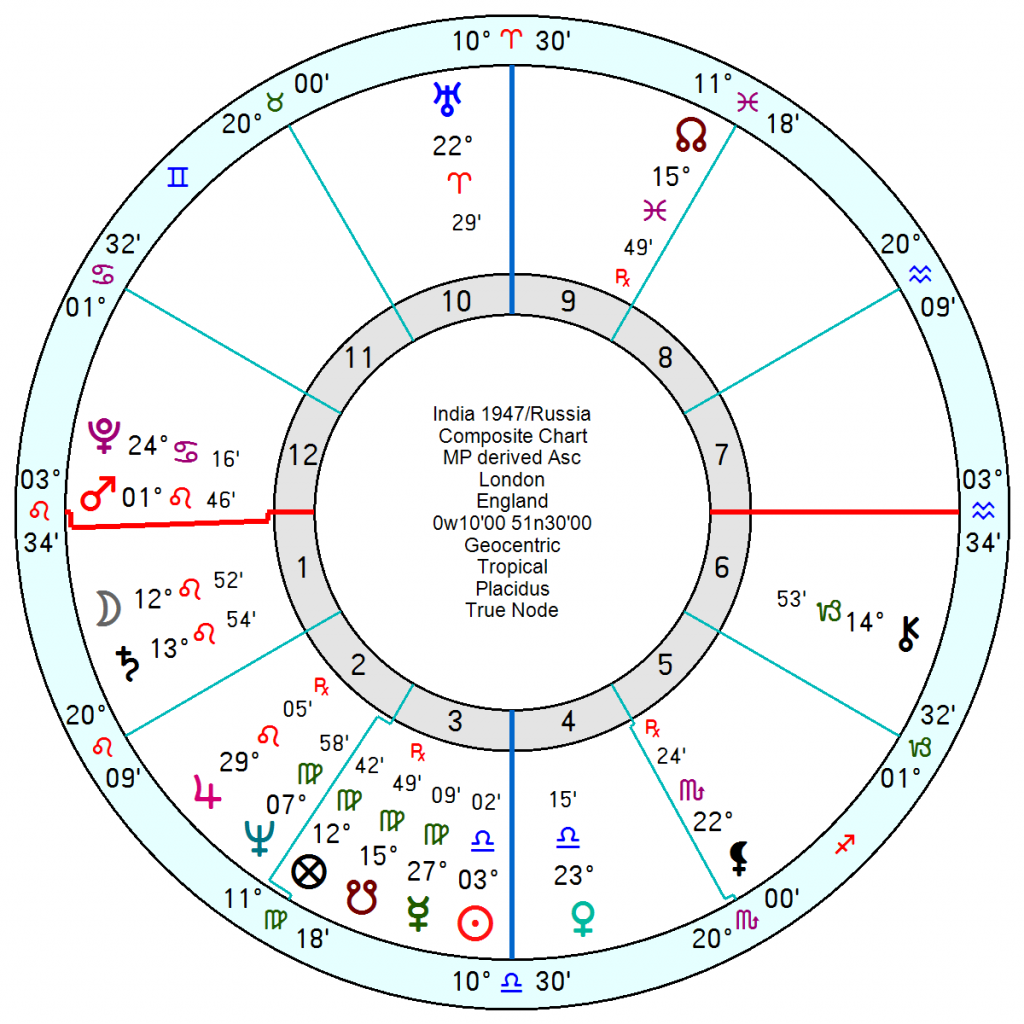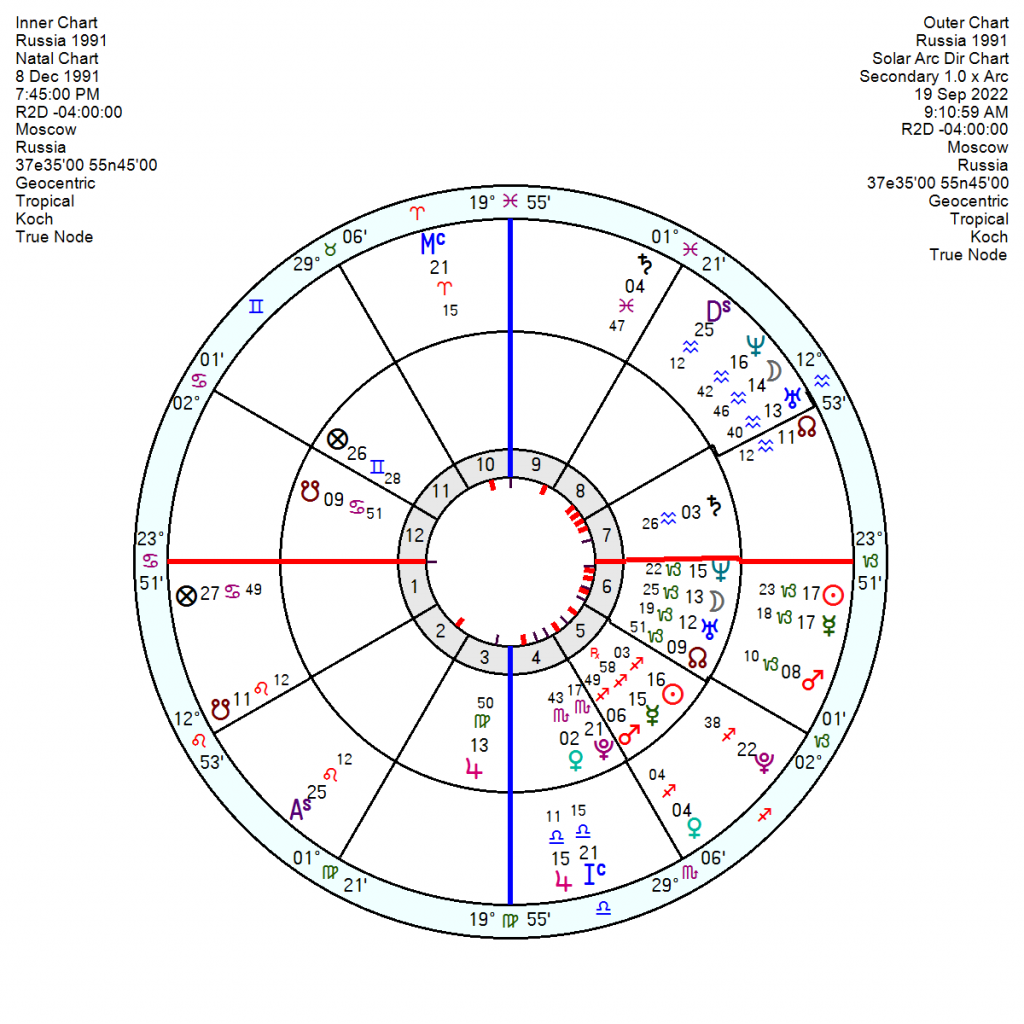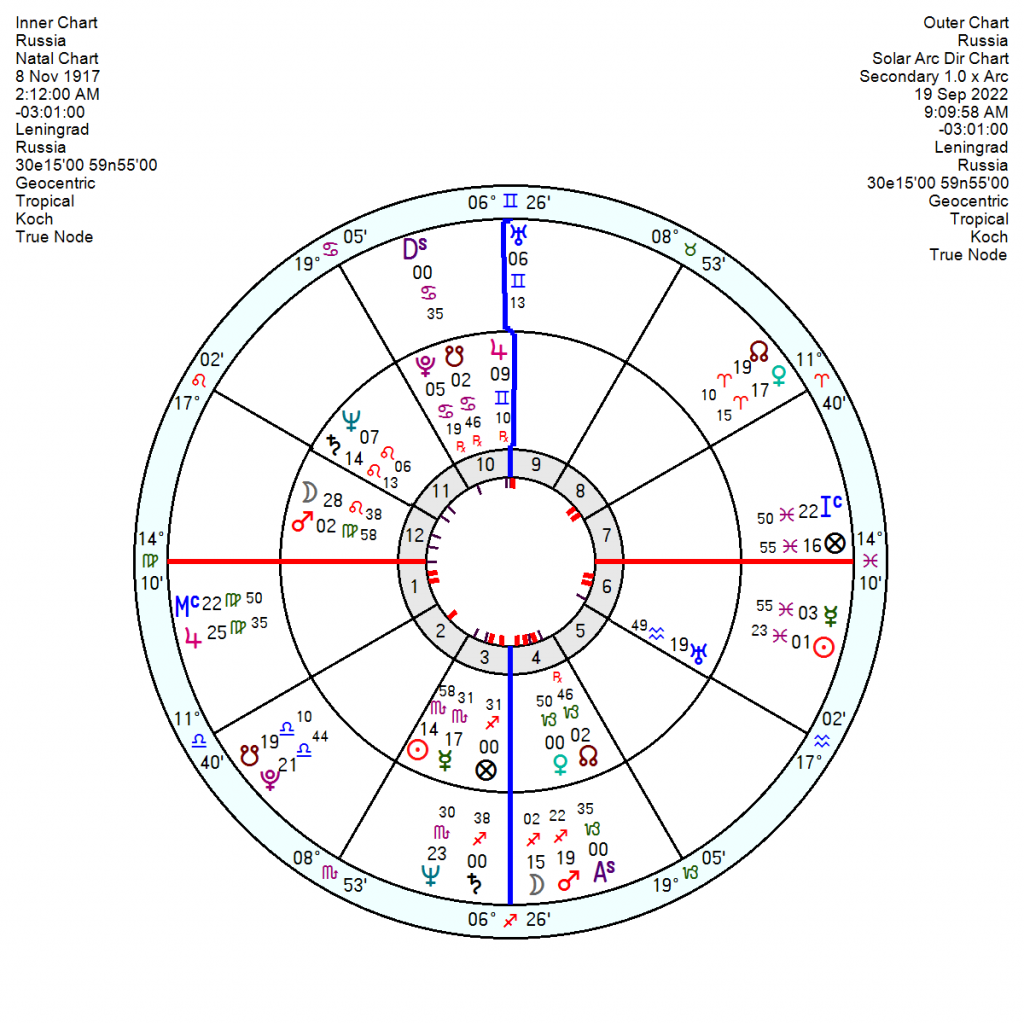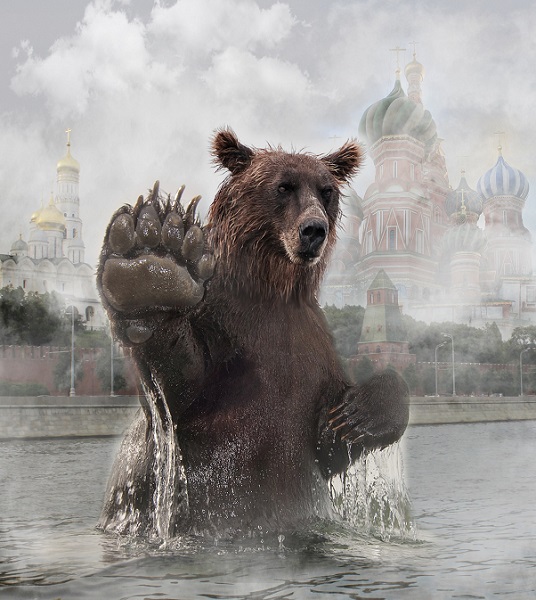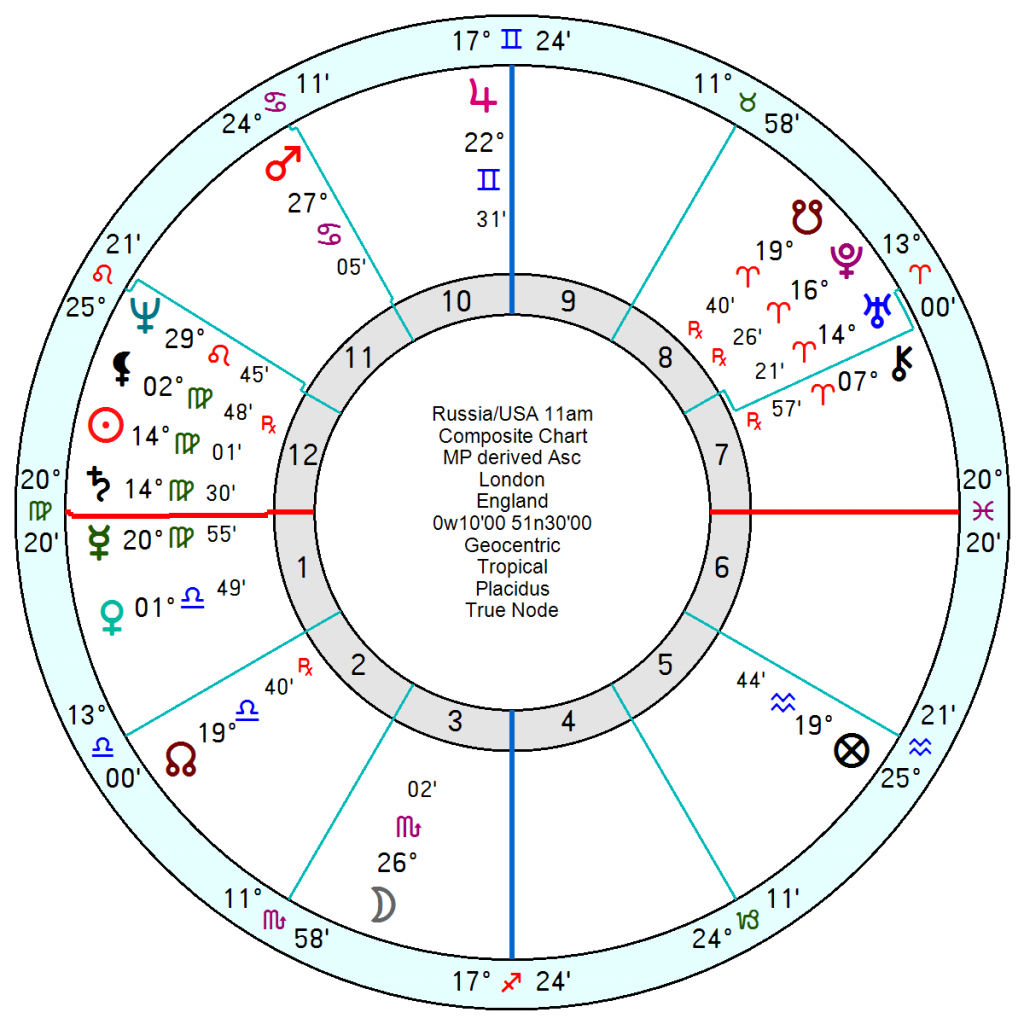 Putin's plans for a rival political and economic bloc to counter US and western interests have taken a hit with both China and India voicing concerns over the Ukraine invasion. Narendra Modi, the Indian PM, told Putin that "today's era is not an era of war" and is thought to prefer a position of ambiguity where he can be friends with both sides. And Putin acknowledged Xi's "concerns" about the war in public remarks.
None of relationship charts between China, India and the two Russia charts, 1917/1991 look encouraging as far as diplomatic warmth is concerned. The China 1912/Russia 1991 chart indicates disappointment, confusion and uncertainty through 2022 and 2023. The China 1912/Russia 1917 composite is devastated in 2023/24, more so in 2025.
It's not quite so stark with India though the India/Russia 1917 connection is sagging and evasive in 2023 and completely blocked in 2024/25. Not much entente anywhere to be seen and certainly not cordiale.
The Russia 8 December 1991 7.45 pm chart is catching the Scorpio Solar Eclipse late this October as it is conjunct the 4th house Venus, hinting at a domestic crisis and can accompany a feeling of having to make it alone for a while.
Tr Uranus will oppose the Pluto for a major disruption from mid June onwards, on and off into 2024. That could coincide with considerable domestic unrest and a forced change of direction from the leadership. Before then in late December tr Saturn will square the Russia Pluto for a stuck, gloomy couple of weeks which could be associated with the war. Relations with neighbours will take years to fix with tr Pluto moving on to square the 7th house Saturn in 2025/6.
The Russia 8 November 1917 2.12 am chart is showing more obvious turbulence with its Fixed T Square of Uranus in Aquarius opposition Saturn square Sun, Mercury in Scorpio catching the unstable tr Uranus square tr Saturn full on this year plus the Eclipses on the Sun with tr Uranus causing ructions in January 2023 and more from May 2023 onwards.
It may or may not be relevant but on the Russia 1917 chart the Progressed Mars went retrograde around 2008/09 and stays that way for many years. That usually accompanies a loss of potency and vitality with direct action bringing diminishing returns.
The Georgia war broke out at that point and was the first time since the fall of the USSR that the Russian military had been used against an independent state to attain its political objectives. 'The war in Georgia showed Russia's assertiveness in revising international relations and undermining the hegemony of the United States.'
Maybe that's where it all went wrong as Putin embarked on his wrong-headed campaign to restore Russia's greatness by forcefully harvesting former satellite states. As with all astrology affecting countries it takes longer to kick in than with individuals.
  The USA's Progressed Mars went retrograde in 2006 which caused comment and may be a pointer. Though the UK Progressed Mars didn't when you might have expected it to – so maybe not all that significant.
Add ON: Putin has now threatened the West with nuclear weapons over Ukraine, saying: 'I'm not bluffing'. And he has announced the mobilisation of 300,000 reservists, the first Russian mobilisation since WW2. Though many analysts are sceptical that a partial mobilisation will have a rapid impact on the battlefield, because it could take several months to train reservists and to create new units with commanders and logistical support, never mind finding adequate equipment.
His warnings have prompted even China to demand a ceasefire 'through dialogue and consultation', while Turkey's Recep Tayyip Erdogan said Putin should return all occupied land, including Crimea, to its 'rightful owners'.
Putin is generally regarded as desperate because of recent losses and the overall failure of his invasion which it is reckoned has cost 70,000 Russian dead or wounded. Unfortunately losing may make it more likely that he will lash out like a cornered cougar.
His 4th term chart has tr Pluto conjunct the Mars now till early December which will increase his fear and impotent frustration to def con levels. The relationship chart with the USA will heat up from early December through to early January with increasing bitterness and hostility. January also sees further eruptions of tension. The EU and UK look rattled at the moment and again in early 2023. NATO is on alert with hints of an upheaval this November and again in March 2023.
This October's Scorpio Solar Eclipse is in a Saros Series that Bernadette Brady connects to Mars Pluto – 'It is about being forceful and taking power. It has a manic flavour about it with great force or strength manifesting in the relationship area.'
The Russia 1991 chart's 4th house Venus catches it exactly – which could point to nationalistic fervour – love of the homeland etc.