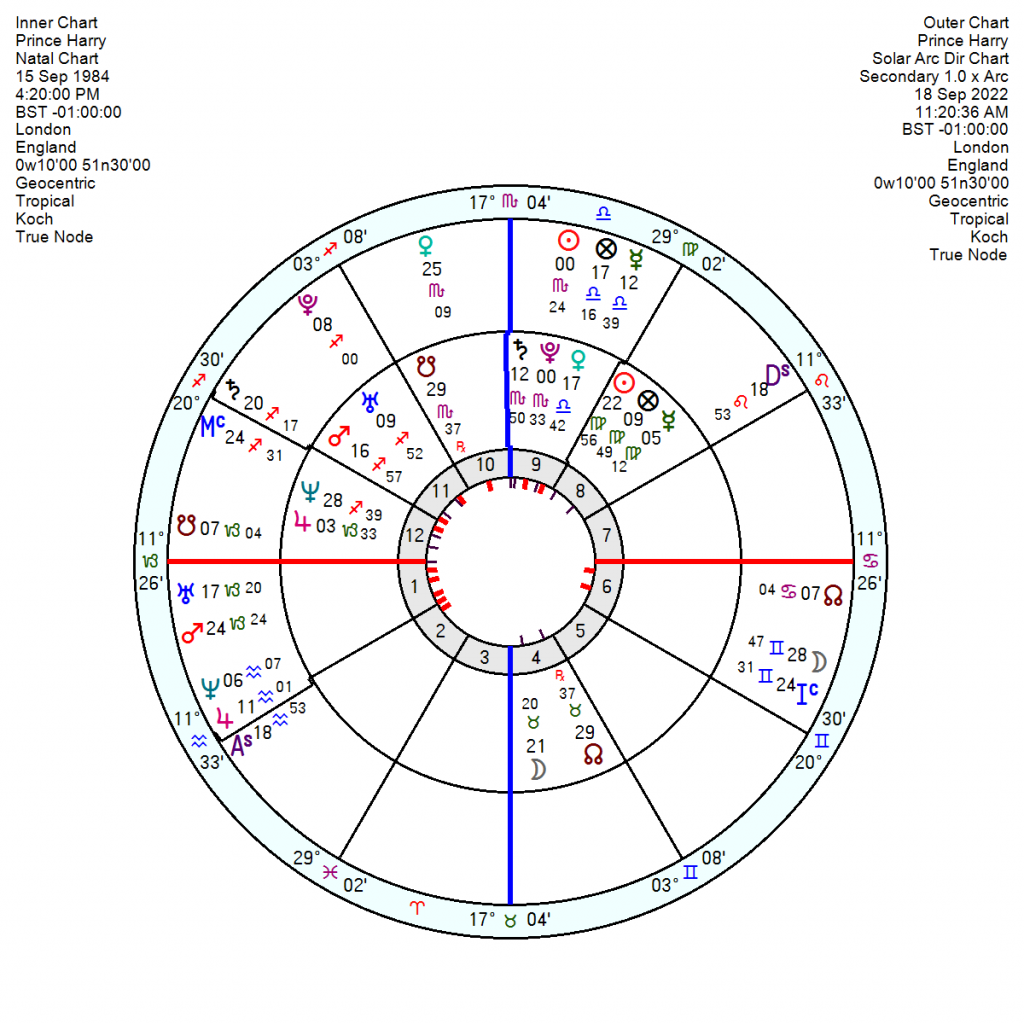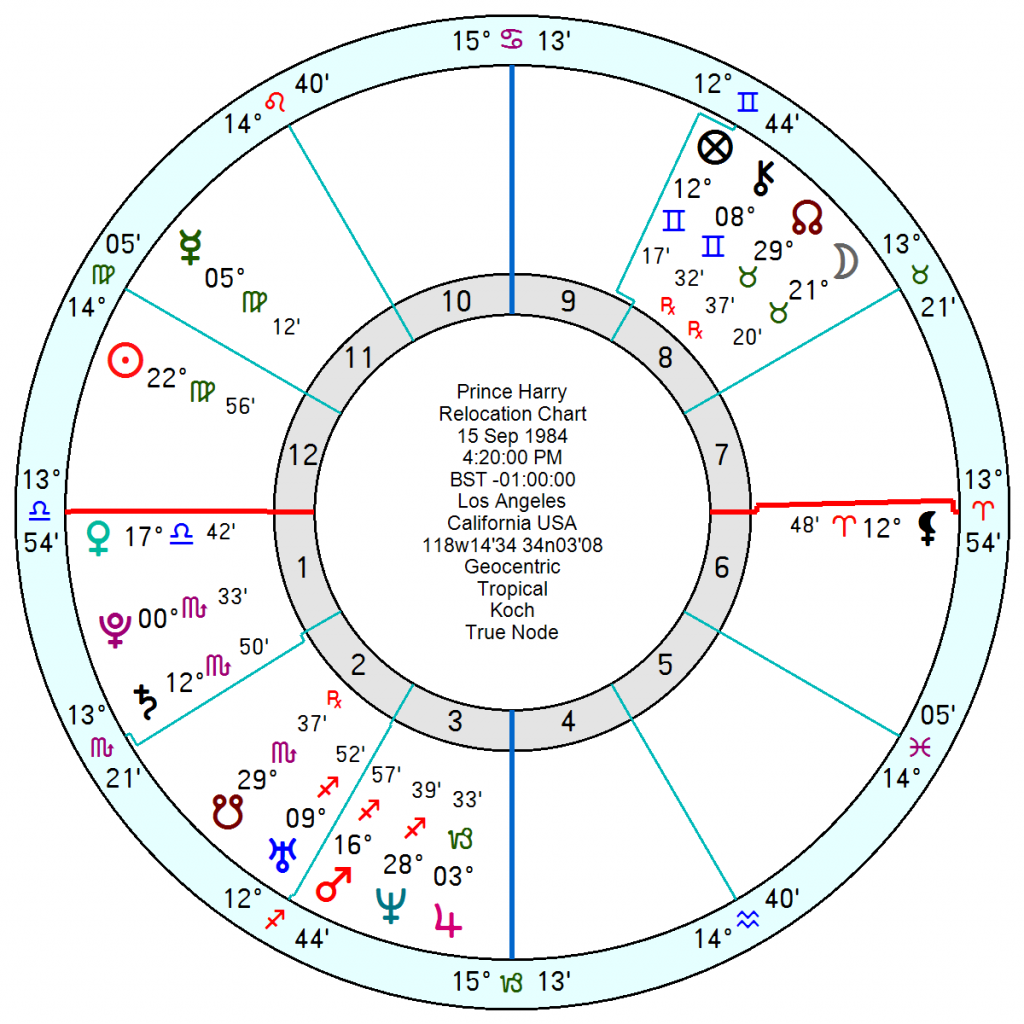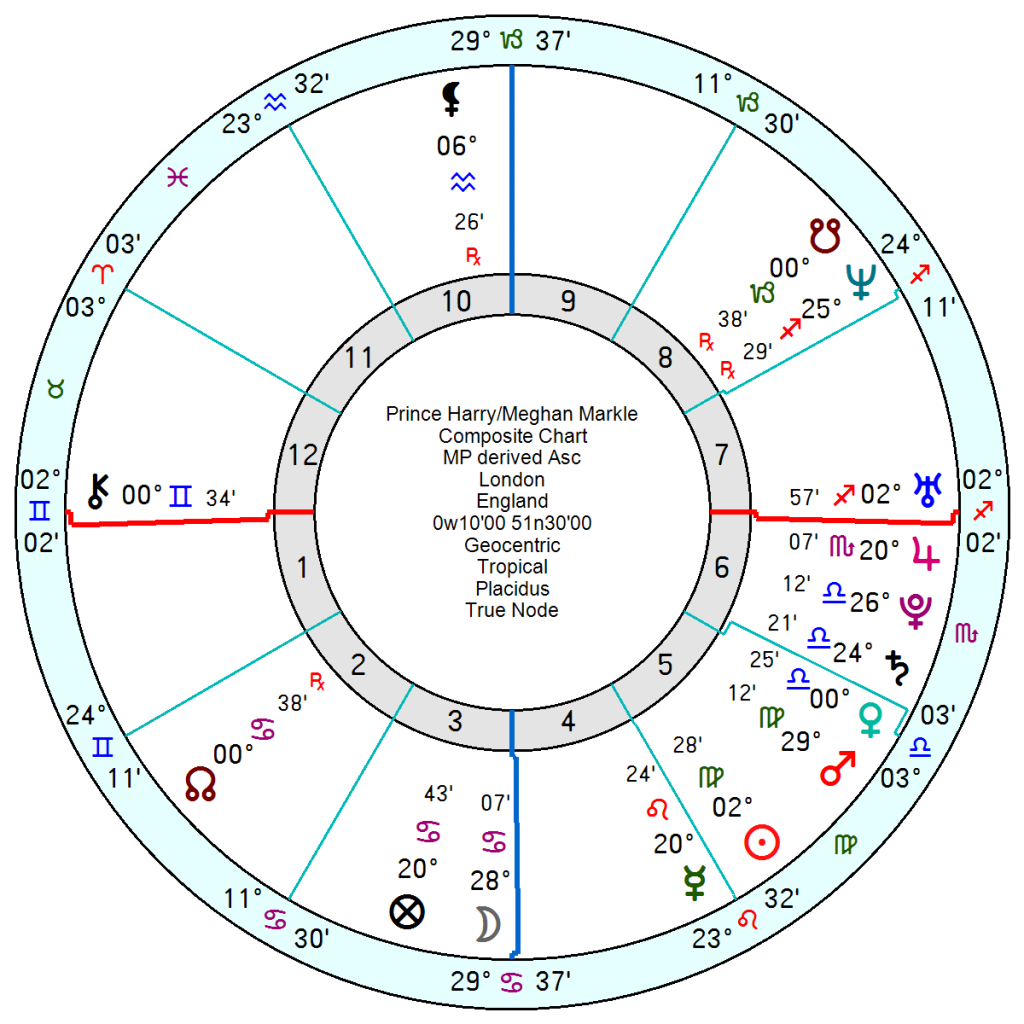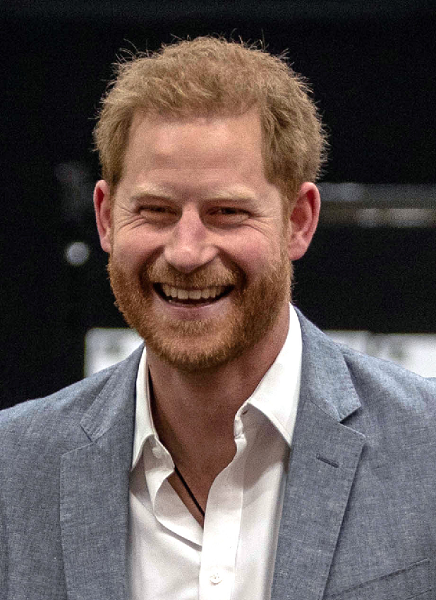 Prince Harry had the most downbeat birthday of his life on Thursday with sadness about the loss of his grandmother bearing down on him. Perhaps also a heavy realisation is dawning of what he's lost in stepping away from his Royal duties. The monarchical machine is not one to buck lightly and has expertly minimised Harry and Meghan's presence at a time the other young Royals are growing in visibility. Given their addiction to the publicity on which their brand depends that must jar.
His personal chart for the next few years hints at a troubled soul lost in a wilderness he does not know how to exit. There is a punishing list of negatives. His Solar Arc Sun is conjunct his Pluto exactly now for a bleak, stuck few months with the October Solar Eclipse conjunct both, setting him up for a full-scale crisis. He also has his Solar Arc Uranus square his Venus for an emotional upset, exact now as well as his Solar Arc Moon opposition his Neptune for undermining family circumstances. Plus tr Uranus opposition his Midheaven, exact again mid October onwards for a few weeks and again in early 2023 – for an upset to both career and home life. Uranus then continues through his 4th house for five years ahead which will be unsettled on the domestic front.
Tr Neptune is opposing his Virgo Sun this year which runs into January 2023 – undermining and indecisive.
Late this December tr Saturn will square his 4th house Moon for a sense of separation from family and tr Uranus will conjunct his Moon from mid June 2023 into 2024 – which will be even more disruptive on the home and family front.
Plus tr Saturn is continuing its downward slide through his 1st quadrant which is a low-profile time and neither ambitious or successful and can bring up financial shortages. It is also a time when unresolved psychological issues surface and have to be tackled. And he has a couple of less than upbeat Solar Arcs in late 2024, one Saturnine block and the other a radical change of future plans. Plus several less than wonderful midpoints – to be truthful fairly calamitous ones. All too exhausting to contemplate. I do feel sorry for him.
His Solar Return for this coming year has at least got the merit of an Earth Grand Trine of Sun trine Moon trine Pluto which will give a modicum of stability though it does focus onto Neptune in the 11th in opposition to the Sun, so dithery, undecided Neptune will be the driving planet in the chart area of future plans. Uranus on the Ascendant suggests a sudden far-reaching change in his image. Pluto in the 10th can be tricky since it suggests a forced change in career path, which can involve a long period of searching and seeking before a sense of purpose is gained. It can hint at a fork in the road, with a need to leave the past behind and while in a few instances Pluto may bring more influence, it can also accompany loss of reputation.
Relocating his chart to California puts his Moon in the hidden 8th and his Sun in the hidden 12th which would be fine if he were following his inclination to disappear down a rabbit hole for several years until he got his head together. But unfortunately he's being prodded by wife and necessity to get out there and be a mover and shaker. California does not bring out the best of his talents.
For all the seamless togetherness he and Meghan display as a couple, there are massive stresses and strains on their relationship chart. Projecting all the internal tension between them out onto their respective families will only go so far; and essentially anyway it is a relationship that needs space with a composite Sun square Uranus. Tr Pluto will continue to bear down heavily on the chained-together composite Moon square Pluto Saturn until late 2023. Tr Pluto in 2023/2024 will heighten emotional reactions as it trines the Mars Venus and will conjunct their composite Midheaven – the latter again hinting at the need for a change of direction. Tr Neptune in 2024/25 will oppose the composite Mars Venus for disappointment and a sense of failure either in projects or their togetherness; with major ruptures come 2026/2027 when tr Uranus opposes the Uranus and squares the Sun.
There's no indication of a hug-and-make-up moment ahead in his relations with his childhood family. There are heavy clouds over his link with William next year and worse in 2024. Much the same with Charles as tr Pluto will conjunct their composite Midheaven in 2023/24 for a power struggle that won't end well. That may be connected to Harry's dislike of Camilla which looks like causing more angst in 2023/24. Anne is looking less than enchanted with him over the next two years as well.
  Living out all his family aggravations and relationship woes in the public gaze will feel like a Truman Show reality-feste, which is why he might have been better to choose a less celebrity-obsessed missus. He could then have disappeared with his millions to keep his head down off the beaten track, in his beloved Africa for instance or even Australia.
Spare thought – their California superstar lifestyle must be stratospherically expensive given the extraordinary number of staff they seem to employ for various projects. They need to pull in mega-millions to keep that ship afloat. If their income dropped it would be a disaster.