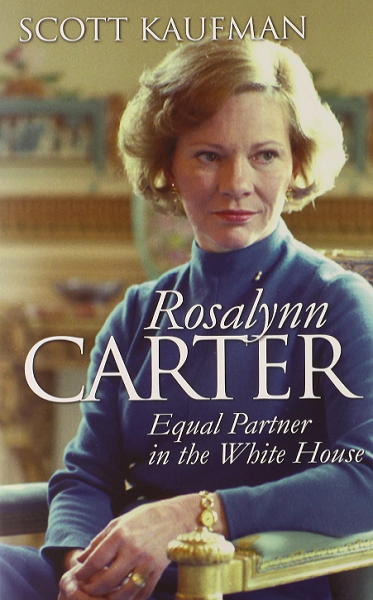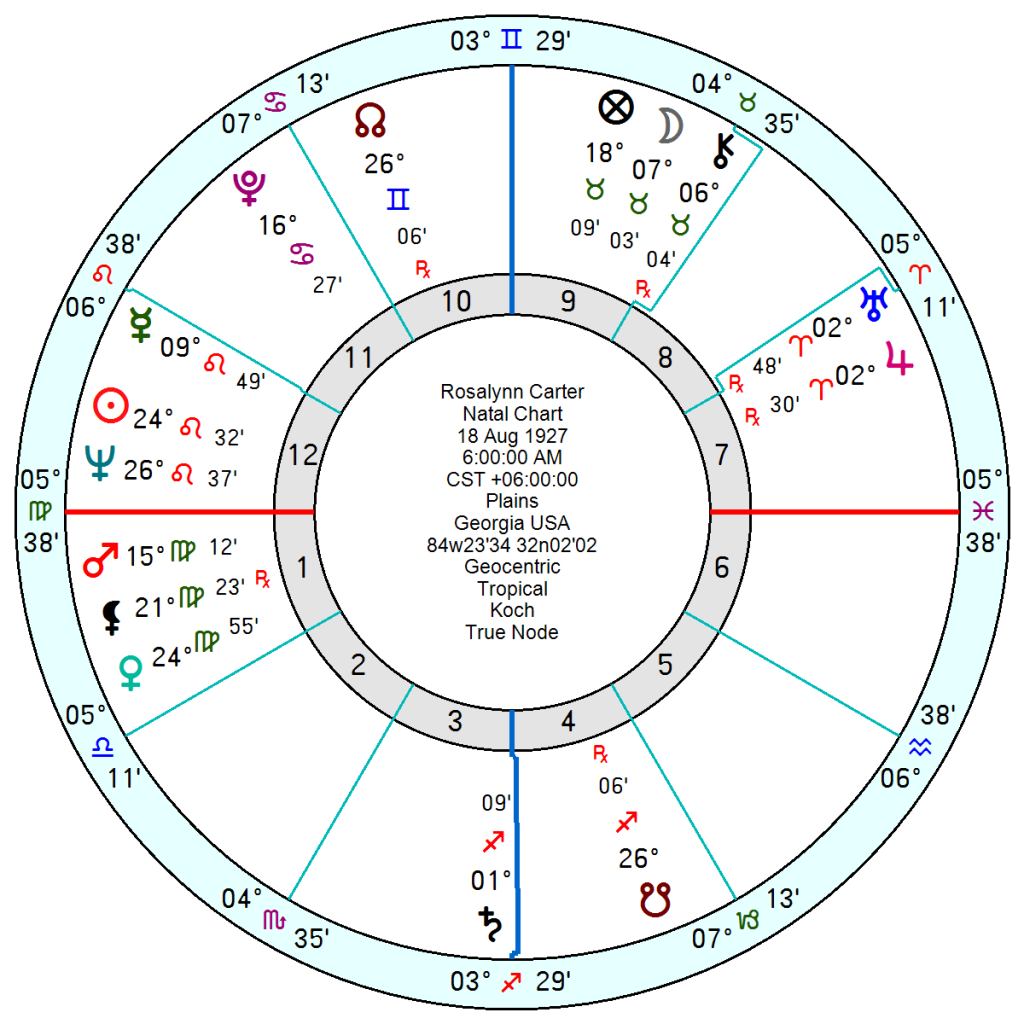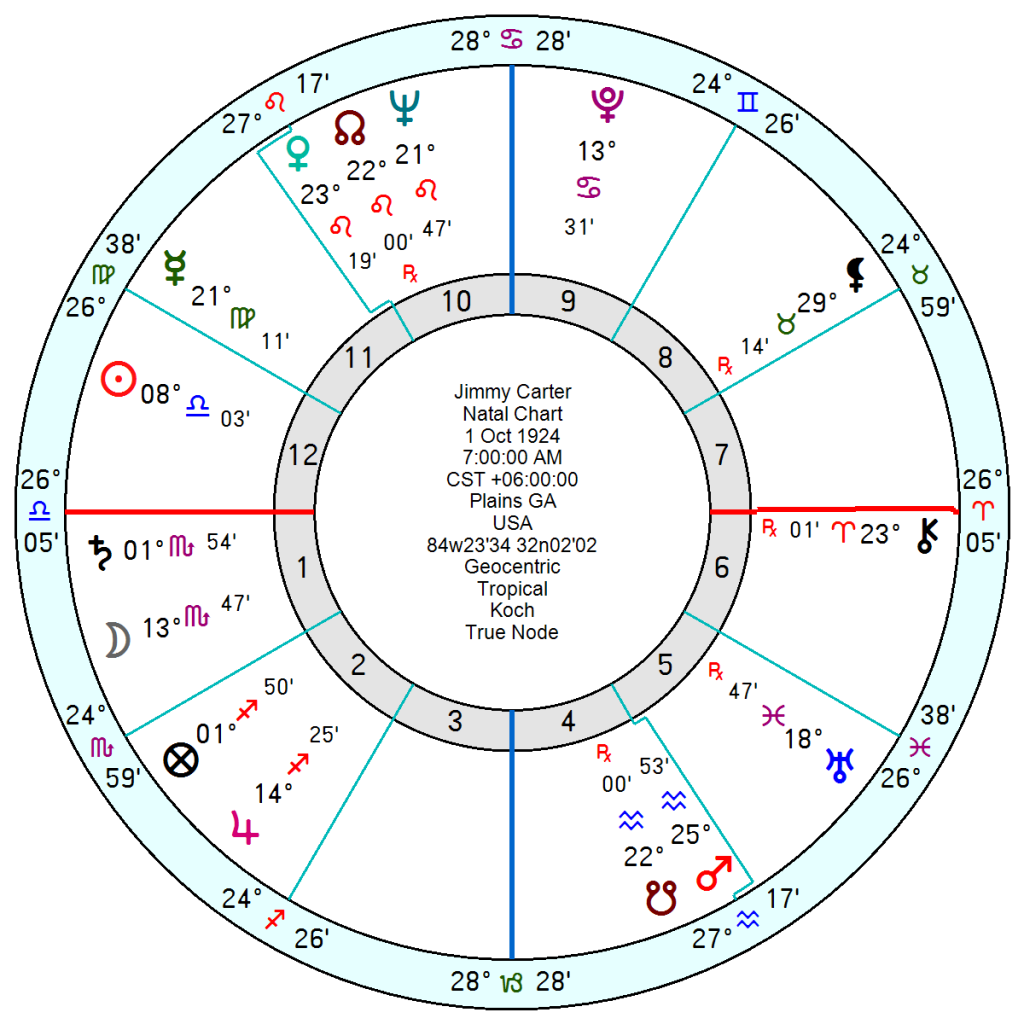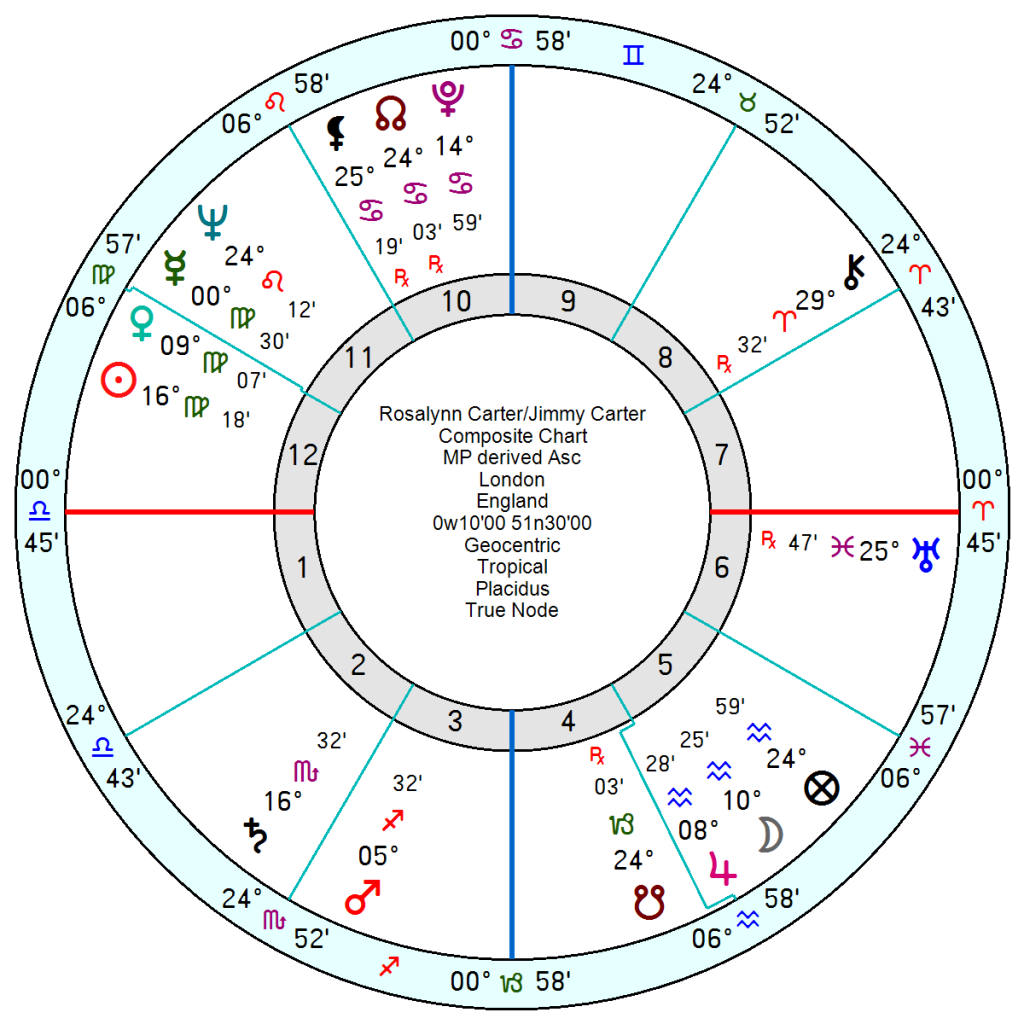 Rosalynn Carter, wife of former president Jimmy Carter, has left behind a solid legacy of good works as she dies aged 96. A biographer described her as  having achieved "one of the great political partnerships in American history". Despite his lacklustre White House term generally regarded as a failure she was up with Eleanor Roosevelt in her influence as first lady. And their four decades after the White House as global humanitarians advocating peace, democracy and the eradication of disease set a new standard for post-term presidents.
  She was born 18 August 1927 6am In Plains, Georgia, into poverty, becoming a carer for her siblings after her father died in her early teens. She married Jimmy when she was 18, was a devout Baptist and mother of four, but her soft smile and outward shyness masked her determination and passion for politics which had her dubbed the 'Steel Magnolia' in Washington.
  Her 12th house Sun Neptune in Leo gave her idealism, flair, inspiration and the ability to work tirelessly behind the scenes on mental health and other issues. Her Venus Mars in Virgo in her 1st house added passionate enthusiasm for practical causes and a far-travelled 9th house Taurus Moon sent her round the world doing good.
Oddly enough his Uranus fell in her 7th house suggesting a bond that can only work where both gave each other freedom and she did travel and campaign a good deal on her own. His equally idealistic Venus Neptune North Node in Leo were conjunct her Sun Neptune for shared hopes and activism, with his Mars in Aquarius in opposition adding a spark of zest and no doubt a few arguments along the way.
  His Libra Sun was opposition her Jupiter Uranus in Aries for an adventurous streak; and his Uranus square Jupiter sparked off her Mars Venus conjunction for the same in reverse – never a dull moment.
Her Mercury and Sun Neptune in Leo fell in his 10th for a helpful career mate and her Moon in his 7th for support and nurturing.
Their relationship chart had an affectionate and friendly composite Sun Venus conjunction and a domestically soothing Moon Jupiter conjunction. A 10th house Pluto which made them influential as a couple was in an enduring trine to Saturn and sextile the composite Sun. Both were keen on a settled family and home life, she with a Taurus Moon and he with a Scorpio Moon – they could both be stubborn but obviously found a way to handle their differences.
  It was a relationship which could have gone wrong if either had been driven by ego but both with 12th house Suns helped in that regard. Pluto in the composite 10th can turn into a power struggle but only when aims for individual glory are pursued. Pulling together they had the capacity to make a considerable difference.