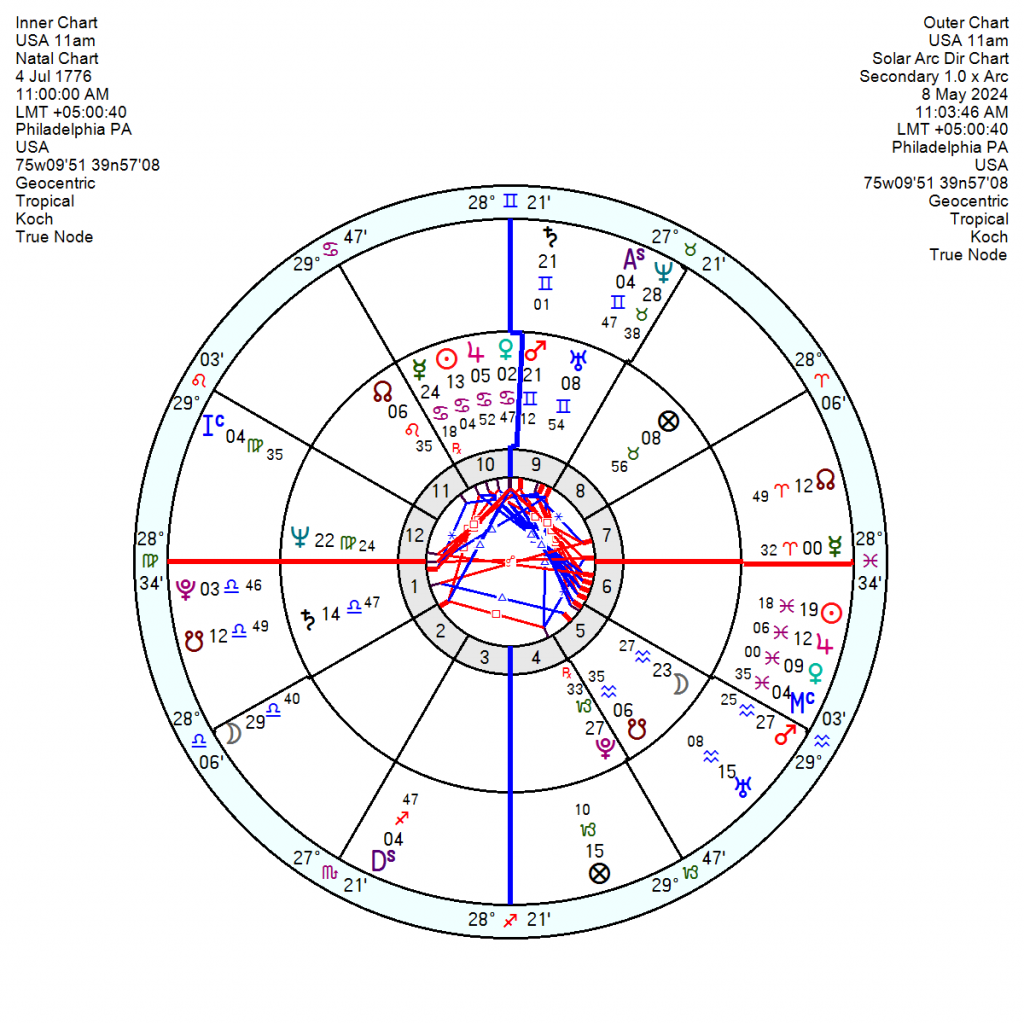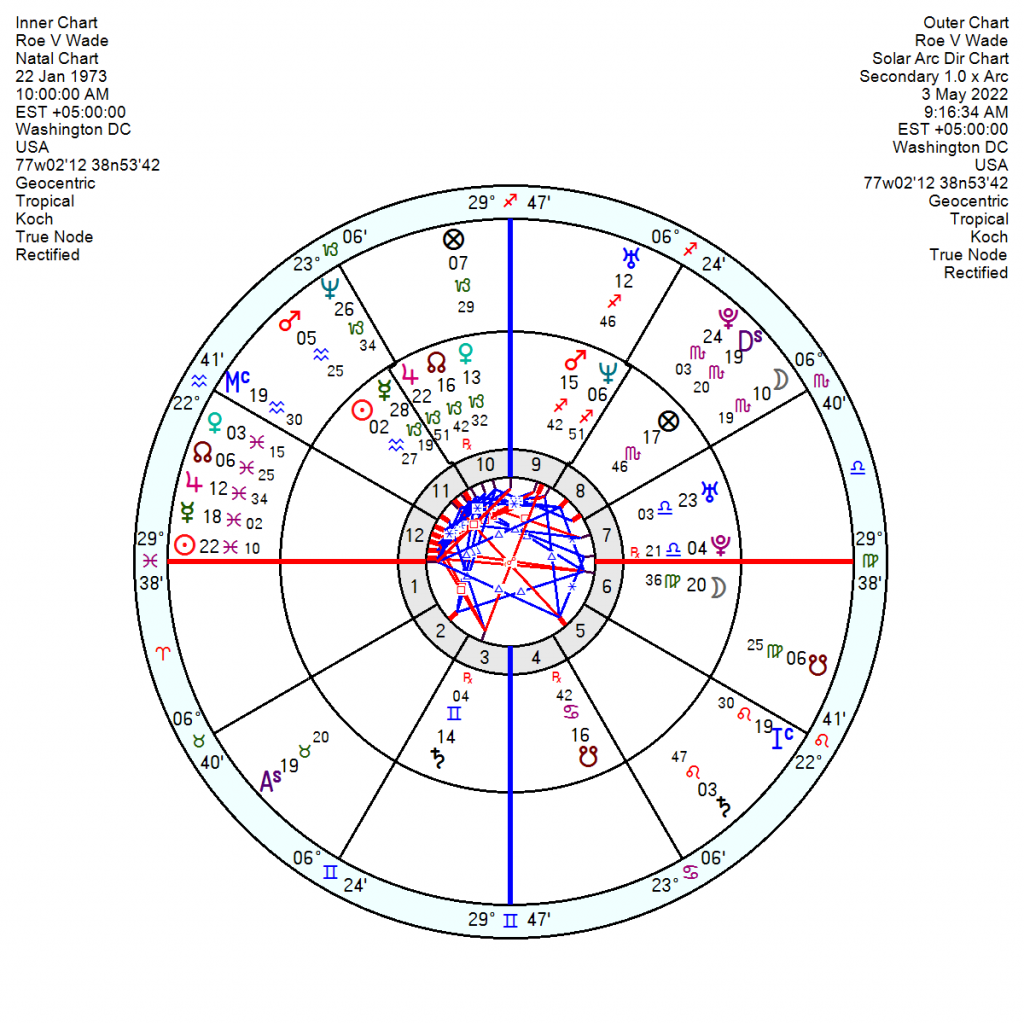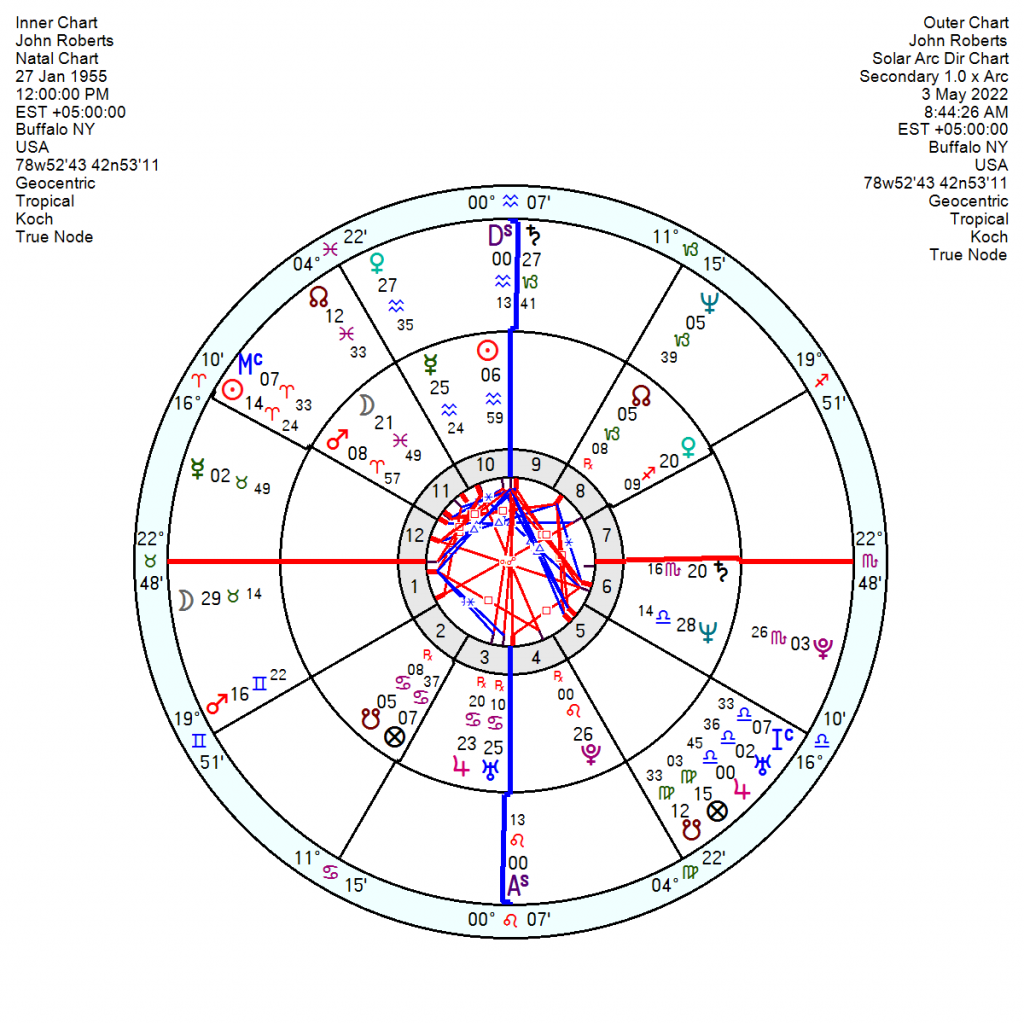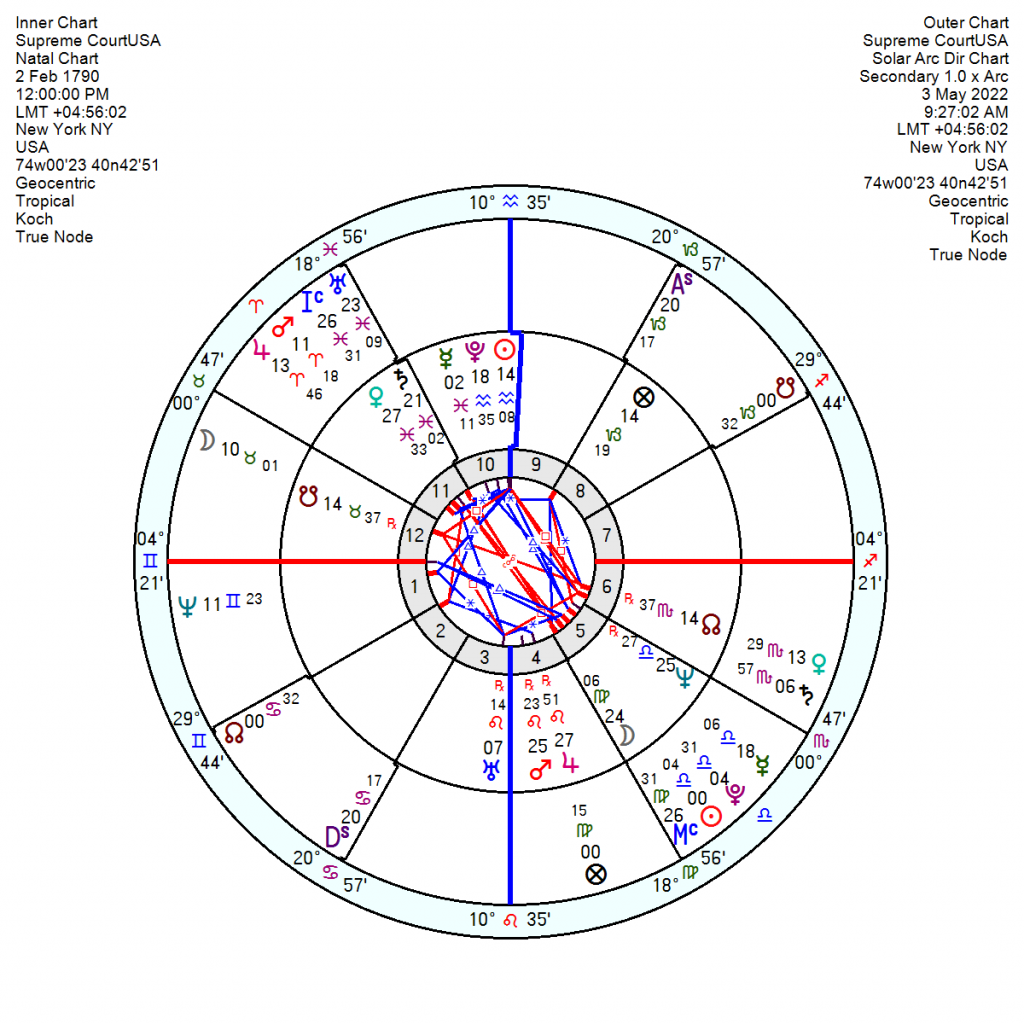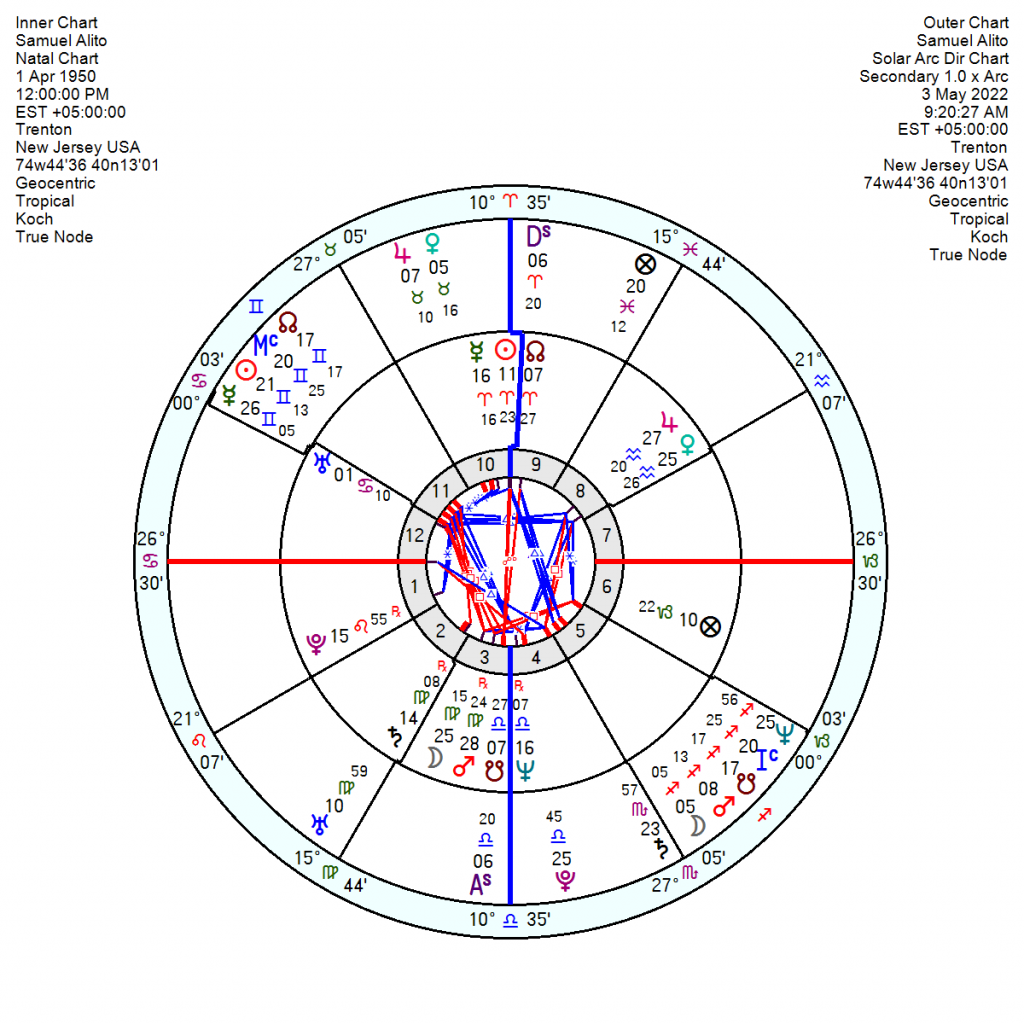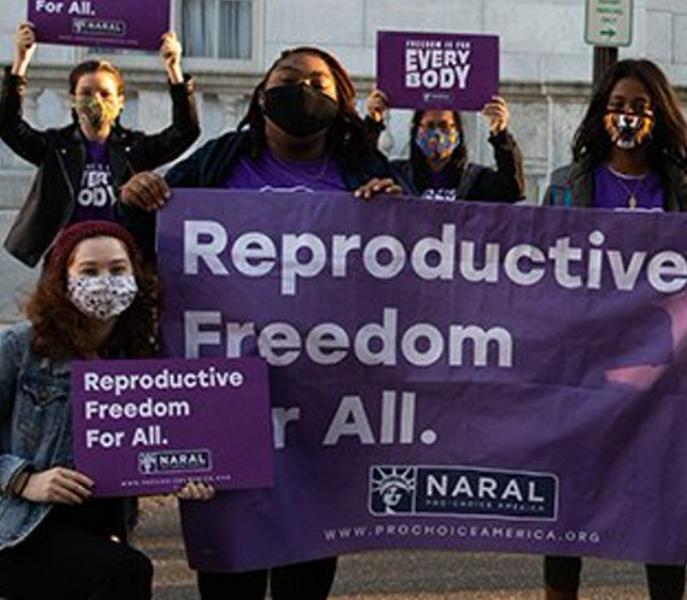 The Pluto Return for the USA was always going to infuse key debates with harsh rhetoric and the desire to dominate. With extreme opinions being adhered to with a fanatical zeal resulting in bitter and resentful reactions. All courtesy of the USA Mercury in Cancer opposition Pluto, which in the past has spewed up fundamentalist rabble-rousing like McCarthyism.
The pro-choice Roe V Wade ruling on abortion was always going to be in the cross-hairs with the Republican Party lurching ever further towards the lunatic fringe and the Supreme Court overweighted to the political right. As well as its astrology.
From a previous post September 24 2020.
'Roe v Wade was signed 22 January 1973 at 10 am Washington, DC which gives a stalwart Aquarius Sun trine Pluto sextile Neptune in Sagittarius; with an optimistic Uranus square Jupiter Mercury; and a destructive Mars opposition Saturn. Where the major debate comes is 2023/24 with tr Pluto conjunct the Mercury with a seriously rattled and insecure Solar Arc Uranus conjunct Mars in 2024/25. Tr Pluto will also be conjunct the Sun in 2024 so that looks the most challenging time.'
Now an unprecedented leak of a first draft, signed by Justice Samuel Alito, suggests SCOTUS might well reverse Roe v Wade, following on from a couple of Southern States banning abortions recently.
The decision puts the Supreme Court firmly at odds with the overwhelming majority of Americans and could torpedo the GOP's hopes of gaining sizeable majorities in Congress this November.
Recent polling suggests as many as 70 per cent oppose overturning Roe v Wade.
The USA Pluto Return runs on till late 2023, but 2024 looks fractious and intemperate as well especially over the election with the Solar Arc Saturn conjunct the Mars – so it could well still be an issue then.
SCOTUS has already sunk to its lowest public approval over the perception that it is overly politicised. John Roberts, the Supreme Justice, despite being appointed by GW Bush is a centrist, and was alarmed by the recent Mississippi anti-abortion ruling. He looks confused if not downright devastated this year and next with tr Pluto square his Neptune and his Solar Arc Saturn square his Neptune.
SCOTUS, 2 February 1790, has its North Node in Scorpio which tr Uranus is opposing exactly now, and into early 2023, as well as the recent Solar Eclipse – so these events will strike at the heart of its raison d'etre and future path. Tr Uranus is also square the Aquarius Sun and later this year the Pluto, on and off into 2023. It'll be a tempestuous time in the hallowed chambers. Tr Neptune is also – from last year – conjunct the Saturn then Venus in Pisces through till late 2023, suggesting the popularity of SCOTUS will be further undermined.
Samuel Alito, the justice appointed by GW Bush, who signed this first draft of an opinion to overturn Roe v Wade, 1 April 1950, is a Sun Mercury in Aries trine Pluto and opposition Neptune. He'll be pushing confidently ahead with some success for the next two years mixed with uncertainty; but will run into a major failure come 2024.
The other right-wingers show a relatively similar timeline. Amy Barrett, some ups but a tough, discouraging slog in 2023/24 and dashed hopes by 2024.
Neil Gorsuch, uncertainty this year, mixed 2023; and disastrous 2024/25.
Clarence Thomas, hints of confidence alongside disruptions, soaring anxieties in 2023, failures in 2024 and in a swamp in 2025.
Brett Kavanaugh, over estimating his luck this year, with a tough slog and failures in 2023/24.
In a joint statement the Democrats' leaders in Congress, Senator Chuck Schumer and congresswoman Nancy Pelosi, denounced the Supreme Court's draft ruling as "one of the worst and most damaging decisions in modern history". "The party of Lincoln and Eisenhower," they added, "has now completely devolved into the party of Trump."
  The twittersphere is alight with anomalies.
"Banning abortion before banning assault rifles."
"The penalty for abortion after rape is more severe than the penalty for rape."
"If you are upset that #RoeVWade is about to be overturned by the Supreme Court but you didn't vote in 2016 or you voted for Trump because you didn't like the smart lady. YOU did this with your apathy or your decision to choose an imp for President. YOU gave him THREE SCOTUS seats."