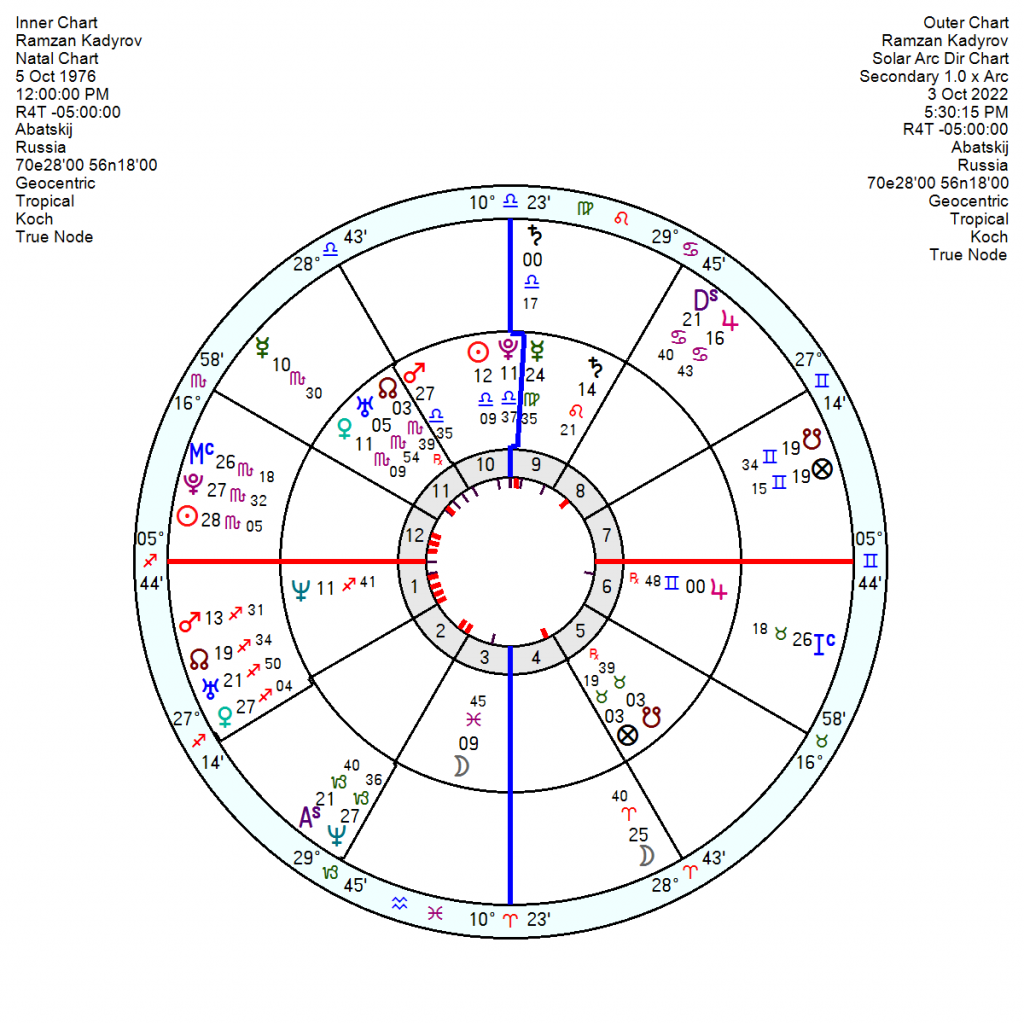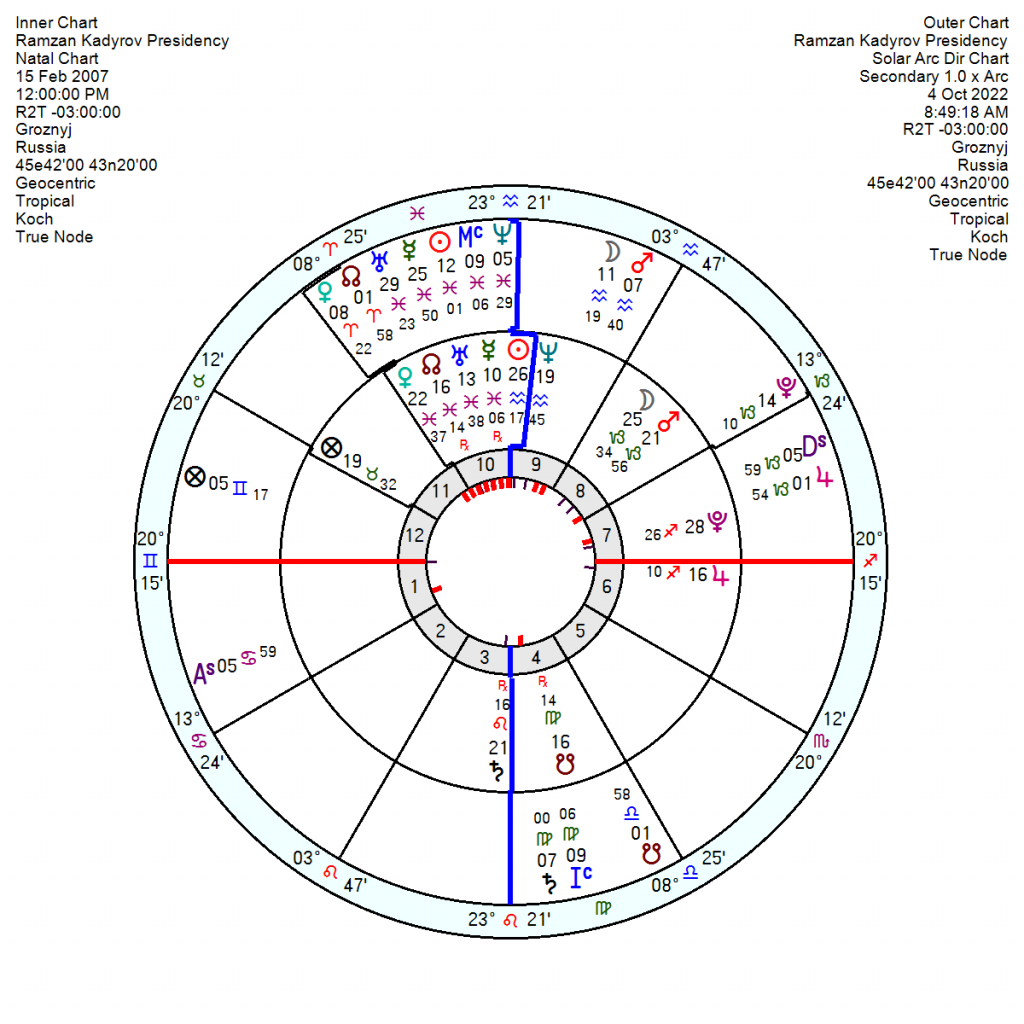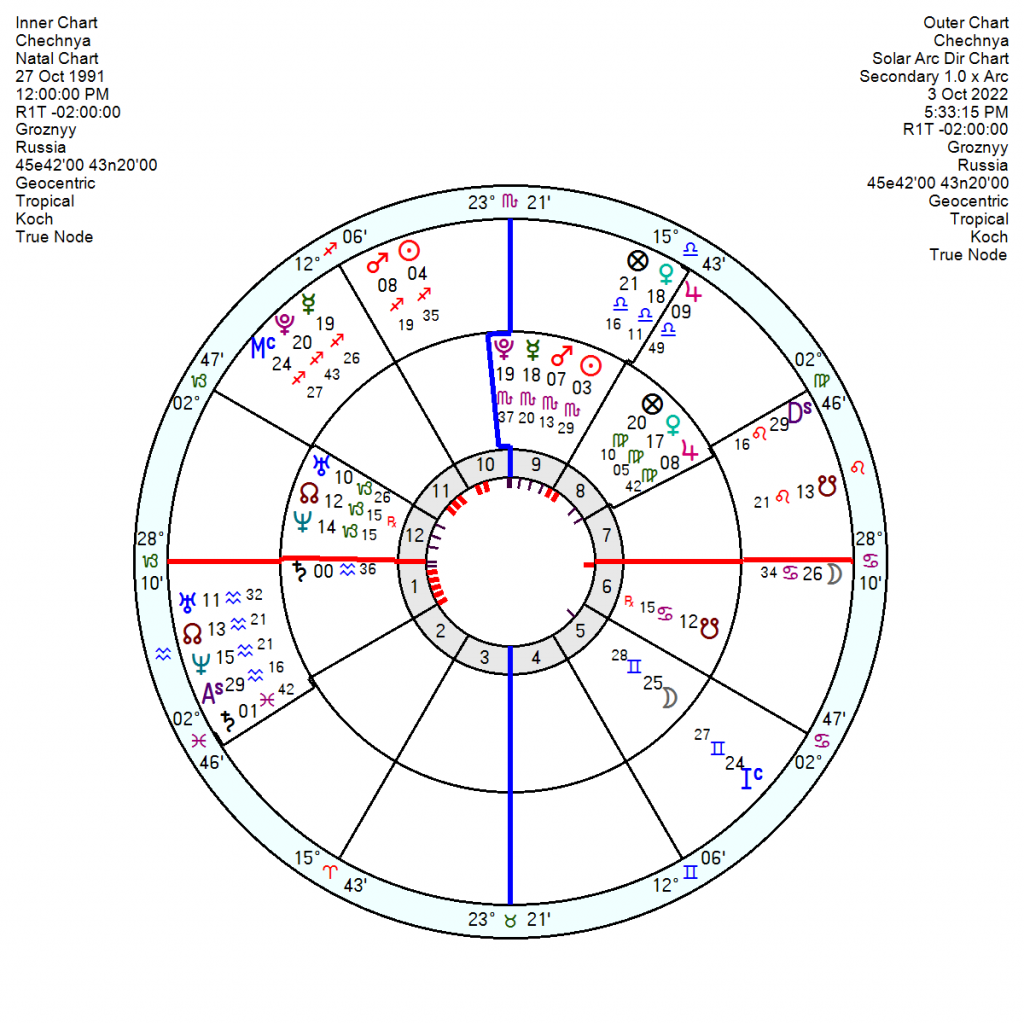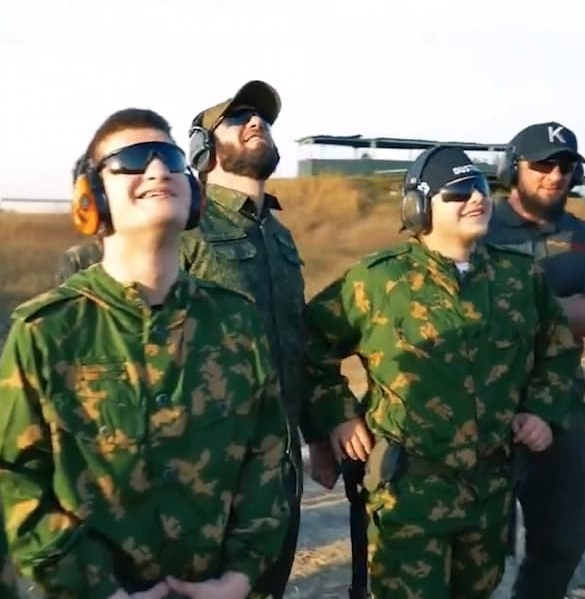 Ramzan Kadyrov, Chechnyan President and close ally of Putin, infamous for egregious human rights abuses amounting to crimes against humanity in his own country, has called for a nuclear strike on Ukraine and has announced he is sending his young sons aged 13 to 15 to fight in the war.
He was formerly in the Russian military and took over in 2007 three years after his father, then president, was assassinated by Islamists. He has been accused of kidnapping, assassination, and torture of human rights activists, critics, and their relatives, within both Chechnya and other regions of the Russian Federation, as well as and abroad, through the political use of police and military forces. He has advocated restricting the public lives of women and led anti-gay purges. The Kadyrov family has enriched itself considerably during its rule of the Chechen Republic with extensive funding from the Russian Federation.
Born 5 October 1976 he is a controlling Sun Pluto in Libra on the focal point of a mini-Grand Trine sextile a wannabe-important Saturn in Leo and sextile Neptune – accentuated control-freakery.
He has Uranus North Node in Scorpio which will catch this month's Solar Eclipse for a dramatic wake up call. That is followed by tr Pluto returning to the frustrating, trapped square to his Mars in Libra from earlier this year through this December to mid January and returning October 2023 which usually accompanies a total road block. His Mars is conjunct Uranus natally which gives him his volatile and disruptive streak which will resent more than most at being hemmed in – he will bubble with suppressed rage and may over react. He has another similar influence of tr Pluto square his Mars/Node midpoint from late March 2023, on and off to the end of 2024. So not a progressive period.
But in amongst the downers he does have some lucky breaks so it doesn't look like total annihilation.
  His presidency chart, 15 February 2007, is being tossed around with tr Saturn conjunct the Neptune from mid this November bringing uncertainty and confusion, and conjunct the Sun in early 2023. Then tr Uranus picks up the square to the Sun Neptune opposition Saturn to bring forced changes and high tension through into 2023/24. With late 2023 looking especially agitated with a Solar Arc Sun conjunct the Uranus.
Chechnya, 27 October 1991, with its Scorpio Sun catching the this month's Solar Eclipse and the Mercury Pluto in Scorpio catching the Lunar eclipse as well as tr Saturn square and tr Uranus in opposition in 2023 is in for a rocky and game-changing ride. With the deprived, tough-slog tr Pluto conjunct Saturn in 2023/24 followed by tr Pluto square the Sun and Mars making the years up to 2028 exceedingly stressed and high-risk.
  Once Putin goes, depending on who replaces him, Kadyrov could be left exposed.