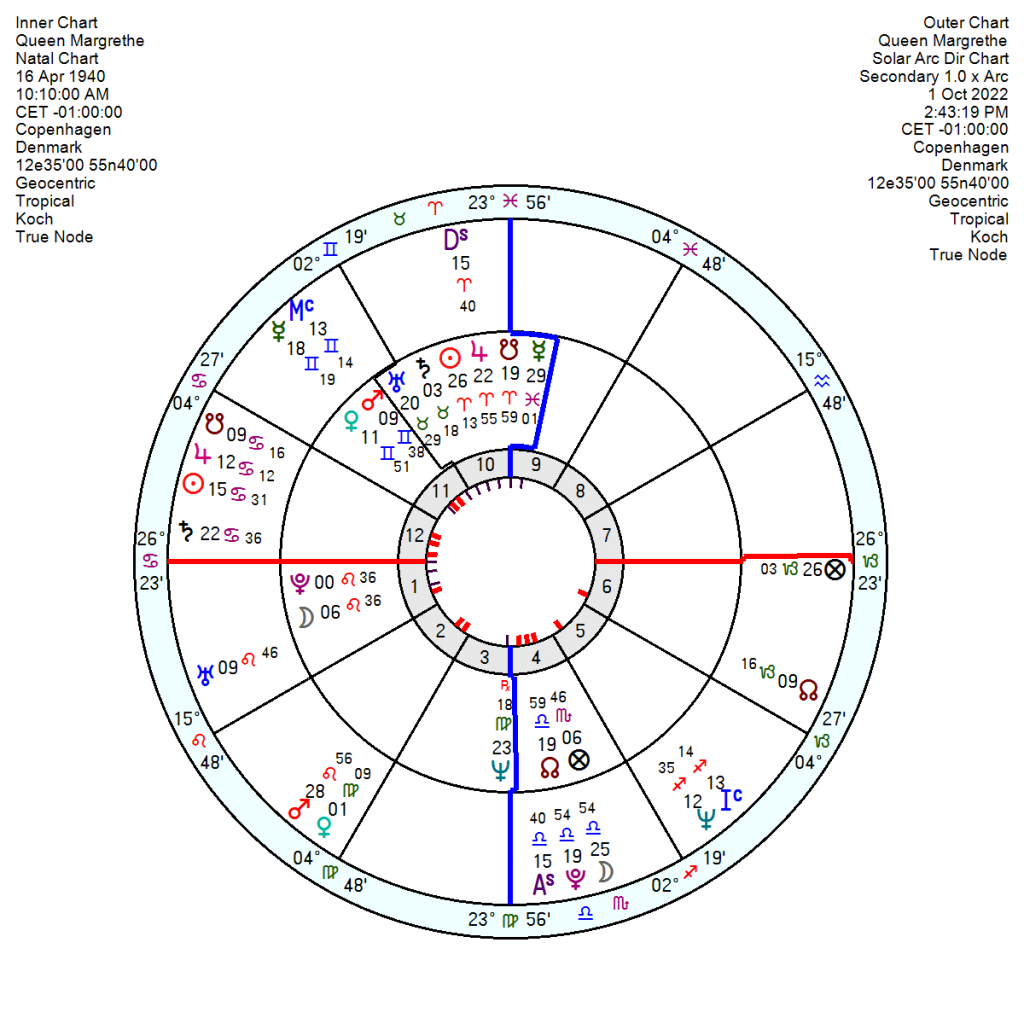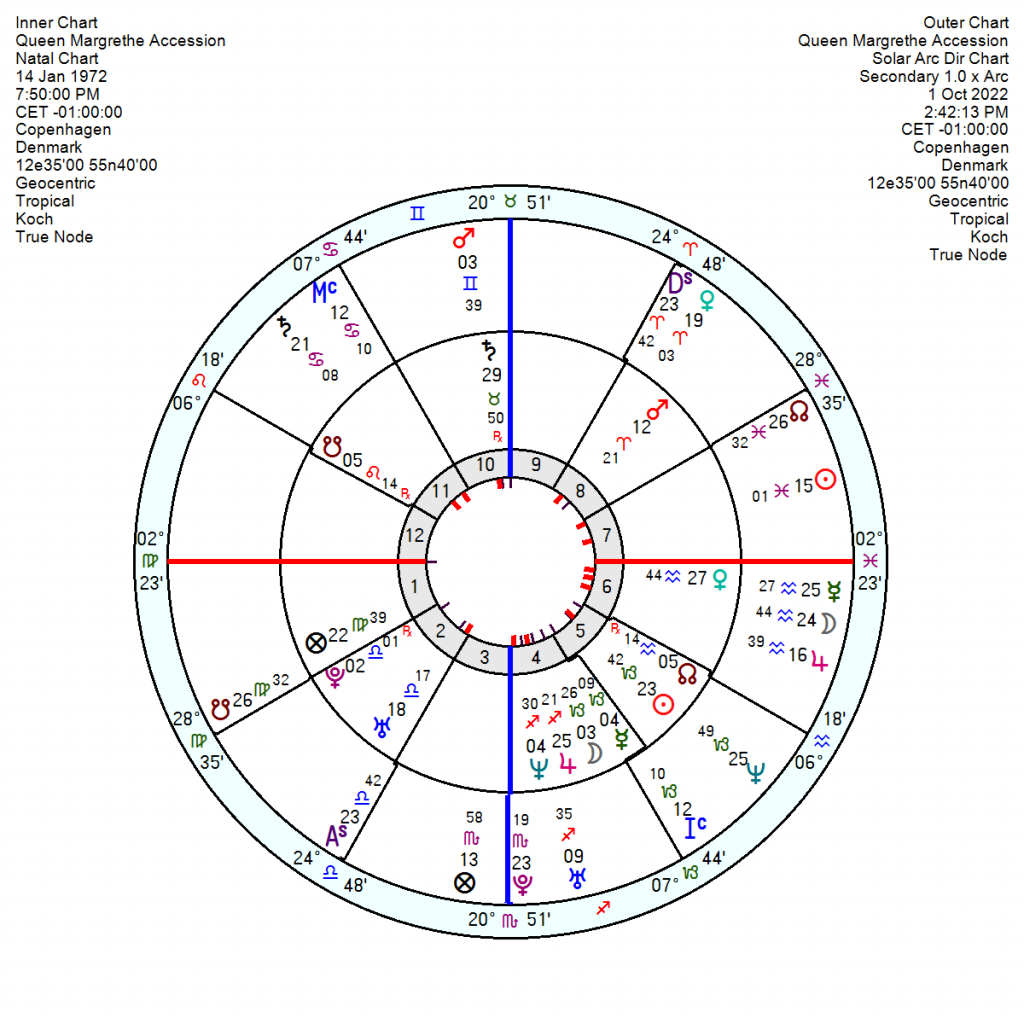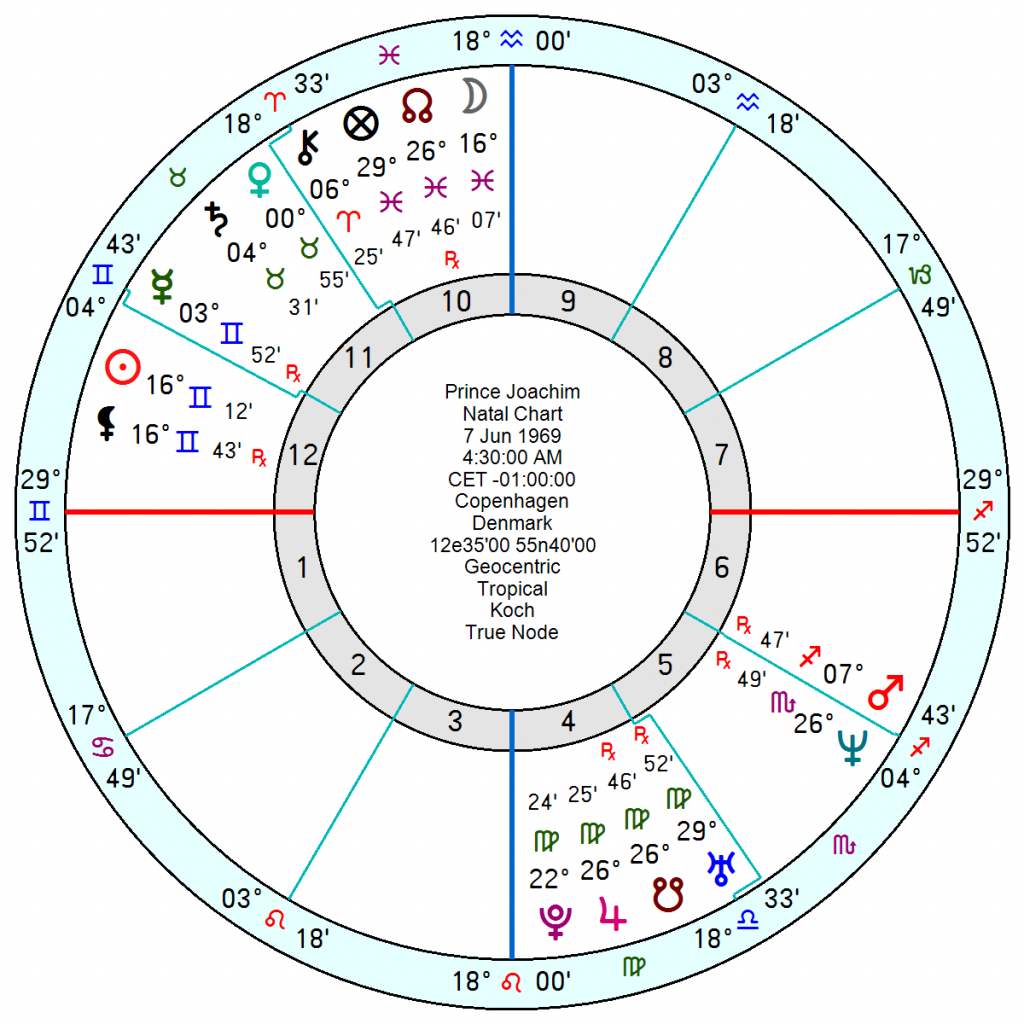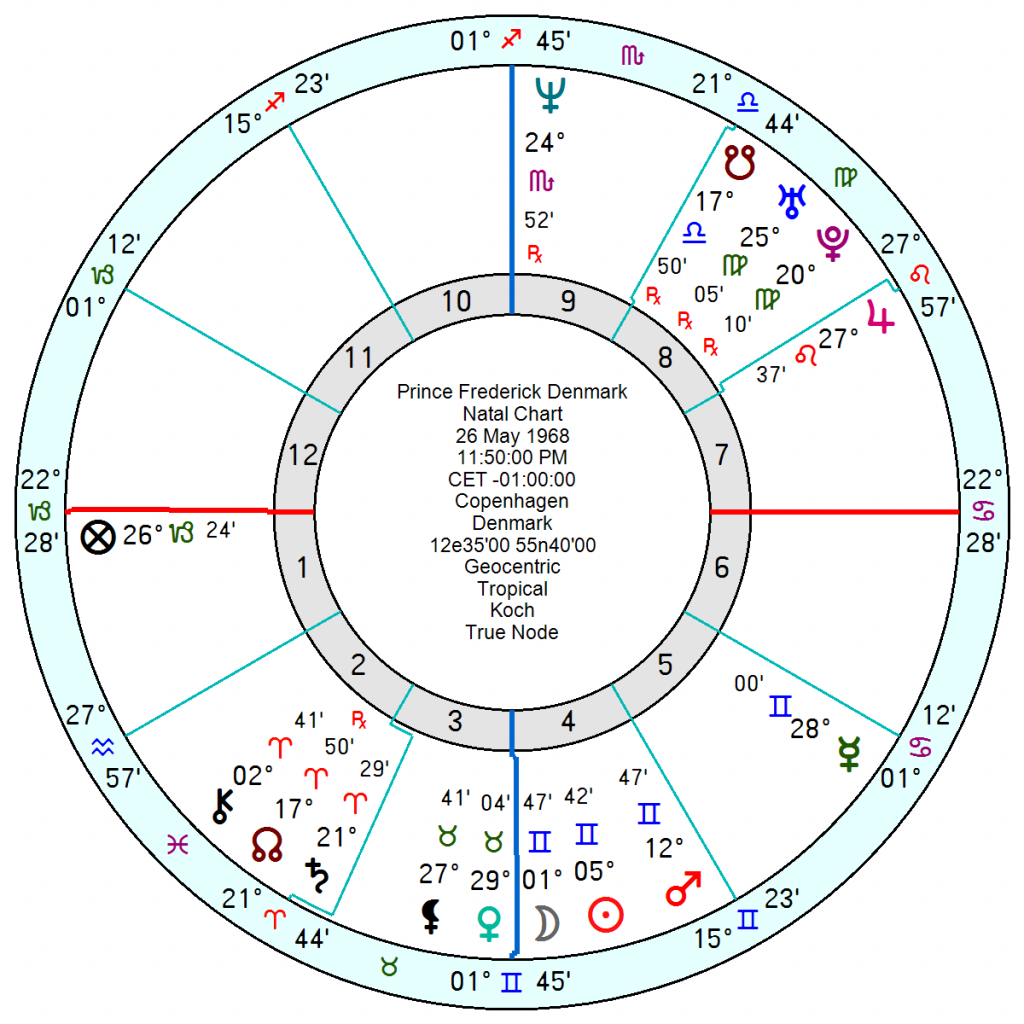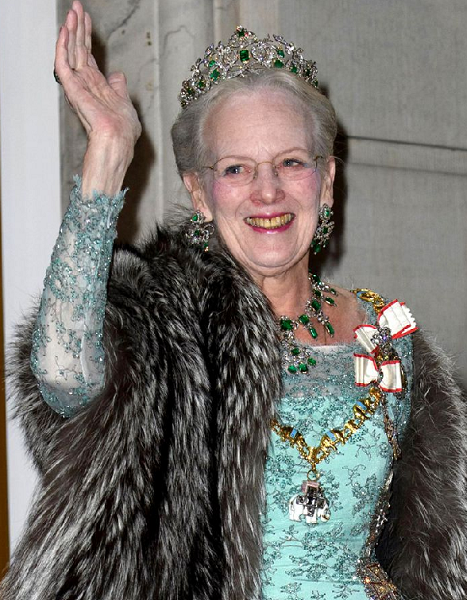 Queen Margrethe of Denmark is slimming down the Royal family by removing the royal titles from her second son's children, though they will be deemed count and countess. Prince Joachim is up in arms and publicly criticising his mother, though her actions follow a similar pattern to Sweden which in 2019 dropped titles for the children of the heir's two siblings. In 2016 Queen Margrethe decided the heir to the heir to the throne, Crown Prince Frederik's eldest and second in line to the throne, would be the only one of her adult grandchildren to receive an annual stipend from the taxpayer.
When she was crowned in 1972 only 45 per cent of Danes supported the monarchy which has now risen to 77 per cent with only 15 per cent favouring a republic.
  Queen Margrethe was born 16 April 1940 10.10 am Copenhagen, and is an enthusiastic, career-oriented Sun Jupiter in Aries in the 10th. She also has communicative Mercury in Pisces close to her Midheaven and both Saturn and Uranus in Taurus also in her 10th – so a public life was inevitable. Her North Node falls in her 4th, suggesting that establishing a fulfilling home and family life would be an area she had to work at.  She also has Pluto Moon in Leo below her late Cancer Ascendant in an unyielding square to Saturn which will anchor her impulsive Aries tendencies and her excitable Venus Mars in Gemini.
At the moment her Solar Arc Pluto is exactly conjunct her 4th house North Node, as a family realignment and squabble occurs. Tr Pluto is also crossing her Descendant into her 7th so her relationships will become more intense in the time ahead, at times bitter. She looks directionless this year into 2023 with tr Neptune conjunct her Midheaven; with heavy pressures from tr Pluto opposition her Pluto, square her Saturn and opposition her Moon over coming years.
  She is now the longest European serving head of state and the world's only queen in her own right. Her accession happened with her father's death on 14 January 1972 7.50pm Copenhagen. That puts a rock-solid, dutiful and hard-working Saturn in Taurus in the 10th trine a sociable 5th house Capricorn Sun widely trine Pluto. There's a more complicated hidden-anger Mars in the 8th in a volatile opposition to Uranus and widely opposition Pluto, both in the 2nd.   I'm not familiar enough with the Denmark royal family to know how this worked out in practice but it is a bubbling cauldron.
Tr Uranus is conjunct the Midheaven in 2023 so a change of direction was inevitable.
 Prince Joachim, the second son, 7 June 1969 4.30 am Copenhagen, is a Sun Gemini, like his elder brother and his father, with his 12th house Sun square a public-career 10th house Pisces Moon opposition Pluto. Not hugely dissimilar to the UK's Prince Andrew with his Pisces Sun opposition Pluto. Joachim was overly controlled as a child and has become just as controlling in adult life. Joachim also has his 4th house Pluto conjunct Jupiter, giving him a pushy confidence about his roots which won't take kindly to a demotion. He also has an under-loved Saturn Venus in Taurus; and an argumentative Mercury opposition Mars.
His relationship with his mother has a possessive, power-struggling Sun Venus square Pluto and a resentful, gritty Mars trine Saturn. It will rock n' roll through 2023 with tr Uranus conjunct the composite Sun Venus and tensions will remain high.
Crown Prince Frederik, 26 May 1968 11.50pm Copenhagen, has carved his own path in the past, running marathons, working among the homeless in Boston and becoming a member of the Danish Navy's elite Frogmen Corps (like the US Navy Seals.)
He has a 4th house New Moon in Gemini with an unsettled and rebellious Uranus Pluto in the 8th which focuses via a sextile to Neptune onto a Yod focal point Saturn in Aries. He won't have an easy furrow to plough in life and his Saturn conjunct his mother's Sun Jupiter hints at a tricky relationship.
His relationship chart with his brother like Charles and Andrew is competitive and argumentative with a composite Sun square Mars and Mercury square Pluto.
Who'd be a Royal? Family dynamics are always more pressured than for most with sibling rivalries blown up to epic proportions. And the lifestyle for all its perks is punishingly restrictive.