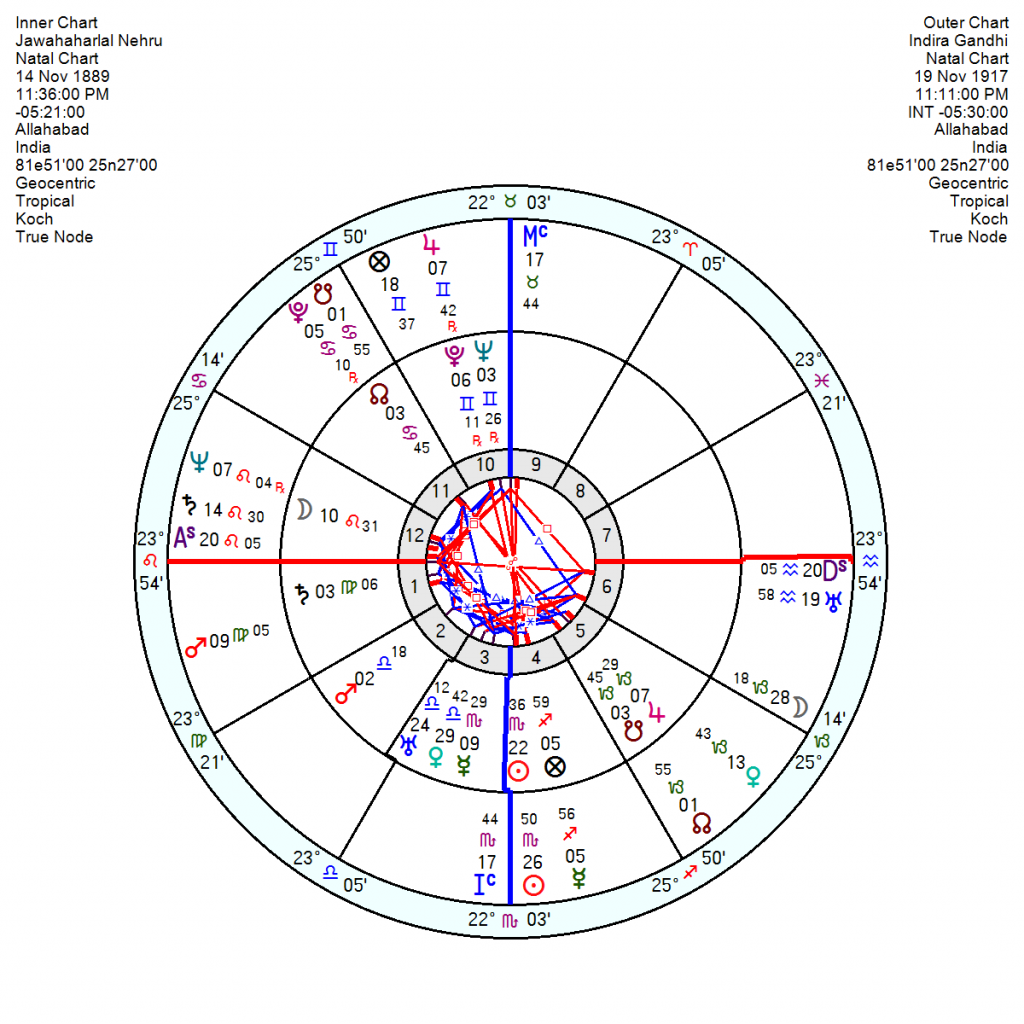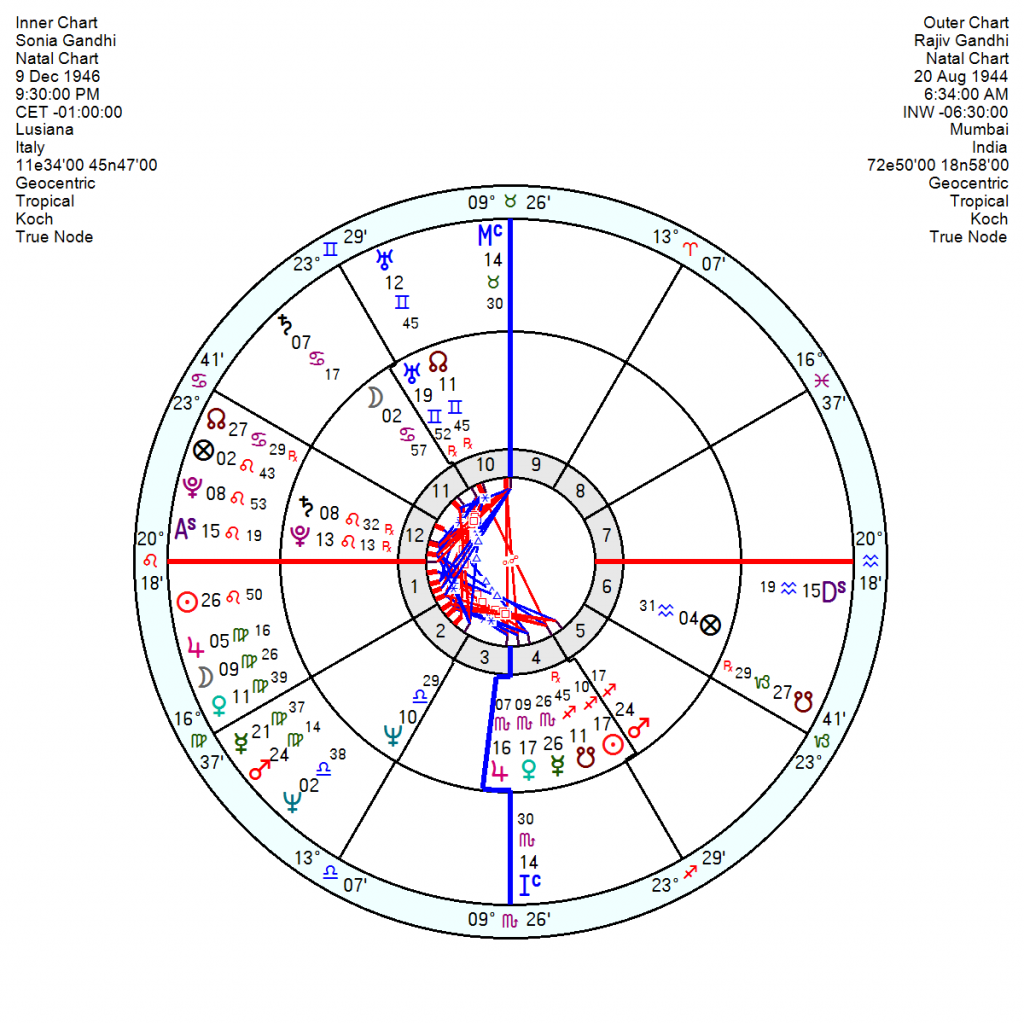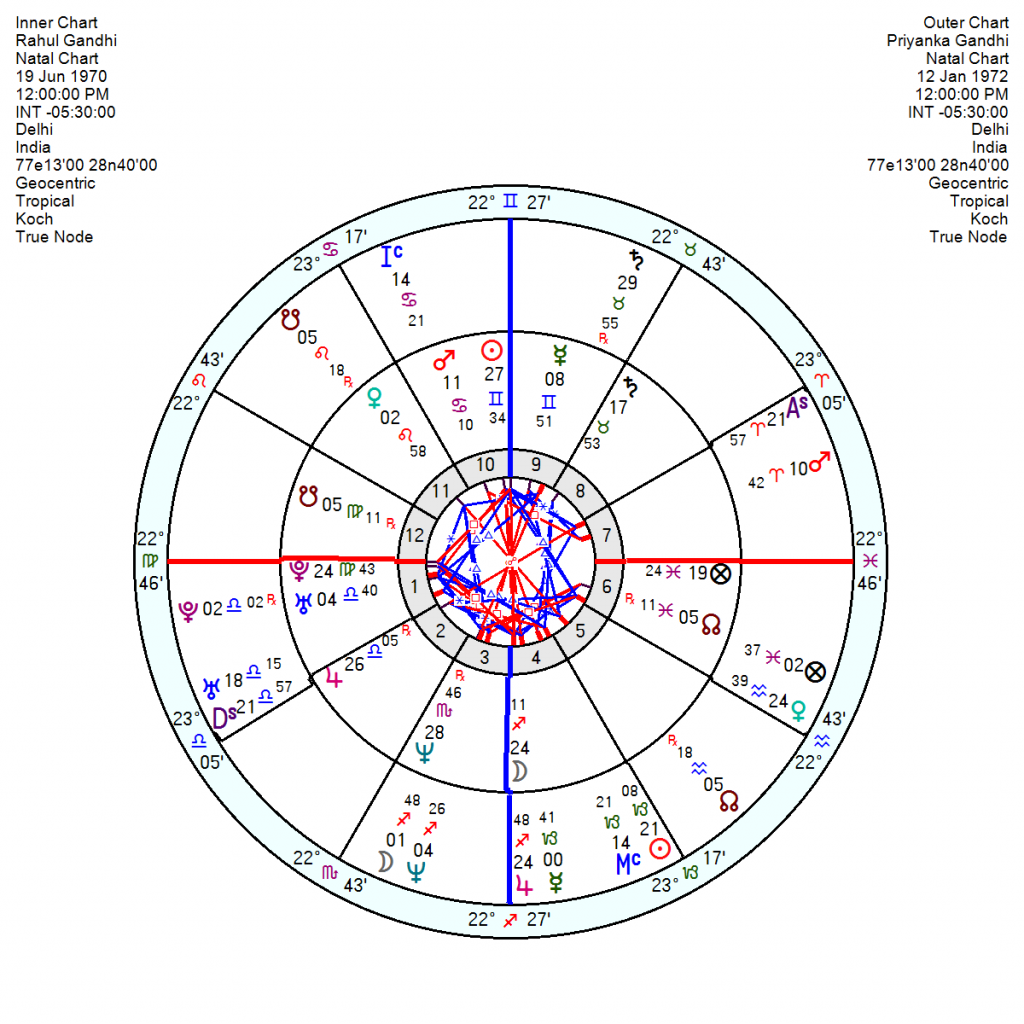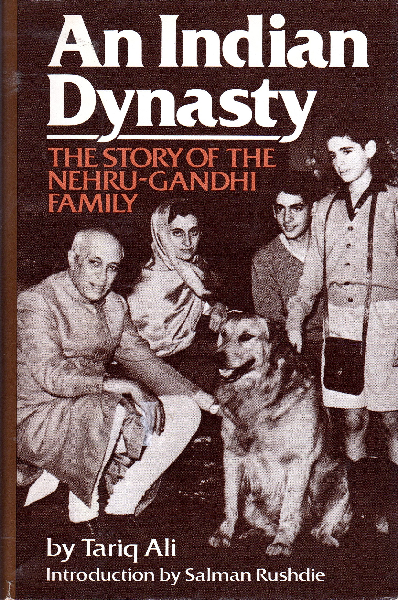 The present-day Gandhi dynasty in India is being hammered by corruption allegations over money laundering with Rahul Gandhi being summoned to give evidence before the Enforcement Directorate. Modi's government has been accused of using federal law enforcement agencies against its political opponents to harass them. And a party spokesman for the Gandhis described it as "a strange case of alleged money laundering without any money".
The Gandhi centrist Congress party ruled India for many years though right-wing, nationalist Narendra Modi has been prime minister for the past eight years. Modi has frequently attacked Nehru, the key figure in India's fight for independence who was father of Indira and great-grandfather of Rahul, in an attempt to undermine his adversaries and their party.
Rahul, born 19 June 1970, no verified birth time, is a confident Sun Gemini trine Jupiter. He looks uncertain exactly now but will be bullishly determined from August to this December with tr Pluto square his Jupiter. Though that can result in conflicts with authorities and doesn't always end well. Thereafter for several years he looks discouraged with blocked Solar Arcs and an undermining tr Neptune square his Sun.
His mother Sonia Gandhi, 9 December 1946 9.30pm Lusiana, Italy, who became Congress party leader in 1998 after her husband Rajiv was assassinated, and retired briefly until her son was defeated at the 2019 election when she resumed her position. She is often described as one of the most powerful women in the world – and is at present in hospital with covid.
She's a combative Sun Mars in Sagittarius with a rock solid Venus Jupiter in Scorpio square Saturn Pluto in Leo with Mercury also in Scorpio.
She is panicky and undermined this year with tr Neptune square her Mars with plans not working to but should start to pick up again in 2024.
 Priyanka Gandhi, 12 January 1972, Sonia's daughter and Rahul's sister, also politically active, is a Capricorn with Saturn in Taurus opposition Neptune and square Venus; with an ultra-determined Mars opposition Pluto. She isn't singing and dancing through the next two years either though she has blips of good luck.
It has been an extraordinary family with both Jawaharal Nehru and his daughter Indira being stalwart Scorpios. He was born 14 November 1889 11.36pm Allahabad and had the signature Neptune Pluto in Gemini of his generation in his 10th, square Saturn, trine Mars and inconjunct Jupiter square Saturn, trine Mars and on the focal point of a Yod to a confident 5th house Jupiter sextile Mercury in Scorpio.
His daughter Indira, 19 November 1917 11.10 pm, had a 4th house Scorpio Sun, tying her into the family line, with a can-be-autocratic Uranus in Aquarius opposition Saturn in Leo with Saturn conjunct Neptune; and a charming though manipulative Venus opposition Pluto on her South Node.
  Indira's son Rajiv, 20 August 1944 6.34am Mumbai, was an outgoing Sun Leo with a hard-working Virgo stellium. He became prime minister after his mother was assassinated but became mired in various scandals including allegations of corruption and was himself assassinated eight years after his mother.
Modi has broken the Gandhi mould in recent years and there's no indication they'll piece it back together any time soon.