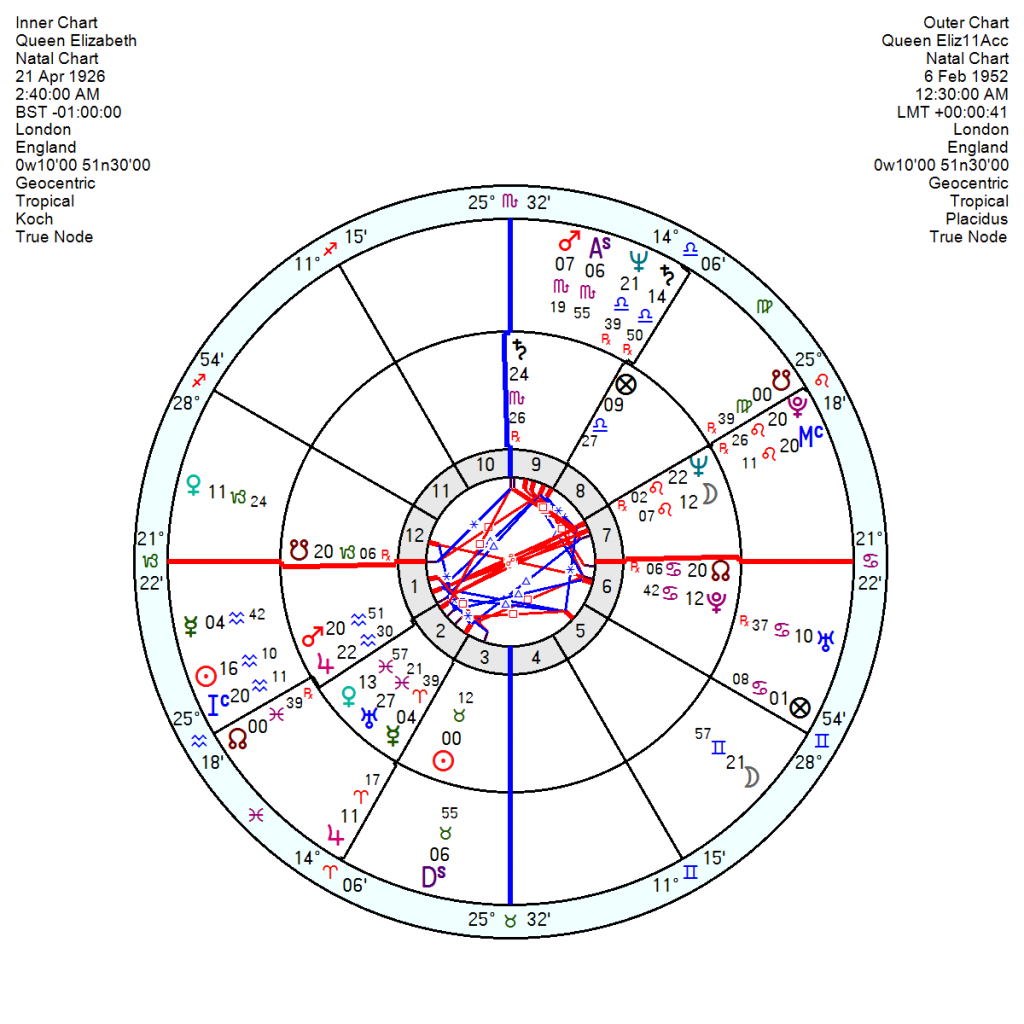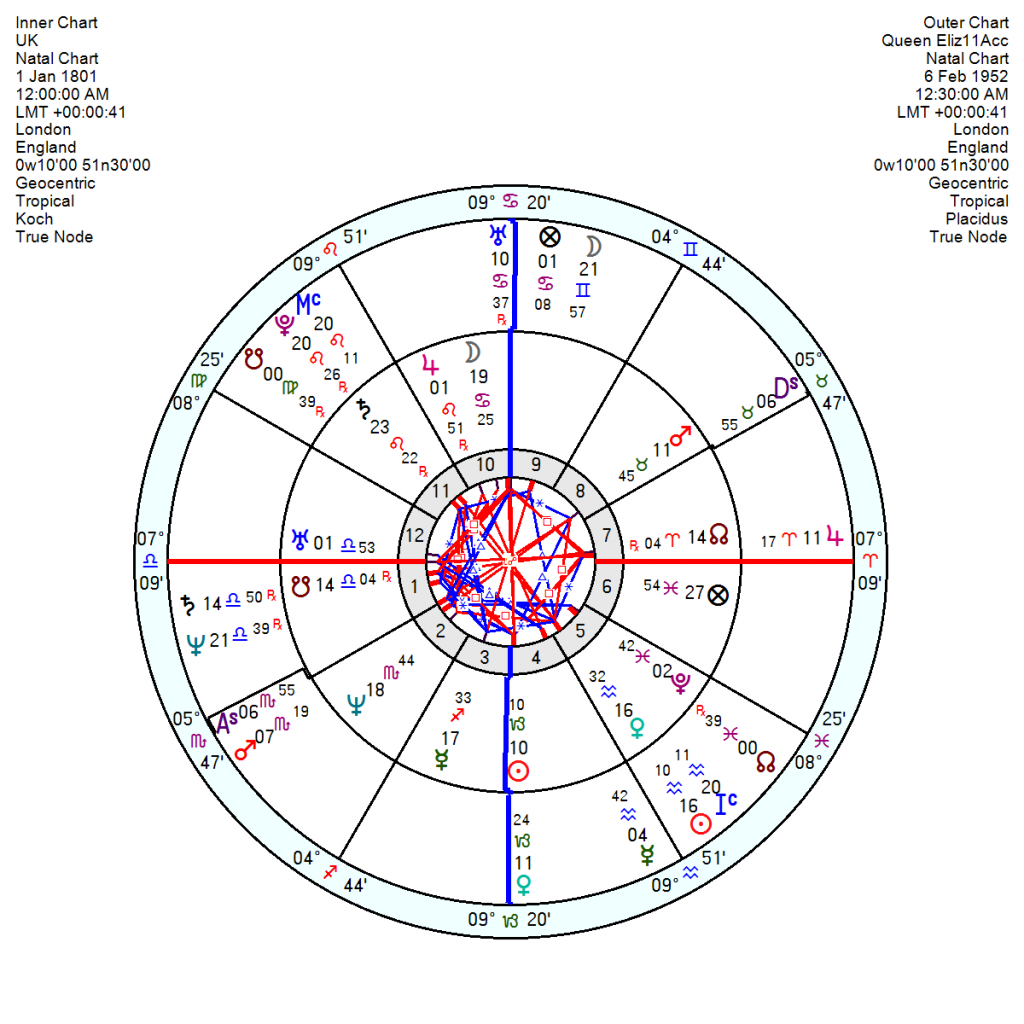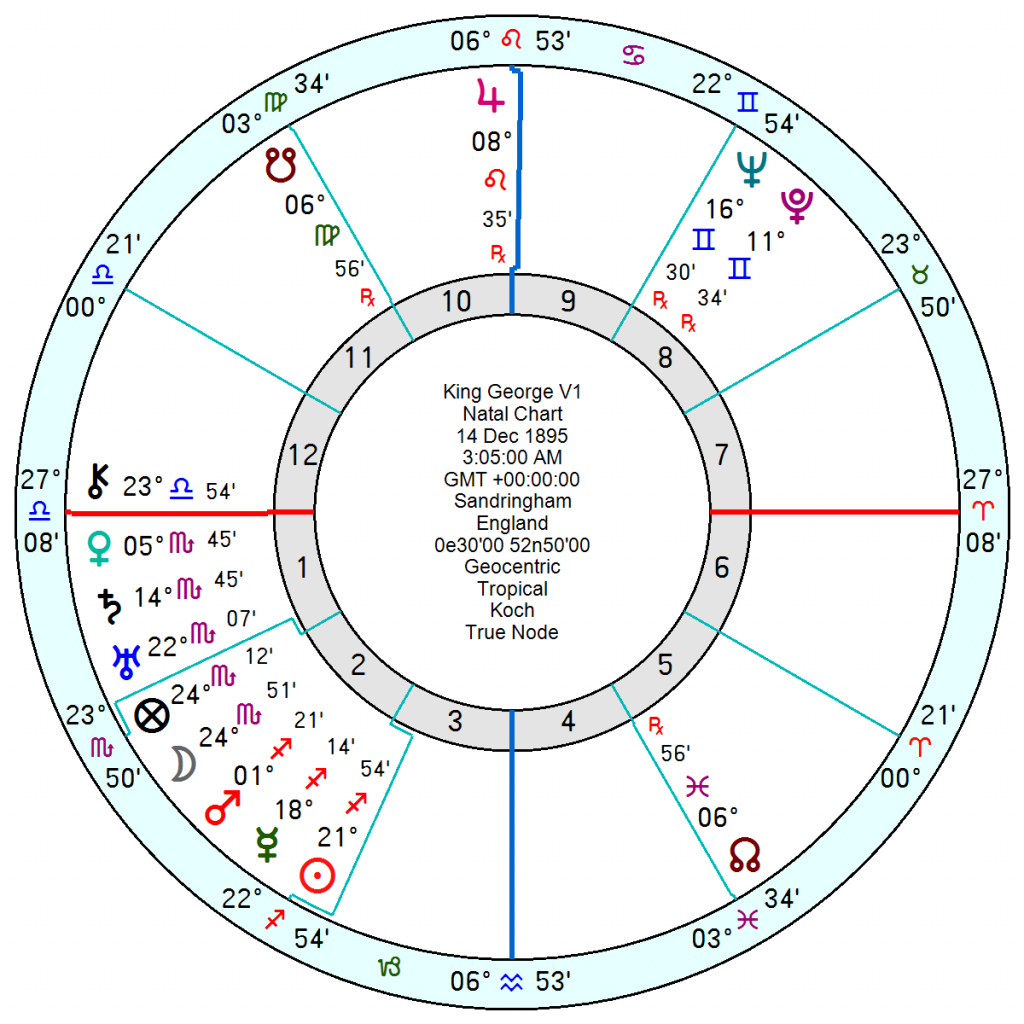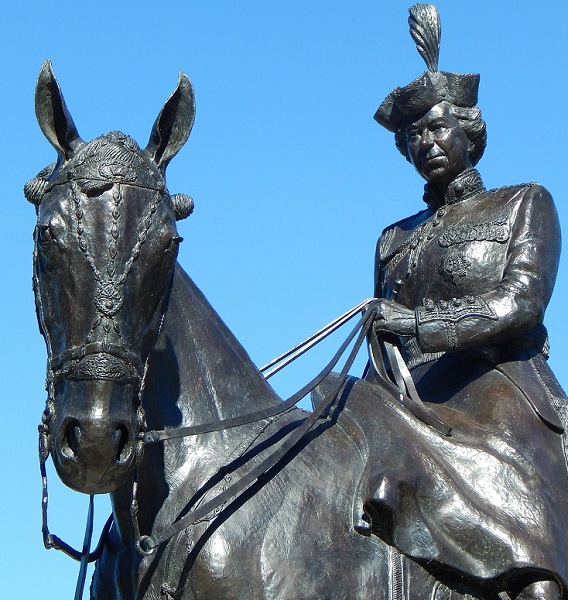 Queen Elizabeth is mourning the day her father George V1 died seventy years ago which is also the anniversary of her accession. During her long reign, she has seen 14 British prime ministers occupy No 10 and survived on the throne for longer than Queen Elizabeth 1 (44 years) and Queen Victoria (64 years).  
  Oddly enough there was also a transiting Saturn square Uranus running in February 1952 in Libra/Cancer which were both tugging on her dutiful 6th house Pluto in Cancer; with tr Neptune in Libra square her North Node. What is most noticeable is tr Pluto in Leo in a blocked and scary opposition to her Mars as her life-as-she-knew-it ground to a halt and she faced the momentous challenges that lay ahead. Tr Pluto over the next three years would wend its way in hard aspect round her Fixed and obsessively conscientious T Square involving her Midheaven as she learnt to handle the burden of her new role.
  The UK chart also showed a distinct shift at that point in 1952 with tr Uranus conjunct the Midheaven and tr Saturn exactly opposition the UK 7th house North Node in Aries; with tr Venus conjunct the IC and tr Sun conjunct the UK Venus so it would be an emotional time.
  George V1 died aged 56 in the middle of the night so there is no definite time. He was born 14 December 1895 3.05 am Sandringham, England and as the second son, behind his brother the Duke of Windsor, never expected to inherit the throne.
Nervy with a pronounced stammer and poor health, he was not well designed for the rigours of monarchy, unlike his stalwart daughter Elizabeth. He had a Sagittarius Sun Mercury opposition an 8th house Neptune Pluto in Gemini, which would make him prone to instability. His Jupiter on his Midheaven would help but it was nothing in comparison to Elizabeth's dutiful Saturn in Scorpio on her Midheaven locked into a Fixed planet opposition. She may have had her faults as a detached mother but she is custom-built for standing rock steady over the long haul.