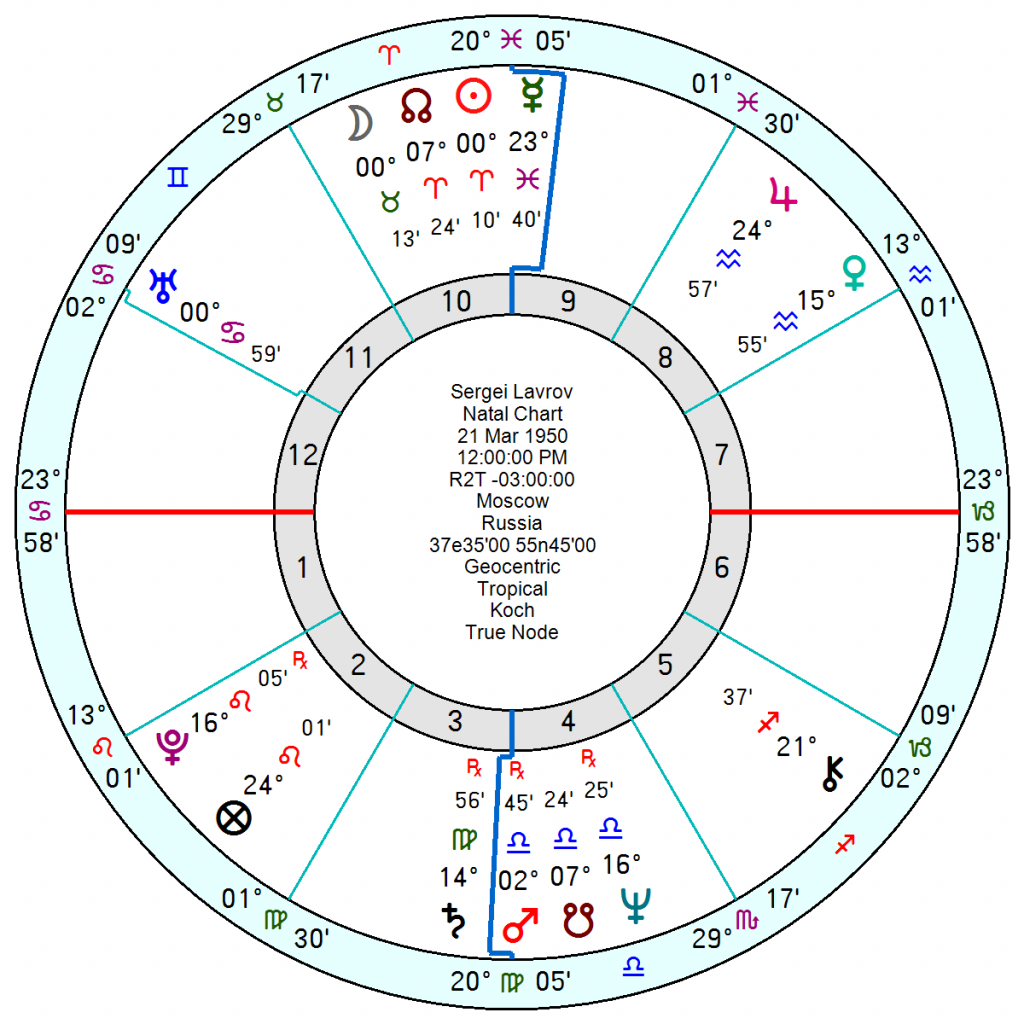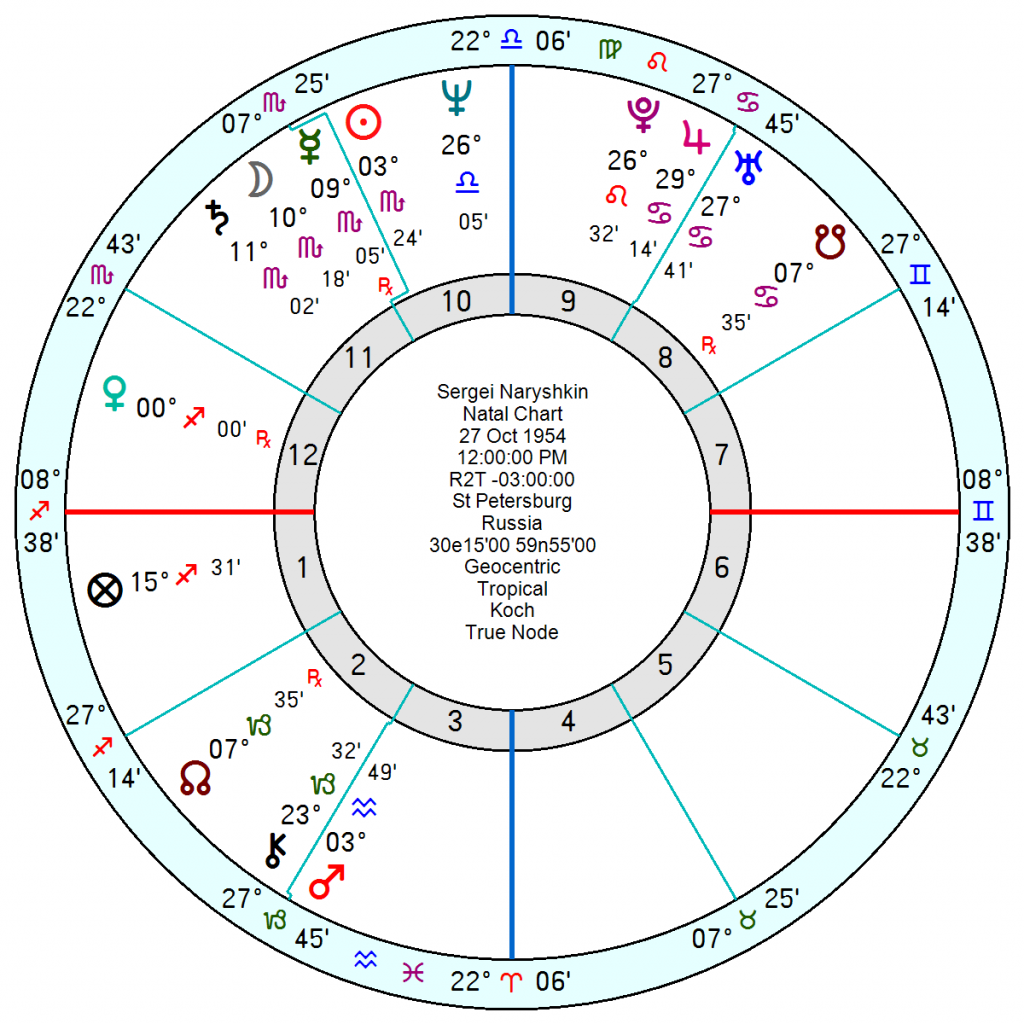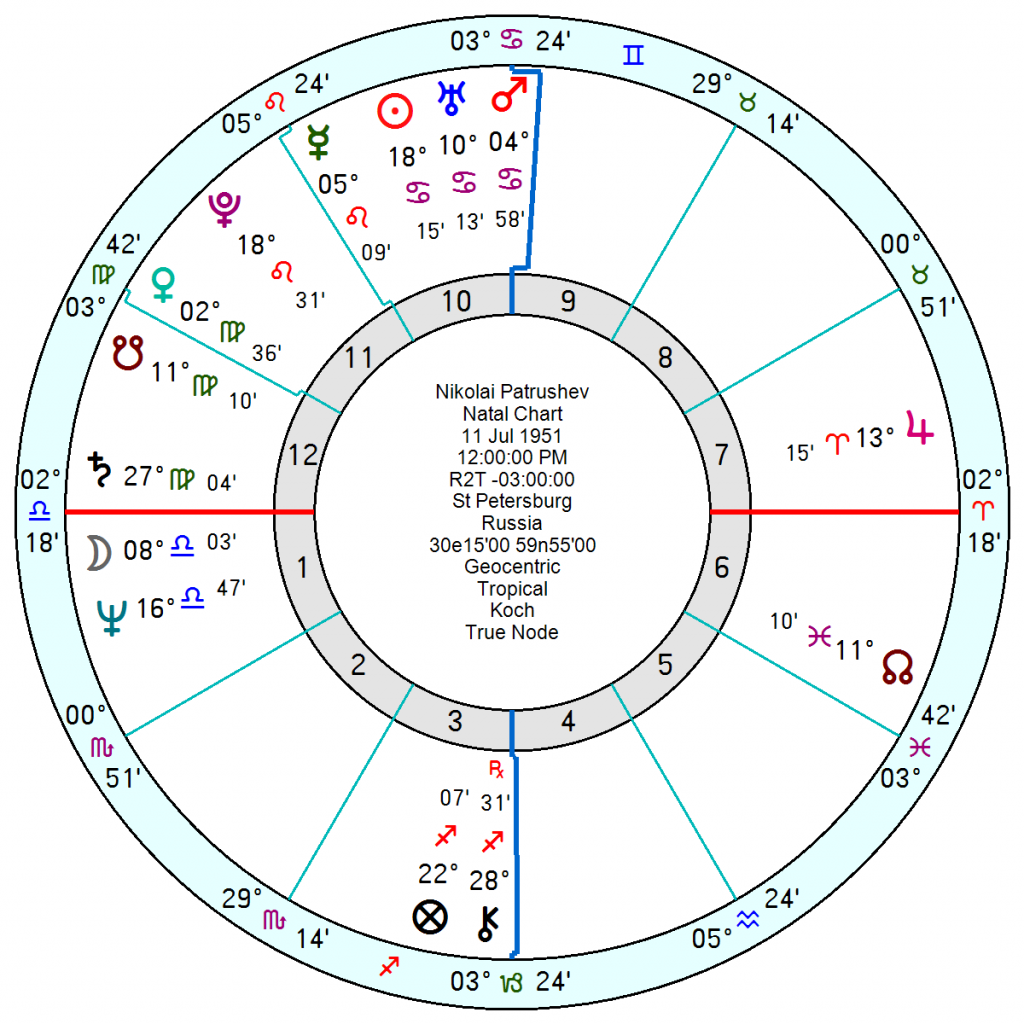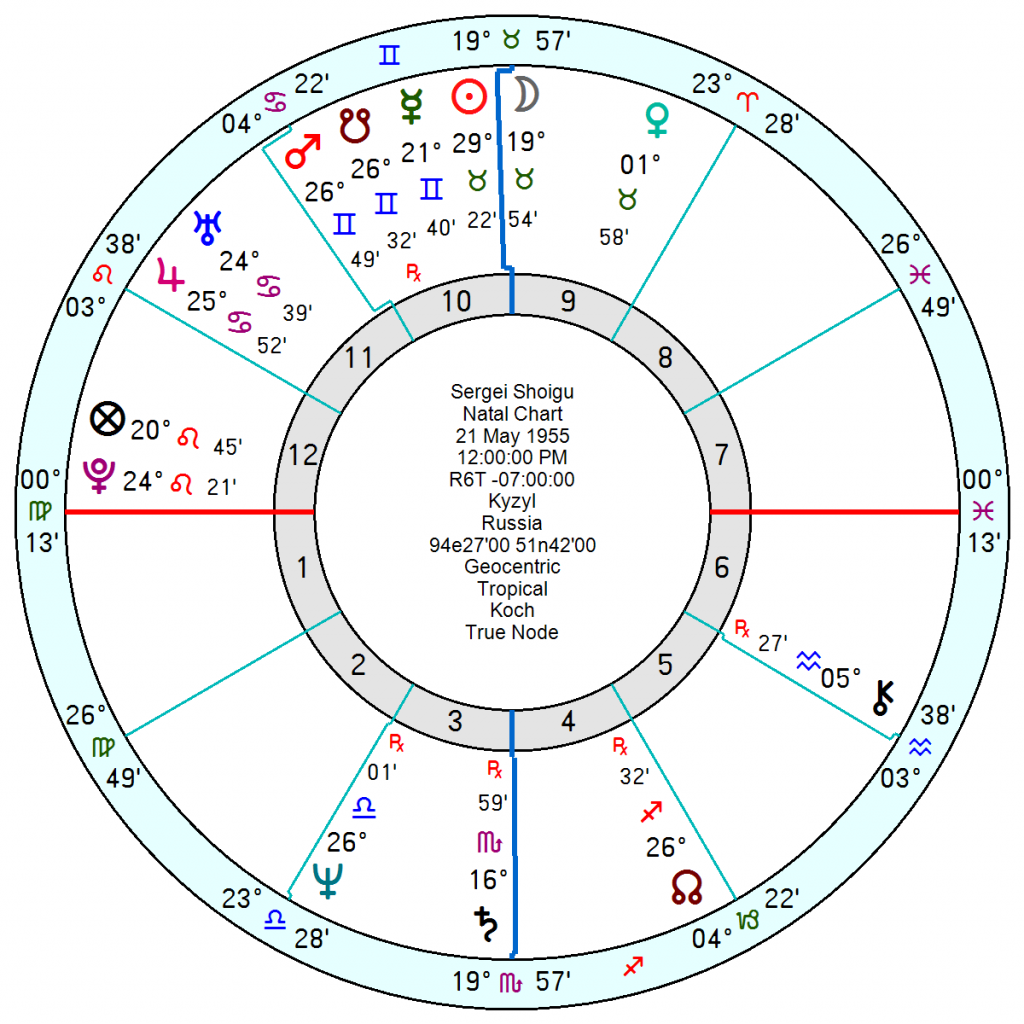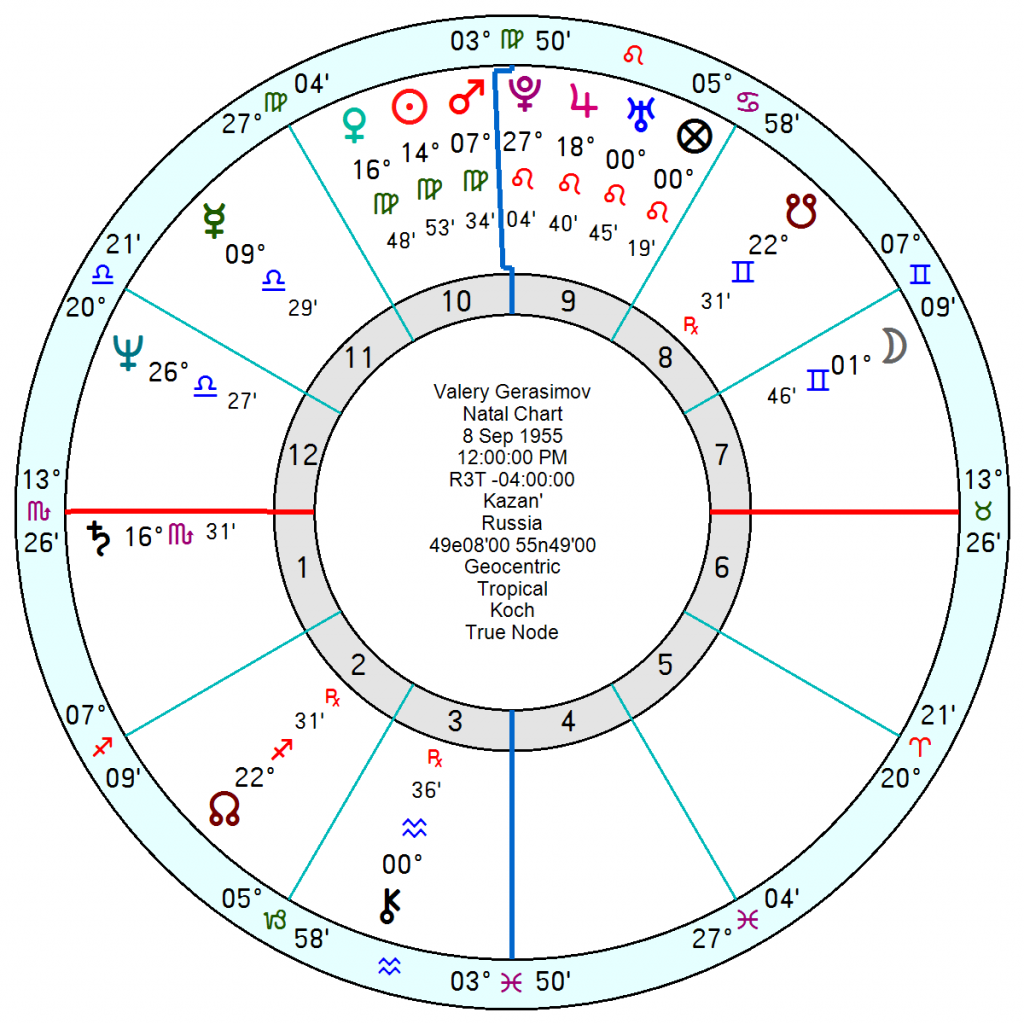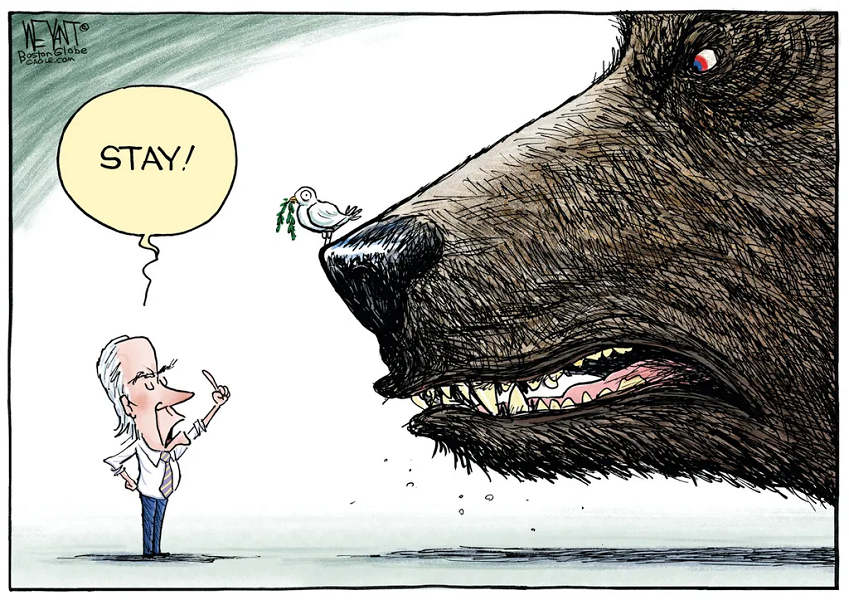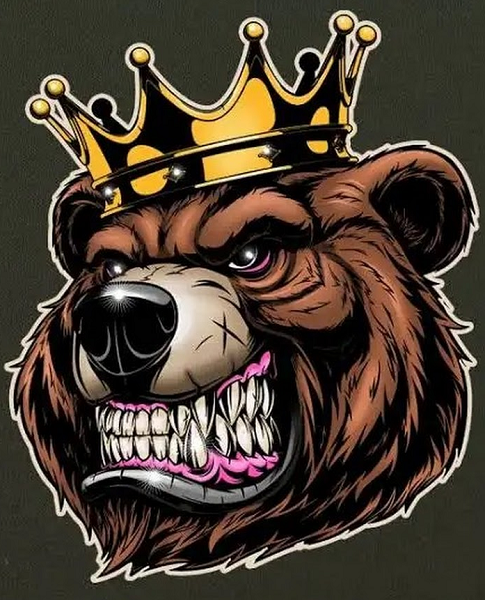 Isolated and paranoid, Putin has increasingly withdrawn from the usual wide array of advisers in the past two years to rely on a hardline group of military, security and spy service chiefs, whom he expects to carry out his orders. "He doesn't ask for advice. He sets tasks and demands they are implemented," according to one commentator.
Since Putin's birth data is iffy it's worth looking at their charts, bearing in mind that being reliant on a madman does not guarantee a stable career or lifestyle. Upsets on their astrology may refer to personal circumstances in falling out of favour – or could be a clue to the survival of their Lord of Darkness.
Best known in the west is Sergei Lavrov, Foreign Minister, whose foreign assets in US, EU, UK and Canada have been frozen. Born 21 March 1950 Moscow, he's a volatile Sun Aries opposition Mars square Uranus; with a pushily confident Pluto opposition Venus and Jupiter in Aquarius. He's in a meltdown panic since the invasion a few days back with tr Neptune square his Sun/Saturn and opposition his Mars/Saturn midpoints running on till late this April, and returning late September to mid February 2023; with 2023 bringing further Neptunian losses and disappointment as well. May this year onwards also has tr Uranus jolts and jangles hitting his Venus and then Pluto. 2025/26 will be his nadir with the tr Neptune Saturn in Aries hitting his Sun, Uranus, Mars T square.
Sergei Naryshkin, 27 October 1954 St Petersburg, the head of the SVR foreign intelligence service, another former KGB officer and a Soviet history expert, is a Sun, Mercury, Saturn (Moon) in Scorpio square Mars in Aquarius, with a lucky Uranus Jupiter in Cancer. He's having a wild year, racketing between highs and extreme lows. Mid February (now) till mid March and again November to early January 2023 is calamity time; with a blip of enthusiasm in mid March; followed by more catastrophes in May, December and February 2023 – and complete disorientation August to November. Worse in 2024/25.
Nikolai Patrushev, head of the Russian security council, KGB with Putin since the 1970s, views the West as a crucible of decadence and has claimed that some European countries are "legalising marriage with animals", 11 July 1951 St Petersburg. He has an over-excitable, none-too-sensible Sun, Uranus in Cancer on the point of a T Square to self-deceptive Jupiter opposition Neptune. His Solar Arc Sun is meeting a sobering brush with cold reality as it conjuncts his Saturn sometime in coming months. More pointedly he'll be rattled from late April, and knocked completely sideways by disaster midpoints from late May to mid June, November, March 2023. This August to November will also be catastrophe territory for him.
Sergei Shoigu, the defence minister, appears to have the closest relationship with Putin, accompanying him on hiking trips and holidays. He oversees the work of the GRU military intelligence service, accused of trying to assassinate Sergei Skripal, the former Russian spy, with novichok in Salisbury in March 2018. He was born 21 May 1955 and is a stubborn last degree Taurus Sun square Pluto with Pluto square Saturn in Scorpio – unbudgeable. Mid March for a few weeks looks disorientating and devasting; late May to mid June will rattle his stability as tr Uranus opposes his Saturn. The high anxiety which marked this January, returns August to November, with 2023 being a downhill slide of panicky failure.
General Valery Gerasimov, head of the country's military, 8 September 1955, a Sun, Mars, Venus in Virgo; with Saturn in Scorpio square Jupiter in Leo. Undermining Neptune transits now till late this April, and returning late September to mid February 2023. Late May to mid June flags up as high-tension and unstable with tr Uranus opposition his Saturn – as it does on several of the above charts. He may have blips of good luck with Uranus square his Jupiter but on the whole it is a swampy year. 2023 will upset his apple cart as tr Pluto opposes his Uranus.
Putin's 4th Term chart, 7 May 2018 11.05am Moscow, is sagging under disappointment now till mid March; with shocks and jolts late May to mid June; some highs and lucky breaks thereafter alongside acute frustrations with tr Pluto conjunct the Mars. Where it looks in most jeopardy is in a year's time from February 2023 with the destabilizing tr Pluto square Uranus picking up and the Solar Arc Pluto closing the trapped conjunction to the Mars to exact in the months following.
  Deleting dictators can be a long drawn out agonising process, since they are supported by a clique who depend on them for survival, fiscal as well as literal. And very often have undeserved luck. The fates don't always discriminate.
PS The headline is a steal from PJ O'Rourke.