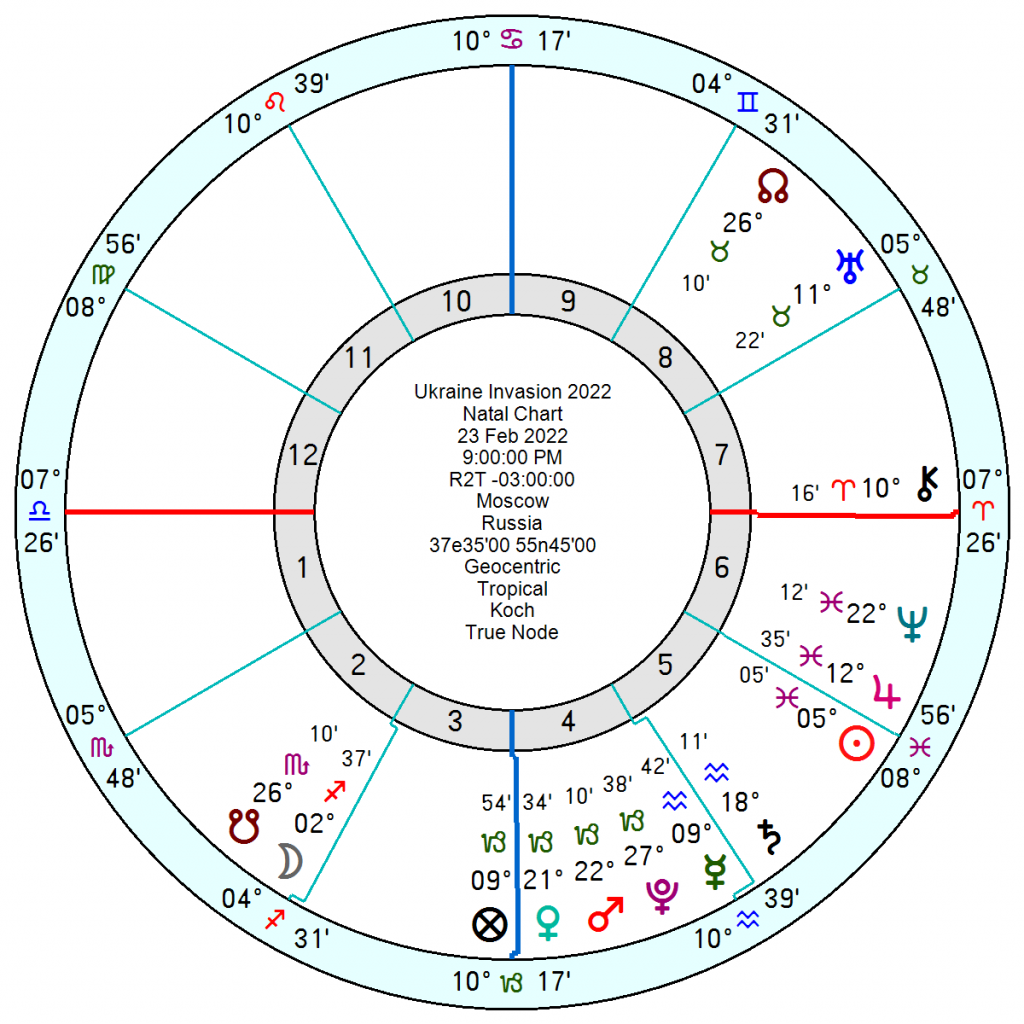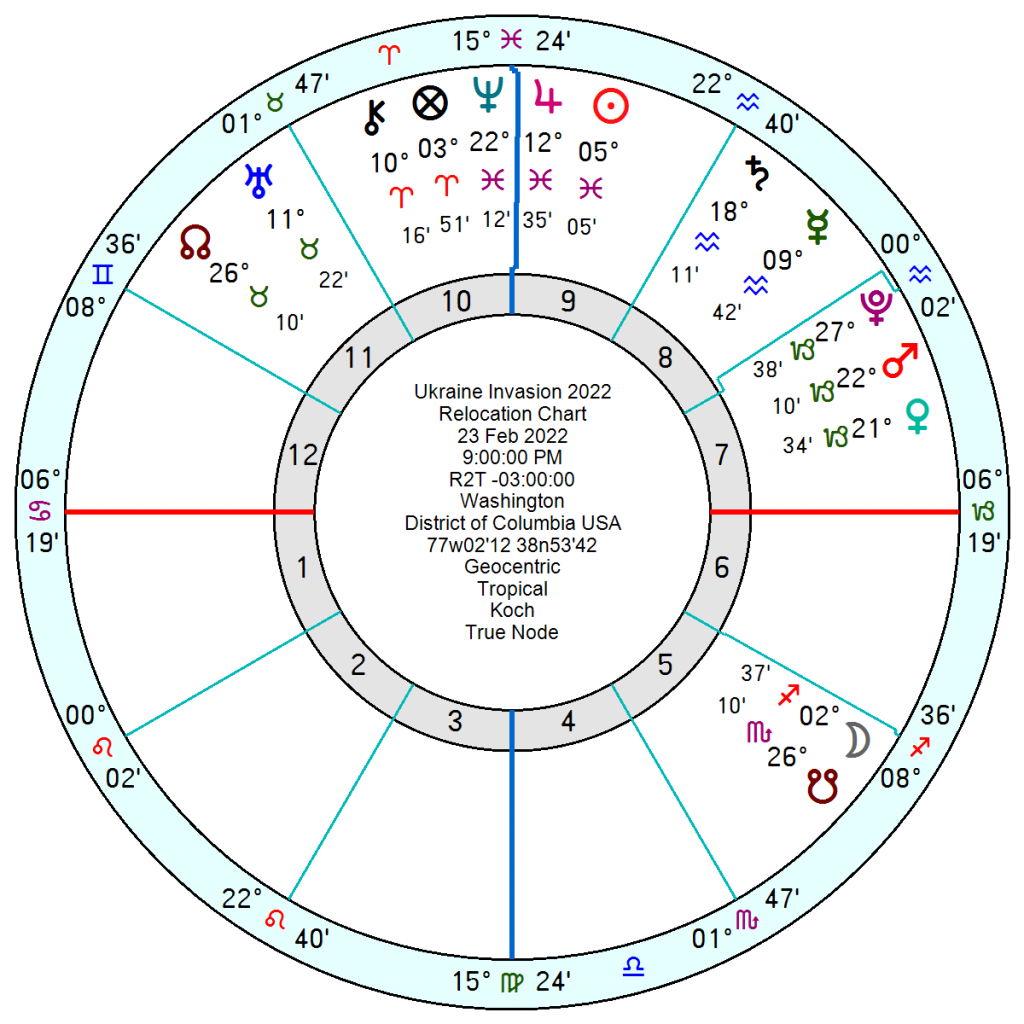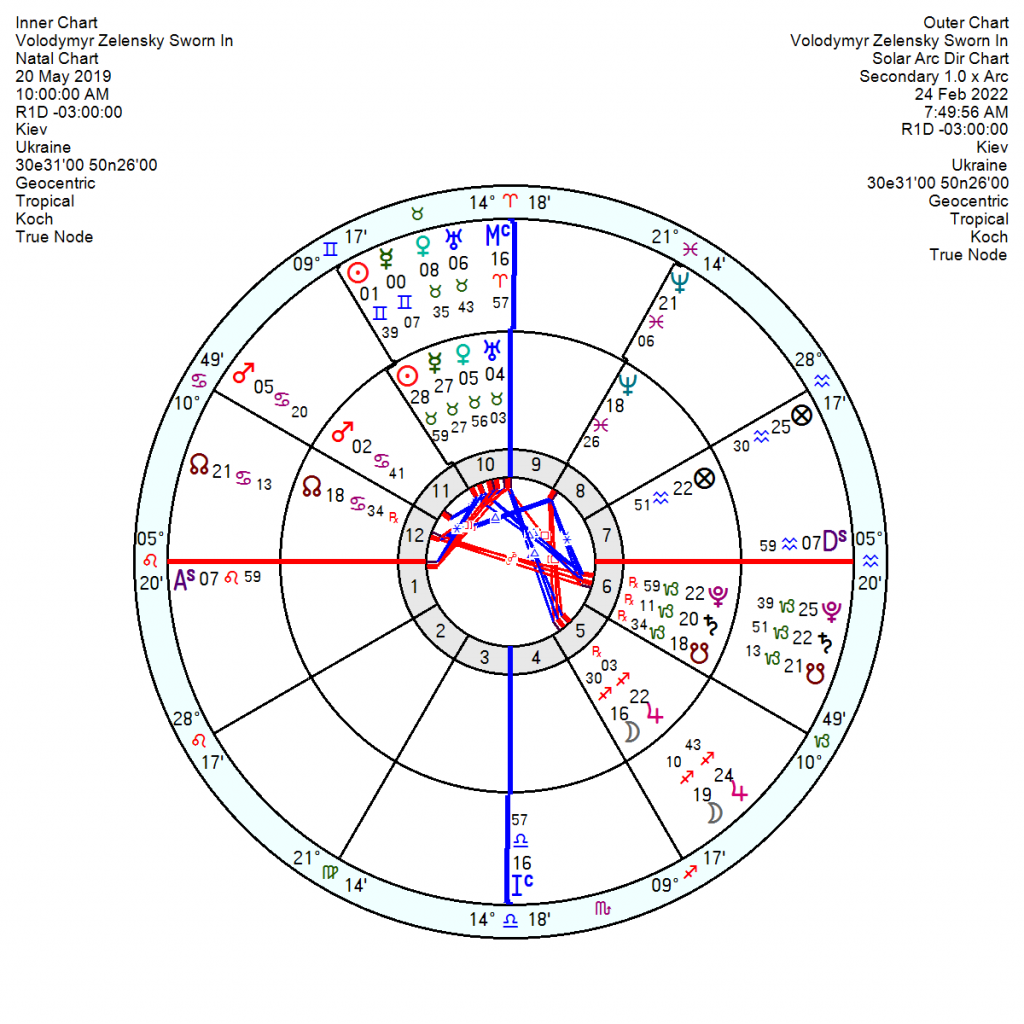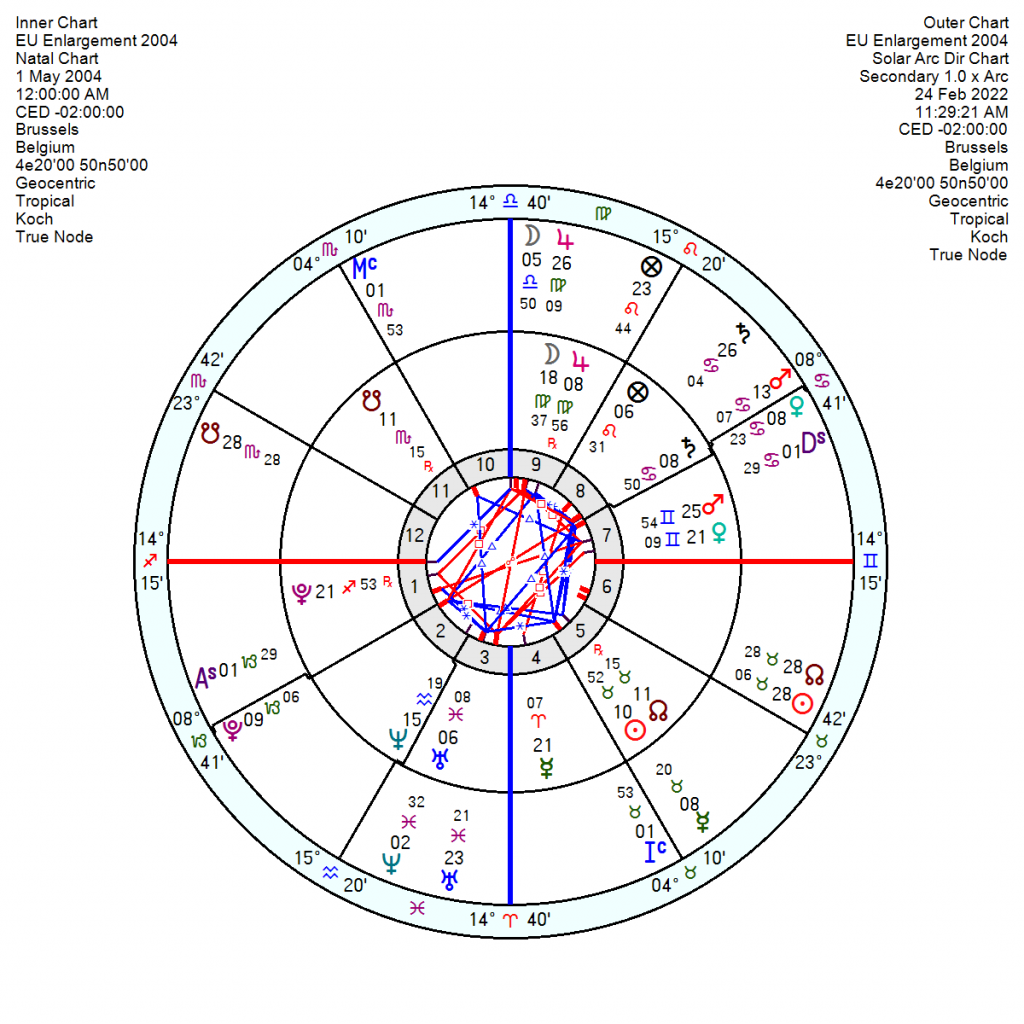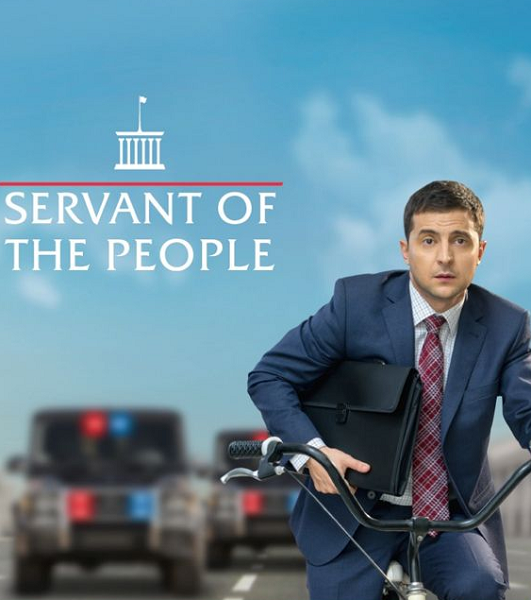 The declaration to invade Ukraine was made at 9pm in Moscow by Putin last night.
That puts a less-than-practical Neptune in the 6th house which rules armed forces, though there's also a lucky Sun Jupiter conjunction. Unpredictable Uranus is in the 8th house of finances and costs; the high-risk Mars Pluto Mercury conjunction is in the 4th which might suggests a less than thrilled Russian population.
Relocating the chart to Washington DC puts the indecisive Neptune in the 10th conjunct the Midheaven, though Jupiter is also conjunct the MC from the 9th but overall it doesn't suggest an effective response. Plenty of aggravation from Pluto, Mars, Venus in the 7th; and financial implications from Saturn Mercury in the 8th.
The EU take has a slippery and uncommitted Neptune in the 7th with a grandstanding Mars Pluto Venus in the 5th.
[Relocating these declaration or start of war charts does work – the difference between the US and the UK take on the Iraq Attack in 2003 was strikingly close in descriptive terms to what transpired.]
Volodymyr Zelensky, President of Ukraine, a former actor/comedian who played the role of president in a popular TV series before stepping into the political arena, was sworn in on 20 May 2019 at 10am. This puts the warlike Saturn Pluto conjunction in Capricorn in the 6th house trine a 10th house Mercury Sun Algol in Taurus – so it was never going to be an easy term. The Saturn has moved by Solar Arc to conjunct the Pluto almost exactly now as he declared martial law and exhorted his countrymen to stand firm.
His own chart, 25 January 1978 2pm Krivoj Rog, Ukraine, has the devastating tr Neptune opposition his Saturn/Pluto midpoint now and through March, on and off till after New Year 2023; with high-risk calamities mid April to mid May and repeating into early 2023. Through 2023 till 2026 tr Pluto first opposes his Mars (23/24) which is trapped, scary and infuriated; and then tr Pluto is conjunct his Sun Venus in Aquarius – so a long haul.
  The countries, which along with Ukraine, border onto Russia  are Belarus, Latvia (EU), Estonia (EU), Finland (EU) and nearby Lithuania (EU). On a quick sweep what stands out are several with Pluto at 17 degrees Scorpio which will catch the destabilizing tr Uranus opposition from mid this June, on and off into 2023 ; and Germany, of course which has a 17 degree Taurus Pluto in the 8th. which will get a severe shake up as well. Several of the East Europeaners also have other fixed signs being rattled from now onwards, through this year.
The Russia 1917 chart also has a 14 degree Scorpio Sun square Saturn in Leo which will be jolted, jarred and rocked on its axis after mid April this year with tr Uranus lightning strikes and thunderbolts and that returns early 2023.
The EU 2004 enlargement of 1 May 2004 took in three countries from the former Soviet Union – Estonia, Latvia, Lithuania – along with Cyprus, the Czech Republic, Hungary, Malta, Poland, Slovakia and Slovenia. That intake chart always did look to be having its roughest year, building up from 2021, with tr Neptune square the Pluto opposition Venus Mars, worsening from this late May onwards for a year; with tr Uranus conjunct the Sun North Node now and square the Neptune from May onwards. It looks in complete meltdown so the EU responses may prove to be a disappointment or won't be sufficient.