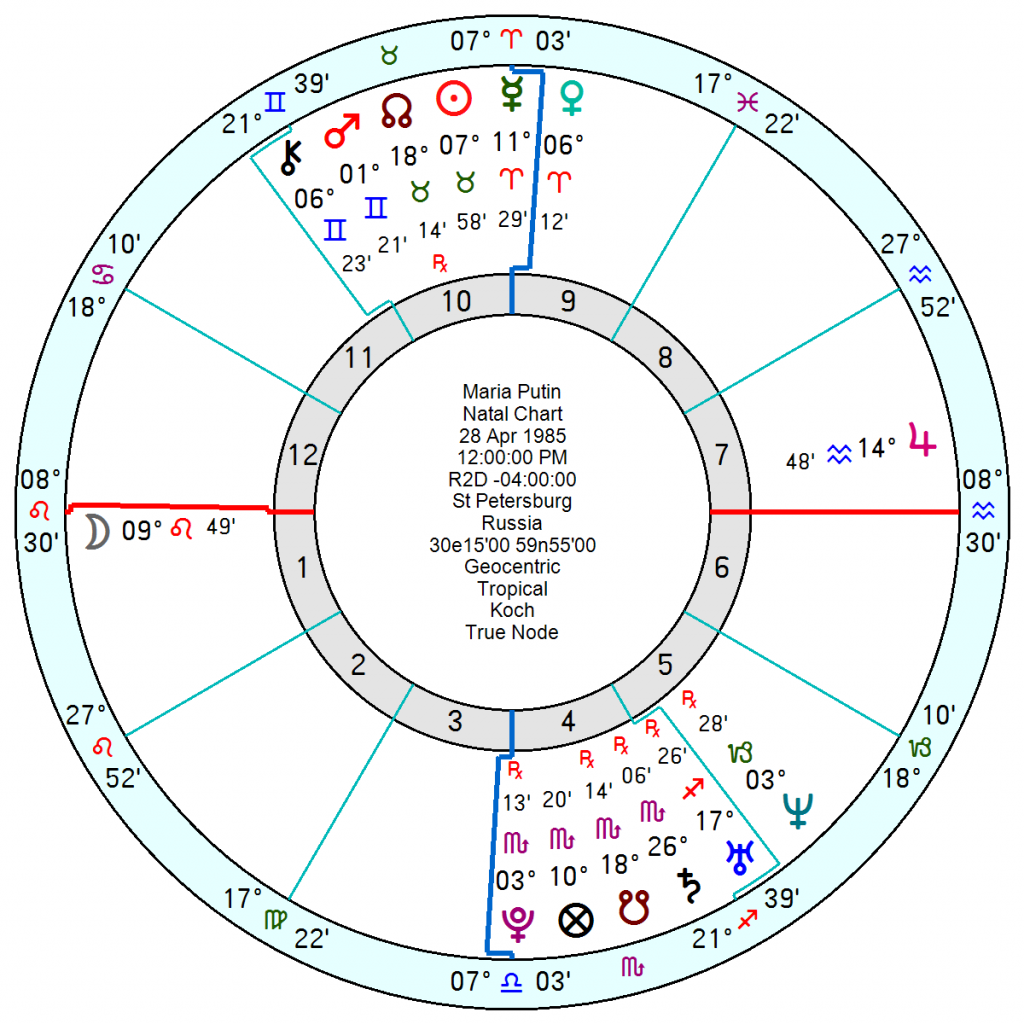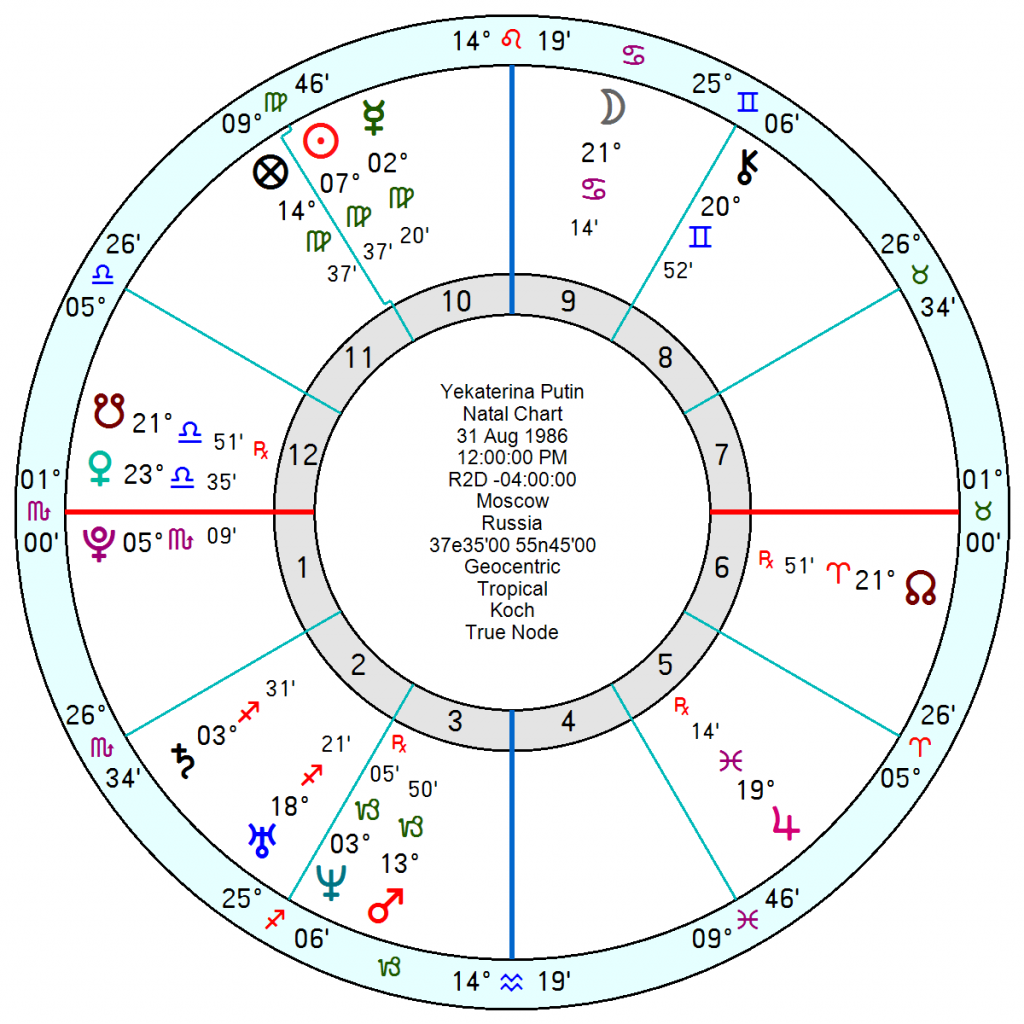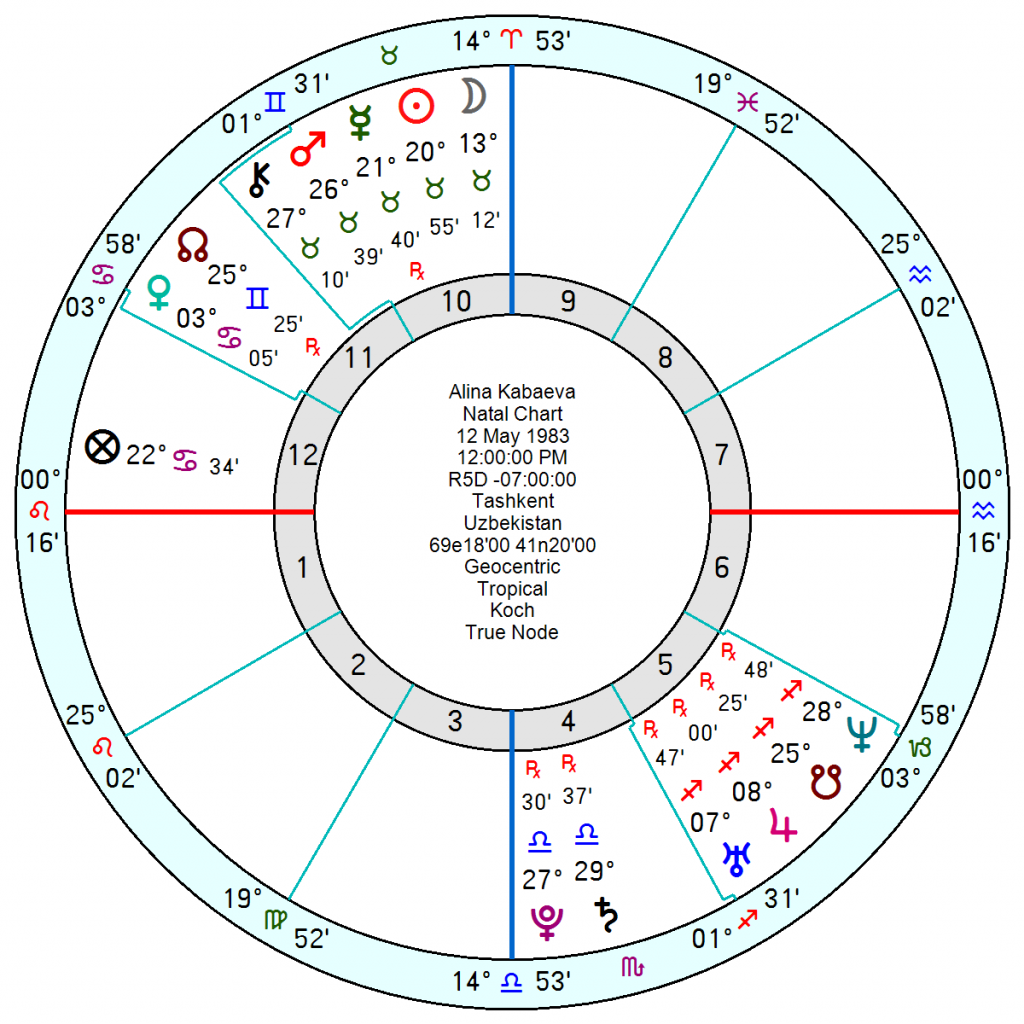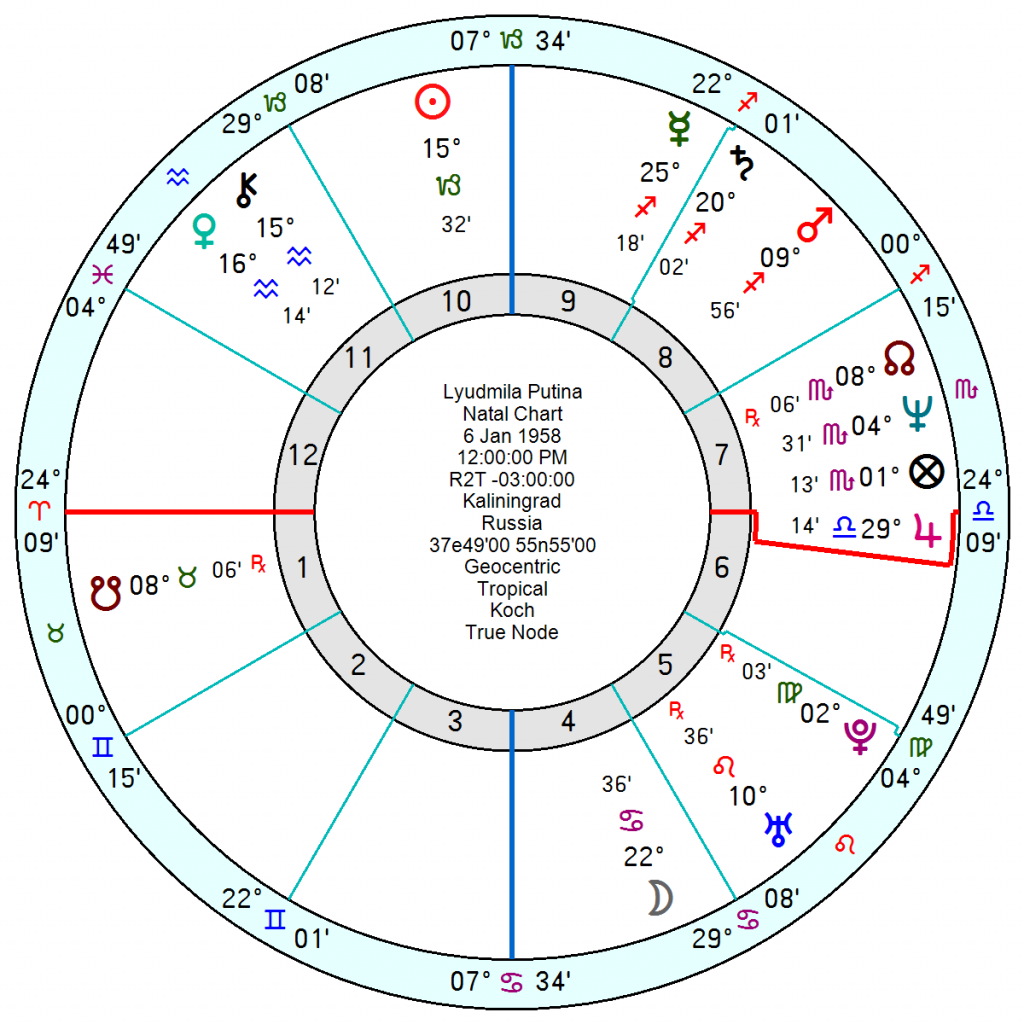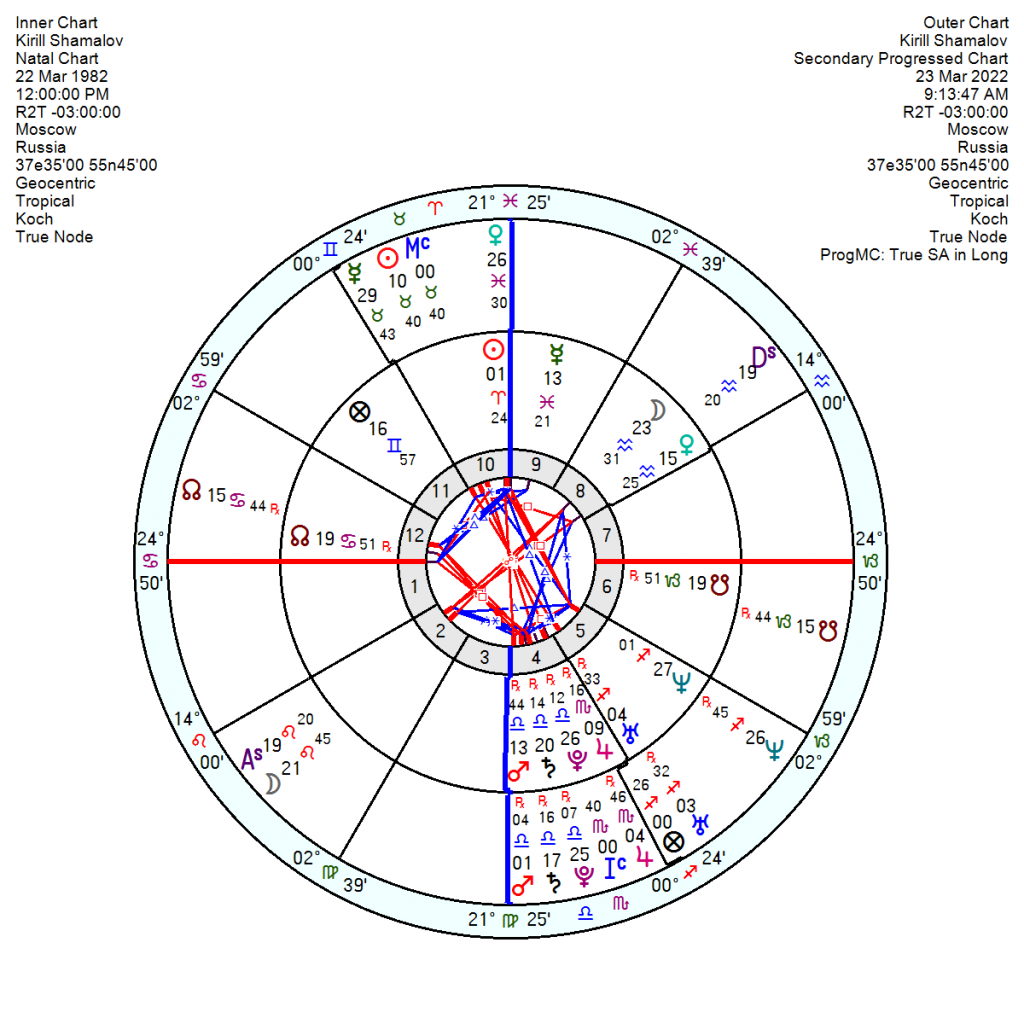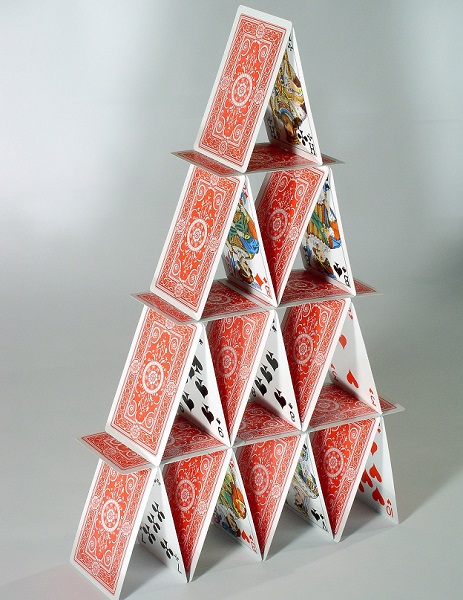 Putin's close family will be on high alert given the pressure he is under and the risk of him being deposed or dispatched out of a window. They may not like him but their own position, financial and otherwise, may be jeopardized and undermined if he were toppled.
Maria Putin, 28 April 1985, St Petersburg, his eldest daughter, a paediatric endocrinologist, is according to reports splitting from her husband, a Dutch businessman. She is a stubborn, controlling Sun Taurus opposition Pluto trine Neptune. Her Neptune sextile Pluto is on the base of a Yod inconjunct Mars in Gemini. Such a Yod is overly forceful and impulsive. Certainly she'll have had major power and anger issues – both doing and been done to.  Father comes across as dominating.
Mid June onwards looks especially hazardous for her with tr Uranus square her Mars/Pluto midpoint, with her standing being diminished as tr Neptune squares her Jupiter/Pluto midpoint – 2023 will see her on high alert. Though her greatest challenges will come after mid decade with tr Pluto in Aquarius bearing down on her Sun opposition Pluto.
Katerina Putin, 31 August 1986, a scientist and former acrobatic dancer, his second daughter, is a Sun Mercury in Virgo sextile Pluto, square Saturn in Sagittarius and trine Neptune Mars in Capricorn – controlling in her own way and forceful. She looked rattled and unsettled in January when the Ukraine build up started; and is in a flat panic at the moment until mid April with tr Neptune square her Mars/Saturn midpoint, repeating later in the year into early 2023. Her Progressed Mars in late Capricorn is catching the tr Pluto conjunction, which will be scared and trapped into 2023.
Putin's reported mistress and maybe mother of further children, a former Olympic gymnast, Alina Kabaeva, 12 May 1983, is a New Moon Mercury in Taurus with an alarming, hair-raising Mars in Taurus exactly conjunct Algol on the focal point of a Yod to a bleak, unyielding Saturn Pluto in Libra sextile Neptune. That is one tough and angry chart.
   February (last month) saw her in calamity territory and this month till mid April is no better. The rest of the year has one upbeat influence and several knocked-sideways ones. But it is 2023 which shows up as the major enthusiasm dampener. At that point her lucky Jupiter Uranus in Sagittarius is under a dark Saturnine cloud. In 2023 as well tr Uranus will conjunct her Sun and Mercury for forced changes against heavy resistance; and 2024 will be worse as tr Uranus is conjunct her Yod focal point Mars giving her a considerable shock and forcing her life onto a different trajectory.
Lyudmila Putina (as was), his former wife and mother of Maria and Katerina, 6 January 1958, has gone on to marry a younger husband. She's a Sun Capricorn with a stressed Mars in Sagittarius square Pluto, trine Uranus with her Uranus opposition Venus. She would have attracted herself to a domineering husband with Mars Pluto though may, as she has matured, turned it round to become the one holding the reins. Her fortunes are mixed ahead with hostile arguments and discouraging challenges this year; but more confidence and luck in 2023/24 interspersed with a few setbacks.
Kiril Shamalov, ex-husband of Maria, a billionaire, former economic adviser to the government and son of a Russian bank owner, confidante of Putin, was born 22 March 1982. He's a Sun Aries with a formidable collection of Mars, Saturn and Pluto spread through Libra. His Progressed Mars is exactly square his Sun at the moment for a setback and shock; and his Solar Arc Uranus is also square his Mars now for much the same effect in a double whammy of unwished for thunderbolts.
He looks suspiciously upbeat this August to November with tr Pluto square his Mars/Jupiter midpoint. 2023 will be so-so. 2024 he will find his mojo again with more confidence and luck though 2025 with tr Saturn Neptune conjunct his Sun won't do his prospects much good.
Not all the influences on these charts will relate to the evil overlord's prospects but the ripples are bound to be felt.