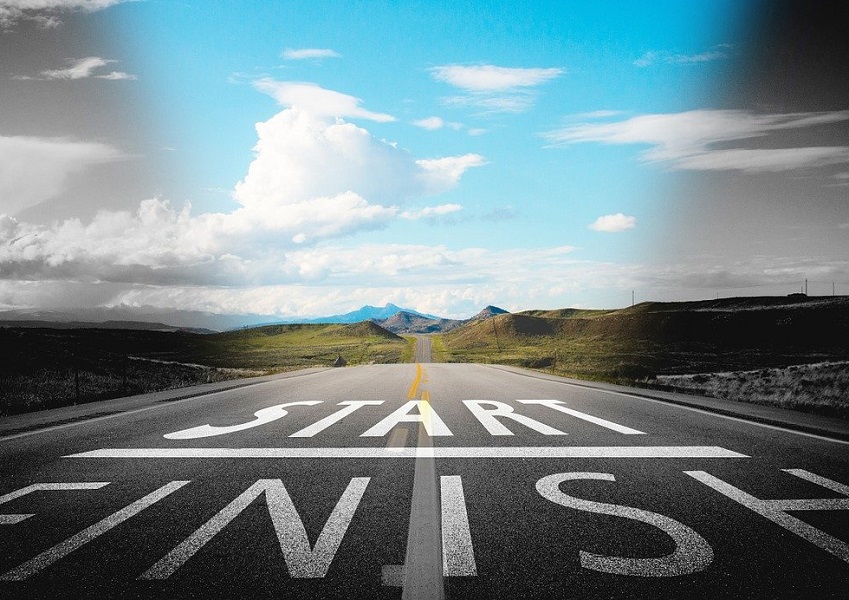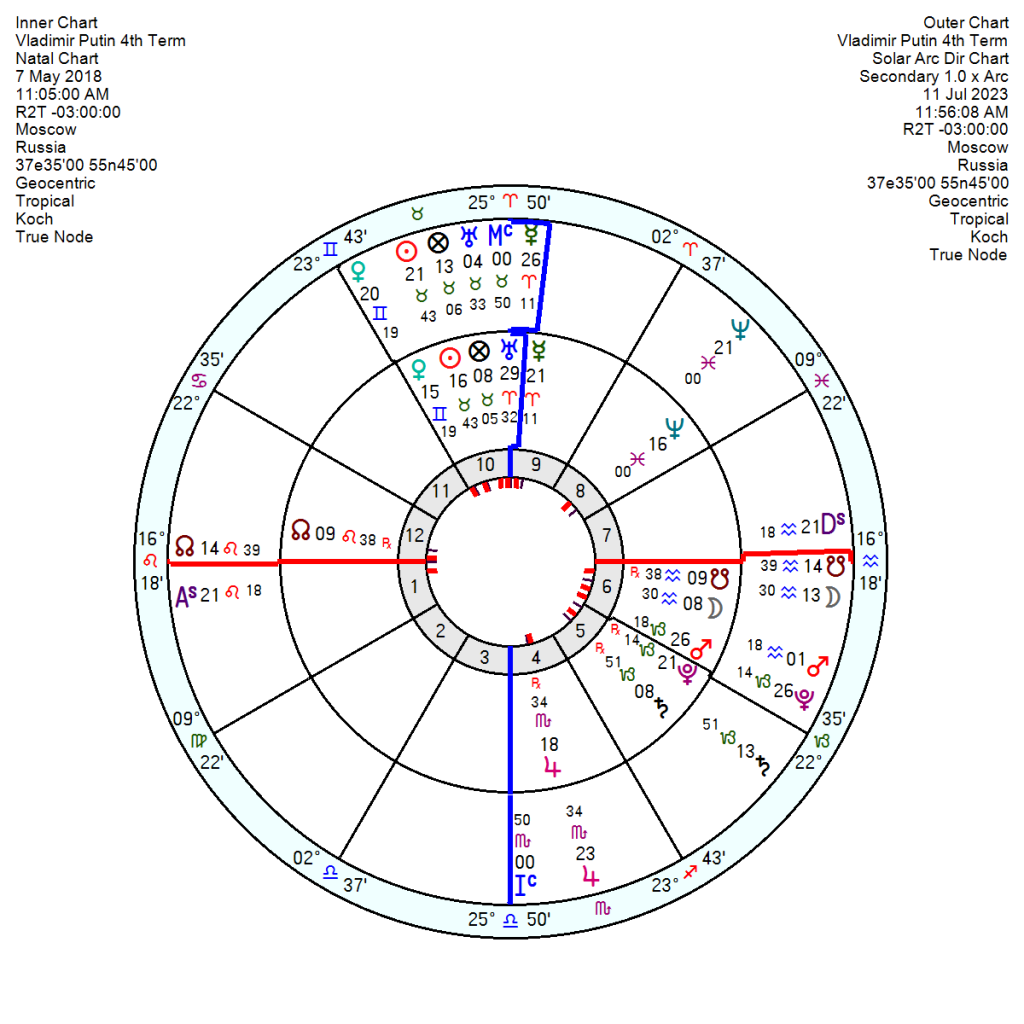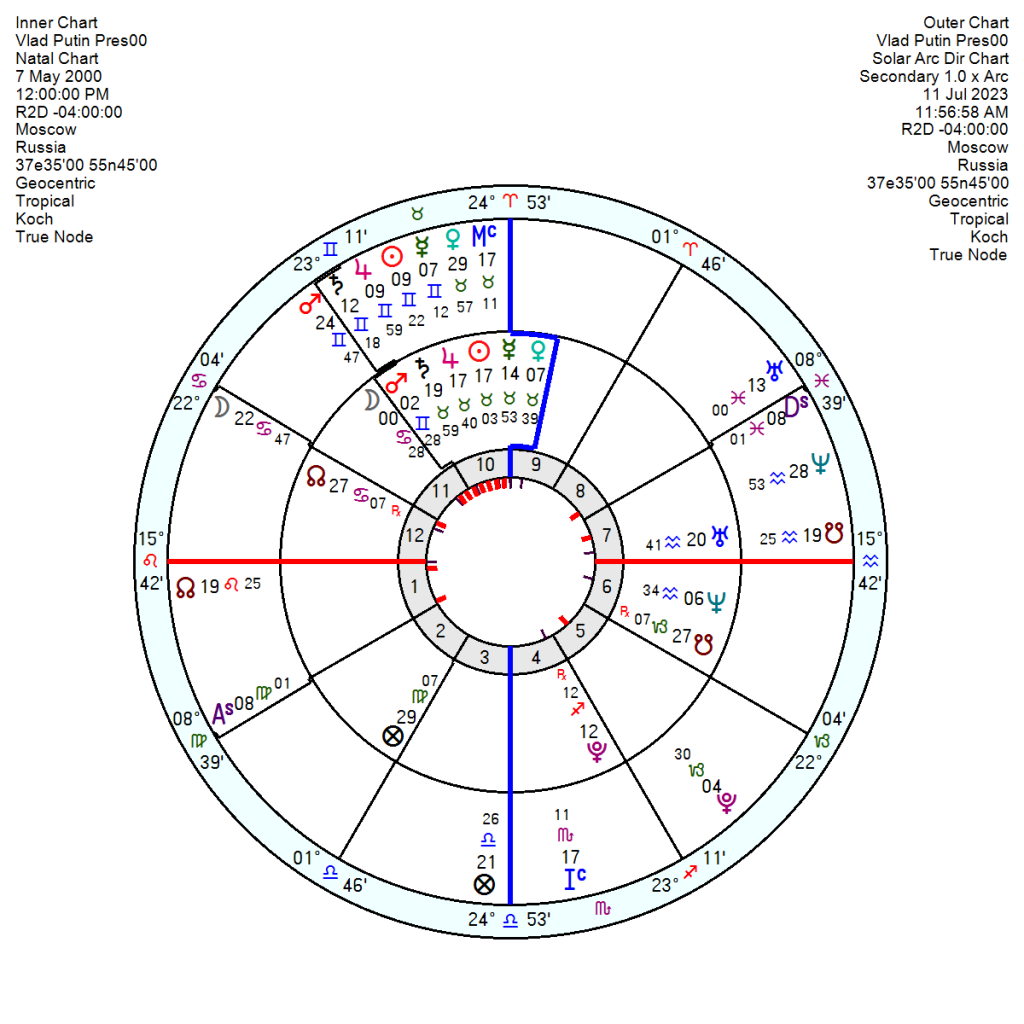 Curiouser and curiouser, the impenetrable ongoings within and without the Kremlin are mystifying analysts. Prigozhin having knocked out a few Russian planes on his aborted march to Moscow, was allowed to leave with only sharp words as his punishment, then evidently returned five days later. Turkey's Erdogan is backing off previous support for Putin by releasing Ukrainian prisoners and is now supporting Sweden's entry into NATO.
 Pinpointing an exact date for a leader's exit is never easy. But there are some similarities in the timings amongst various toppled heads of state. Putin's 4th Term chart, 7 May 2018 11.05am Moscow, has the Solar Arc Pluto exactly conjunct the Mars for a moment of paralysis and high risk; as well as tr Pluto square the Uranus exactly now as well which is the ultimate destabilizer – it picked up early this year and returns on and off through 2024 as well.
Assuming Putin's First Presidency chart, 7 May 2000, marks the moment he took up the reins and the start of his Russia overlordship, it is also mightily logjammed exactly now with the Solar Arc Saturn opposition the Pluto. As well as tr Uranus square the Uranus and conjunct the Saturn, over recent weeks and repeating into early 2024.
  When Margaret Thatcher was unceremoniously ousted on 22 November 1990 from her reign which started 4 May 1979, tr Pluto was conjunct her first PMship chart Uranus (exact aspect one month later). Her start chart also had an accident-prone setback from tr Saturn square Mars; and an unhappy/unpopular tr Neptune square Venus.
Richard Nixon's presidency chart from 20 January 1969, was similarly afflicted by tr Pluto conjunct the Uranus was he resigned on 9 August 1974. Tr Uranus was also opposition the Solar Arc Saturn; Solar Arc Neptune was square the Moon and tr Neptune was also square the Moon = total disruption, high tension and mourning.
Spanish General Franco's death on 20 November 1975 brought to an end four decades in control since 1 October 1936. Ill health caused him to deteriorate in the final years and when he finally left the stage he had a combination of fairly similar influences (as above) to his In-charge chart – tr Pluto conjunct the Solar Arc Mars and conjunct Sun; Solar Arc Uranus square Saturn and Neptune; Solar Arc Saturn Neptune square Pluto; and tr Uranus opposition Uranus.
When Tsar Nicholas was summarily toppled in the Bolshevik revolution on 15 March 1917, tr Uranus was square the Solar Arc Saturn of his reign chart and tr Saturn square the Mars.
  King Charles 1, beheaded after the English Civil War, 30 January 1649 JC, had tr Saturn conjunct the Solar Arc Pluto of his Reign chart, 27 March 1625 JC and a devastating Solar Arc Neptune opposition Pluto when he departed.
  That meltdown devastation repeated for Saddam Hussein at his downfall, 9 April 2003, when tr Pluto was conjunct the Neptune and tr Neptune square the Solar Arc Pluto on his initial presidency chart, 16 July 1979.
  Putin does not have Neptune Pluto but he certainly has Pluto Uranus and Pluto Mars as well as Saturn Pluto. Nothing is ever certain and Kim Jong Un survived a Pluto Uranus on his leadership chart early on though it left him wounded thereafter.  But Putin does seem to be running out of road imminently.