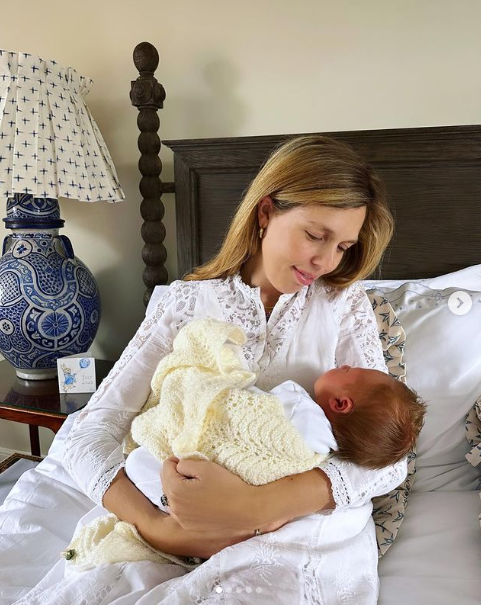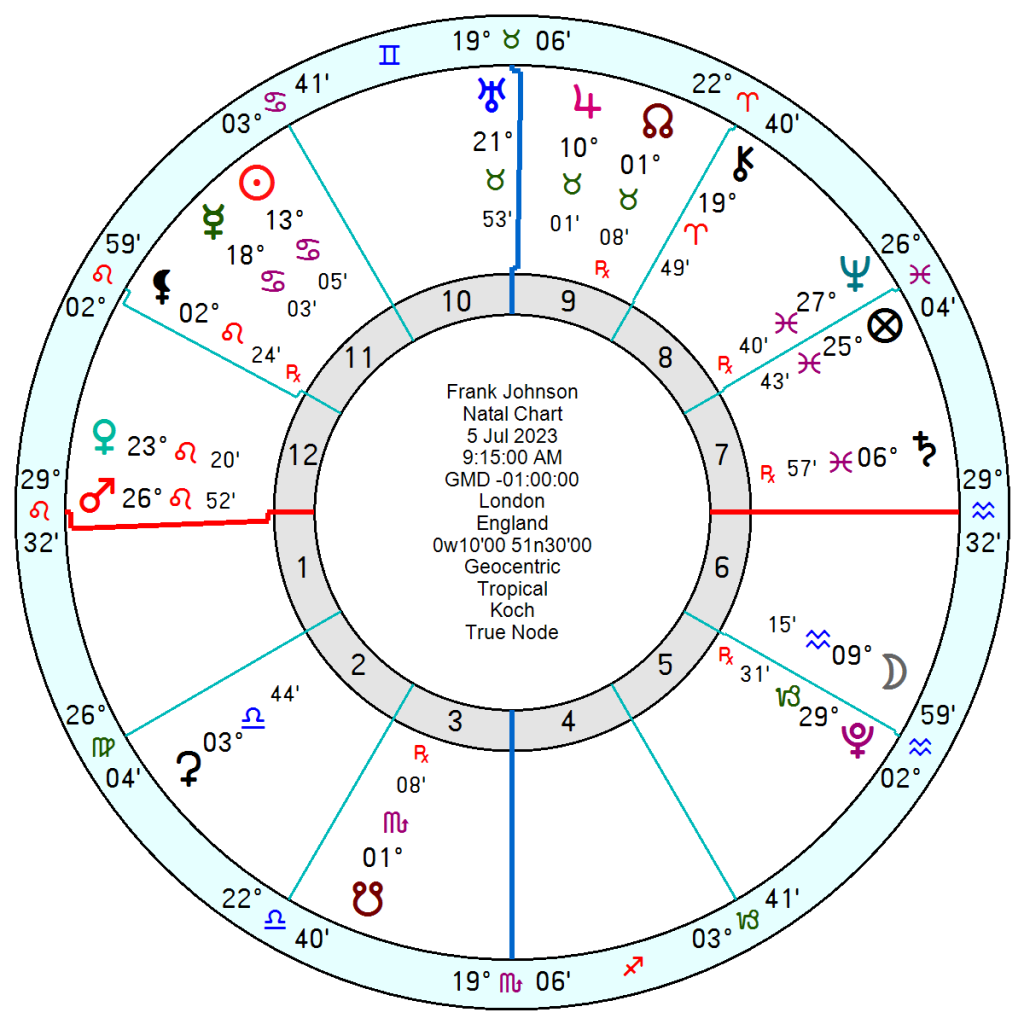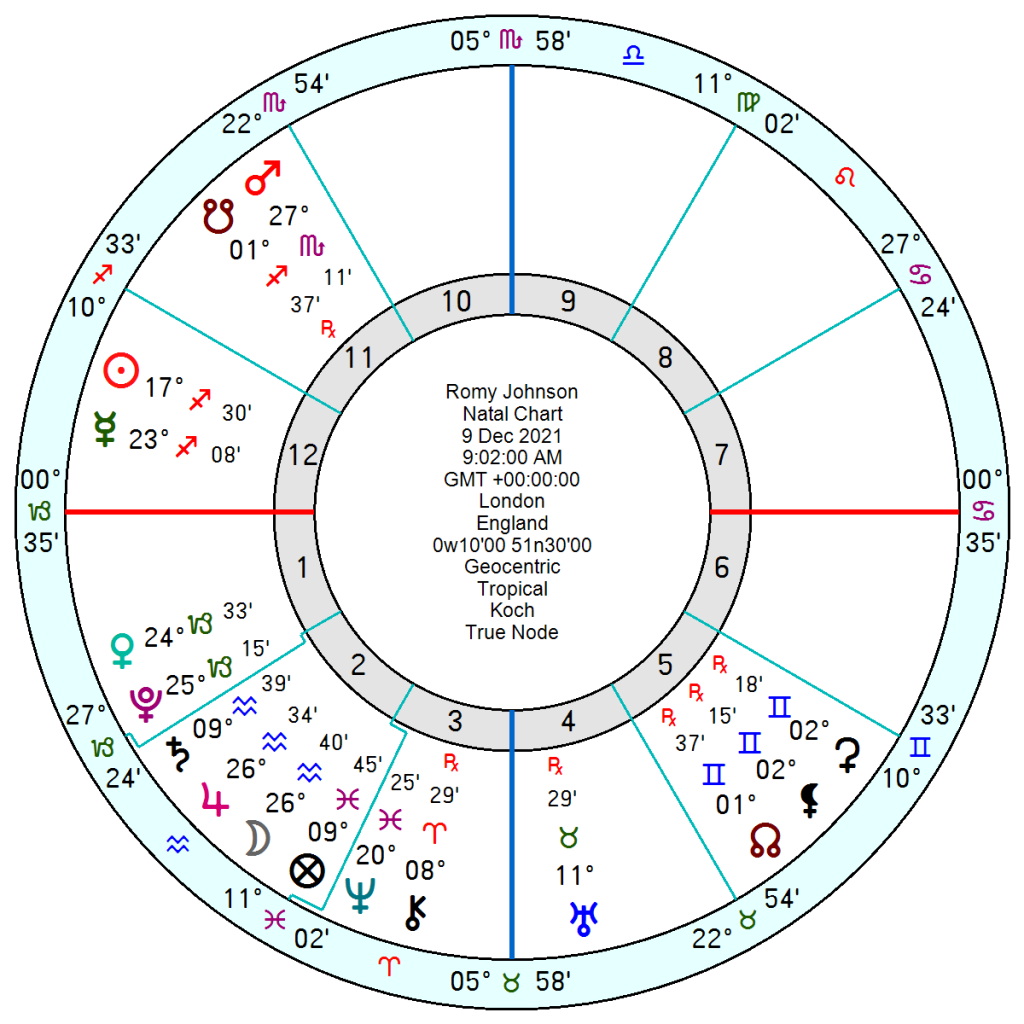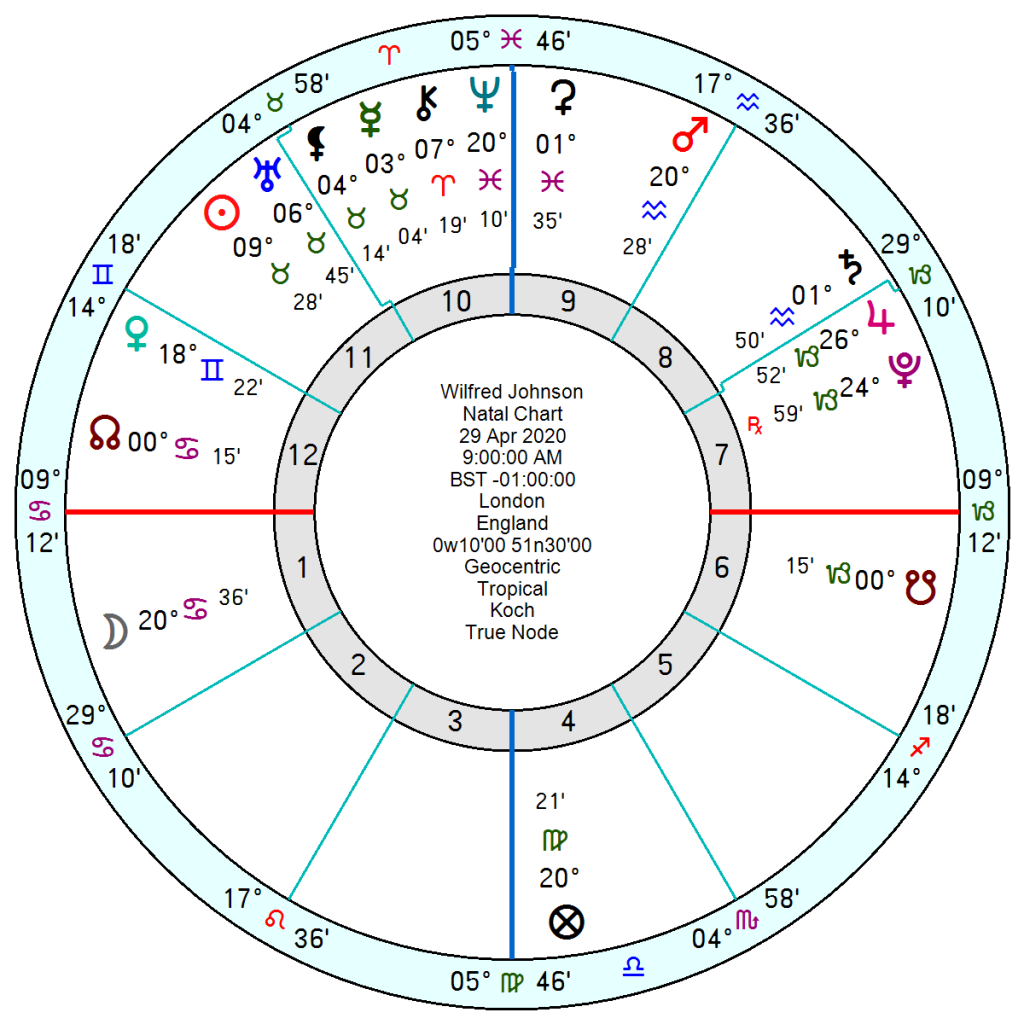 Boris and Carrie Johnson Mark Three arrived last week, born 5 July at 9.15am in London, named Frank Alfred Odysseus. A glowing Carrie instagrammed that it was Boris who selected the name of the Greek king and hero of Homer's epic poem The Odyssey. who was known for his intellectual brilliance, cunning and versatility.
This one looks to be the biggest handful of the three. He has a friendly 11th house Cancer Sun trine a 7th house Saturn – so far so sensible. But he also has a maverick Uranus conjunct his Midheaven in a volatile square to a rumbustious and passionate Venus Mars in Leo. With Mars on the focal point of a yod to Pluto sextile Neptune. Super-ambitious and self-willed with problems moderating his assertiveness and aggressiveness. Anger will be an issue as it is with his father whose Mars is on the point of an explosive T Square. Venus Mars as remarked before has a reputation for what used to be described as promiscuity (sexual/romantic incontinence). With a doleful Saturn in Pisces in the 7th he will marry later than some and find it a burden, with his 8th house Neptune tending to back away from commitment.
  His mischievous Aquarius Moon, which will make him delight in shocking those close with provocative comments, is square to Jupiter suggesting a mother who spoils him, at least superficially.
Romy, born 9 December 2021 9.02am London, has not been burdened with a mythological forebear. She has a creative and hidden 12th house Sagittarius Sun Mercury square a vague Neptune in the 3rd house of siblings. She has a persuasive, seductive, passionate Venus Pluto in Capricorn and a 4th house Uranus, hinting at frequent home moves and an unsettled domestic life. Her Aquarius Moon is conjunct Jupiter in her 2nd house so she'll be keen on finding financial security. She does have a strong-minded Mars in Scorpio in her 11th so she'll be no slouch when it comes to standing up for herself. But will be nothing like as unruly as her latest brother.
Wilfred Johnson, 29 April 2020 9am, has a rebellious, unconventional Sun Uranus conjunction in his 11th so will have maverick friends and forge a unique path in life. He has a caring, creative Neptune in his 10th which will soften the rougher edges of his opinionated and stubborn Mars in Aquarius in his communicative 9th house. His pushily-confident Jupiter Pluto conjunction opposes his Moon, so he's likely to attract himself to challenging partners. Though with Saturn in his 8th he may find closeness not a familiar experience.
All three have rip-roaring Mars in Fixed signs so the family squabbles will be noisy and all three have prominent Moon Jupiter aspects suggesting a drama-queen mother of whom they think well.
Pic Instagram