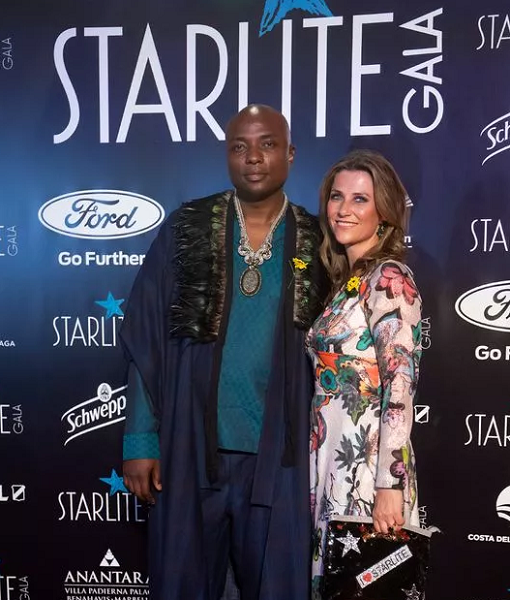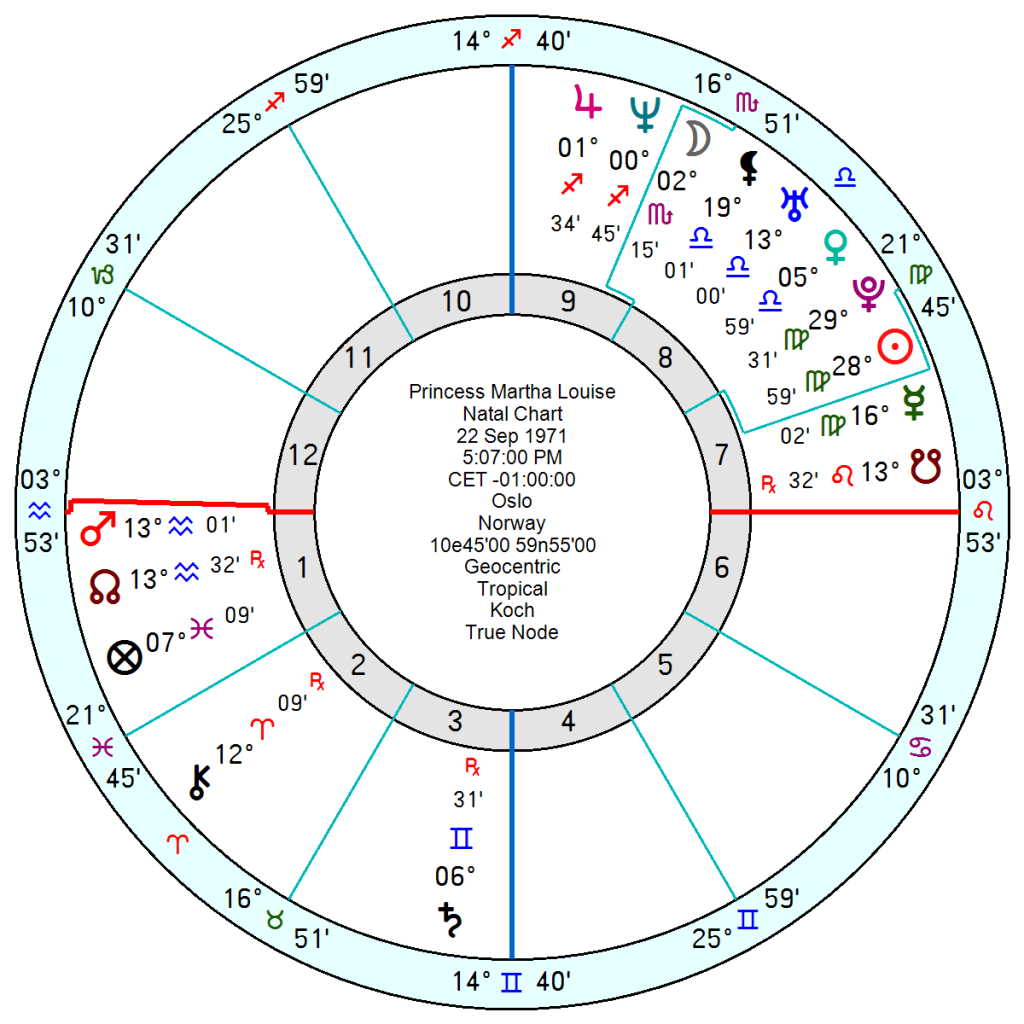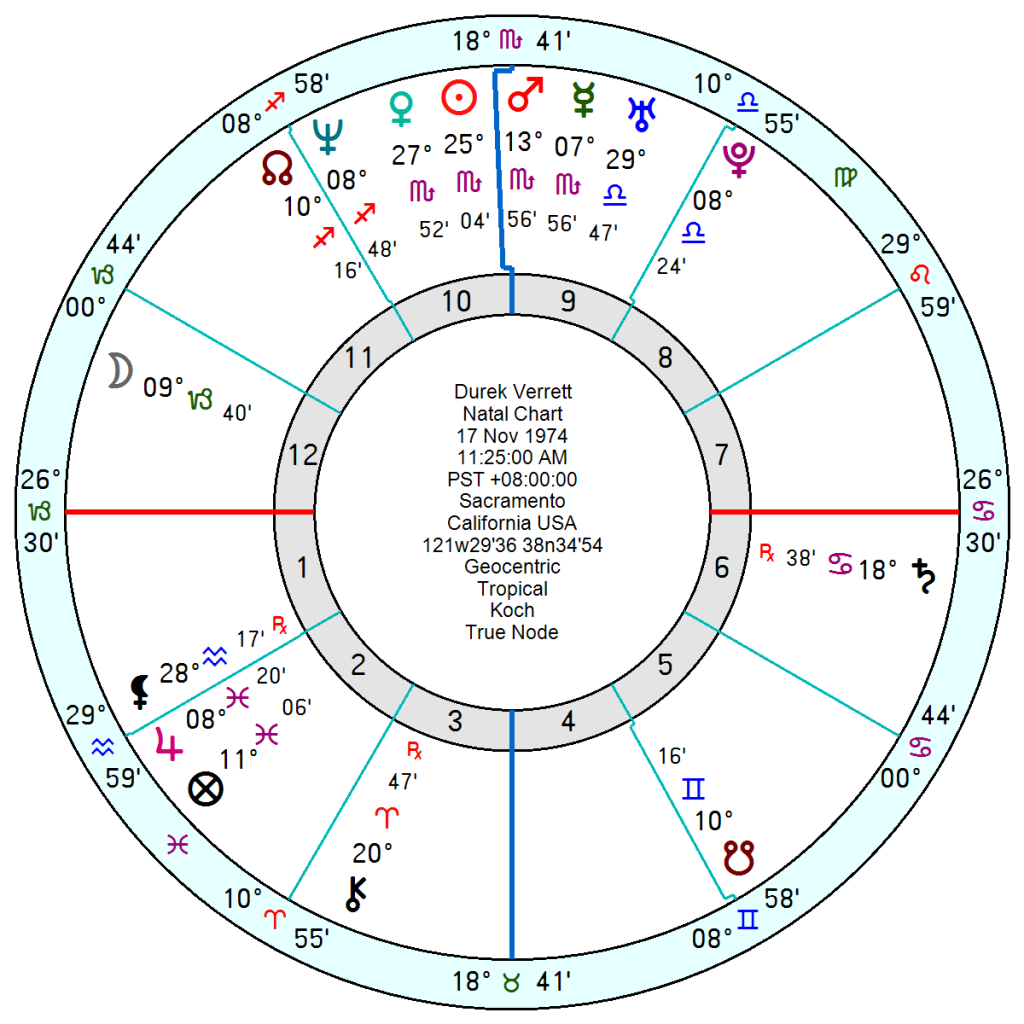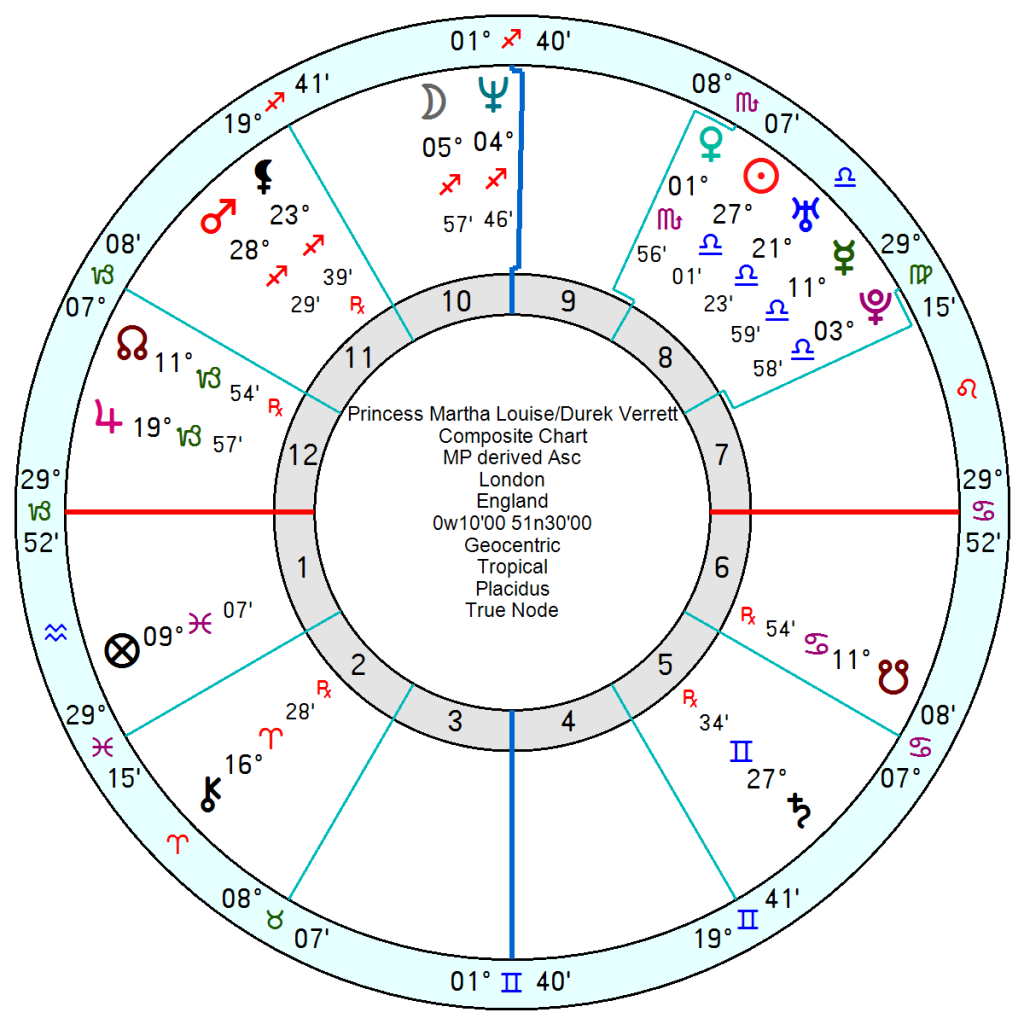 Princess Martha Louise of Norway, whose alternative therapy school taught clairvoyance and communication with angels seems determined to marry her shaman fiance Durek Verrett. This despite the hair-raising stories of his life – imprisoned, bisexual, conspiracy theorist, multiple factual claims about his life that don't check out, as well as comments from previous relationships which describe him as controlling and manipulative. See his wiki page.
She was born 22 September 1971 5.07 pm Oslo, Norway and has a difficult and challenging chart with a packed 8th house containing a Virgo Sun, Pluto conjunction conjunct Venus in Libra which in turn is conjunct Uranus with her Scorpio Moon also in her 8th.
Her clairvoyant and occult interests will stem from her 8th house and she will be driven by unconscious forces she does not understand and will not have control over.
Martin Sebastian Moritz in his book Pandora's Box, The Mysterious 8th House, points to entanglement as being an 8th house phenomenon – as well as it being a gateway to another world.
Her previous husband Ari Behn, 30 September 1972, father of her three children, who committed suicide in 2019, had his Mars in Virgo conjunct Pluto falling in her 8th as well as his Libra Sun, Mercury, Uranus.
  Durek Verrett, 17 November 1974 11.25 am Sacramento, California, a 10th house Sun, Venus in Scorpio with his ambitious Mars in Scorpio conjunct his Midheaven from the 9th, has his Pluto, Uranus, Mercury, Mars all falling in her 8th.  Such subterranean connections will feel fated and meant but can also be trapped, conflict-ridden and obsessive.
  Her relationship chart with Durek echoes the 8th house theme with the composite Pluto, Mercury, Uranus and Sun as well as Venus all deeply buried there. There is a 10th house Moon Neptune which will be soaked up by their spiritual therapy interests. But what is damaging and destructive is a composite Mars opposition Saturn square Pluto. Mars Saturn is unkind, can be cruel and suggests a relationship where one partner has to grit their teeth and suppress their identity and needs to make it work. And that is before it locks onto the 8th house compulsively controlling Pluto. Tr Neptune will be chiselling away at the Mars opposition Saturn in 2023/24 and opposing the Pluto in 2025/26.
  I never thought this relationship was workable though 8th house individuals can be exceedingly stubborn and impervious to either advice, argument or evidence.
I'd be interested in any 8th houser's comments since I don't have any planets there and it has always been a mystery to me.