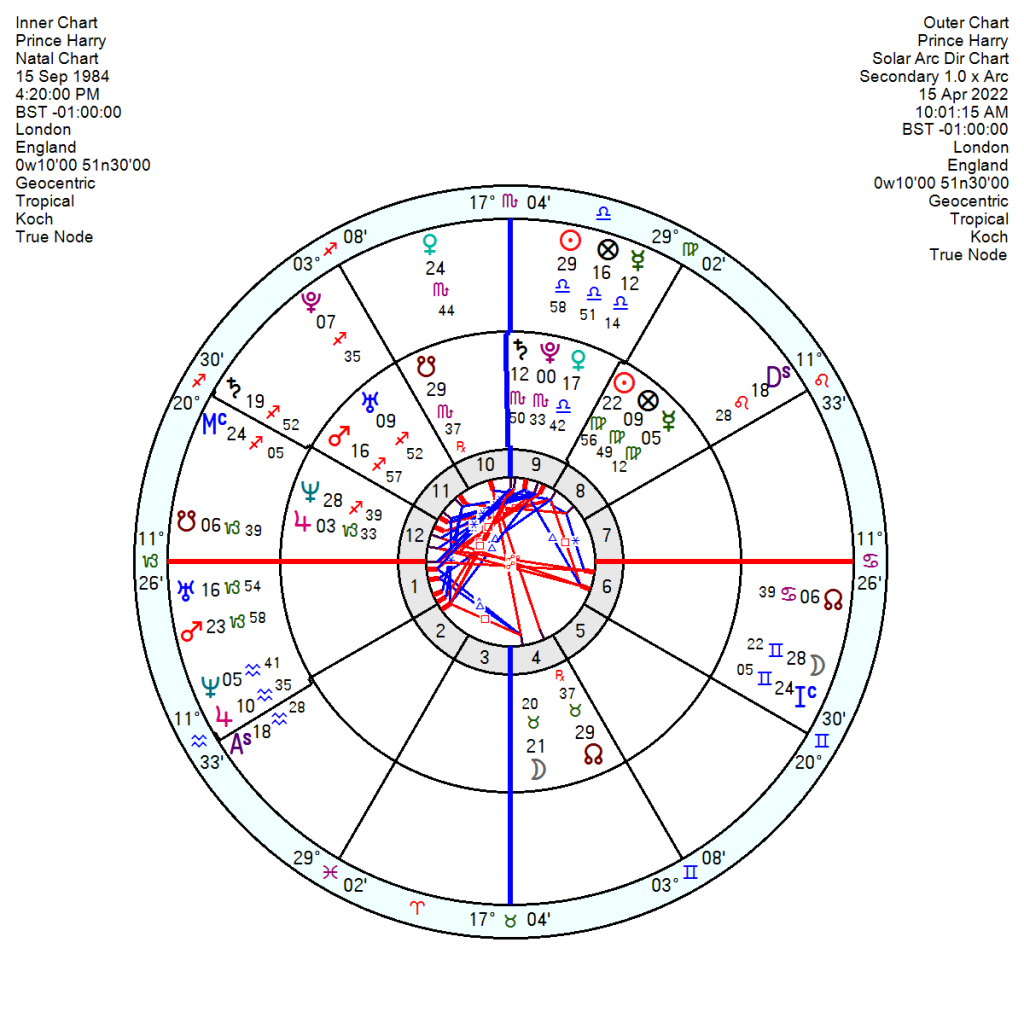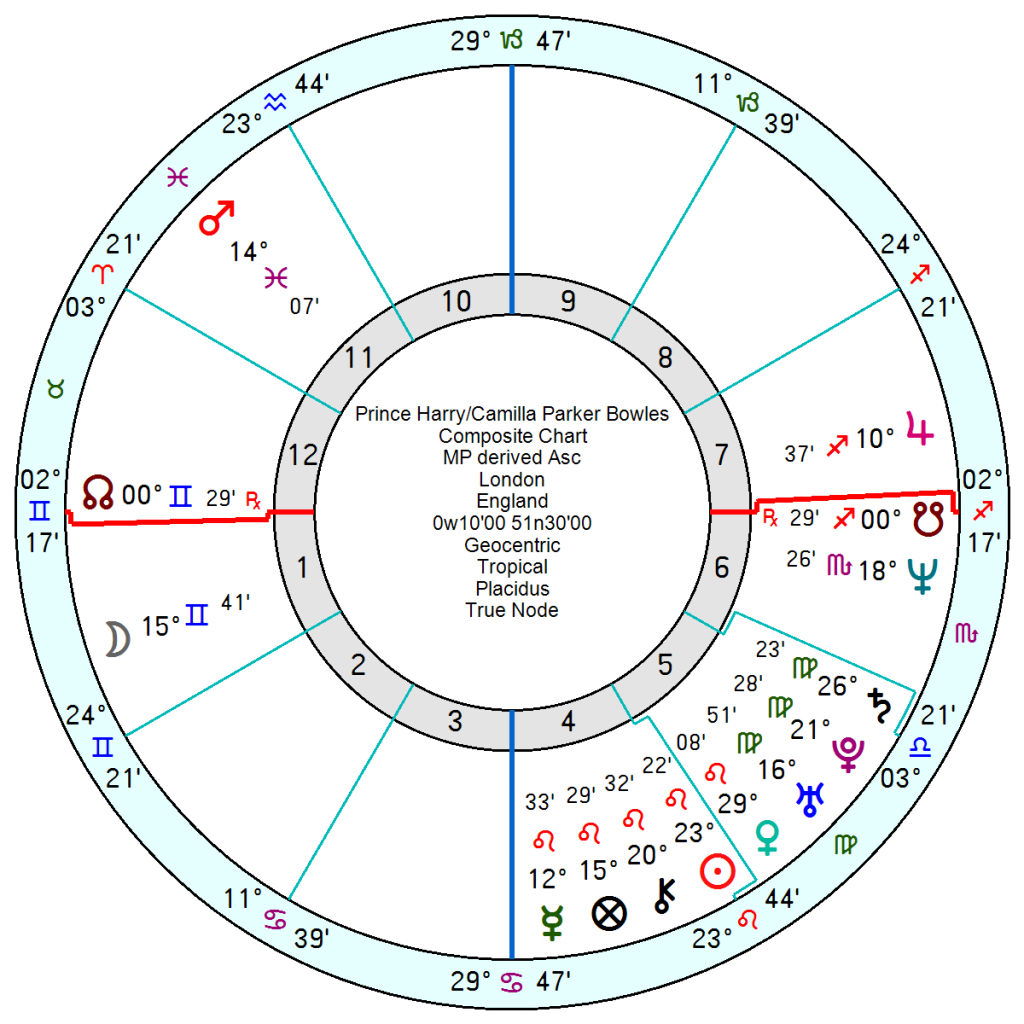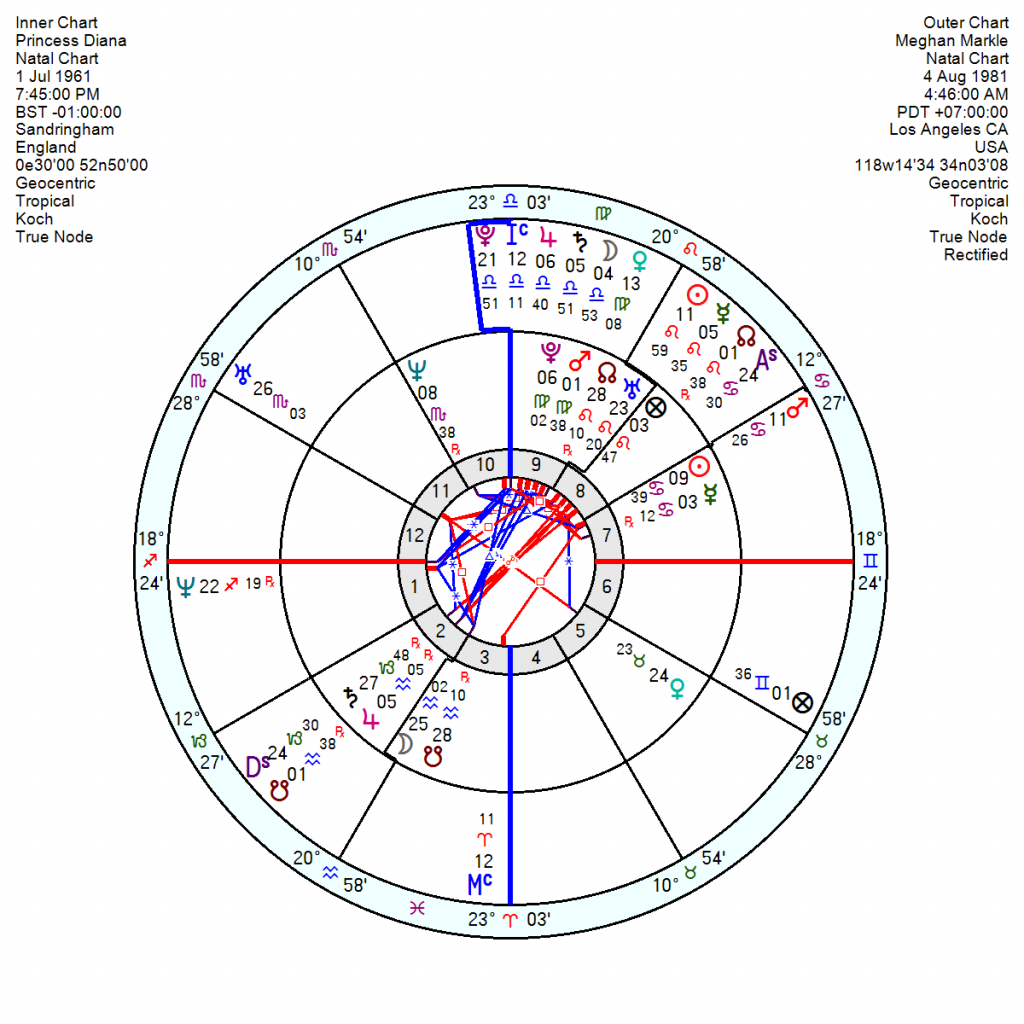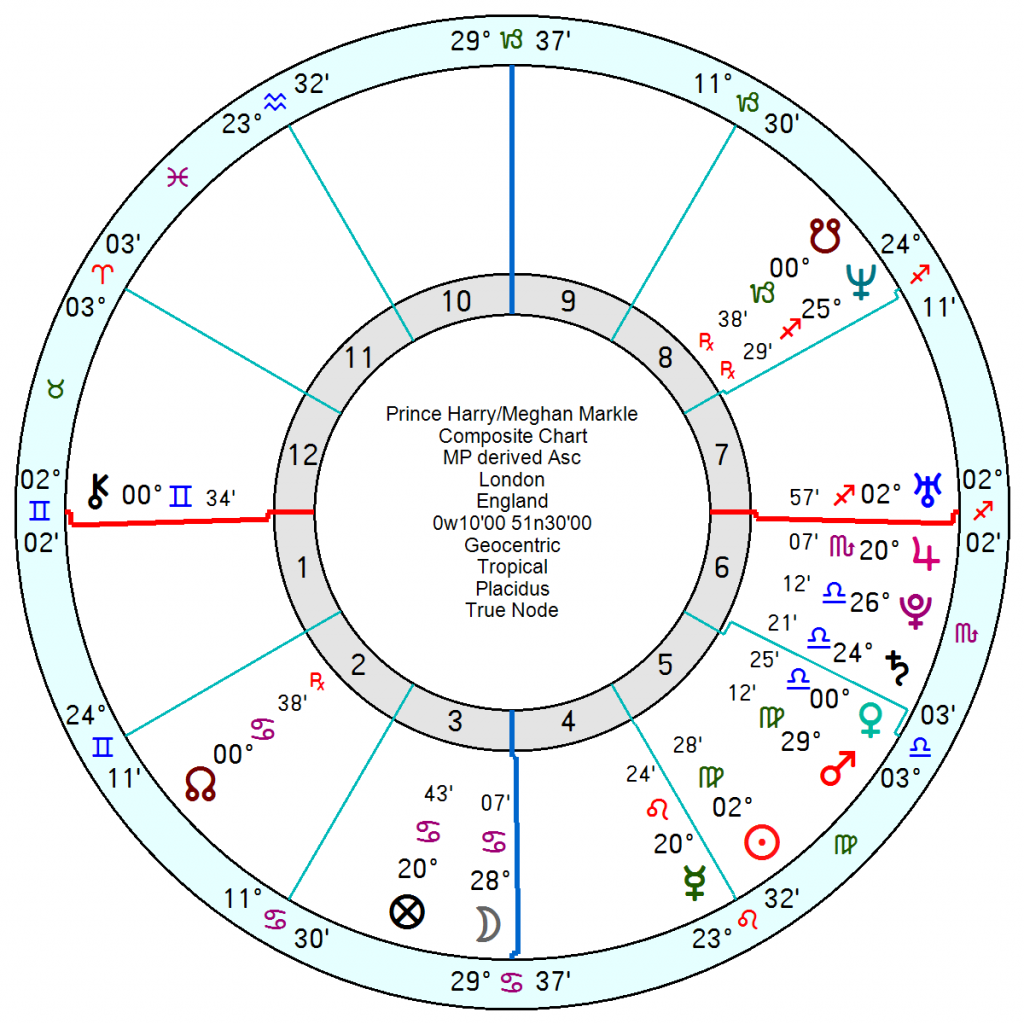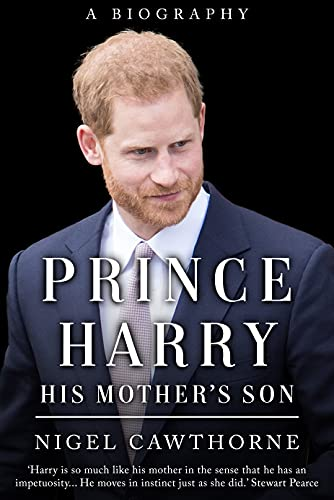 Dropping in for afternoon tea with the Queen, on the way to the Invictus Games in the Netherlands, having missed Prince Philip's memorial, seems curious. And like most actions of the Sussexes is raising questions about ulterior motives. Tom Bower, the biographer, suggested it was to appease the Netflix producers of an upcoming documentary, part of their $100 million deal; a film crew being ready and waiting their presence in Amsterdam.
That may be a touch uncharitable since even Prince Harry must feel twinges of conscience about not being mindful of the grandparents to whom he was devoted and other Royal watchers suggest it would have been the Queen's doing to try to mend the family rift.
Harry is in a truly difficult year or two with an undermining tr Neptune opposition his Virgo Sun throughout this year; a dead-halt, blocked Solar Arc Sun conjunct his Pluto in Scorpio within six months; and the Eclipses shaking up his Taurus Moon, Pluto and Saturn in Scorpio all year as well. Eclipses on the Moon in particular tend to accompany family crises and emotional upsets, often shaking the foundations of a life. Saturn on an Eclipse brings a sharp reality check, heavier responsibilities and kickback for mistakes. Tr Uranus opposing his Midheaven will bring sharp changes of direction at home and in career direction. 2023/24 look no easier for him.
Part of this will be sadness about his grandparents, with the additional factor of aggravation about his father and Camilla stepping up in prominence (and William). He's never taken to Camilla whom he regards as complicit in Diana's unhappiness and there are fears he'll be grinding axes about this in his forthcoming memoir. His relationship chart with her is ferociously difficult with a composite Mars opposition Uranus Pluto square Jupiter opposition Moon. Tr Saturn in Pisces in 2023 will be pouring cold water and a deepening chill over their connection. Harry's relationship with his father is limping along and is trickier with William, who is more inclined to vent his anger with ill-feeling dragging on there between the brothers.
I'm still puzzling over why Harry has such a bee in his bonnet about his mother and such an idealised view of her. Admittedly her Cancer Sun sat on Harry's Descendant and her Venus was conjunct his Taurus Moon so there would be deep affection between them and a sense of partnership. But Diana's obstreperous Uranus, North Node in Leo and her volcanically angry Mars Pluto in Virgo all fell in Harry's 8th which must have made for a very uncomfortable mood at times – though all very unconscious on his part since it is 8th house. At some level she provoked and infected him with her burning resentment, vengeance and inability to let go.
Meghan is unlike Diana, astrologically-speaking. Where Diana's Venus might have rooted Harry in his family, Meghan's Uranus in his 10th opposition his Moon pulls him sharply away. What is intriguing is that Meghan's 4th house Pluto is conjunct Diana's Midheaven and Meghan's Mars is conjunct Diana's Sun. That might suggest to me that Meghan is trying, because of her own family dysfunction and need to control her domestic environment, to usurp and overtake Diana's ambitions. The Sun Mars is certainly a competitive connection which would have led to running arguments had Diana lived.
It may be a stretch but almost as if Meghan wanted to harvest Diana's image and aura and outdo her (Pluto on MC). And although Meghan appears to get on well with her mother Doria, her chart with a Libra Moon Jupiter Saturn square Mars does not suggest an easy relationship with women and mother figures in general.
The Harry Meghan relationship chart is a classic for externalising problems. Or put it another way, they have managed to create a situation with family rifts on both sides which allow them to avoid facing and sorting the key problems in their relationship. The relationship chart has a composite Moon square Saturn Pluto which has been under heavy pressure since they baled in 2020. Tr Pluto is this year opposing the Moon through till late 2023 which will put both under a great deal of strain. They could move house, which has been suggested, to soak up some of it – again externalising rather than addressing the underlying grievances. Saturn Pluto makes couples feel chained together and resenting it. They blame each other or restrictive circumstances rather than asking what within themselves has landed them in this situation and relationship.
Nothing looks to be easing any time soon in the Royal connection with Meghan and William at loggerheads in 2023/2024; and Meghan and Charles undermined and aggravated in 2024/26.
  Meghan is in a different phase of her life to Harry, becoming increasingly ambitious and hard-working ahead where he wants to bury himself in a corner and stay invisible for a while. Though her financial fortunes may contract a touch ahead and she'll be thrown back on her own resources emotionally as well as financially for a couple of years ahead.
Add On: Additional thoughts on Harry and family tangles. He has a Taurus Moon which is possessive, attached to the past, as is an intense 8th house Sun (hints of more Scorpio). Even more significant may be his Taurus North Node in the 4th. The Taurus NN hangs grimly onto hurts, reacts like a wounded animal when threatened, isn't initially endowed with much self-awareness, and has a bottomless reservoir of neediness for support and possessions. Learning to live on his own talents and resources is crucial if he is to grow.
Falling in his 4th house suggests his family is his pathway to transformation which means coming off his high horse and sorting out his emotional knots. Parental ties are more important for this placing than any other and the urge to be independent is great, yet soul growth comes through forgetting pride and outer glories and coming to terms with emotional realities.
Prince William who as a New Moon in Cancer with his Venus conjunct Diana's in Taurus might have been expected to be closer to his mother. But their relationship chart is less affectionate than Harry's and is riddled with suspicion and doubt. William also has Jupiter on his Midheaven which describes a drama queen mother so maybe he saw through her manipulations more clearly than Harry. He also has his Moon square Mars so he would have been angry about how she blocked his assertiveness.