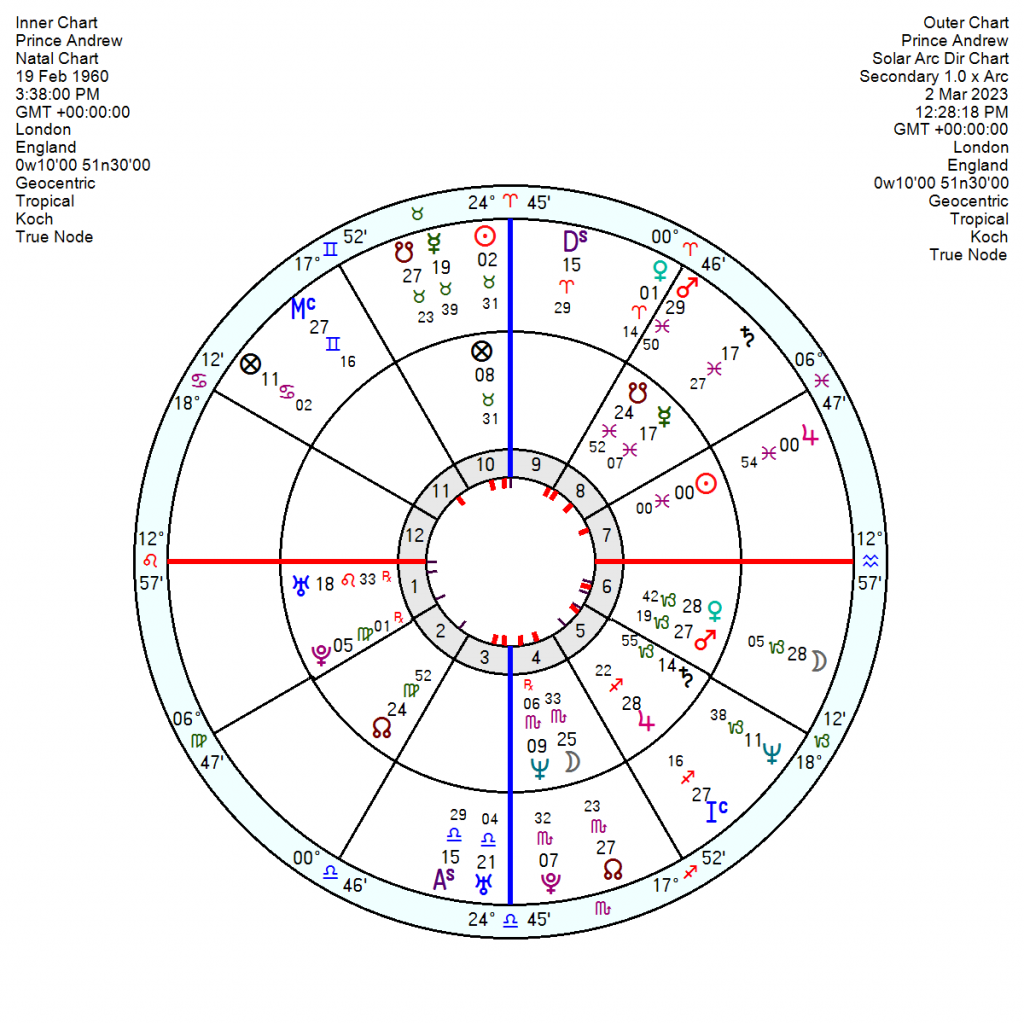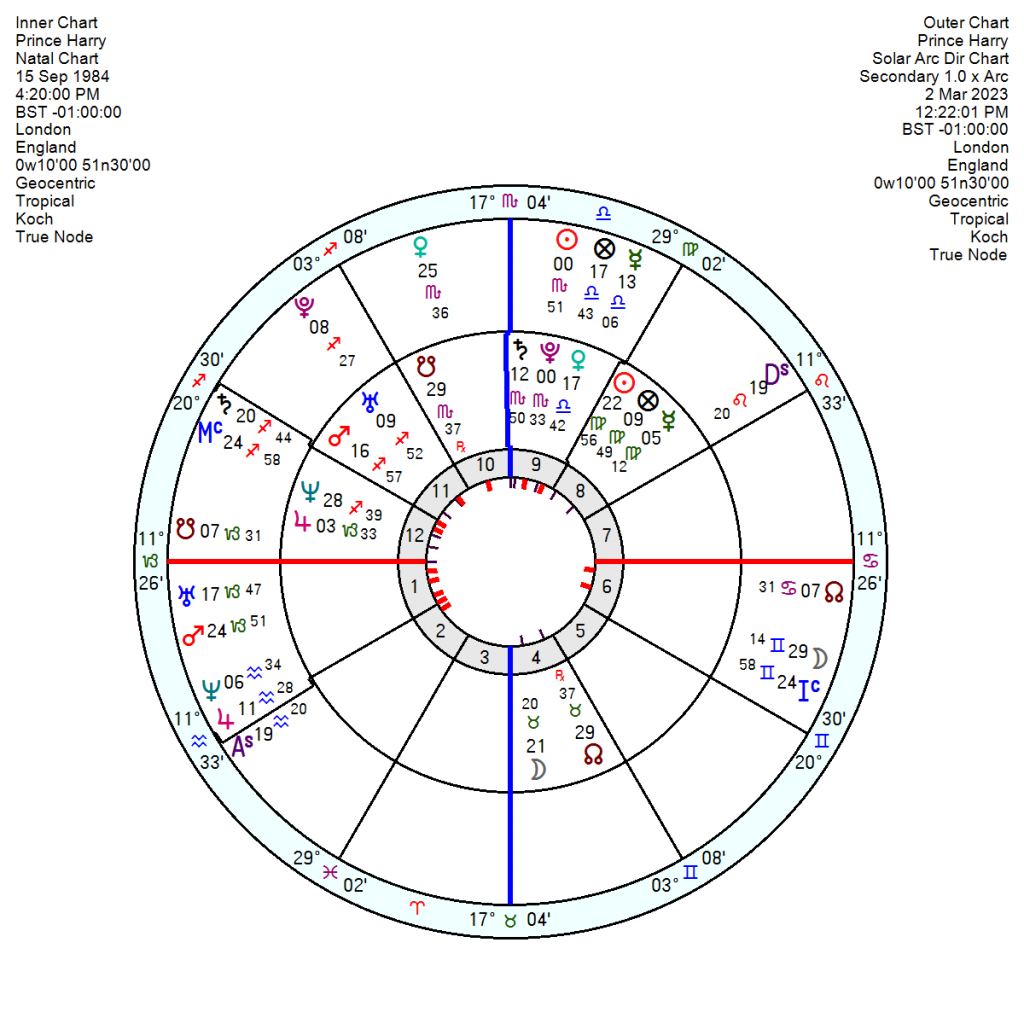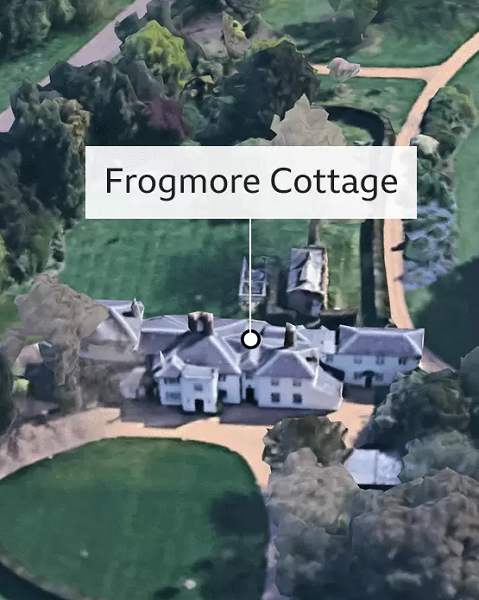 Prince Harry out and Prince Andrew in – Frogxit or Frogmarch. That is a surprise as King Charles shows a steely determination in pushing through his slimmed-down monarchy plans. Yowls of victimised outrage have emerged from the Harry camp who appeared to think they could get away with mud-slinging and trash-talking their family without any kickback. They can give it but not take it.
Prince Andrew, minus a chatty PR and biographer, is said to be sulking and resisting mightily any prospect of being dislodged from his 30 room Royal Lodge abode into a five bedroom 'cottage'.
Both he and Harry have 4th house Moons in Fixed signs so they are more firmly rooted than most. Prince Andrew in particular with a Scorpio Moon is likely to hang on tenaciously and that is in addition to a controlling, possessive Sun opposition Pluto; with his socially ambitious Venus Mars in Capricorn feeling the humiliation of a possible downsize keenly.
  His Scorpio Moon was always due for an upheaval from June 2024 onwards with tr Uranus moving into opposition which is a classic move-house transit. Though it could come sooner. With tr Uranus opposition Mars/Pluto mid this March to early April he'll be facing a disastrous crisis. Then tr Uranus is square his Yod focal point Uranus in late April/early May which will flip or jolt his life onto a different track. With a downbeat tr Saturn conjunct his Sun later this month and opposition his Pluto in late April as well across the Coronation. He'll respond with his usually bull-necked confidence till late March and later in the year but he looks hemmed in all ways. His Venus Mars in Capricorn are trapped by a tr Pluto conjunction all year and his financial 8th house is not in good shape. Tr Saturn moving through his 8th throughout 2024 will throw him back on his own resources financially and emotionally, making him feel the world is a less generous place for him.  Plus he has Solar Arc Pluto conjunct his 4th house Neptune in 2024 which will feel devastating where domestic matters are concerned.
His North Node is, of course, in his 2nd house, which is a hint that his preferred method of taking the easy way out and depending on others isn't good for his spiritual development. Standing on his own two feet is required.
  His not-quite-ex-wife Sarah of York who presently lives at the Royal Lodge in a platonic, separate-wing arrangement we are led to believe, will have to move but her children, both with rich husbands, helpfully appear to have bought her a multi-million pound London pad. If her birth time of 9.03am is sound then she will be due to move in early 2024 with tr Saturn moving into her 4th. She's running into a financially fraught few years with her Solar Arc Mars about to conjunct her 2nd house Saturn later this year into 2024. And she's also head for a nervy, agitated, major jolt from Solar Arc Uranus conjunct her Mars in late 2024/25.
  Prince Harry has a 4th house Taurus Moon which is up there with Scorpio in not being inclined to budge easily.  Tr Uranus will be conjunct his Moon from the middle of this June onwards to jolt him into a change, like it or not; and before then will cross his IC into his 4th from April which is another classic house-relocation transit.
He also has an 8th house Sun which has a Scorpio feel and is not inclined to let go. Plus a Taurus North Node which most often involves individuals in long running wrangles over money and property until they acquire a Buddha-like detachment.  He does look emotionally upset at the moment with his Solar Arc Uranus square his Venus and a trapped/stuck Progressed Moon conjunct his Pluto mid June onwards for a few weeks; with his Progressed Sun also conjunct his Pluto this year. He's stuck every which several ways.
Tr Neptune square his Midheaven this year hints at a lack of direction and undermining circumstances around career matter; with radical changes of future plans come late 2024 as his Solar Arc Pluto is conjunct his 11th house Uranus.
Poor soul. He has brought it all down on his own head but I do feel sorry for him. He was doing magnificently with Invictus before he stumbled into this flustercluck.
Andrew needs despatched to outer Uzbekistan and told not to come back.