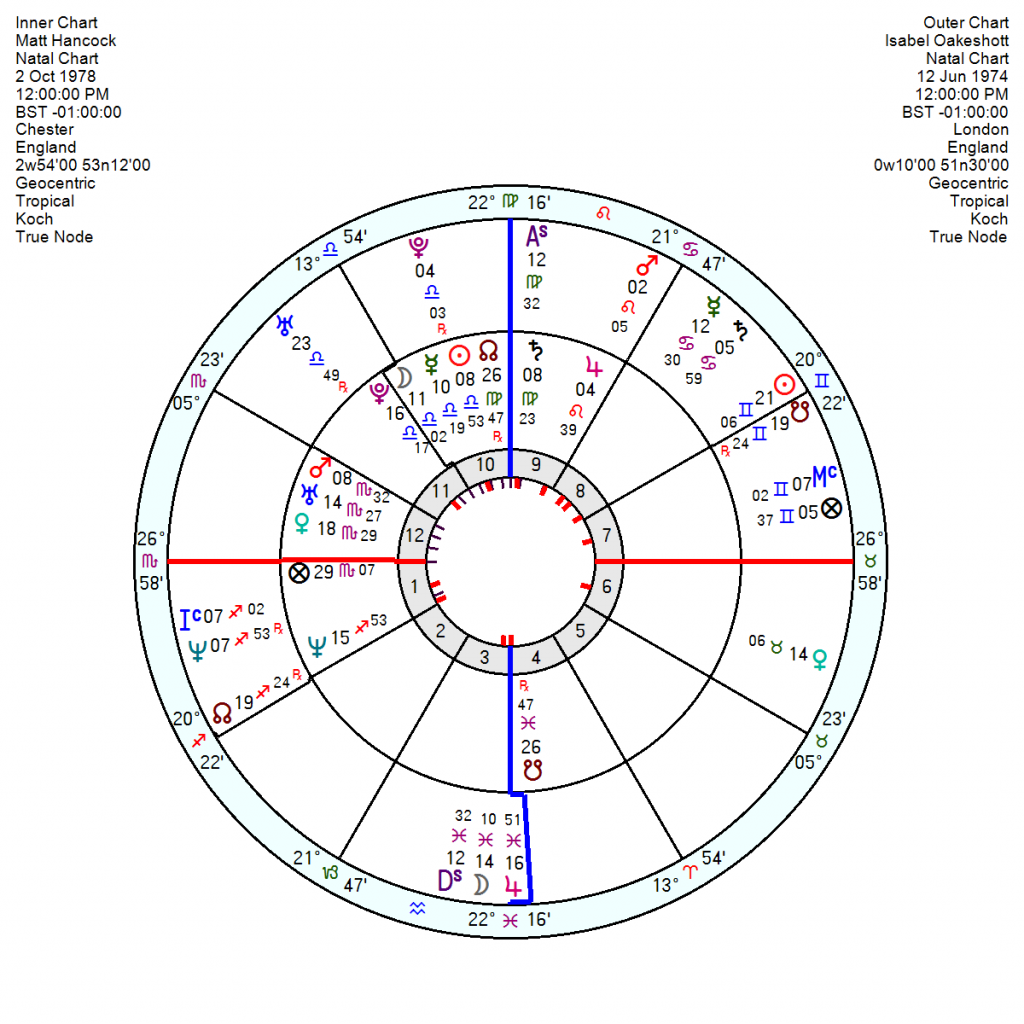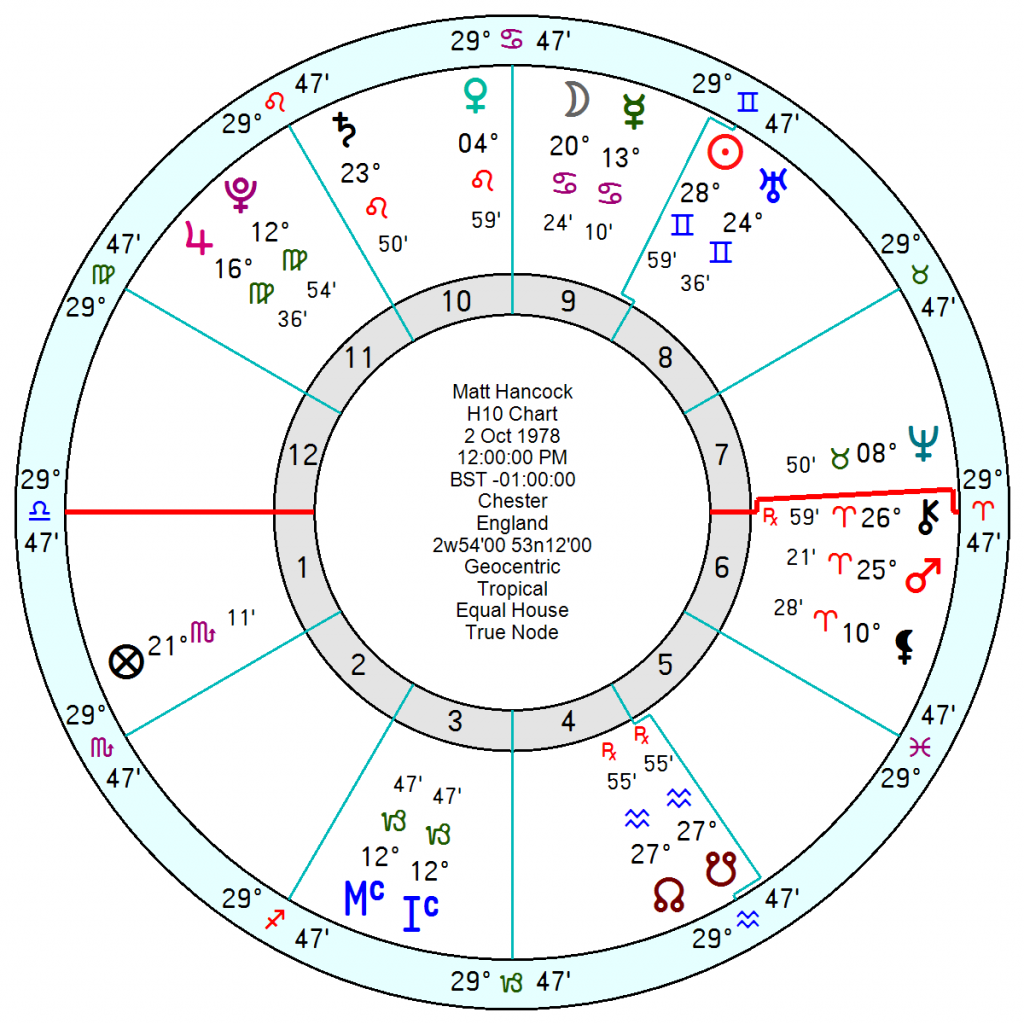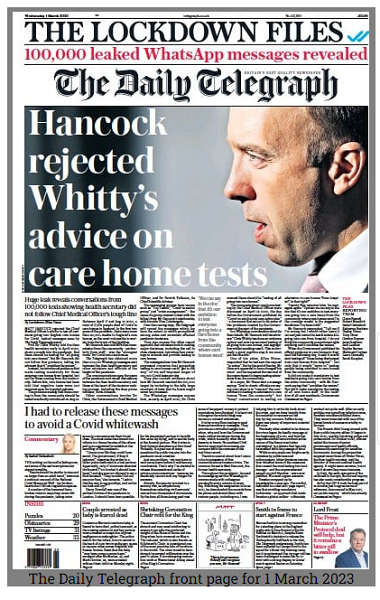 A hapless politician seeks to rehabilitate his damaged reputation by writing a puff memoir of his days overseeing the UK pandemic response. The journalist he picked as co-writer has form for pulling deep, dark secrets out of the closet (see wiki) and despite a confidentiality contract has released 100,000 of his What's App messages to the Daily Telegraph, claiming a public interest defence. Oops. Mistake. It has raked up again all the anger about the lockdown and given a peep into government thinking or the lack of it at the time.
Isabel Oakeshott, 12 June 1974, has had a high profile journalistic career with the Sunday Times and then Daily Mail, writing an unauthorized biography of David Cameron which contained the infamous 'sex with a dead pig' story which could not be substantiated. She is a Brexiteer, co-wrote a book with Aaron Banks and is reportedly close to the Reform Party leader.
She has a communicative Gemini Sun trine Uranus and in an over-confident square to Jupiter. Her Mars in flamboyant Leo is trine Neptune and sextile Pluto – attracting her to publicity and giving her exalted ambition as well as fierce determination. Her Mercury in Cancer conjunct Saturn is also square Pluto and trine Jupiter – Mercury Pluto and Saturn is good for research though there will be a tendency to dig for dirt and be dogmatic.
Matt Hancock was Health Secretary overseeing amongst other things the controversial procurement of PPE until his passionate office affair was shown to have breached distancing regulations and he departed. He was born 2 October 1978 and is a New Moon, Mercury, Pluto in Libra with a clutch of Mars, Uranus, Venus in Scorpio which is an uneasy combination of light and shade, Air and Water.
  Tr Uranus is opposing his Uranus and soon Venus as all of his Covid muddle and mayhem is exposed – dragging others in the Boris government into jeopardy as well. He's yowling foul but the damage is done. His midpoints are lining up to provide more whirlpools, swamps and sinkholes throughout this year.
Isabel Oakeshott's Pluto is conjunct his Sun, Mercury giving her the urge to control him. Her Sun opposes his Neptune as she pins down his evasions. Her Mars in fiery Leo is conjunct his Jupiter and squares his Mars in Scorpio – so his secrets did not stay that way for long.
The whole thing is tawdry but at least it has pulled back the veil and dragged political incompetence out into the open.
[An Astro-oddity which I have not explored at all but is intriguing – Matt Hancock's 10th harmonic, prominent in individuals with a habit of shooting themselves in the foot and sabotaging their good fortune – bears remarkable similarities to Isabel Oakeshott's chart. Almost as if his unconscious need to reverse himself picked exactly the right person to do it.]
I'm sure the Greeks had a word for it – tragic flaw hardly connects to Matt Hancock since he is not exactly heroic. But the fates and karma were surely hard at work in this entanglement.