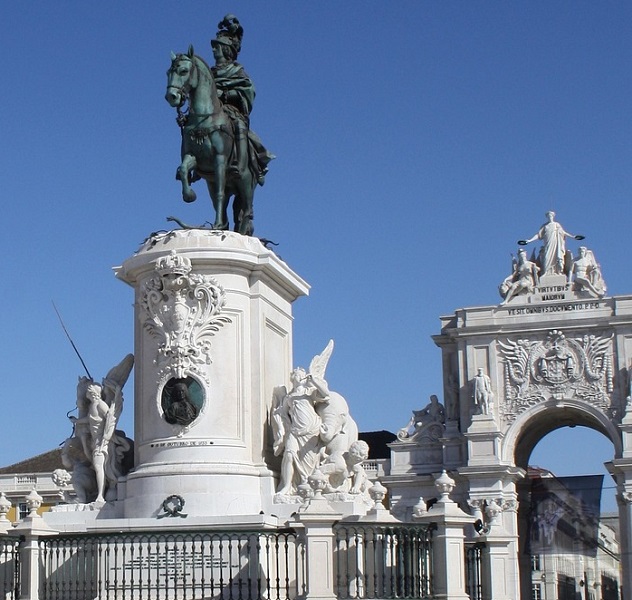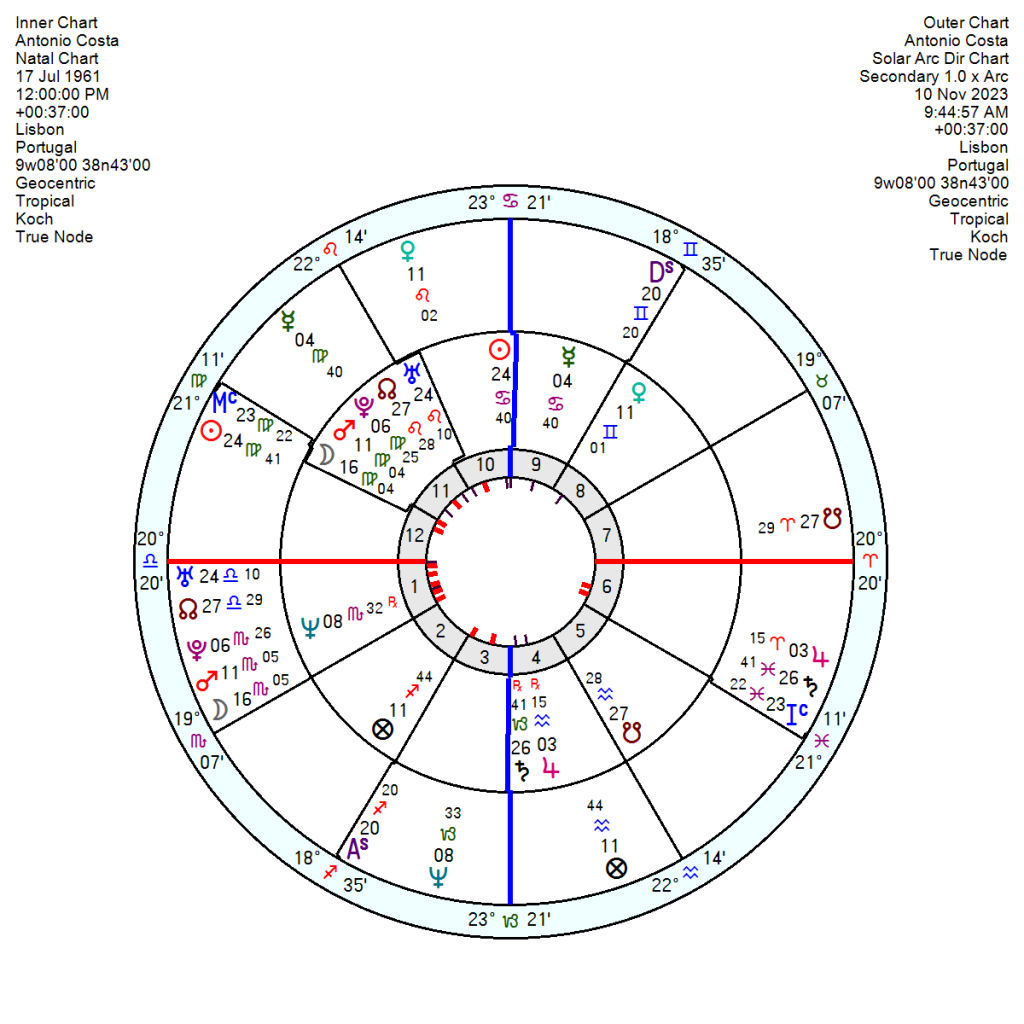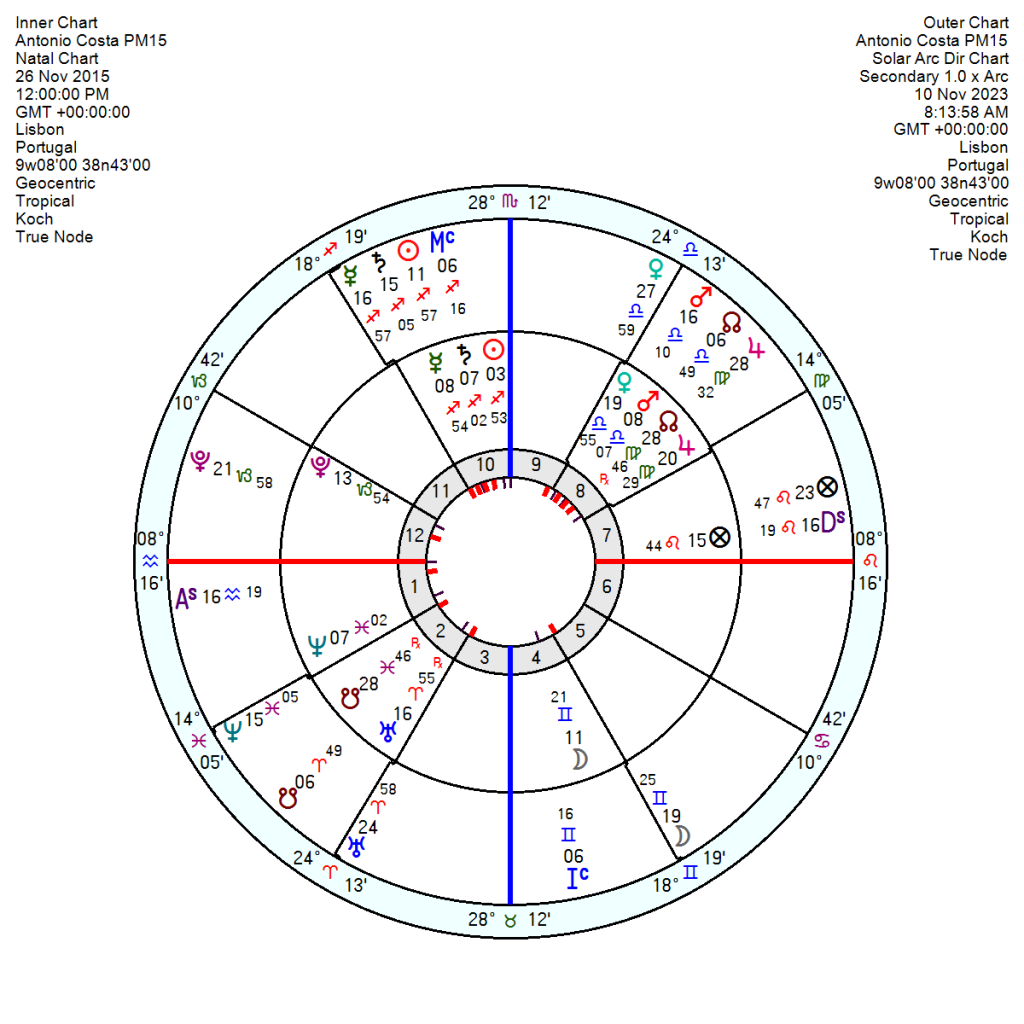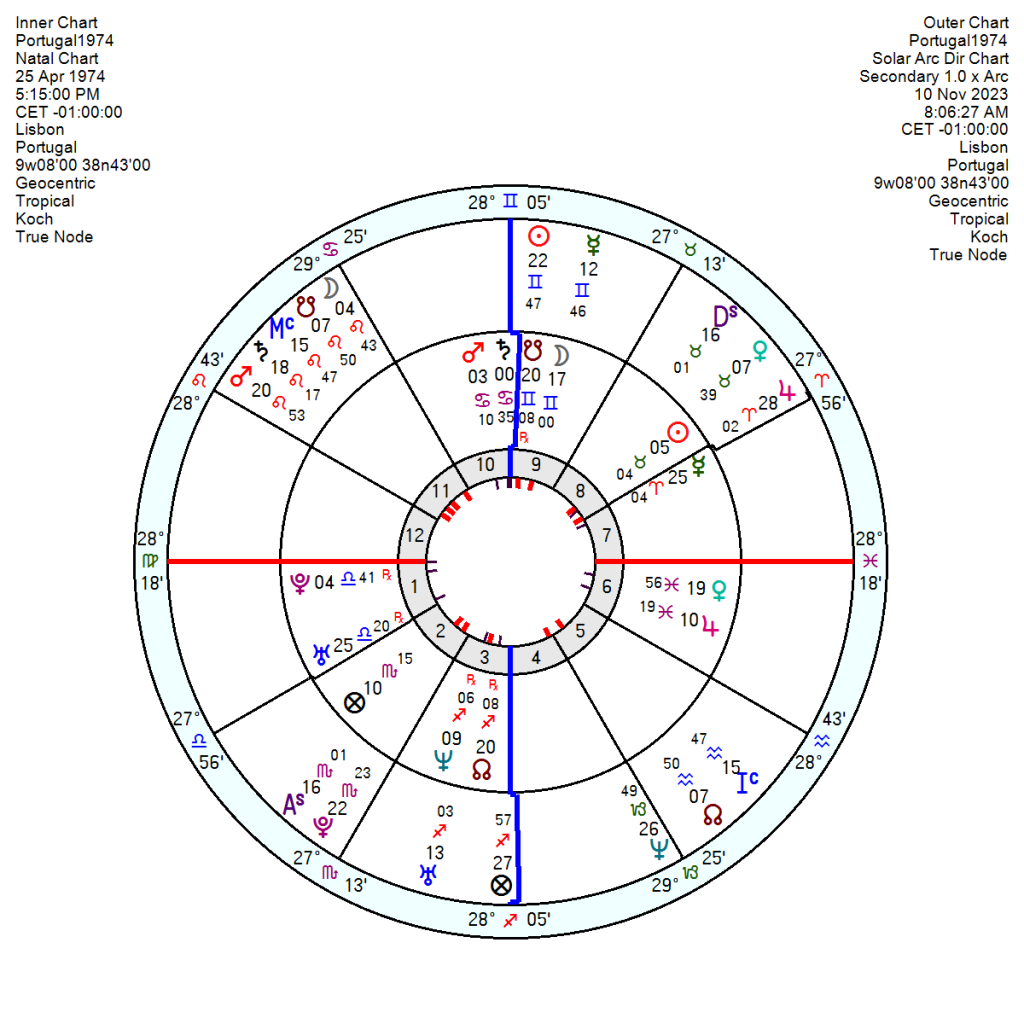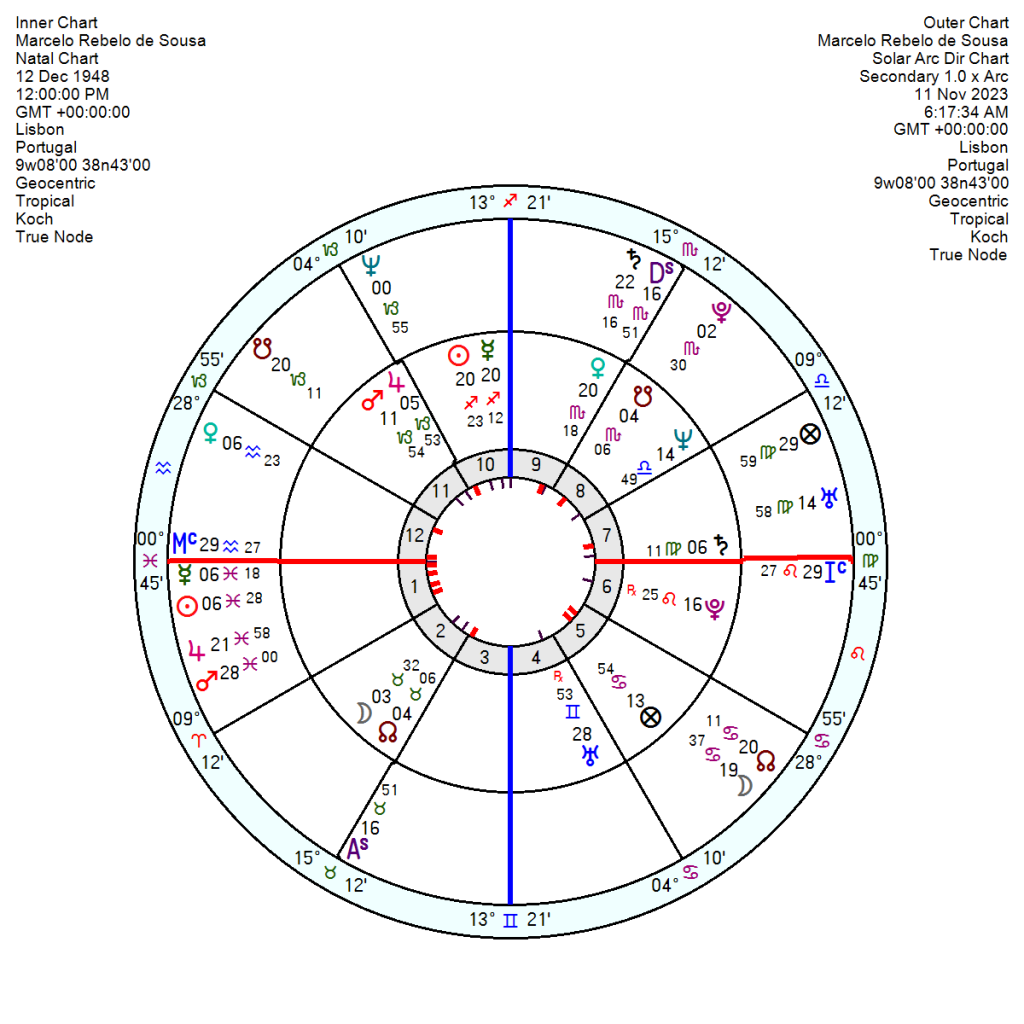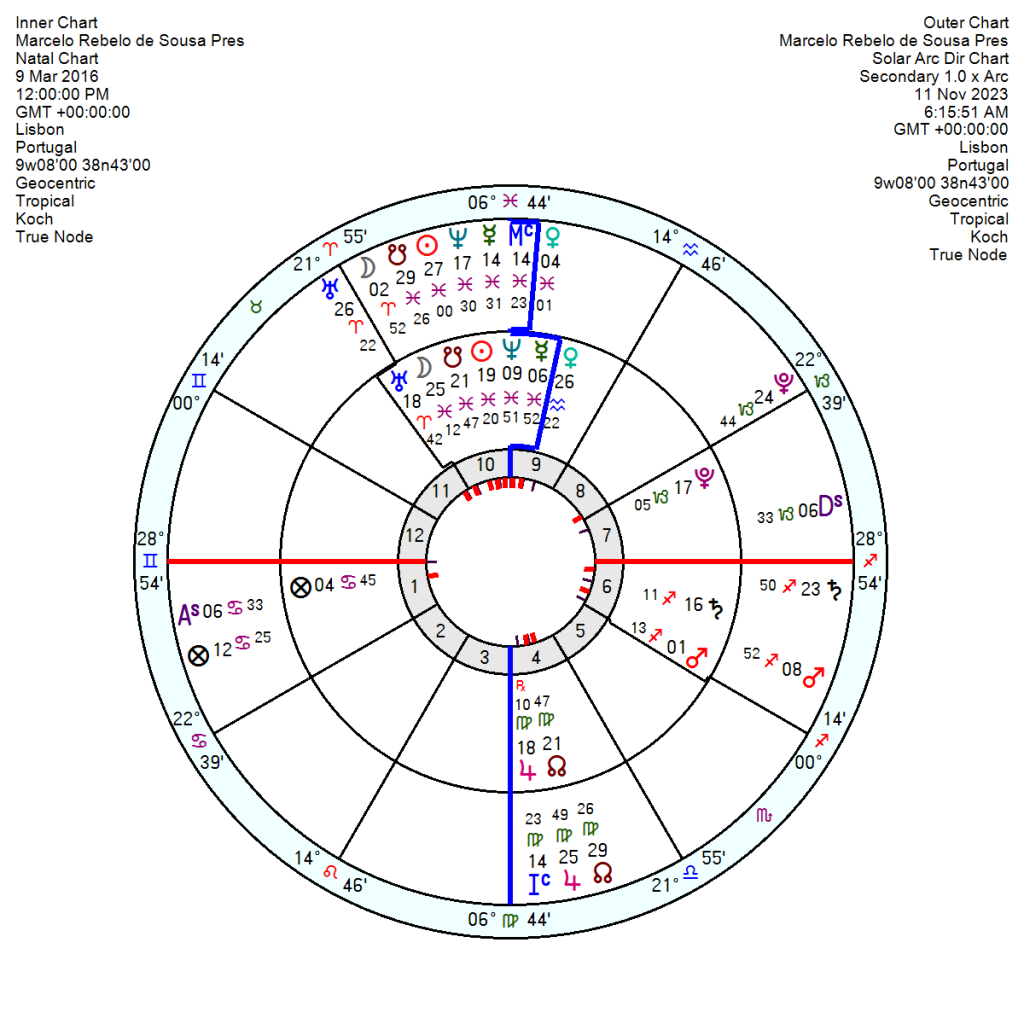 Portugal has lost its Socialist prime minister Antonio Costa, in power since 2015, as he resigns amid a corruption investigation linked to his government's handling of lithium and hydrogen projects. He denies the allegations and said he would dissolve parliament after the November 29th vote on the 2024 budget. It aims to scrap tax breaks for well-off foreigners, cut income tax for others, increase social benefits for the poorest and increase public investment to spur economic growth.
Antonio Costa, 17 July 1961, is a Sun Cancer opposition Saturn with his Sun conjunct Procyon, the fixed star which can carry the individual to great heights and then have them crashing down. He has an ultra-determined, can-be-ruthless Pluto Mars conjunction in Virgo which has moved by Solar Arc to cross his Neptune in the past three years, worsening the devastation over the next two years. Whatever happens with this investigation it won't be his shining hour.
His third term chart, 30 March 2022 has a ratchety, prone-to-setbacks Mars Saturn conjunction with Mars square Uranus – and Saturn catching the disruptive tr Uranus square exactly now. This term also started on the prone-to-scandals Jupiter Neptune conjunction.
His original First Term chart, 26 November 2015, has a bulldozing and over-controlling feel with Uranus opposition Mars square Pluto. The Solar Arc Mars is exactly opposition the Uranus now for an almighty jolt, ending his premiership with shocking suddenness. Tr Saturn has also been square the Sun through this year.
Both his first and last term charts do appear to work reasonably well against events – Uranus Mars was clearly his signature. He started on it and has been cut down by it.
The election is scheduled for 10 March 2024 when – a Mars in Aquarius square Uranus is in place. It will continue to edgy, uncompromising mood.
Portugal, 25 April 1974 5.15 pm Lisbon, has an 8th house Taurus Sun which caught the recent Lunar Eclipse exactly so a crisis was always due. The Solar Arc Mars square Pluto is also catching the present tr Uranus opposition Mars for jolts and shocks.  Tr Neptune Saturn moving into Aries from 2025 will not make the two years after that a walk in the park  as it squares the Portugal Saturn Mars in Cancer and opposes the Pluto – uncertain, panicky, muddled; with tr Pluto waiting in the wings to square the Taurus Sun in 2026/27 – it'll be a long haul and a transformed country when it emerges out of all of that.
Add On: President Marcelo de Sousa, 12 December 1948, has been in the position since 9 March 2016. He is a Sun Sagittarius as befits an academic, with his Sun trine Pluto and opposition Uranus. He has suffered various ailments in recent years and does look downbeat at the moment with his Solar Arc Sun opposition his Saturn.  His Presidency is moving into an unsettled, potentially disruptive time so may not last through 2024 and certainly 2025.