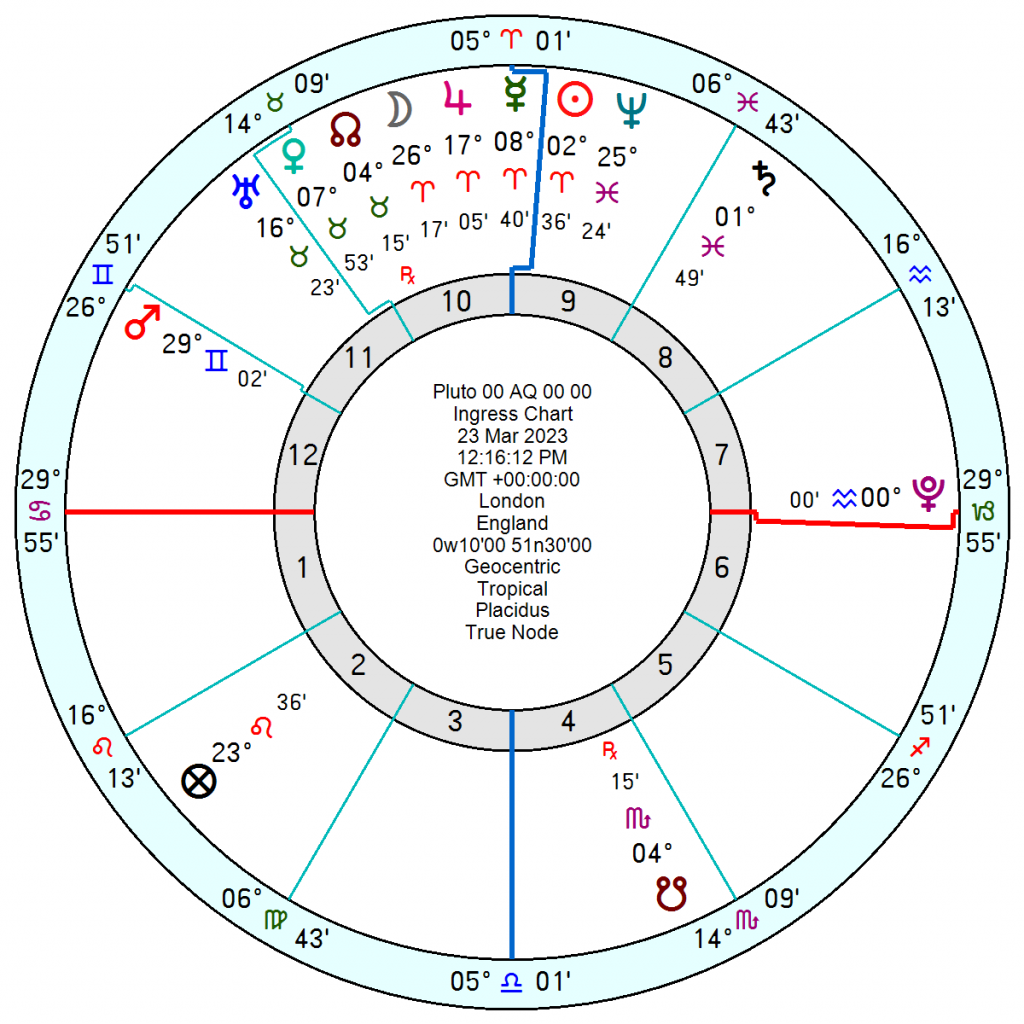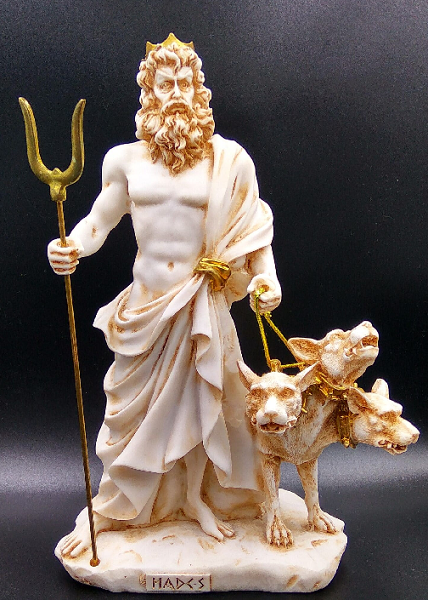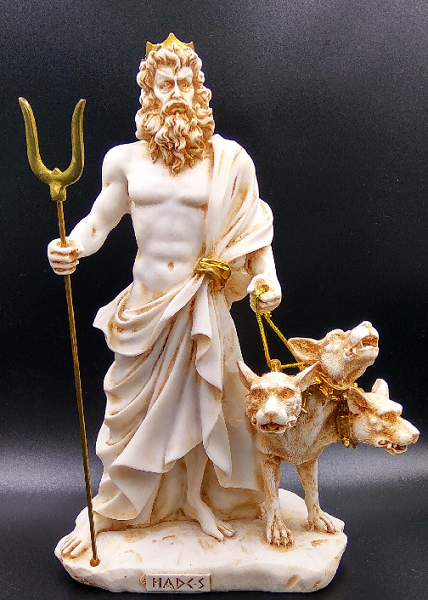 In less than eighteen months Pluto will shift sign for the first time in sixteen years, moving into Aquarius from March 2023 and after a hover on the cusp will enter fully in 2024 to stay till 2043.
Some random thoughts. In mythology Pluto was Hades, lord of the underworld and the realm of symbolic death and rebirth. The sacred river into his domain was guarded by Cerberus, the three-headed dog representing the past, the present and the future. Entry into Pluto's territory is not to be taken lightly since it strips away the past, reducing it to rubble out of which the new emerges over time.
Pluto amplifies the essence of the sign through which it passes, for good or for ill – transforms, destroys, reconstructs. What is fascinating, looking back, is how apt the changes and themes that occurred:-
Pluto in Taurus, 1851 -1882. London's underground railway had its first short test tunnel built in 1855 and it opened in 1863. London's sewage system was being discussed in 1856 and got underway in earnest after the Great Stink of 1858. Construction took several years all under Pluto in Taurus.
Pluto in Gemini, 1882 – 1912. An Air sign (I think and I talk) and Mutable – communicative, restless, friendly, a multi-tasker and often high-ranking amongst the wealthy, not always straightforward.
The emergence of modern cities and skyscrapers. Telecommunications. The Electrical age starts. Tabloid Journalism. An age of prosperity.
Pluto in Cancer, 1912 – 1937. A Water sign (I feel) and Cardinal, family-oriented, ruled by the Moon, mother and female associations.
A darker time with World War 1 (20 million dead) – it started with Pluto at zero degrees Cancer – with the Wall Street Crash/Great Depression in the middle. As an unexpected consequence women were emancipated, went to work, got the vote. The old family and conservative lifestyle values were destroyed.
Pluto in Leo, 1937 – 1956. A Fire sign and Fixed, (I am), ego-centric, attention-demanding, inspirational, a grandstander.
Fascism, promoting ultra-nationalism along the way, led to World War 11. Nuclear bombs, culminating in Hiroshima and Nagasaki. "If the radiance of a thousand suns Were to burst at once into the sky That would be like the splendour of the Mighty One…I am become Death, The shatterer of worlds." That was Pluto in Leo. Baby Boomers.
Pluto in Virgo, 1956 -1971. An Earth sign and Mutable, practical, health-conscious, communicative, restless.
Major medical advances with polio & measles vaccines, heart pacemakers in place as well as President Johnson Medicare Act. There was also a deadly Asian flu pandemic. The EEC trade pact came into being. Suez Crisis – was the symbolic end of British and French imperialist ambitions (and a Pluto Return for the England 973 AD chart). Pluto is often a marker of rise and falls.
Pluto in Libra, 1971 – 1983. Air and Cardinal, the relationship and justice sign.
The divorce rate jumps noticeably with changing expectations of marriage and more independence for women. The first domestic violence shelters open and USA Equal Rights Legislation gets underway. The wedding of the century between Prince Charles and Diana.
Pluto in Scorpio, 1983 – 1995. Water and Fixed, intense, determined, rules money, sex and crime.
Economic shift into laissez-faire capitalism. Also the crime of the century, the Brinks-Mat bullion Robbery – equivalent of $150 million in gold/diamonds stolen in London, most never recovered. On the sexual front AIDs emerged with devastating and deadly effect. Also child sexual abuse was dragged into the open – the emancipation of women in Pluto in Libra helped to expose the scale of it.
Pluto in Sagittarius, 1995 – 2008. Fire and Mutable, communicative, adventurous, a traveller, a thinker, can be self-righteous, opinionated and a religious zealot.
Globalization and multiculturalism was in full swing; with the EU Schengen cross border travel in operation. Terrorism became a foreground issue with Al Quaeda ramping up attacks in the late 1990s before 9/11. The Oklahoma bombing was white supremacist terrorism in the USA. Rabin assassinated in Israel by a homegrown extremist. And the Sebrenica Massacre in 1995, a religious genocide, killed off 8000 Muslims.
Pluto in Capricorn, 2008 – 2023. Earth and Cardinal, rules money, business and government, conservative. Banking was founded by Charlemagne under a Pluto in Capricorn in the 8th Century; and two Pluto cycles later Kublai Khan introduced paper money. This time round paper has been replaced largely by plastic and cyber currency.
The financial crash. Migrant crisis stemming from political, economic and climactic pressures. Rise in populism & neo-nationalism as the ultra-conservative streak in Capricorn is amplified. Global warming
Pluto in Aquarius, 2023 – 2043. Air and Fixed. A thinker and communicator, curious, stubborn, scientific, interested in the future and the distant past, individualistic, rebellious, androgynous (gender/sex not as relevant), humanitarian but can be an ideological extremist.
Previous Pluto in Aquarius, 1778 – 1797. Rebellions, revolutions, enlightened thinkers, scientific advances.
American colonies rebelled against British over taxes during later stages of Pluto in Capricorn and declared independence. The French Revolution triggered by wealth inequality, based on high ideals of liberty, equality and brotherhood, turned bloody in the Reign of Terror. Industrial Revolution in full swing – age of prosperity. Scientific advances, chemistry. Explorers – James Cook and William Bligh. Philosophical and social thinkers – Emmanuel Kant and Thomas Paine (Rights of Man.
Pluto in Aquarius, 1532 – 1552. The Protestant schism with Roman Catholicism got under way in earnest, which led to centuries of conflict. Henry V111, Luther, Calvin. A clash of ideas. Scientific advances in earth and medical science. Exploration.
As ever there were additional factors during these times from the other outer planets. Neptune Pluto in the Pluto in Gemini late 19th Century phase is scandal-prone which would slant the communicative drive towards sensationalist journalism. Pluto at the start of World War 1 had a tr Saturn Pluto conjunction as the war got under way; and ditto for World War 2. Saturn Pluto hard aspects also oversaw 9/11 and the Wars on Iraq/Afghanistan.
Further thoughts:
Significant atrocities/disasters came at the start of each Pluto transition into a new sign.
Virgo 1956 – Suez crisis. Russia invades Hungary.
Libra 1972 – Bloody Sunday in Northern Ireland. Munich Olympics massacre by Palestinian terrorists of Israeli athletes. Watergate underway.
Scorpio 1984 – Indira Gandhi assassinated. AIDs.
Sagittarius 1995 – Srebrenica massacre. Rabin assassinated. Oklahoma bombing.
Capricorn 2009/10 – Gaza War. Haiti earthquake, one of worst in history. Horizon oil spill, one of largest ever.
GAME CHANGERS: Historical figures whose influence/effect changed the course of history during a Pluto transition often had their natal Pluto at a cuspal degree.
Henry V111 had his Pluto at 29 degrees Libra and was a major player in triggering the Protestant schism when Pluto moved into Aquarius.
Thomas Paine (Rights of Man) born with Pluto at 0 Scorpio was central to the Pluto in Aquarius USA and French political scene.
Jean Jaques Rousseau, father of the French Revolution, was born with Pluto at 0 degrees Virgo (conjunct Uranus).
William Herschel born with Pluto in early Scorpio discovered Uranus when Pluto was in early Aquarius. [Percy Lowell, whose Observatory discovered Pluto was born with Pluto at 2 Taurus.]
Jonas Salk whose polio vaccine marked Pluto into Virgo, was born with Pluto at 2 degrees Cancer.
Queen Elizabeth 1 was born with Pluto at 0 Aquarius and Neptune at 29 Pisces.
So the Pluto transition does throw up influential individuals who often make their mark when tr Pluto moves into a later sign.
On the basis of very few examples tr Pluto through an Air sign appeared to coincide with a time of prosperity.
Pluto through a Water sign is a much darker energy.
Events which carry the essence of what is to come can occur in the final degrees of the previous sign. The financial collapse can be timed to Pluto in late Sagittarius but carries the theme of Capricorn.
These are trimmed down notes from a recent lecture on Pluto. I thought it useful to have a precis.