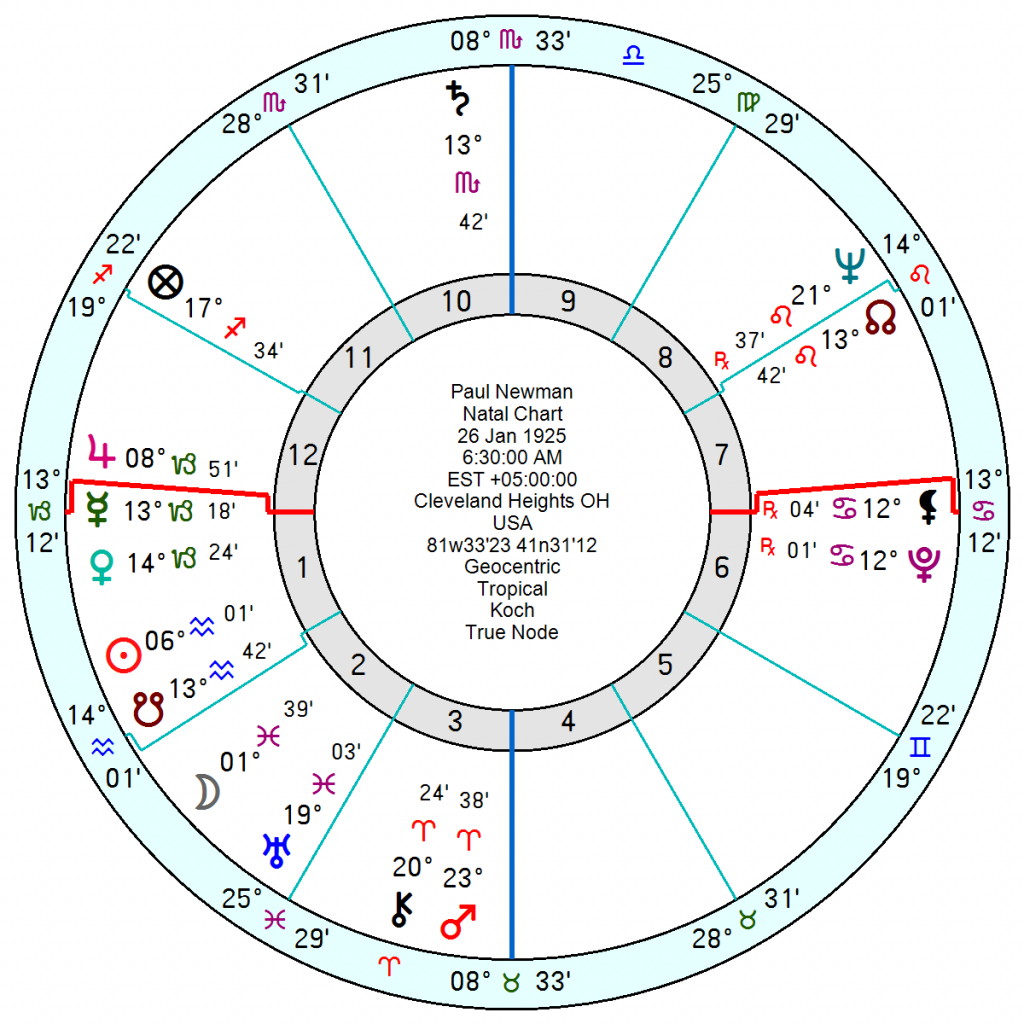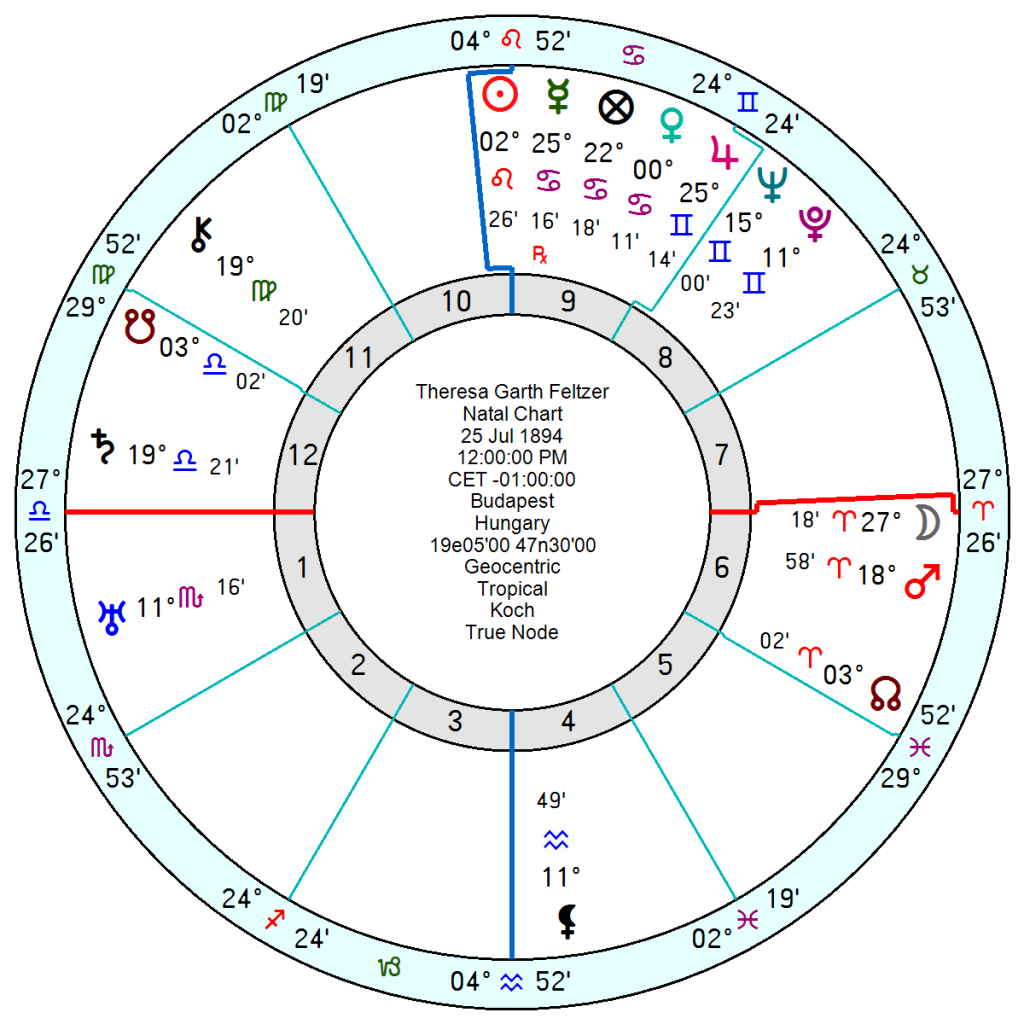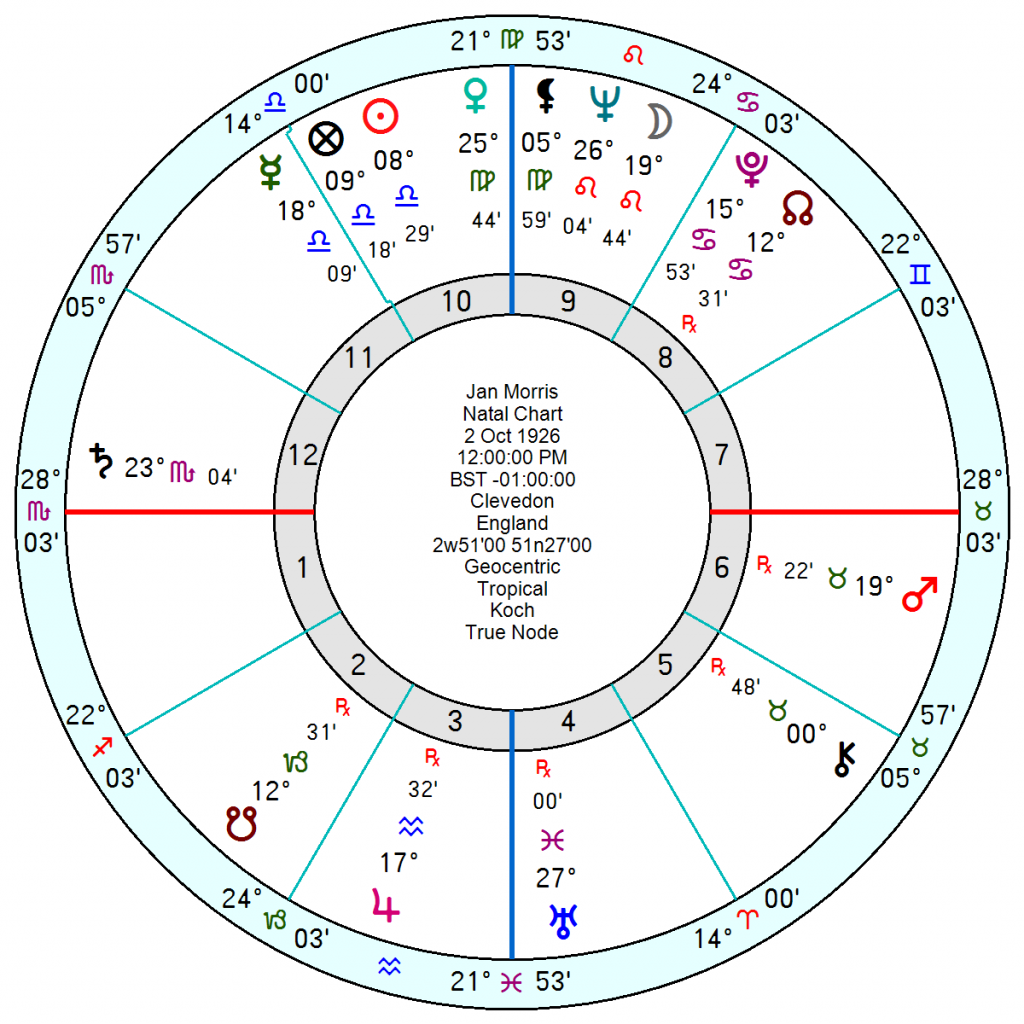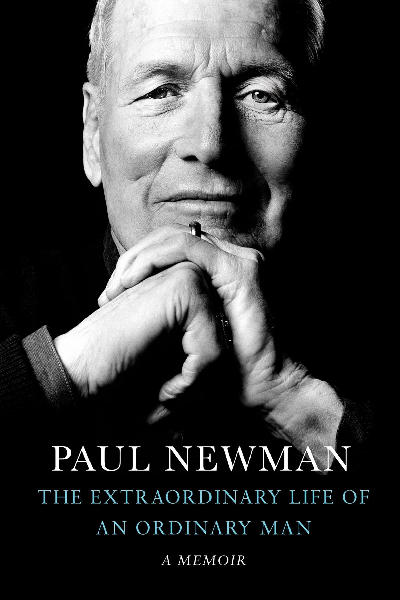 The radiantly handsome Paul Newman with the flawless marriage, an object of envy to most, is an exquisite example of how astrology gives the lie to a well-polished image, revealing the dark secrets that lie behind.
When celebrities are alive it is often not possible to be blunt about what the chart says; and even astrologers get bamboozled by an ethereal aura and tone down their suspicions.
Only after his death has it emerged what a tortured life Paul Newman had with a mother he described as a 'monster', who alternately cooed over his looks and then for no reason beat him. His parents were in constant conflict and his weak, alcoholic father an emotional dead space. Not surprisingly Newman himself developed a serious drinking problem which ruined his first marriage. His inadequacies as a parent to his first three children haunted him with guilt in later life.
Newman, 26 January 1925 6.30am Cleveland Heights, Ohio, had a hard-working, conscientious Saturn in Scorpio in his career 10th in a creative Water Grand Trine to Pluto Descendant trine Uranus, with Pluto opposition Venus, Mercury, Jupiter in Capricorn on his Ascendant. Venus Jupiter on the Ascendant would exude enthusiasm and give him an upbeat and clearly false persona. But Saturn Pluto is bleak. Add in Uranus for instability and it would send his Water Grand Trines into an alternative bubble of reality since the one on offer was too desolate. His Sun was square Saturn for the unsupportive father.
His unaspected Pisces Moon suggests dysfunctional nurturing, making him vulnerable and traumatized. It was conjunct his enthusiastic Mars/Jupiter midpoint and square his Mars/Pluto and Uranus/Node which encapsulates the confusing, double-messaging mother – one moment all over him, the next savagely cruel and unstable. Saturn in Scorpio in the 10th also represents the cold, ungiving, spine-straightening mother – which can occur with also with Moon Saturn.
Theresa Garth Feltzer, 25 July 1894, was a Sun Leo with a hard-edged and can-be-cruel, short-tempered Mars in Aries opposition Saturn in Libra square his Pluto and his Venus. So all of her pent-up resentment at the injustices of her own life would be acted out on him.
It is a miracle he stayed upright and as good looking as he did for so long. When he threw his mother out of his life at one point during his marriage to Joanne Woodward he said he felt a weight had been lifted from him. After she died in 1982 he started to record his memoir tapes and his daughter Clea said he he evolved immensely in the last quarter of his life, freed by his mother's death. In 1982 tr Uranus just into Sagittarius was square his Moon which is classic transit for emotional changes concerning mother figures and a freeing up of old emotions trapped in the past.
In later life after he gave up drinking he took to racing cars which fitted with his 3rd house Mars in Aries but also suggests a need to flirt with death, and for the adrenaline kick that would waken dead emotions.
Another example of the gap between public adulation and the private reality is Jan Morris, the journalist and travel writer, lauded for her writing talent and courage as an early trans woman. She has been described after her death as "selfish, self-serving and unkind". With a Sun Libra square Pluto; and Mars in Taurus opposition Saturn in Scorpio square Neptune (Moon) opposition Jupiter – there's every reason to believe the description holds water.
Always reassuring to have the mysteries of charts illuminated after death.
See previous posts: Saturn mothers – 3 September 2022
Marriage to Joanne Woodward 27 July 2022.
Jan Morris 21 November 2020