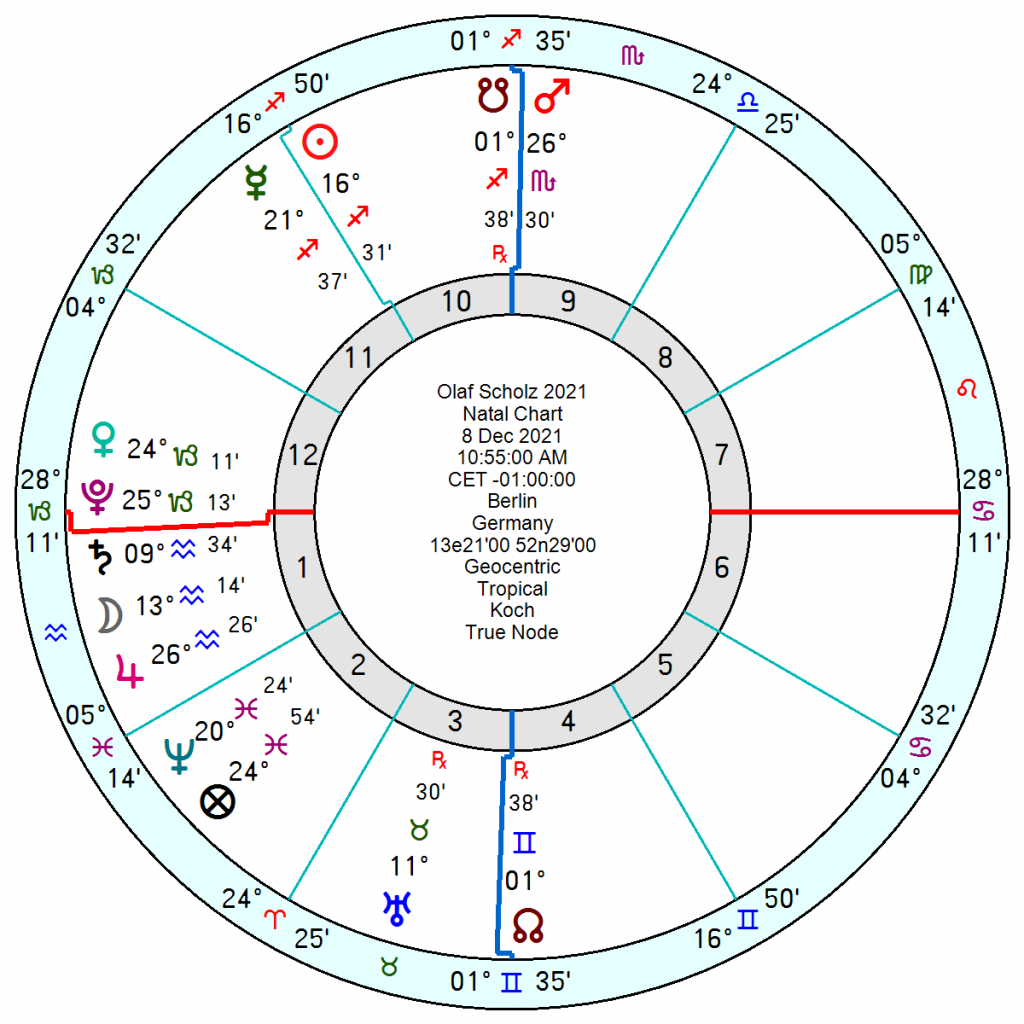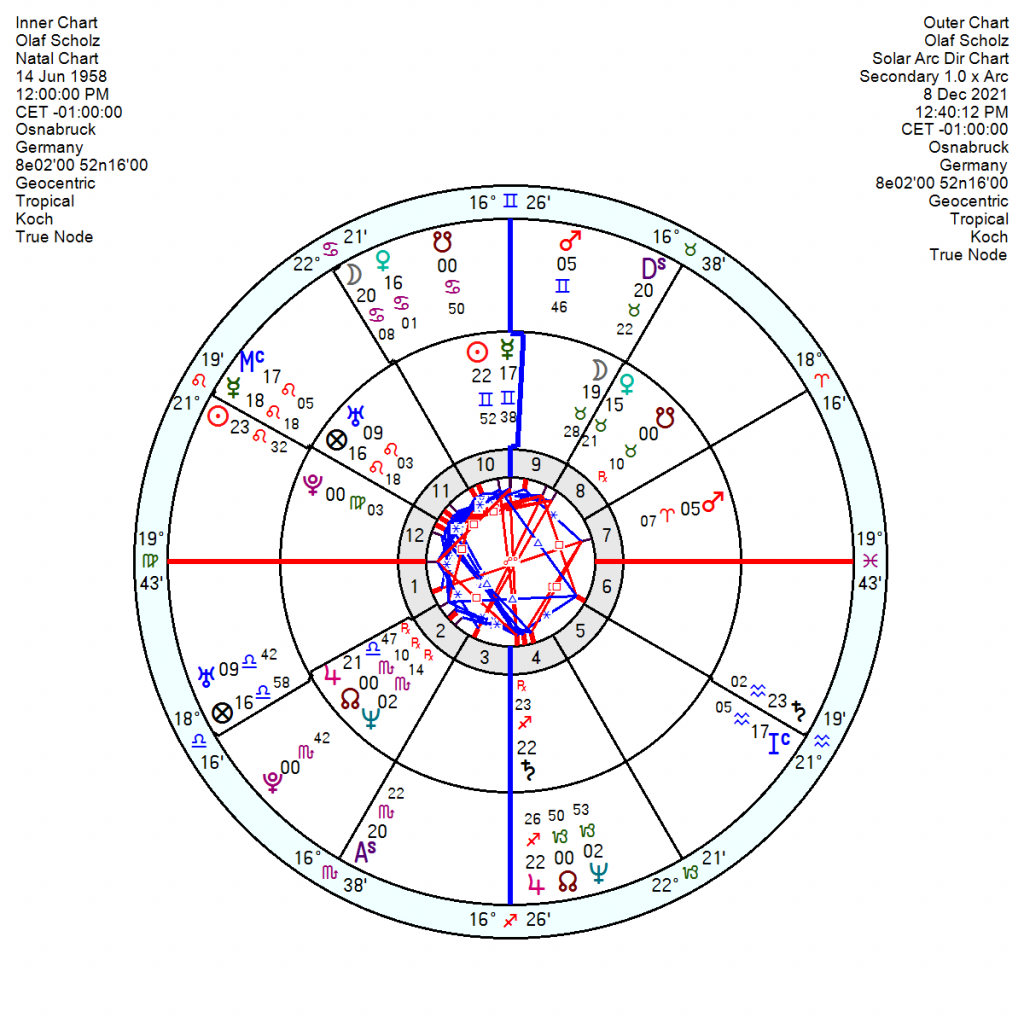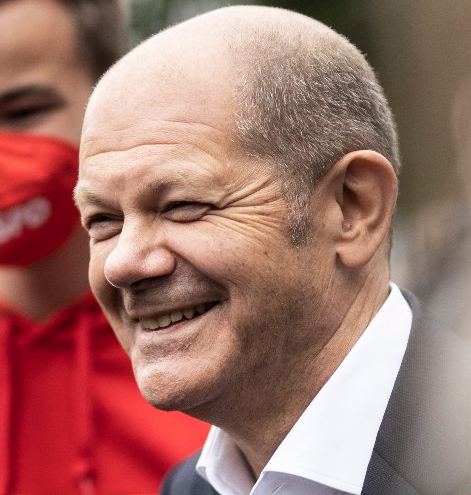 Olaf Scholz was sworn in this morning as next German Chancellor, replacing Angela Merkel, who will be a hard act to follow. He takes on a coalition government with three parties which have never governed together before. Added to which he is facing a fourth covid wave with street protests about mandatory vaccinations for all; depressing business figures and inflation at 6 per cent, its highest level since the early 1990s. There's a foreign policy crisis brewing over Russia and Ukraine. And he has promised the "biggest industrial modernisation of Germany in more than 100 years" which may run into arguments over borrowing and the debt brake.
He was given the certificate of office by the German President at 10.55 am today which puts a determined Mars in Scorpio on the Midheaven but also gives a less than inspiring, lacklustre Sun Mercury square a financial Neptune. Though there is a focal point Jupiter in Aquarius square Mars opposition North Node which should provide a safety net of luck and confidence. And a controlling, persuasive Venus Pluto in Capricorn sextile Mars on one side and Neptune on the other. Plus the inevitable ratchety, tense and unsettled Uranus square Saturn Moon, which tends to produce a doesn't-practice-what-it-preaches entity.
There is strength in the chart despite the Neptune, as well as optimism and a willingness to take risks.
His own chart, 14 June 1958 Osnabruck, Germany, has a serious Sun Gemini opposition Saturn which despite the tr Neptune square in 2021 and 2022 was buoyed up by Solar Arc Jupiter conjunct the Saturn – but that won't last. His 2022 is a tough slog with tr Pluto square his Saturn/Pluto midpoint with some dashed-hopes in 2022/23; and a particularly sticky patch mid January and again in April 2022.
What is intriguing is what comes next for Germany since its chart is in a state of flux and turbulence ahead. Tr Pluto has been opposing the 10th house Uranus through this year, ending by this New Year suggesting a major change in direction. That is followed by tr Uranus conjunct the 8th house Pluto picking up June 2022 and running off and on into 2023. The previous time this was around in 1938/39/40 was when World War 11 was triggered by Hitler's land grabs and invasions. Not that anything similar is likely to recur but it will obviously stir a deep chord in the German psyche.
And relations with France which were also ruptured from 1939 onwards for several years after the German invasion, will also be hit with a similar disturbance from 2023 to 2025. Tr Uranus in last decan Taurus will put immense strain on the ties that bind as it opposes the composite Sun, Mercury and Venus. And from early 2022 tr Pluto will also square the composite Mars – so the old German-Franco EU leaders won't be singing from the same hymn sheet for a few years.
Relations between Germany and the EU look messy and confused in 2022 with uncertainty soaring from May 2022 into 2023. 2023 to 2026 look if anything even more fraught on that front.
On the economic front – which may also be part of tr Uranus conjunct the Germany 8th house Pluto – the Bundesbank chart flags up 2023/24/25 as years of blockages, panics and deflating enthusiasm and confidence.
[See previous post on Germany and the Occult vis a vis the 8th house Pluto. October 7 2020.]