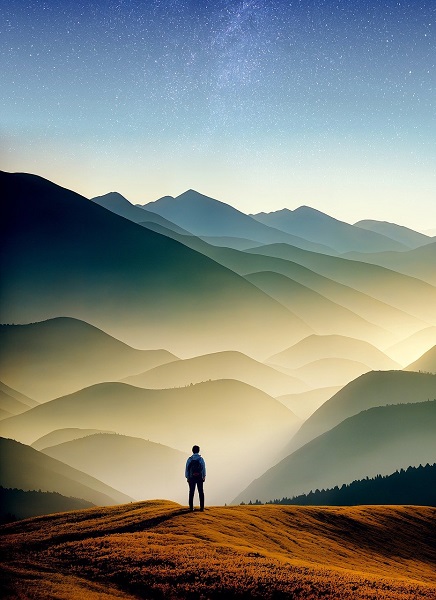 The Moon's Nodes carry a theme that is echoed throughout a birth chart as if they encapsulated the fundamentals of the personality – its learning lessons and possibilities. The theory is well enough known of the South Node representing the pull from the past into what is comfortable and familiar – the line of least resistance. The North Node is the unfamiliar, the challenge that must be met in order to develop as a personality. What is not always recognized is how often individuals never rise to the test and exit this lifetime in much the same way they entered, clinging in to their South Node.
The house position will be important as well as the sign so the North Node will be lived out in the life arena ruled by that house. Remember also that the signs and indeed houses have a spectrum of meaning, positive and negative,
Although there probably is a need to find a way of integrating the South Node energies in evolved form as well as activating the unfamiliar North Node, it should not take precedence. Many/most don't ever make the effort to move away from the South Node. Celebrities and politicians are not a good guide for most people struggling to lead a productive life – and many of them don't reach out for the transformation involved which is why examples below may look negative. But it is instructive to see the groupings.
On a personal note I recollect Howard Sasportas saying he was offended when he read Martin Shulman's book on Nodes since he said 'nasty things' about his South Node (in Scorpio) – and I must admit I winced when I first read it – Capricorn South Node – and it took me a while to get over my defensiveness to grasp that much of what he said made sense. It may be the Second Nodal Return at age 37 which is the pivotal one for reaching out for the North Node.
ARIES North Node and North Node in 1st house – needs to learn to build up a strong individual identity, be independent or take the lead and not be constantly trying to please others by sliding back into the Libra South Node. Rupert Murdoch certainly has developed his leadership traits though perhaps his obsession with finding another half even at 90 can be laid down to his regressive tendencies.
TAURUS North Node and North Node in 2nd house – one of the trickier Nodes which tends to bring a turbulent and tumultuous life with much intensity of feeling. Can smile sweetly but be plotting and planning behind the scenes. Dislikes taking advice. Tendency to be vengeful and lash back at perceived threats. Pulling away from the Scorpio South Node's inclination to become embroiled in sexual or financial entanglements and reaching out for Taurus's earthy stability is the way to go.   Schulman remarks "will make much growth when able to see the actions of others as reflections of own subconscious."   Sinead O'Connor, Prince Harry, Stephen King, Clarence Thomas all live out differing versions of this Node. King Charles may have overcome much of the storminess by developing his love of gardening and nature.
Gemini North Node and North Node in 3rd house – needing to pull away from wildness, constant rush, irresponsibility and free spiritedness of the Sagittarius South Node, and learn to listen to others. "Bull in a china shop" Schulman calls it. Donald Trump, Bashar Assad, Mark Zuckerburg, Harold Shipman (serial killing doctor). Needing to understand that communication is a two way process. Interacting with others is a challenge.
Cancer North Node and North Node in 4th house – their Achilles Heel is pride, an obsession with status, extravagance, an overly materialistic outlook, resistance to advice, opportunistic, unable to admit when wrong (Capricorn South Node). Learning to give to others rather than taking. Boris Johnson, Rudi Giuliani. Michelle Obama is one who has transitioned into the feeding hands.
Leo North Node and North Node in the 5th house – no shortage of those in showbusiness. Tom Cruise, Jerry Springer, Meghan Markle. Can be a dreamer, head-in the-clouds type, leadership potential though tendency to be overly scattered and at times not good at moderation. Needs to learn to stand alone.
Virgo North Node and North Node in the 6th house – need to learn not to allow suffering to drain strength and avoid sliding back into Piscean daydreaming and escapism. A life of service will bring fulfilment where playing the victim won't. Interestingly physicist Stephen Hawking and actor Michael Fox, with incapacitating Lou Gehrig's disease and Parkinson's respectively have this Node, as does UK former politician Jonathan Aitken who had tuberculosis which left him an inpatient for three years from 4 to 7. And Joe Biden has not had his sorrows to seek on the family front.
Libra North Node and North Node in the 7th – needing to learn how to cooperate by truly understanding another's needs, caring and relating. Forging a successful one-to-one relationship is the key to their development and overcoming a dislike of being dependent. Luis Robiales, Kevin Spacey, Emmanuel Macron, Madonna, Sarah Ferguson, Princess Charlene, Raquel Welch (four short-lived marriages), John Cleese, David Koresh (WACO cult leader). Falling back on their impatient, restless Aries South Node, they prefer to lead rather than share and are edgy about having their free expression restricted for the sake of togetherness. Tina Turner found her other half after years of struggle so might be deemed a nodal success.
Scorpio North Node and North Node in the 8th – Prince Albert (Monaco), Asma Assad (Syria), Patricia Highsmith (crime novelist). A tendency to slide back into Taurus's indulgence and acquisitiveness for possessions and money. Sexuality and self-control will be issues for some. Transformation comes at quite a price of letting go everything that was once deemed valuable. Unlikely in the case of Albert or Mrs Assad. Wrestling with the darkness in life will be the way to the light.
Sagittarius North Node and North Node in the 9th – needing to learn loyalty and commitment, not swing around leaving all options open, and be constantly scattering attention in too many directions. Travel will bring enlightenment and detachment from the trivia of everyday life. Learning faith and finding a belief system that holds will help. Silvio Berlusconi, Pablo Picasso, Noel Coward, actress Sarah Bernhardt, Bill Cosby.
Capricorn North Node and North Node in the 10th – emotional entanglements within the family tend to bring a childish naivety which must be fought against. Taking responsibility and growing up are key issues and not being distracted by the pull of the past. Yearning for the support of early childhood gets in the way of development. Learning to let go is vital. John F Kennedy, Oprah Winfrey, Dalai Lama, Angela Merkel.
Aquarius North Node or North Node in the 11th – learning detachment from the Leo South Node's ego-centred outlook and pride is crucial. A romantic dreamer can with effort come to realise that friendship offers more than a fleeting passion. Dedicating energy to a cause that benefits humanity is the road to fulfilment. Elvis Presley, Taylor Swift, Elon Musk
PISCES North Node and North Node in the 12th house – oddly enough both Melanie Trump and Jill Biden as well as Nicola Sturgeon have a Pisces North Node. Can be self-pitying and feel unappreciated. Tendency to be manipulative, being too stuck in practicalities, learning faith is vital and letting go.