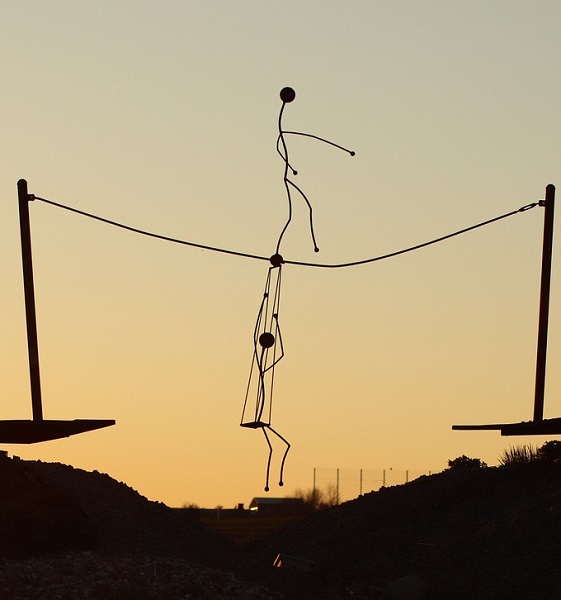 The North and South Node as drivers of a core element of the lifetime's journey can be helped and/or hindered by planets in hard aspect – conjunct or square.
Understanding the nature – and spectrum of meanings – for the planet involved as well as the sign and house placing of the Nodes gets complicated. But worth pursuing.
You don't have to believe in reincarnation (which I don't) but it is a useful way of explaining the ways in which the South Node in particular can operate. Planets on the South Node suggest past tendencies to be e.g. overly aggressive with Mars conjunct SN and thus on the receiving end this time round.
The Saturn conjunct the South Node – Howard Sasportas mentions an individual with this who was permeated by fear, everything was a challenge and overly difficult. She was dragged back into negative Saturn (for reincarnationers she was getting karmic payback for an overly Saturnine past life of being emotionally cold, critical etc). Now she needed to get away from her overdose of Saturn and whatever sign the South Node was in and reach away from it. Tracy Marks says planets on SN need to be reworked and brought into consciousness, reassessed and then let go. Not be owned by the South Node and in this case Saturn.
Sakoian & Acker who are hooked on the notion that the Nodes tune us in or not to social trends point out that Saturn conjunct the South Node while out of step with society and isolated, can do well in obscure areas.
North Node conjunct Saturn needs to work on the positive sides of Saturn – discipline, patience, caution and realism.
Planets in square can be more problematic since there is a more evident swing between the Nodes – too much of one and then too much of the other. Finding the balance is vital with this aspect.
Pluto conjunct the South Node indicates an individual who out of step with society and stands alone so it fosters self-reliance though they can be a victim of circumstances.
Pluto conjunct North Node can be opportunistic and get onto bandwagons though it can backfire – getting a tiger by the tail – with the result that affairs of life can get out of hand.
Neptune conjunct North Node – swept along by social trends, going with the crowd.
Neptune conjunct South Node – past life as alcoholic, pulled back into escapism, addiction, lack of discrimination/boundaries. Out of step with social trends, unpopular. Though individualistic. Watch out for deception.
Sun conjunct North Node – can be expansive, fit in with prevailing trends, though can be draining.
Sun conjunct South Node – not in a leadership/attention-demanding situation this time round so thwarted by others.
Moon conjunct North Node – in tune with social trends and well designed for any activity in contact with the general public, popular, good with women in general.
Moon conjunct South Node – out of step with social trends so forced to be self-reliant. Emotionally self-sufficient.
Mercury – words are your ally on North Node, can be an intellectual leader or swept along by popular ideas.
Mercury on South Node you're too much up in your head and need to stop analyzing and talking, get into your feelings and be realistic. Ideas out of step with society. Can be an original thinker though not listened to.
Venus conjunct North Node – friendly with a leaning towards frivolity. Need to develop creativity. In harmony with social trends.
Venus conjunct South Node – isolated, bad timing in romance, can have spiritual benefit.
Mars conjunct North Node – pro-active where social trends are concerned though a tendency to get swept up in mass passions. Empowering.
Mars conjunct South Node – re-enacting old patterns of being assertive/angry. Needing to pull away from past grievances and ingrained habit patterns. Bad timing and then lash out in frustration. Loners.
Jupiter conjunct North Node – popular, in harmony with the mood in society, take too much for granted,
Jupiter conjunct South Node – tendency to go overboard. Bad timing. Values may clash with present trends. Problems in education and travel.
Squares – Jupiter square – overdo SN and then swing to overdo NN
Uranus conjunct North Node – allow self to be crazy, original, inventive. Attuned to changing times. Over enthusiastic.
Uranus conjunct South Node – upset by social changes, life disrupted by outer events.
Uranus square Nodes – tension in resolving the polarity.
North Node on Ascendant – have to develop faith in self and develop Ascendant sign way of appearing in the world.
South Node on the Descendant – attract people who encourage South Node regressive tendencies.
North Node in the 7th – need the experience of relationship. Even if difficult.
North Node in 1st – forced into independence at an early age, can't get people to care for you.
A passing example from the alarming and bizarre tale of Ruby Franke, a 'parenting' influencer who has been arrested along with her business partner Jodi Hildebrandt on charges of aggravated child abuse after two of her malnourished kids were found starved with open wounds and wrapped in duct tape. Her YouTube channel had 2.2 million subscribers before it stopped in 2022.
She was born 18 January 1982 with a Capricorn Sun conjunct her South Node square a bleak, uncaring Saturn Pluto – which kind of says it all.
Jodi, 15 June 1960 – has his pushily confident Jupiter Pluto conjunct his South Node.
Money, money, money.
Both of them probably have their Chiron square their Moon.