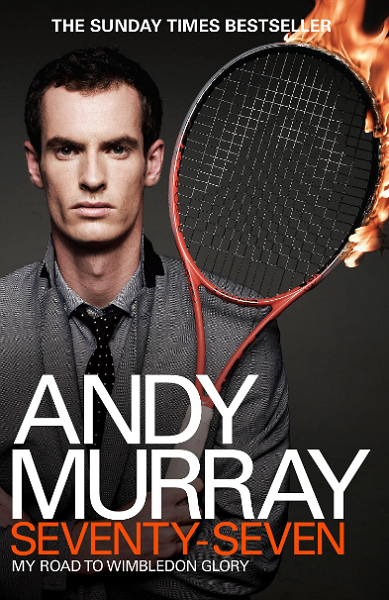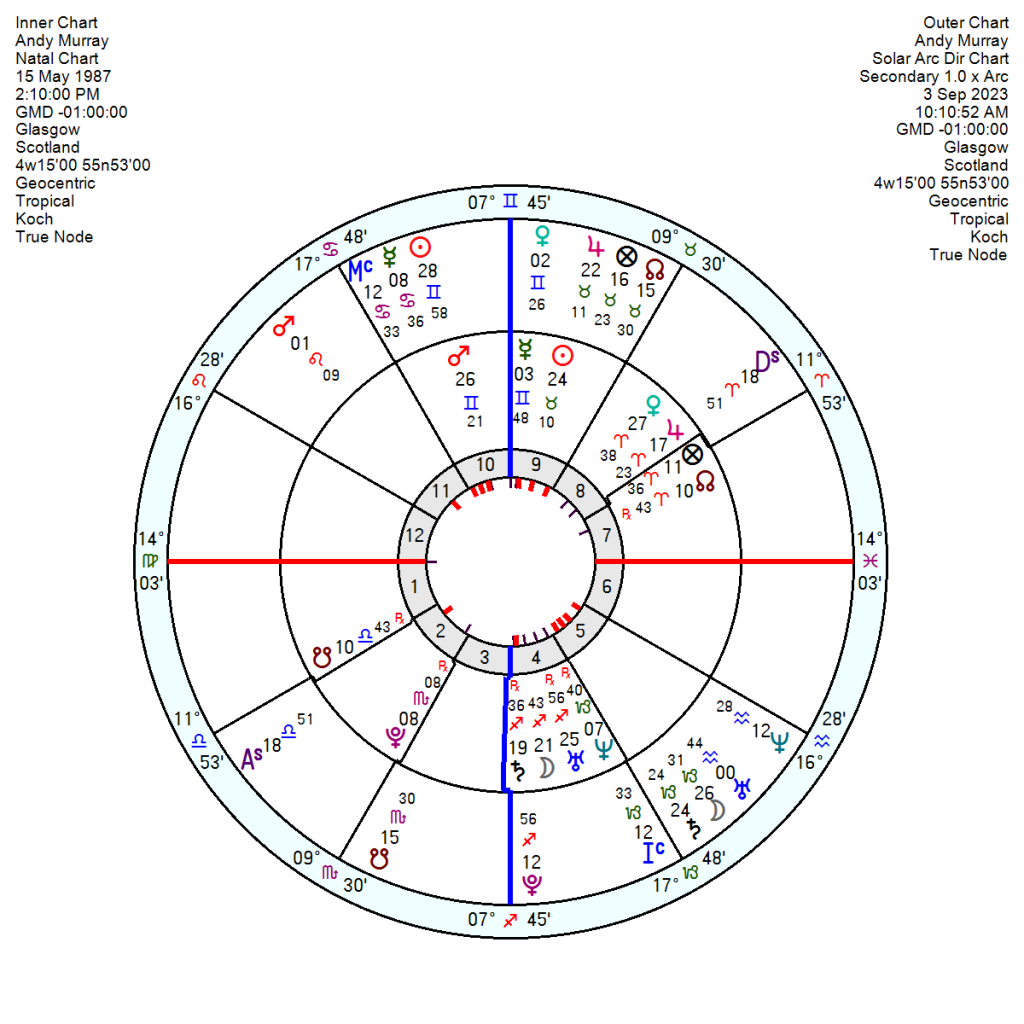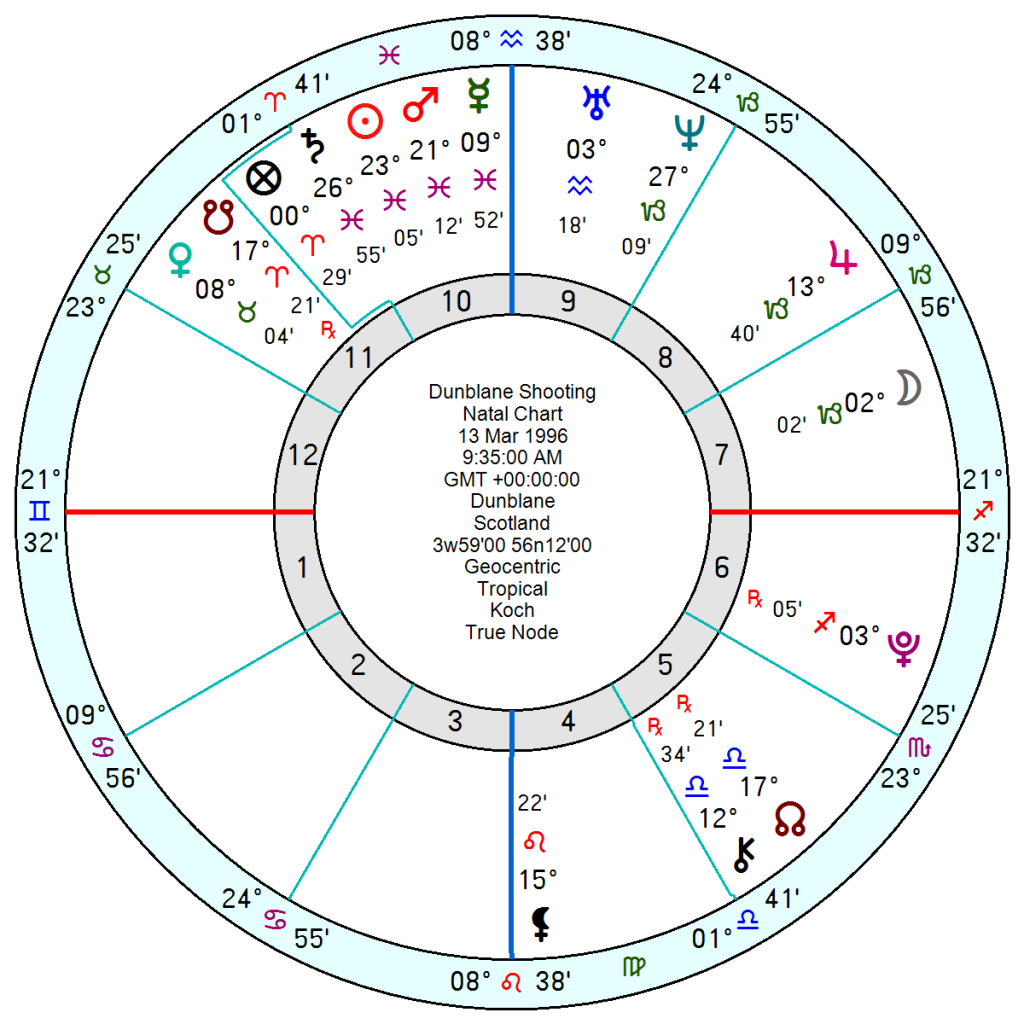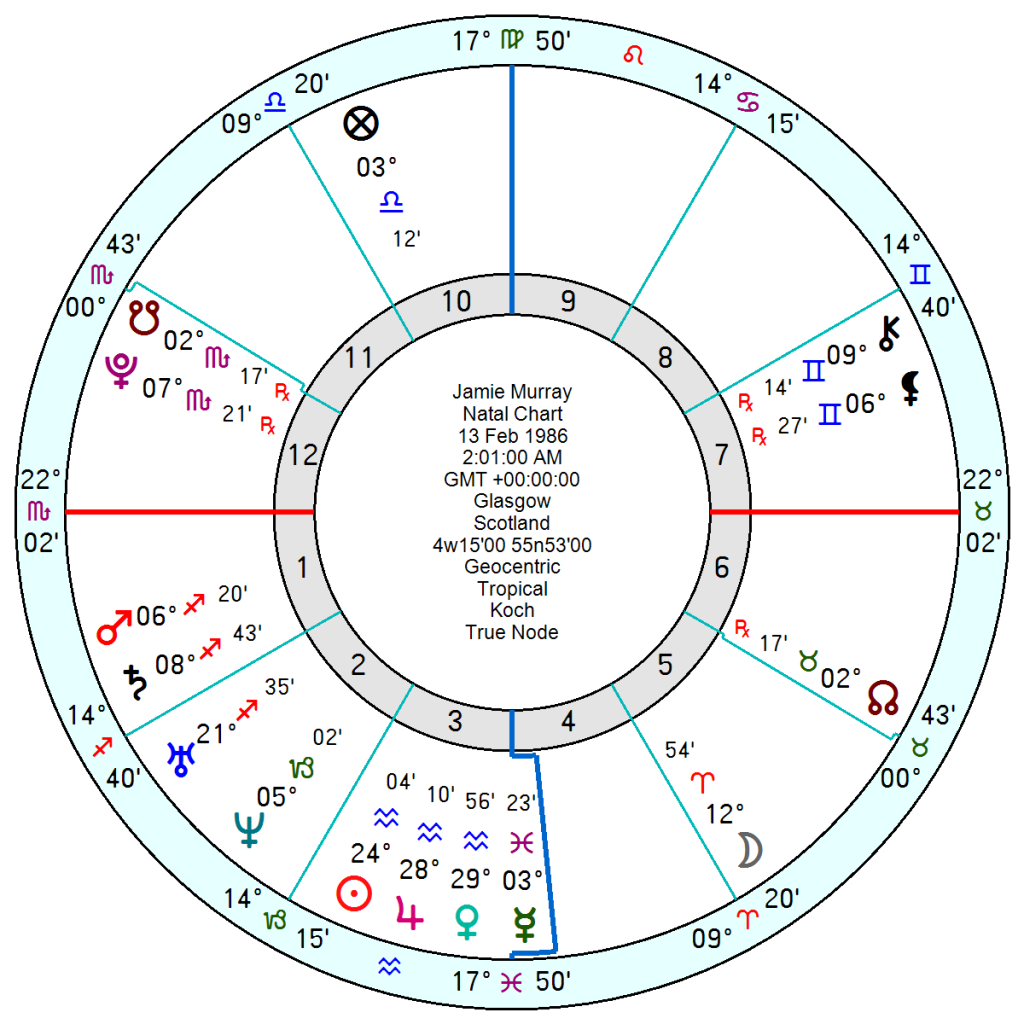 Andy Murray, former tennis world No 1 and three times Grand Slam winner, may be facing the winding down of his international career. His defeat in the US Open recently prompted him to say he would step away if his play "gets worse". He has struggled over recent years with hip problems.
Born 15 May 1987 2.10pm, Glasgow, Scotland, he has a much-travelled 9th house Taurus Sun inconjunct a 4th house Sagittarius Moon Uranus and Saturn – not designed for a stay-at-home life. He also has an ambitious 10th house Mars in Gemini opposition his Moon Uranus, giving him a liking for thrills, excitement, risk and provoking excitable emotional reactions. He also has a yod of Pluto sextile Neptune inconjunct his Midheaven and Mercury. Whatever comes next he'll need to find a wide-ranging, constantly changing, varied career. He's a real jitterbug. He also has Venus Jupiter in Aries in his 8th – lucky financially, emotionally secretive.
His Aries North Node falls in his 7th house of relationships so he'll be constantly searching for a way to be independent within the context of a meaningful relationship.
Tr Uranus is aiming to conjunct his Sun from June 2024 on and off into 2025 which is possibly when he will make the changeover. This year into early 2024 as well he has tr Saturn square his Midheaven which usually accompanies career setbacks which may be the decider. Plus tr Neptune square his Mars and Uranus which will induce a sense of failure until early March 2024.
He'll also have some upbeat patches late – this September to the end of October could see a confident run and he will have some luck mid October to mid November this year and April 2024.
His Progressed Moon has another year moving through his 8th house which will find him swinging from one extreme to the other as he searches for a new direction emotionally as well as in other ways. From July 2024 as it moves into his 9th he'll feel lighter and brighter, more secure in himself.
July 2024 sees Jupiter moving across his 10th house until September 2025 which is usually successful.
By 2027 he will be ready for a complete change of direction with tr Uranus moving across his Midheaven and into his 10th for several years thereafter.
ADD ON: He and brother Jamie were present when Thomas Hamilton shot and killed 16 at their school on 13 March 1996 9.35am Dunblane, Scotland. At that point there was a transiting Mars, Sun, Saturn in Pisces with tr Saturn exactly square Andy's Mars – so a considerable shock, unsurprisingly. Tr Mars was exactly square his Moon as well. His SA North Node opposition his 8th house Jupiter might suggest he felt lucky to emerge physically unscathed.
His brother Jamie, 13 February 1986 2.01am Glasgow, has a friendly Sun, Jupiter, Venus in Aquarius in his chatty 3rd house; with a go-ahead Aries Moon in his sporting 5th house. He also has a tough Mars Saturn conjunction in Sagittarius in his 1st square his Mercury with his Mercury also trine a 12th house Pluto. He will hold strong opinion and not have had the easiest of childhoods.
The tr Mars, Sun, Saturn were square his Uranus at the shooting.
Andy and wife Kim Sears have done up a Dunblane Hotel in sumptuous style – nice piece with pics:
https://www.telegraph.co.uk/travel/destinations/europe/united-kingdom/scotland/kim-and-andy-murray-cromlix-house-hotel-dunblane-scotland/