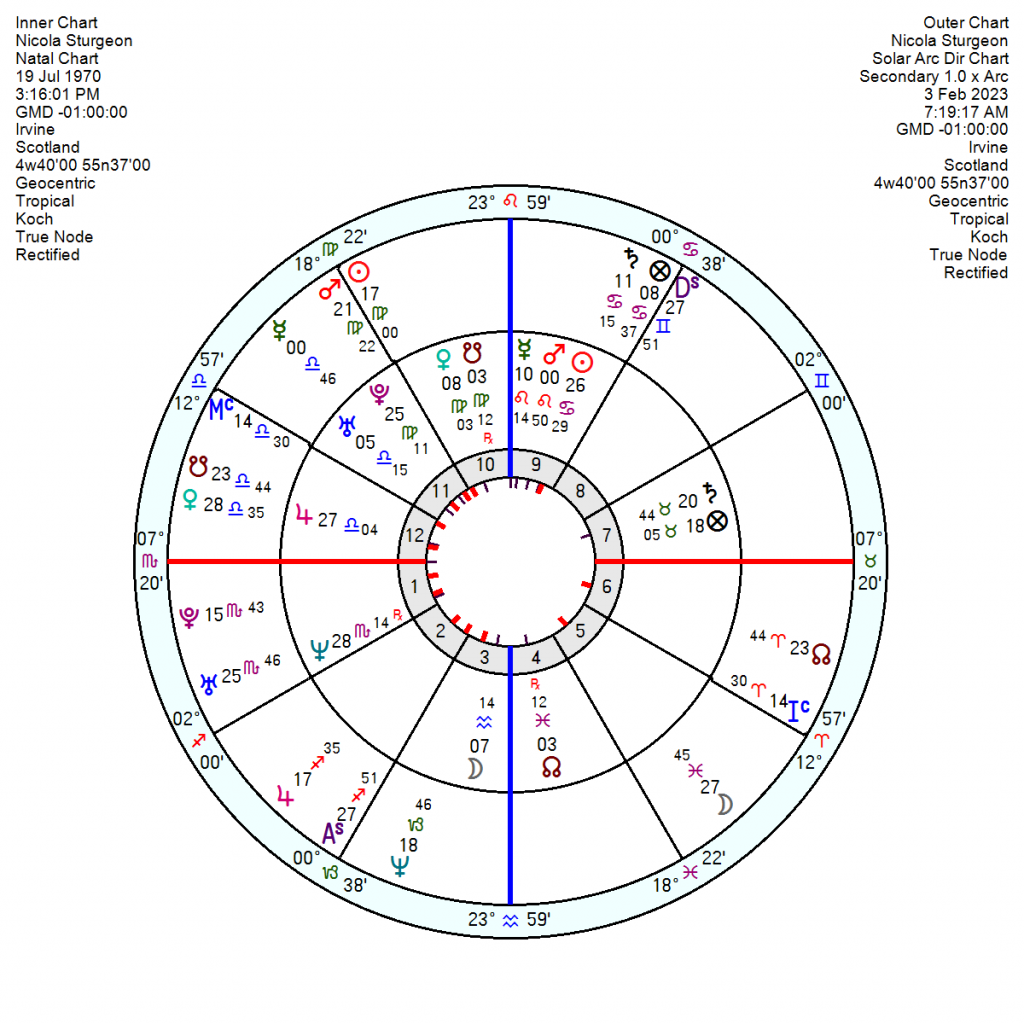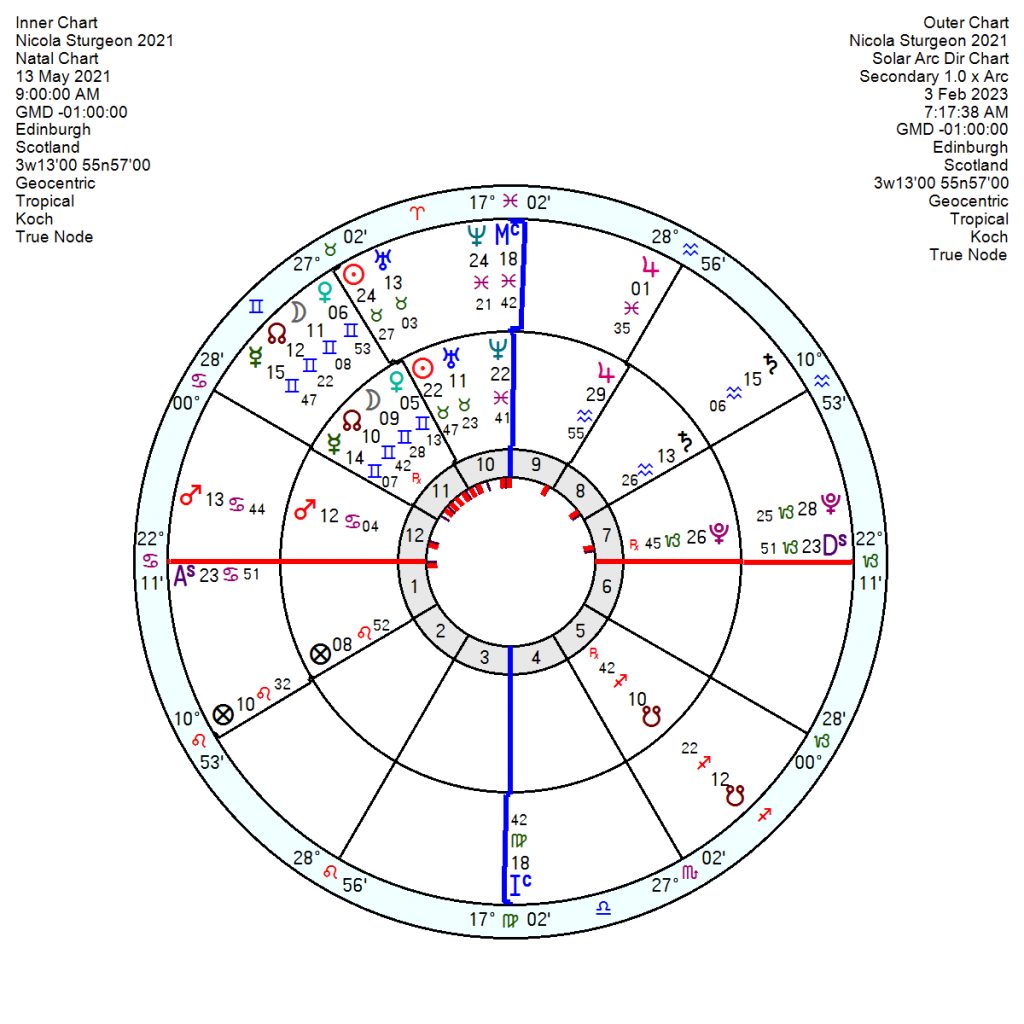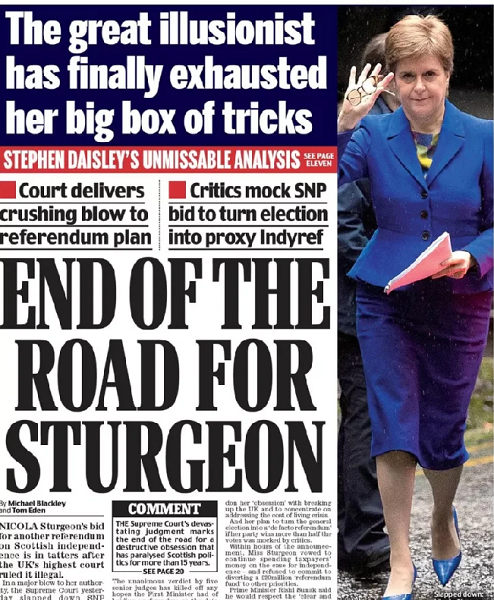 Nicola Sturgeon for reasons beyond comprehension has allowed herself to be tied in a knot over her sweeping changes to gender identification, allowing self-identification with no medical diagnosis. Only to be wrong footed when a male rapist, up on two charges, decided to switch from he to she and ended up in a women's prison with an ensuing outcry. She is now saying, Nicola that is, that the he/she (formerly Adam now Isla) is "almost certainly" masquerading as a woman and has been transferred back to a male prison. Which renders the whole barrage of outrage aimed at the Westminster government for banning her new law a touch superfluous.
She was never moving into a successful phase despite brave words on independence which came to nought with another ruling against a referendum. With tr Pluto aiming to oppose her Mars from late this March for two years she will be trapped, frustrating and enraging. Even before then tr Pluto opposition the Sun/Mars midpoint this month and next and on till late 2023 will have much the same effect.
She will muster up her bravado with tr Pluto square her Jupiter through this year but it won't outweigh the negatives and with tr Neptune undermining her Pluto in Virgo from this March into 2024 she will feel disempowered and it runs alongside a disaster prone tr Neptune square her Mars/Saturn midpoint
Tr Uranus will also upend her rigid Saturn in Taurus from late this May and then square her Midheaven from mid August this year which will force a change of career direction – and those run on into 2024 as well.
Her popularity appears to be fading even amongst her own supporters and it looks as if she has shot her bolt and is running out of road ahead.
  Her latest Term chart, 13 May 2012 9am has a lacklustre Neptune on the Midheaven (never a good sign for an administration) and the Saturn square Uranus which is now closing the square to exact this year by Solar Arc which will give rise to eruptions, tensions getting out of hand and divisions within the ranks.
ADD ON: Born 19 July 1970 3.16pm Irvine, Scotland, she had a dental nurse mother and an electrician father, both of whom were experienced by her as fairly Martian, argumentative and competitive types. She has a Sun Mars conjunction square Jupiter and a Moon opposition Mars. Her mother in particular was controlling with mom's Pluto sitting exactly conjunct Nicola's midheaven and their relationship chart has a composite possessive Sun Pluto conjunction. The composite Moon and Neptune are tied into the Sun Pluto in aspect which would inculcate soaring ambition to her daughter. The same is probably true of her father since Nicola has her Sun trine Neptune and sextile Pluto inclining her towards enormous goals in life.
According to wiki Nicola was a quiet child, preferring to sit with her head in a book than talking to people". She described herself as being an "austere" teen who's style tended towards goth, adding that "if you see pictures of me back then, you would struggle to know whether I was a boy or a girl".
  She married when she was 40 having known her husband for 7 years – he's a Sun Sagittarius square a volcanic Pluto, Mars, Uranus in Virgo with an Aquarius Moon like Nicola. It seems to be a supportive and affectionate though workmanlike bond. It will go through a period of disruption from this July onwards, perhaps from outside causes.  
She does seem to like tilting at windmills but also has a capacity for attracting a cult-leader style adoration from her supporters. According to them she can do no wrong.