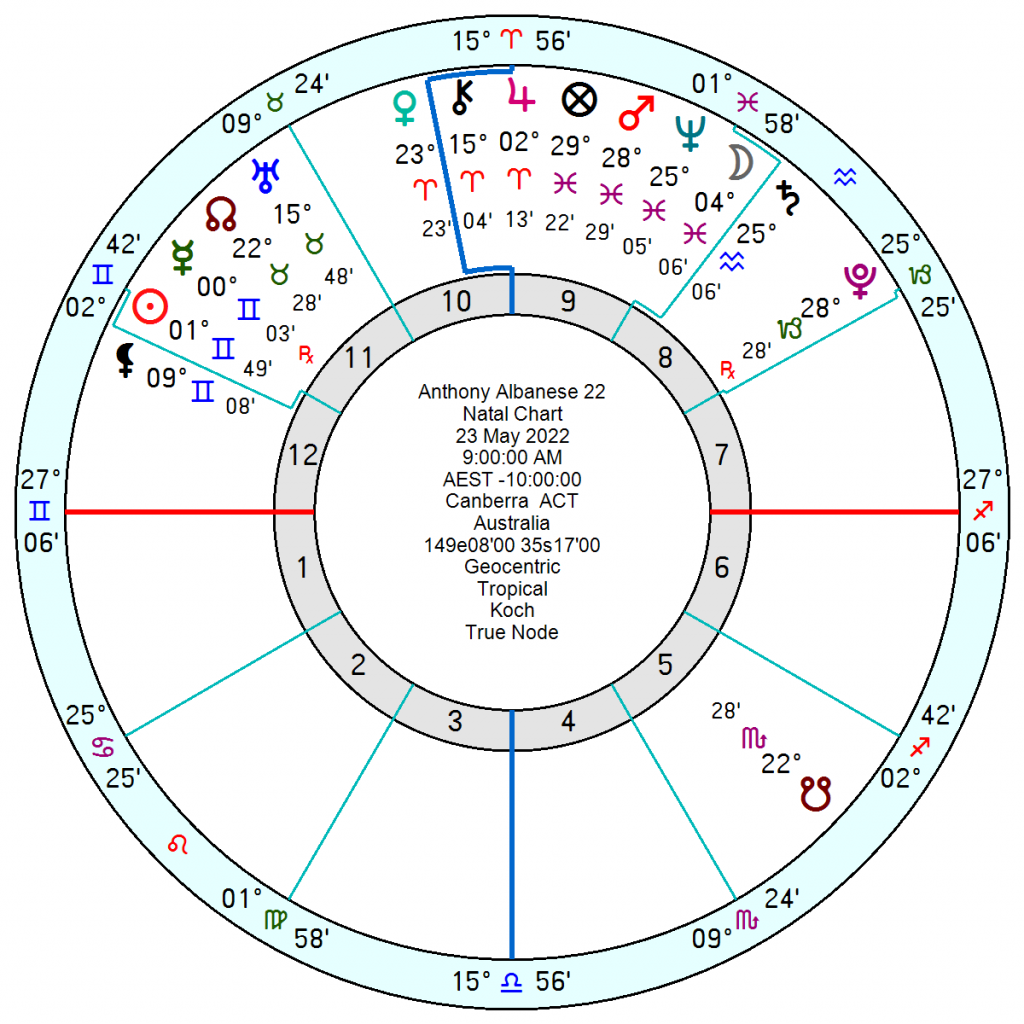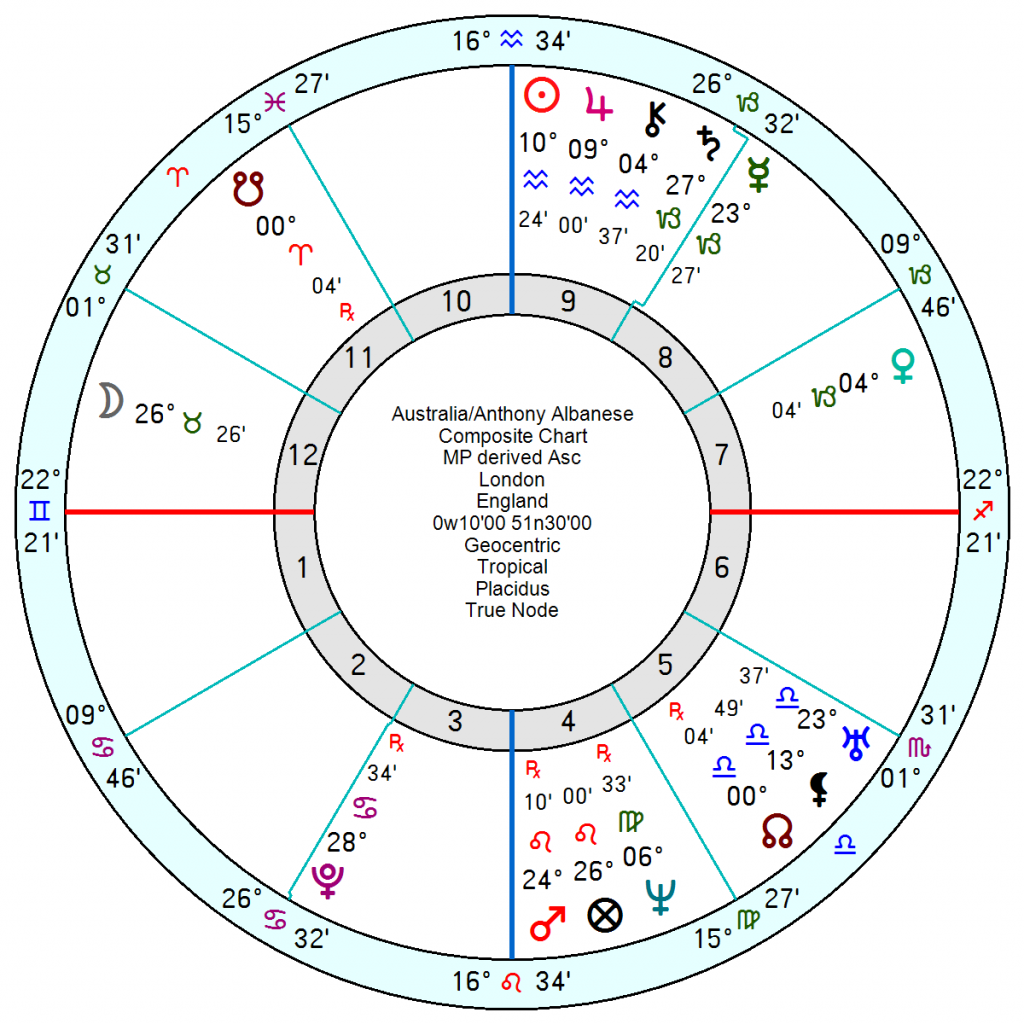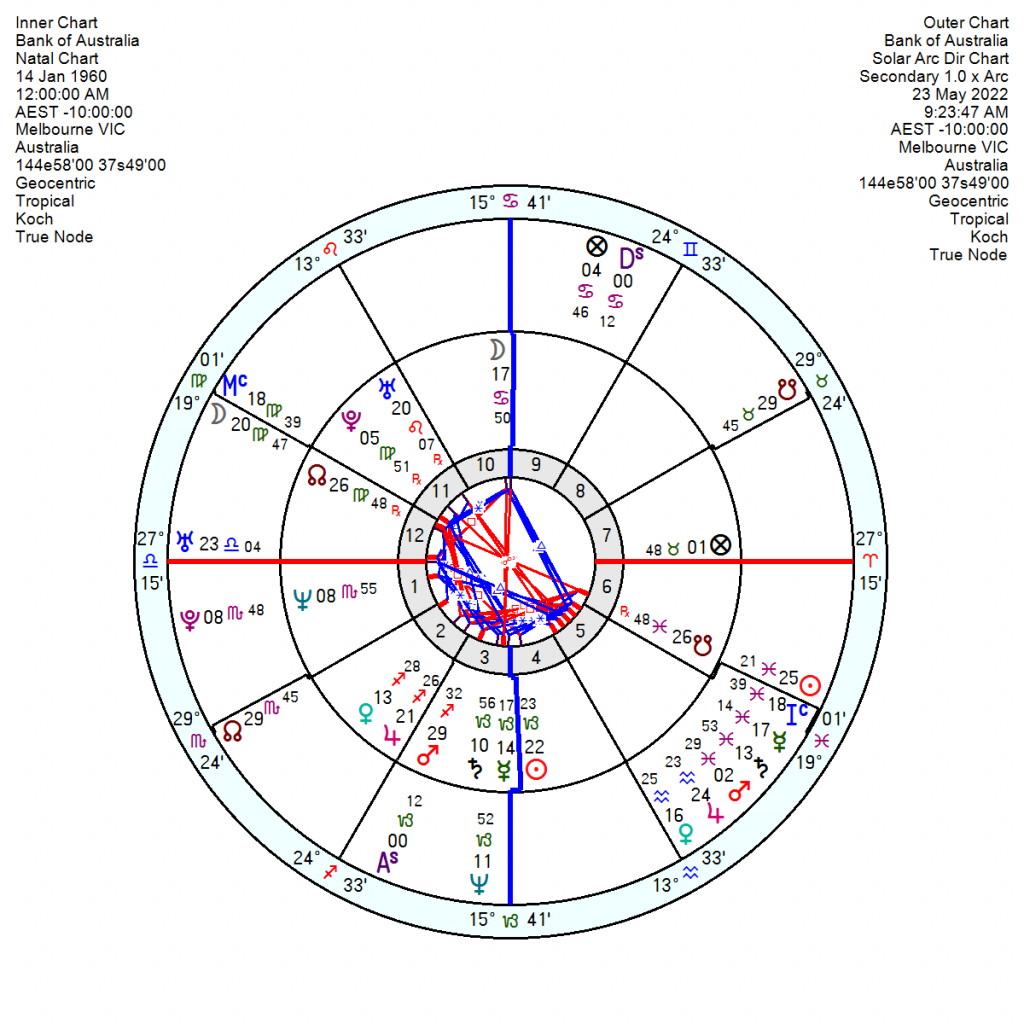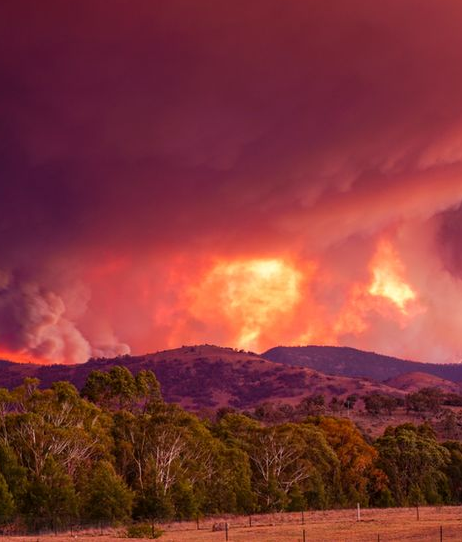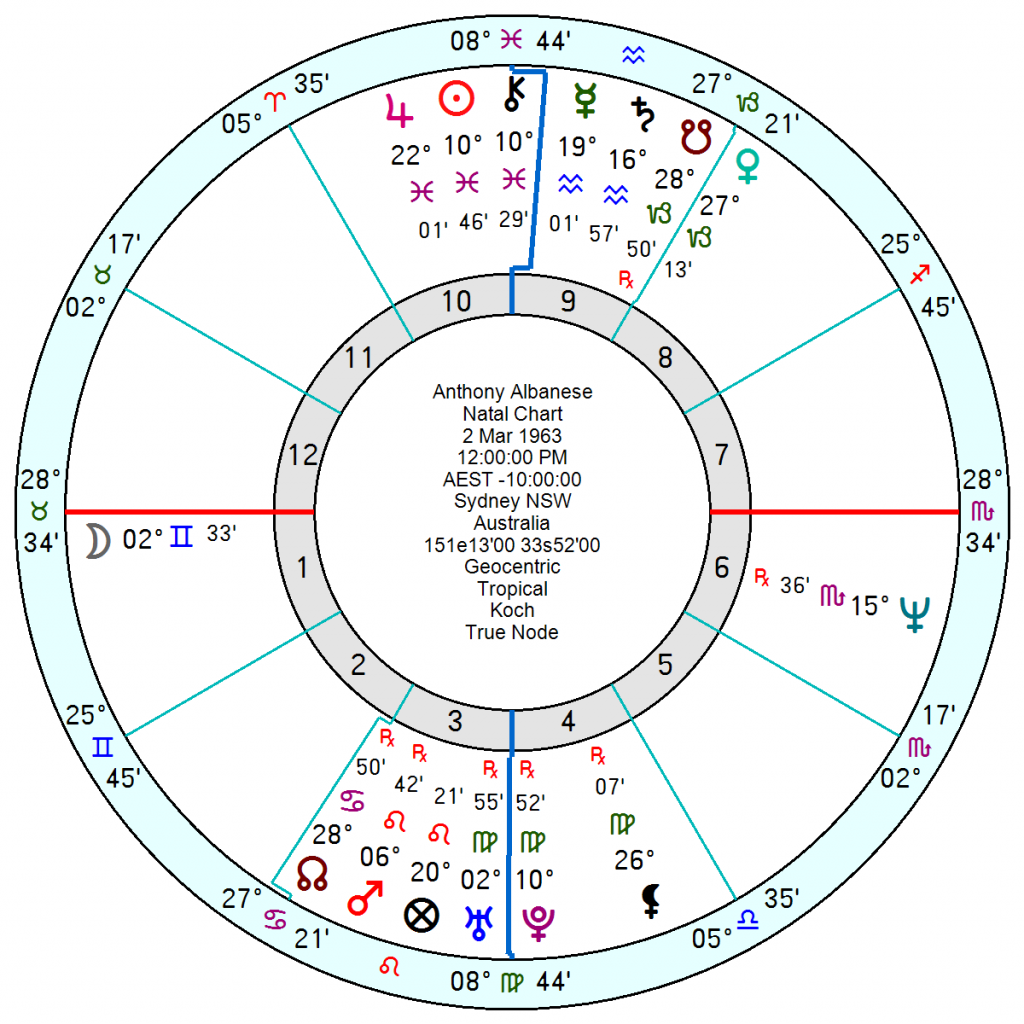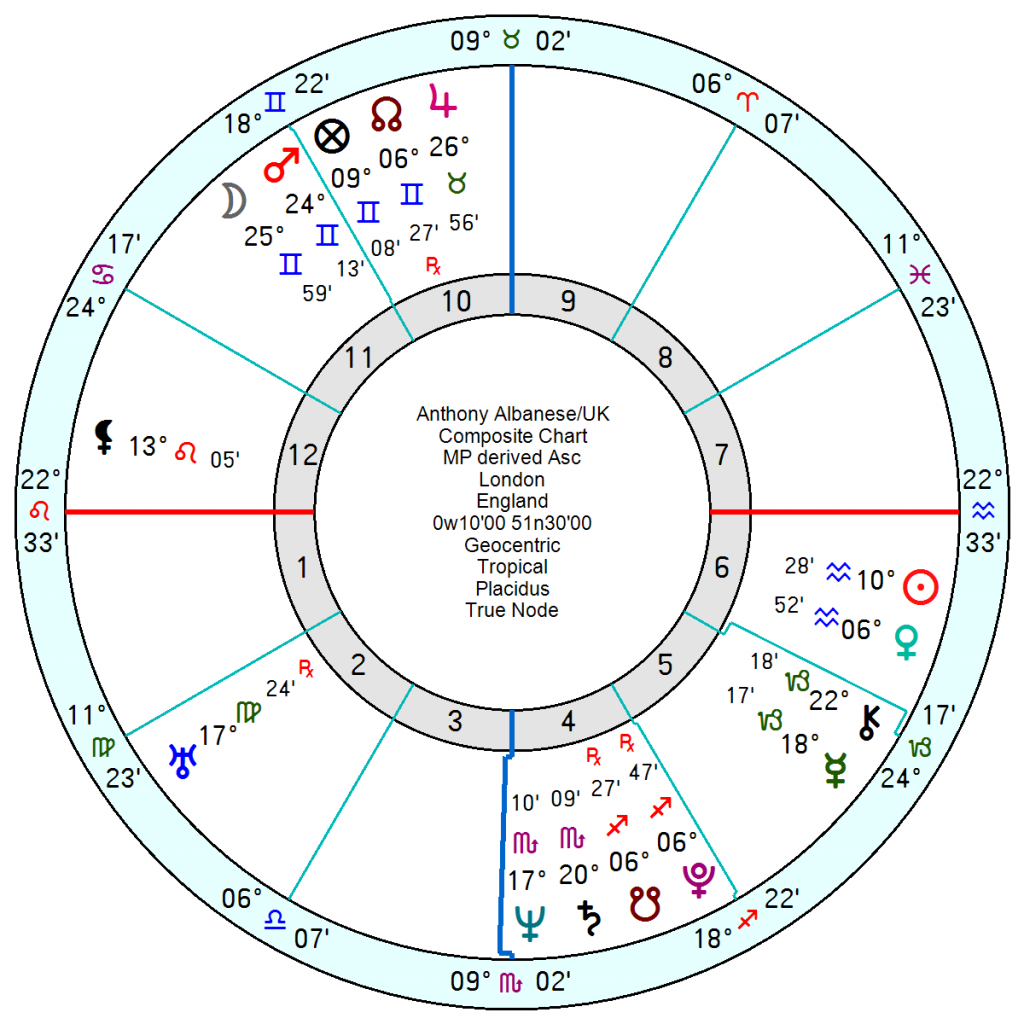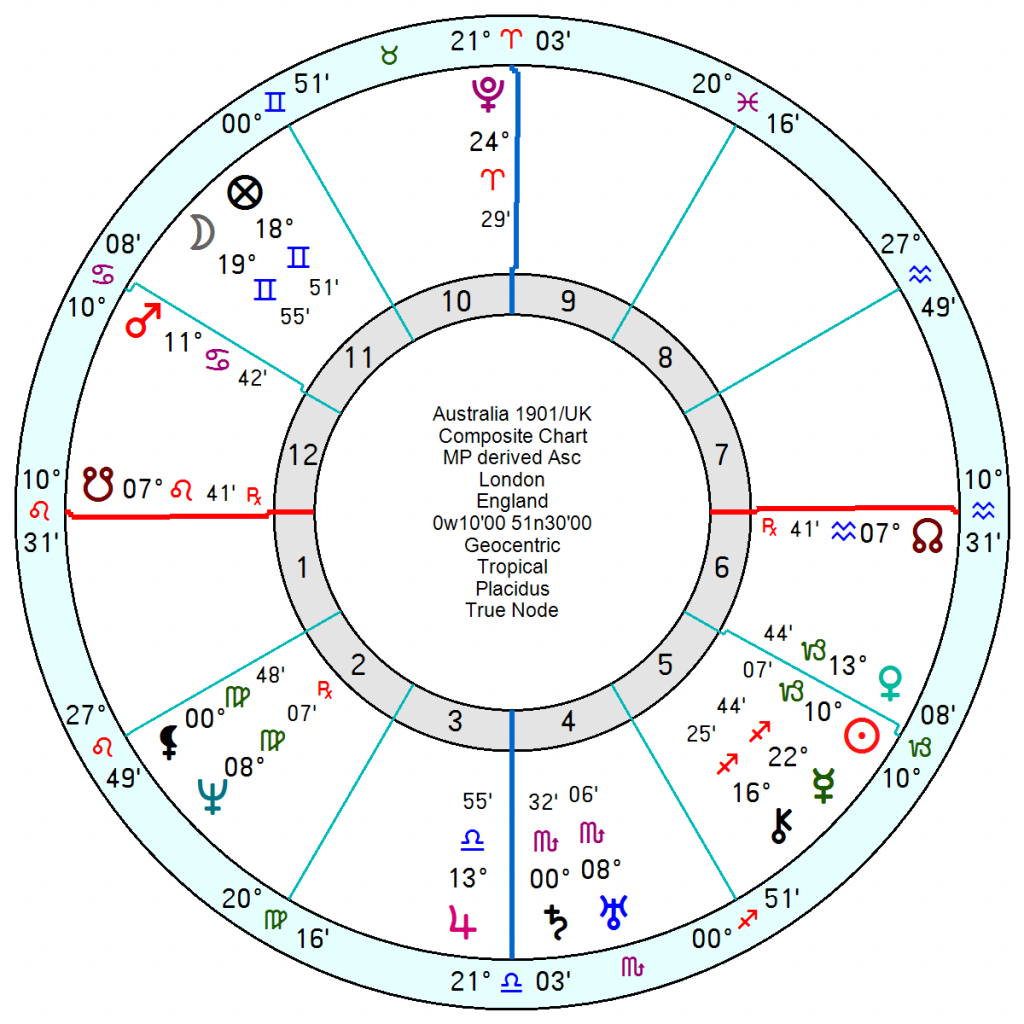 Anthony Albanese has been sworn in quickly as the new Australian prime minister to allow him to attend talks with Joe Biden and the India and Japan premiers in Tokyo. It is not yet known whether his centre-left Labor party will reach the 76-seat majority needed to govern in its own right but he has the guarantees for a coalition if not. He has promised to tackle climate change, rising living costs and inequality.
He became AU PM at 9am in Canberra which gives a charming, good-for-PR 10th house Venus though with a financially blocked and deprived 8th house Pluto and Saturn with Pluto trine a 12th house Sun Mercury. Economic circumstances beyond the government's control will hem it in. A full 9th house of a Pisces Moon as well as Mars Neptune conjunct in Pisces conjunct Jupiter in Aries indicate foreign affairs will be a major focus though muddled plans and over optimism will prove stumbling blocks.
His personal chart, 2 March 1963, a Sun Pisces opposition Pluto Uranus, looks rattled and confused exactly now till mid June and in better spirits for a few weeks after that. Certain high hopes will get dashed this year; 2023/2024 look frustrating and stuck; with more luck/confidence in 2024/25.
His relationship chart with the Australia country chart has an extraordinary composite Saturn opposition Pluto square Uranus – which could suggest a connection that needs tough conditions of deprivation to thrive with crises inevitable though also a drive for reform and revolutionary change. It will be an uphill struggle for two years ahead with massive jolts in 2023.
The Bank of Australia, 14 January 1960 chart, like other global central banks is ploughing through exceptionally stormy seas over coming years. There's a devastating and confused Solar Arc Pluto conjunct Neptune now; losses and some disappointments this year which will trigger a confident and determined response. Then on through challenges peaking around 2024/25/26 – so there won't be any quick n' easy fixes.
The Albanese government chart looks ground to a halt, trapped and panicky in three years time which fits the timeline. He's taken over at a truly difficult transition.
See previous post May 12 2022.
Add On: His father was a cruise ship steward who took no part in his upbringing and he was told had died, only finding out recently that he was alive. That certainly fits with a Sun opposition Uranus. But oddly enough also with a Sun opposition Pluto which frequently occurs in the charts of individuals whose fathers died young or disappeared from their lives. Traditionally Sun Pluto suggests a controlling and possessive father but it can also clearly indicate a literally 'out-of-their-control' father. Sun trine Neptune also suggests confusion or evasion around father.
 He is on record as being Republican and his relationship charts with the UK and the Queen indicate an inherent suspicion and uncertainty with marked composite Saturn Neptune influences. His relationship with the UK will sag from now onwards and through 2023 with jolts and hiccups. His relationship with the Queen also shows dislike of the power imbalance. With Prince Charles 2023 to 2026 look devastated, undermined and jangled – so a push for change is coming though whether it succeeds isn't clear.
 The Australia/UK chart is under a dark cloud in 2023/24 but it'll be after mid decade before there is a clear cut indication of a possible split.