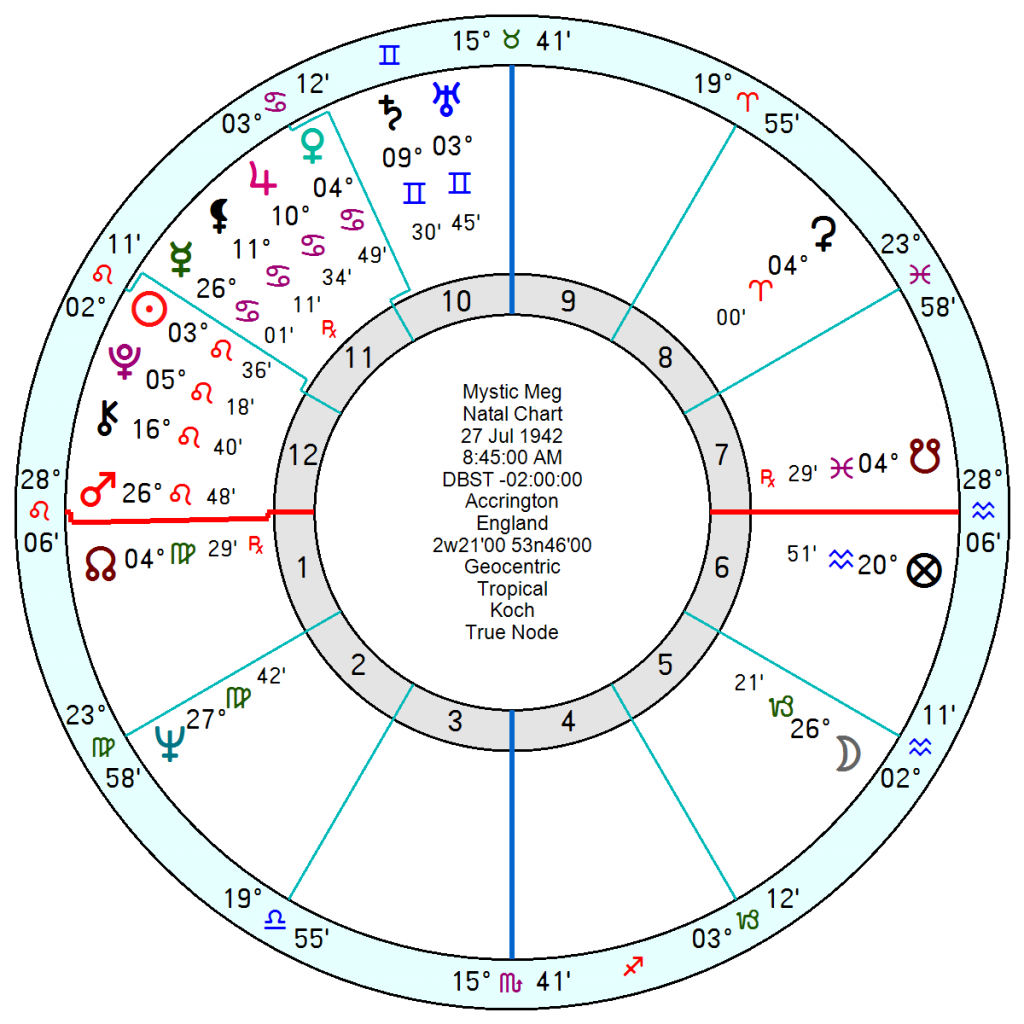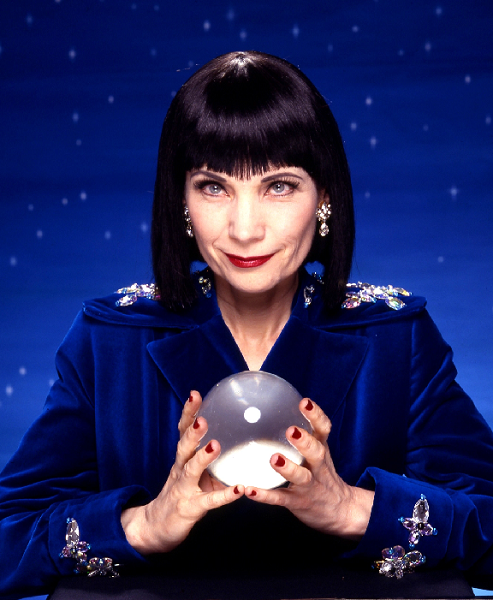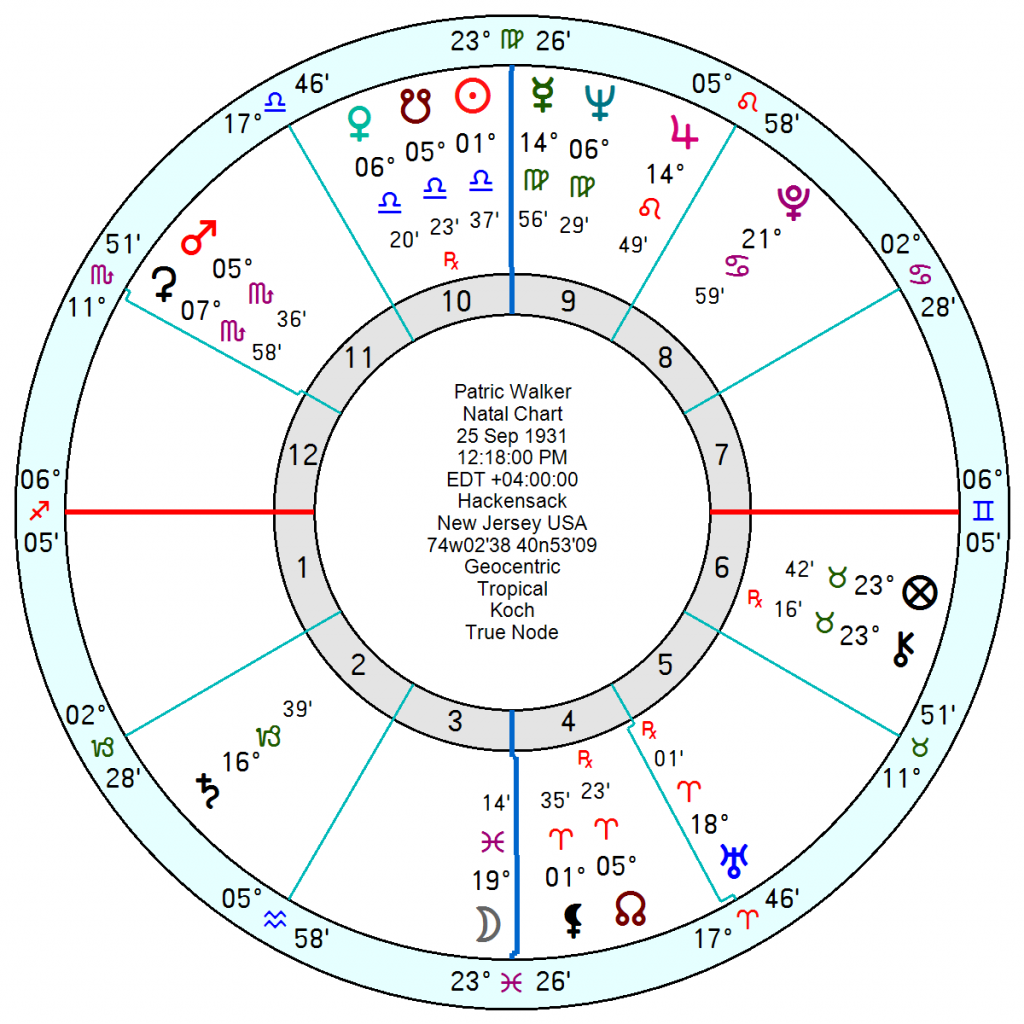 Mystic Meg, who rose to fame and fortune as a media astrologer, was beloved by fans and the betting industry – and the target for contemptuous jokes. Her crystal-ball gazing brand made serious astrologers wince as it reduced the ancient art to a pier-end sideshow.
She was born 27 July 1942 8.45am in Accrington, England, of Romany descent with a grandmother who taught astrology. After university she joined the News of the World Sunday tabloid as a sub-editor and eventually changed her name and role to become their astrologer. She made it big in the 1990s promoting the National Lottery and a betting group, eventually ending up as owner of several racehorses herself.
She pioneered phone-in horoscopes, launching a dedicated phone line in 1989 that broke BT records and eventually had a regular column in the Sun until 2015. Piers Morgan said: "Mystic Meg was Britain's most famous astrologer and a fascinatingly mysterious lady who loved her work with a passion but was rarely seen or heard in public. She was extraordinarily professional in everything she did."
She had a 12th house Sun Pluto in Leo making her a curious mix of private and entertaining, certainly determined. Her flamboyant Mars in Leo sat on her Ascendant so she would not have appreciated a life entirely in the shadows. She also had a well-organised and hard-working Saturn in her career 10th close to maverick Uranus (ruler of astrology).
Her Capricorn Moon in her performing 5th house was inconjunct her Mars, trine her Neptune and opposition her Mercury – there's something wrapped up in there about her femininity in a complex relationship to mystical or evasive communications. She also had a superficially charming Venus Jupiter in Cancer in her 11th.
The other two high profile UK media astrologers of recent note have some similarities.
Jonathan Cainer, 18 December 1957 8am, like her has a fiery Ascendant with his Sagittarius Sun sitting on it. His Mercury in Capricorn was sextile his 10th house Neptune and inconjunct an 8th house Uranus.
Russell Grant, 5 February 1951 9.45pm Middlesex, has an entertaining 5th house New Moon in Aquarius opposition Pluto; with Uranus conjunct his Midheaven from the 9th. His Mercury in Capricorn is square Neptune.
Not exact parallels but all with an ability to promote themselves.
Mystic Meg died at 3.45am this morning in London with tr Uranus exactly conjunct her Midheaven and her Solar Arc Midheaven exactly conjunct her Sun; with tr Jupiter conjunct her SA Moon. A timely exit.
Add On: My favourite was Patric Walker, 25 September 1931 12.18 pm Hackensack, NJ. He had a charming 10th house Sun Venus in Libra with an emphasized astrological Uranus in his entertaining 5th house. His Uranus was on a trail-blazing focal point of a T Square to an influential 8th house Pluto opposition Saturn. Plus a communicative 9th house with confident, entertaining Jupiter in Leo and a mystical Neptune Mercury there.