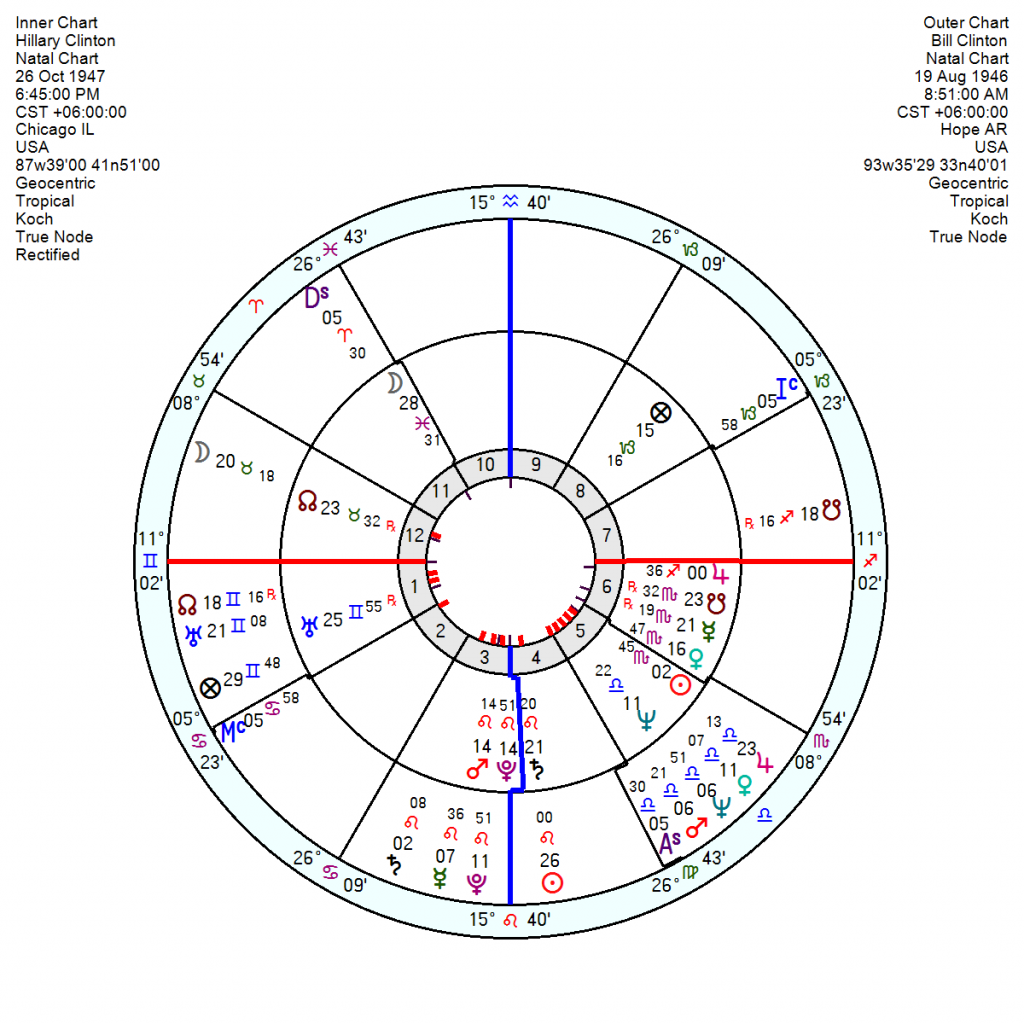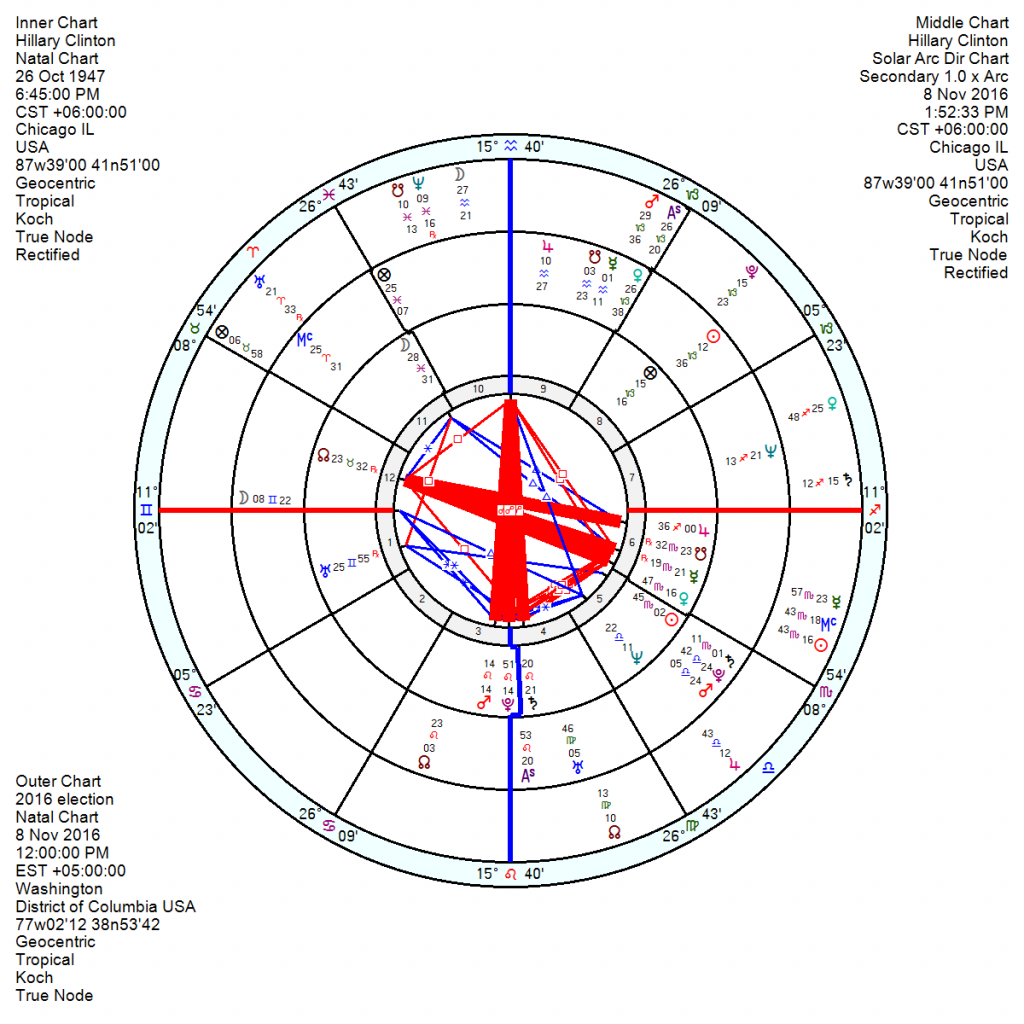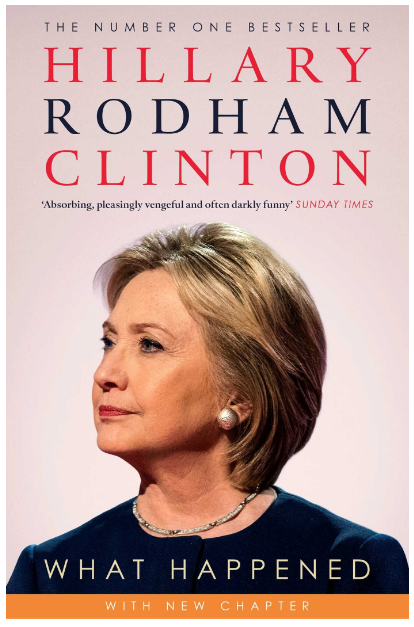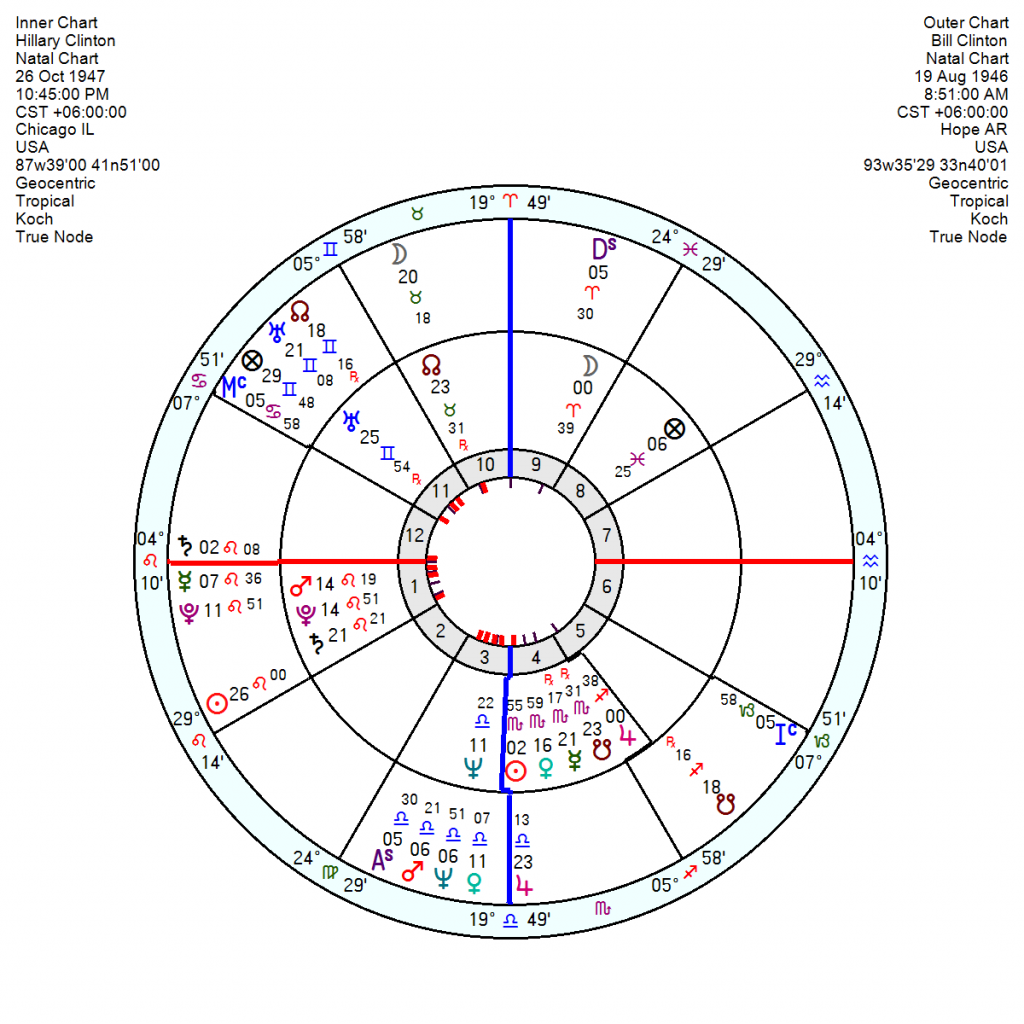 Hillary Clinton appears to have a birth time, belatedly obtained from her birth certificate of 6.45pm (Astrodatabank).
This gives her a full 6th and full 4th house. The first will give her a conscientious, dutiful ethic as befits her reputation as a workhorse not a show pony. The formidable collection of Saturn Pluto Mars in her 4th hints at a less than harmonious home life both in childhood and adult life.
Her Scorpio Sun and Neptune in her 5th will make her attention-seeking and keen to have an audience – and also potentially set her up for disappointments in her love life.
Uranus in her 1st for a defiant streak. Pisces Moon in the 11th for support and nurturing through friendships as well as a sensitivity to society's needs.
North Node in the 12th in Taurus – not very self-aware, having a tendency to become embittered and self-pitying. North Node in Taurus tends to get embroiled in long running and bitter arguments which added on to the effect of Mars Pluto Saturn which also evokes strong reactions of hostility, she will have had more than her fair share of aggravation in her life.
The 2016 election occurred when tr Pluto was still moving through her stuck 8th house. Tr Uranus in Aries was around the opposition to her Solar Arc Mars Pluto, which looks agitated and Solar Arc Saturn was moving to block her Sun in conjunction by 2017 – not too delirious a time for her.
Not sure why it has taken so long to source her birth certificate but it is feasible. Though on second thoughts I am not sure about a Gemini Ascendant – still maybe the Saturn Mars Pluto outweighed it.
  Bill's Leo Sun falls in her 4th for a domestic connection. His Saturn, Mercury, Pluto in Leo in her 3rd for difficulty communication. His Moon in her 12th for a hidden and maybe elusive bond and his Moon is conjunct her North Node – a fated though buried relationship. His charming and evasive Mars, Neptune, Venus, Jupiter in her 5th house of children and social occasions. Not ideal by any stretch but she is a hang-on-in-there type with all those fixed planets.  
ADD ON: There is a suggestion that the birth time might be a sloppily written 10.45pm which would give a Leo Ascendant with the Mars, Pluto, Saturn conjunction in her 1st; North Node in her career 10th; a much travelled 9th house Moon, maybe in Aries, and Sun, Venus, Mercury, Jupiter in her family 4th.  It's might make more sense than the 6.45pm – but I hate dodgy times and am usually wrong when I guess.
  Whatever the birth time, Hillary is running into a period of major setbacks and frustrations as her Solar Arc Pluto is conjunct her Sun late 2024/early 2025 followed by SA Mars conjunct her Sun and tr Pluto square all three in 2024/25/26. Tr Pluto sextile her Jupiter in 2023/2024 will help to lift her enthusiasm but it's marginal. She looks very rattled as does Bill through April/early May this year with three of her midpoints hinting at calamities – which may be her response in part to global events since she is very plugged in to world events.
  Bill also looks edgy late this April/early May but will be upbeat from June onwards into early 2024 with two lucky Jupiters – though admittedly he does have tr Uranus conjunct his Moon from this June onwards into 2024 which could be emotionally or financially upsetting, as well as physically stressful. His 2024 looks discouraging with tr Pluto opposition his Saturn, extending through 2025 as well; with a few upsets in 2024 as well from tr Uranus square his Leo Sun.
  I do wonder if more might emerge vis a vis Bill and Epstein  with more recent publicity and pressure being exerted on Jes Saley, banks and other financiers. Bill's relationship with Epstein looks rattled this April with tr Uranus square the composite Pluto; which kickstarts a long banana skin slide with tr Neptune square the composite Mars Venus also from this April onwards for the next three plus years.
His relationship with Hillary also looks fraught and emotionally loaded in 2023/24 and 25. Though his health isn't great so the above could be for any number of reasons.