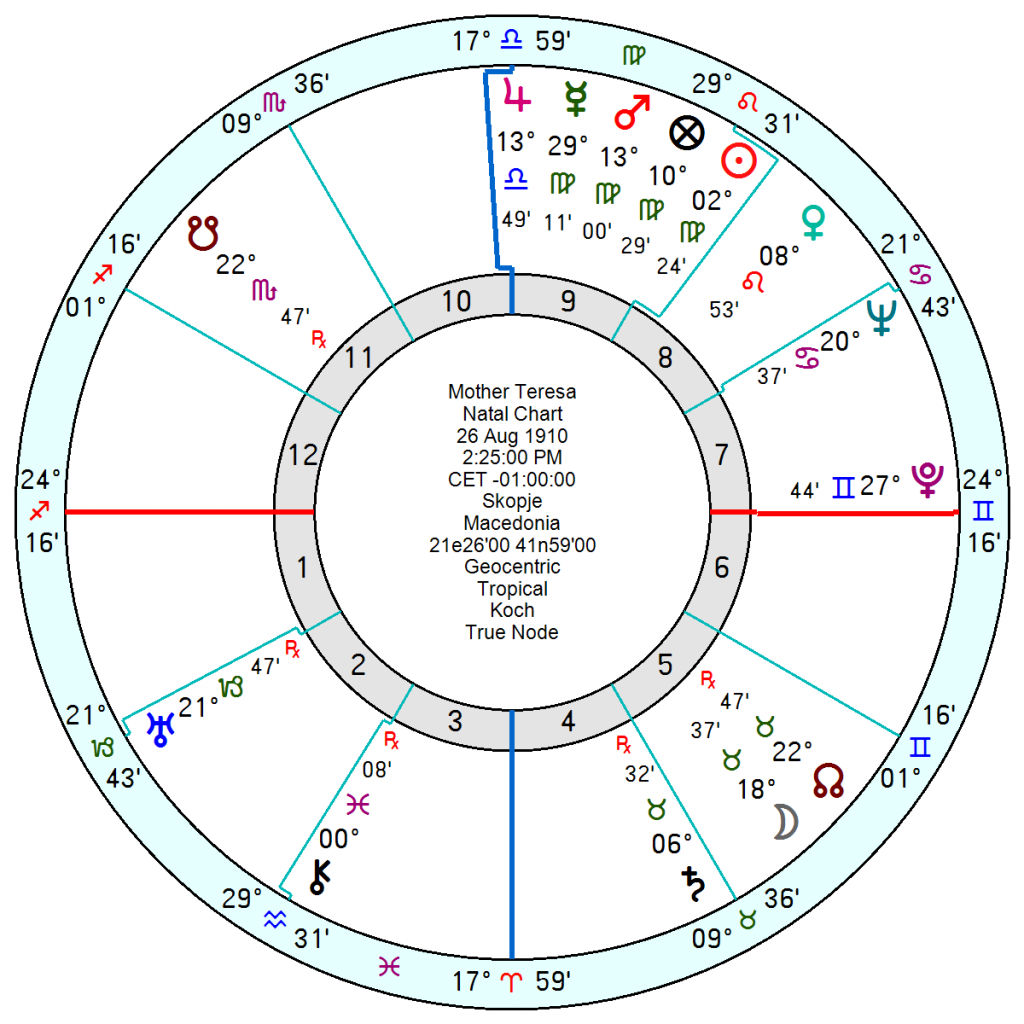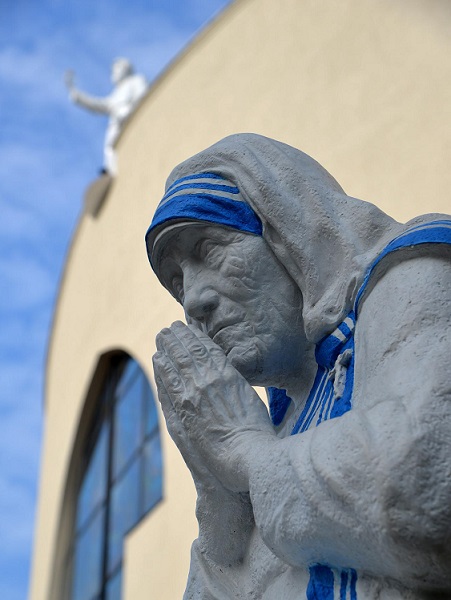 Mother Teresa, a global icon of compassion with an empire of orphanages for the poorest of the poor, who pulled favours from presidents, attracted a celebrity following, and raised hundreds of millions a year in charitable donations, was never the exalted saint she appeared. She won the Nobel Peace Prize, was canonised after her death but as a new SKY documentary series shows she seemed more attracted to poverty and pain than actually helping people escape it and covered up for the worst excesses of the Catholic church.
She was born 26 August 1910 in Skopje, Macedonia at an unverified time of 2.25pm, into a poor family and decided to become a nun aged 12. In her 30s, working in Calcutta, she witnessed the misery and death caused by the Bengal famine of 1943 and had a calling to start her own order, the Missionaries of Charity.
There were critics of her work from early on but the media was so entranced by her beatific aura they were swept aside. One said "She was not a friend of the poor but rather a promoter of poverty." She seemed to think that suffering was a noble end in itself – a 'Gift from God', she said, so did little to alleviate it amongst those she supposedly cared for. One doctor was outraged about the appalling lack of hygiene he uncovered – reuse of hypodermic needles, the shortage of medical care, systematic diagnosis, and necessary nutrition, as well as the scarcity of analgesics for those in pain.
'They had the money to run a decent hospital for poor people, but they never did. They said, 'We will pray for the alleviation of pain without providing treatment.'
Pain was not just a by-product of her work, but an integral part of it. She believed that suffering redeemed the world. Nuns were instructed to whip themselves and wear wire chains with spikes on.
In the 1980s around £100m a year was coming into her organisation, but most of it was being paid into the Vatican bank. And according to the documentary she was called into help save it from the growing scandal of child abuse by priests by using her reputation to cast doubt on the allegations.
Two things intrigue me – one was what her chart says about her temperament and the other was how she managed to attract a reputation for exquisite goodness while actively forcing the downtrodden to suffer yet more deprivation and agony as a result of her sanctimonious and warped beliefs.
She was a Virgo Sun and Mars with both trine Saturn in Taurus – hard-working, disciplined, used to tough conditions, not a sentimentalist. She also had a Taurus Moon conjunct the North Node and trine Mars trine Uranus. An Earth Grand Trine is grounded in the real world of materialism – a good builder but can be blinkered and even wallow in the grosser aspects of the flesh. The Grand Trine is formed into a Kite by Uranus opposition Neptune, making spiritual and elusive Neptune the driving planet.
Her Uranus opposition Neptune squared onto a focal point Jupiter in airy Libra close to her Midheaven – and an elevated Jupiter would certainly give her an Olympian glow, deserved or otherwise.
   She had an interesting array of harmonic charts.  Her get-it-together 5th and world-personality 22H, as well as her humanitarian 9H are marked. Her leaving-a-legacy 17H is confident and communicative.
Her 'healing' 12H is determined but merges ruthlessness/brutality with spirituality; as does her 18H, which is sometimes a feature of killers' charts.
Her two key planets were head-in-the-clouds Neptune and Jupiter and they were mired in all that earthy Taurus/Virgo which is an odd and uncomfortable mix. Glorifying and mortifying the flesh for redemption. It has echoes of the beyond ghastly nuns of the Magdalen laundries and elsewhere. There's a sadism/masochism in that mindset which is not only cruel when acted out on others but perverse when made personal.
And that's the Age of Pisces for you – which Carl Jung connected to Christianity. A religion which took as its core symbol one of bloody torture – Christ on the cross. Roll on Aquarius.