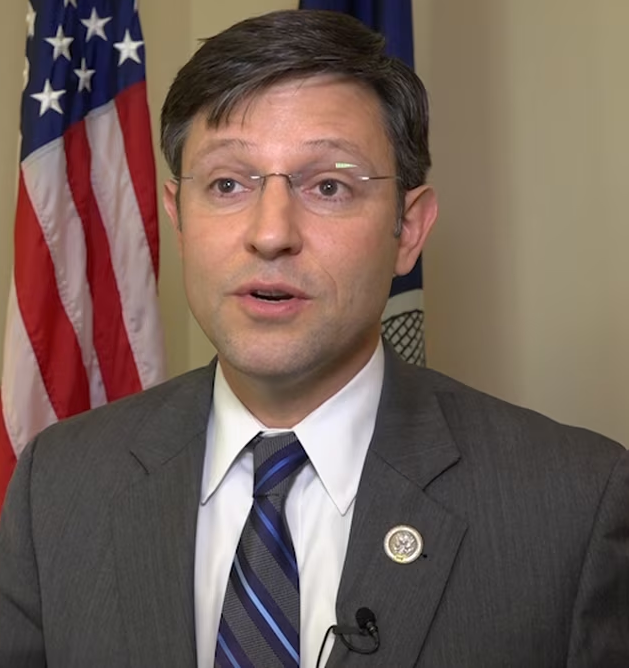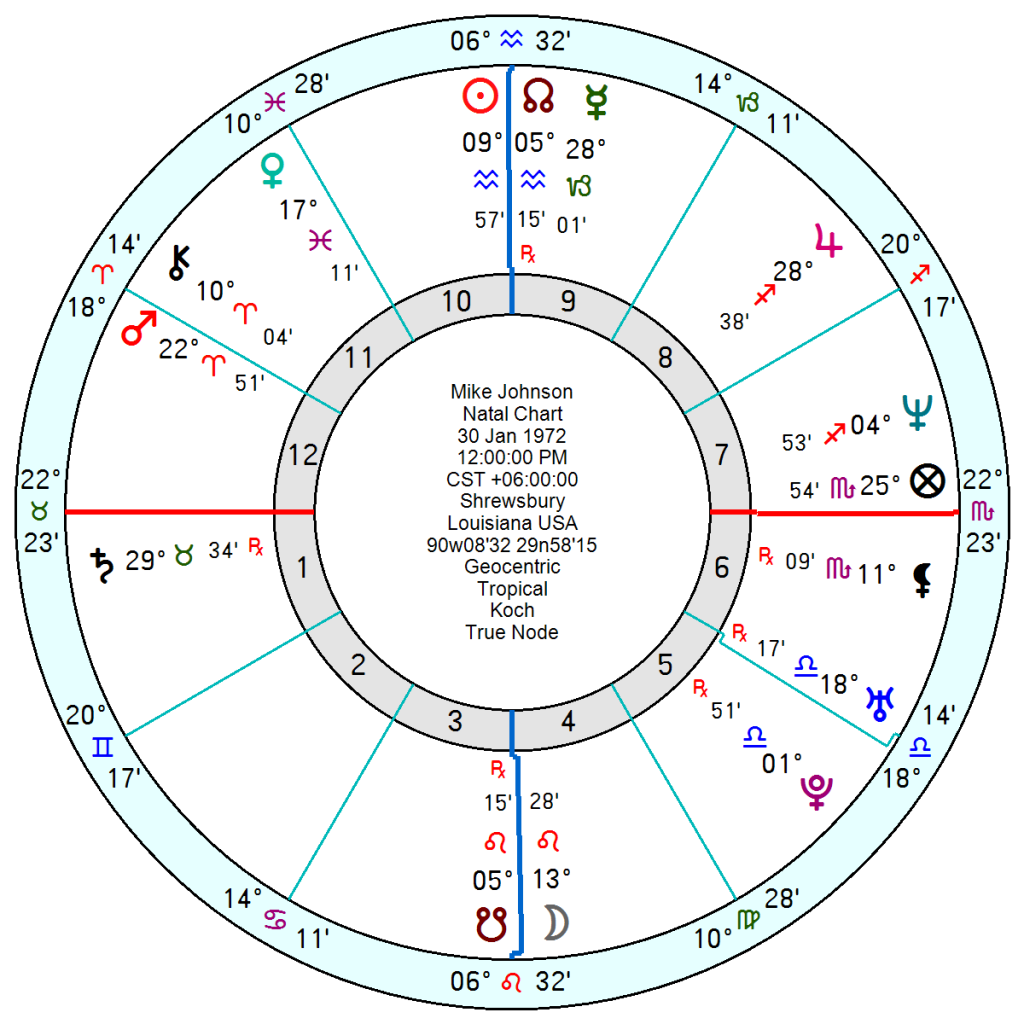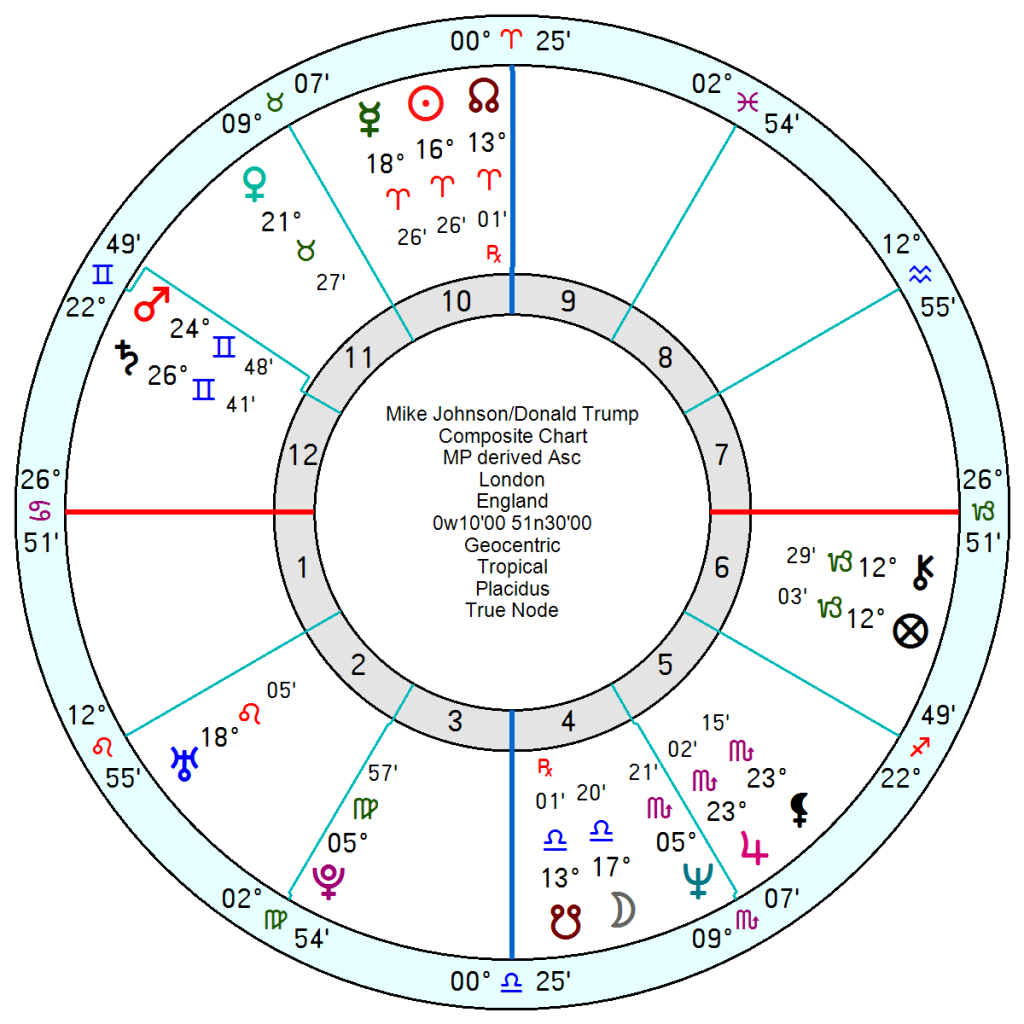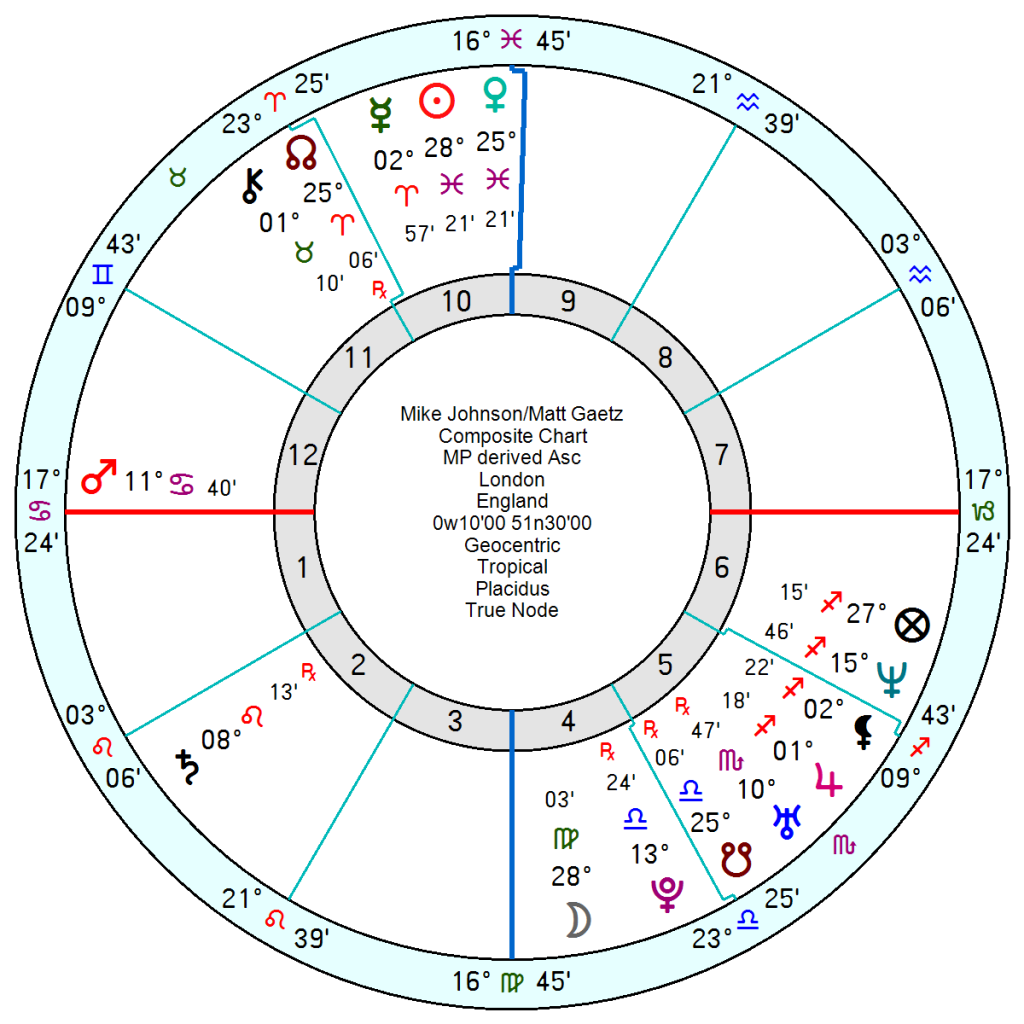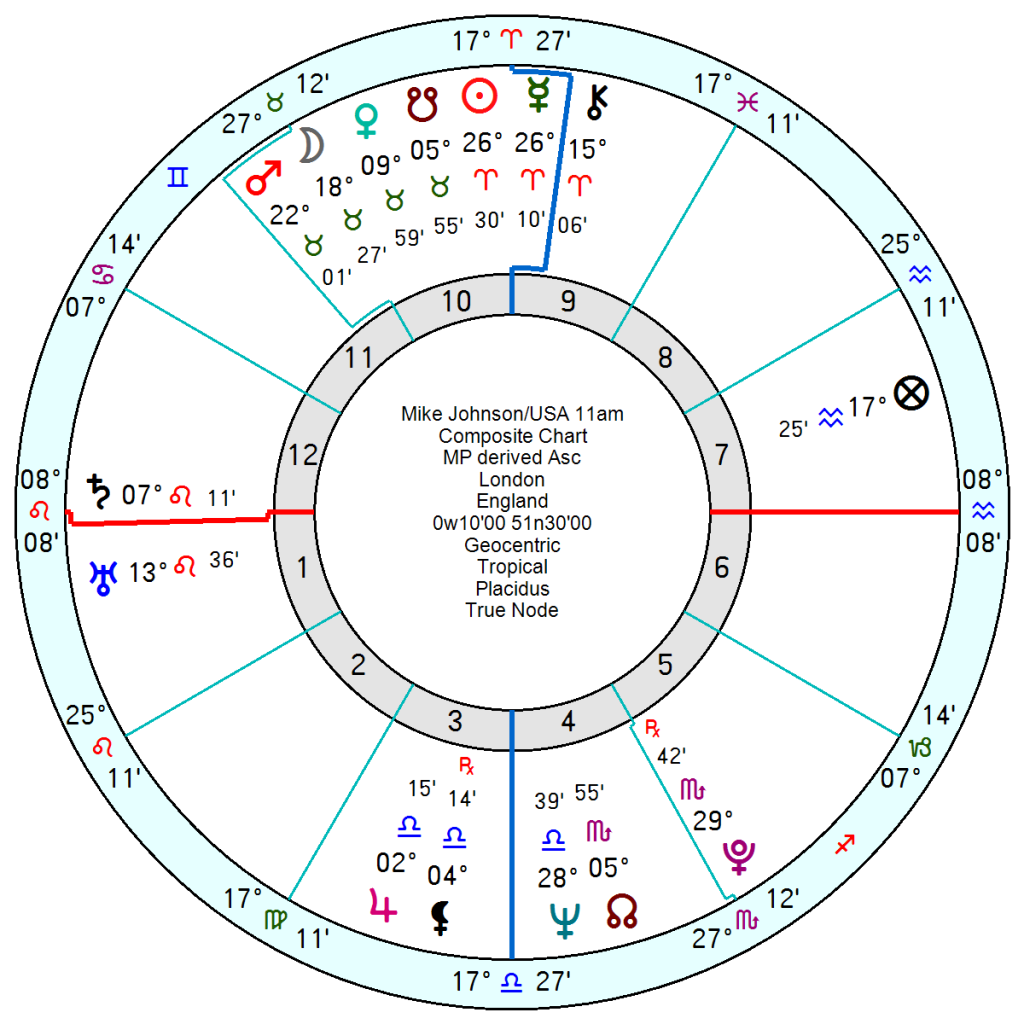 Mike Johnson has been voted in as Speaker which represents a victory for the ideologically right-wing, Trump-aligned faction of the Republican Party and a loss for its moderates. Adam Schiff described him as "one of the very determined ideologues". He was a key figure in efforts to legally contest the results of the 2020 presidential election, urging Mr Trump to "keep fighting" and "exhaust every available legal remedy".
Born 30 January 1972, Shreveport, Louisiana, no birth time he was a former lawyer and talk radio host.
He is a Sun Aquarius conjunct North Node trine Pluto and Uranus in Libra with a Leo Moon. His Uranus is in an excitable, uncompromising opposition to Mars in Aries which in turn is in an adventurous trine to Jupiter in late Sagittarius. His Saturn in last degree Taurus opposes Neptune – both stubborn and neurotic. A Fire Air chart – hot air, excitable.
He'll have a few lucky breaks ahead but also hopes dashed as tr Neptune squares his Jupiter through 2024 and a fairly discouraging slog in the run up to the election. Much worse in 2025 – not a cheerful soul.
His relationship chart with Joe Biden is not surprisingly at daggers drawn from the outset, labouring through this year and worse in 2024.
What is intriguing is his relationship chart with Trump – it has a superficially sugary composite Jupiter opposition Venus so sweetness and light on the surface. Running alongside there is underlying resentment in this case from a composite Mars Saturn conjunction. All of DT's relationships, even with supposed allies have these aggravated crossovers. Not surprising given his temperament but odd they should support him. Johnson's Saturn squares DT's Mars in Leo so it won't all be plain sailing.
There will be consternation between Johnson and Trump as tr Neptune squares the composite Mars late this November through December 2023 and running on through till late March 2024 as tr Neptune squares the Mars/Saturn midpoint and then the Saturn. It would be too much to hope that Johnson loses his idol to the maws of justice. But there us a decidedly undermining situation ongoing.
Johnson's relationship chart with Matt Gaetz, instigator of the Speaker switch, is equally moving into disappointed territory from late this December, on and off through till early 2025 as tr Neptune is conjunct the composite Venus Sun.
   An intrigue starting to unravel.
Add On: Johnson's relationship chart with the USA is not encouraging with an evasive, uncommitted, prone-to-disappointment composite Sun opposition Neptune which is under pressure this November to late December; with irritation mounting late April/early May 2024 as tr Uranus is conjunct the composite Mars.
  Equally his relationship chart with the Republican 1853 chart is hugely unsettled this year and next with tr Pluto opposition the composite Uranus; undermined late this November through December as tr Neptune squares the composite Jupiter taking the shine off; and trudging through discouragement in 2024.