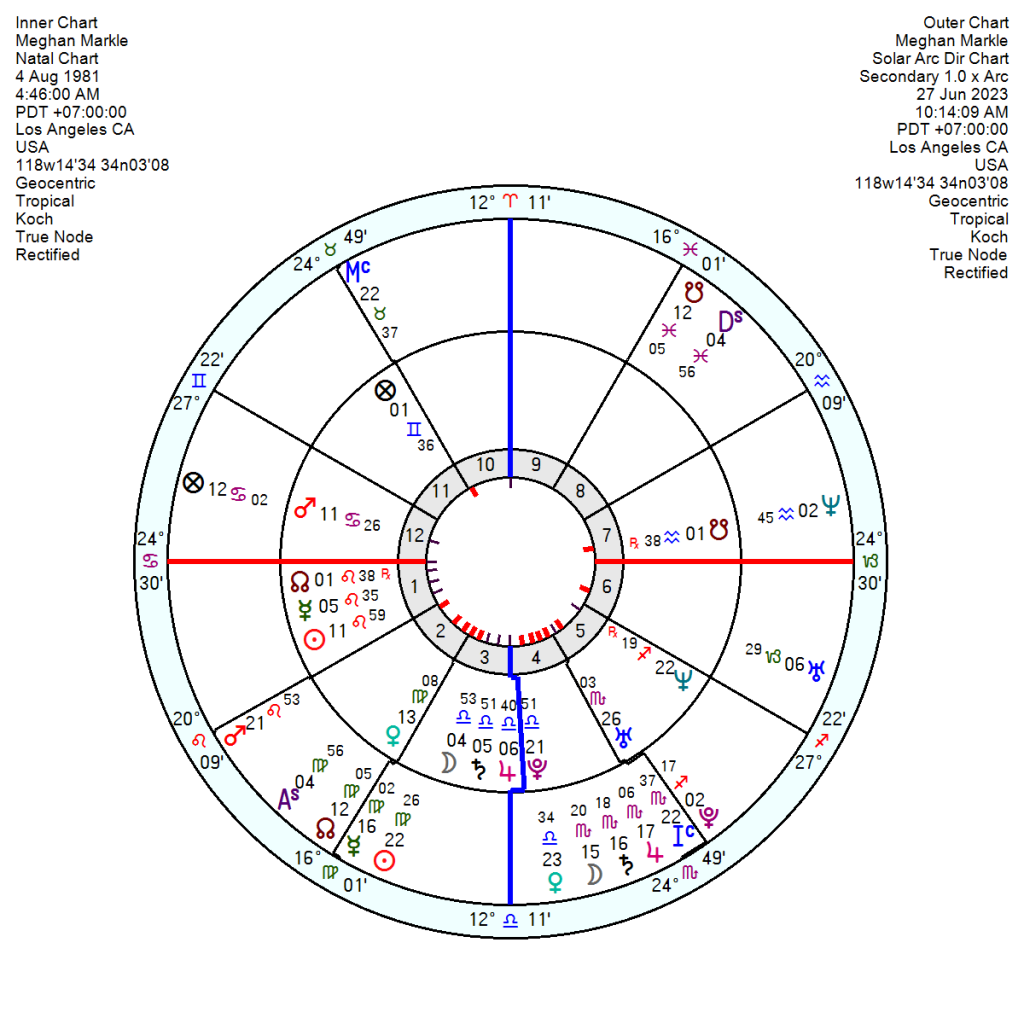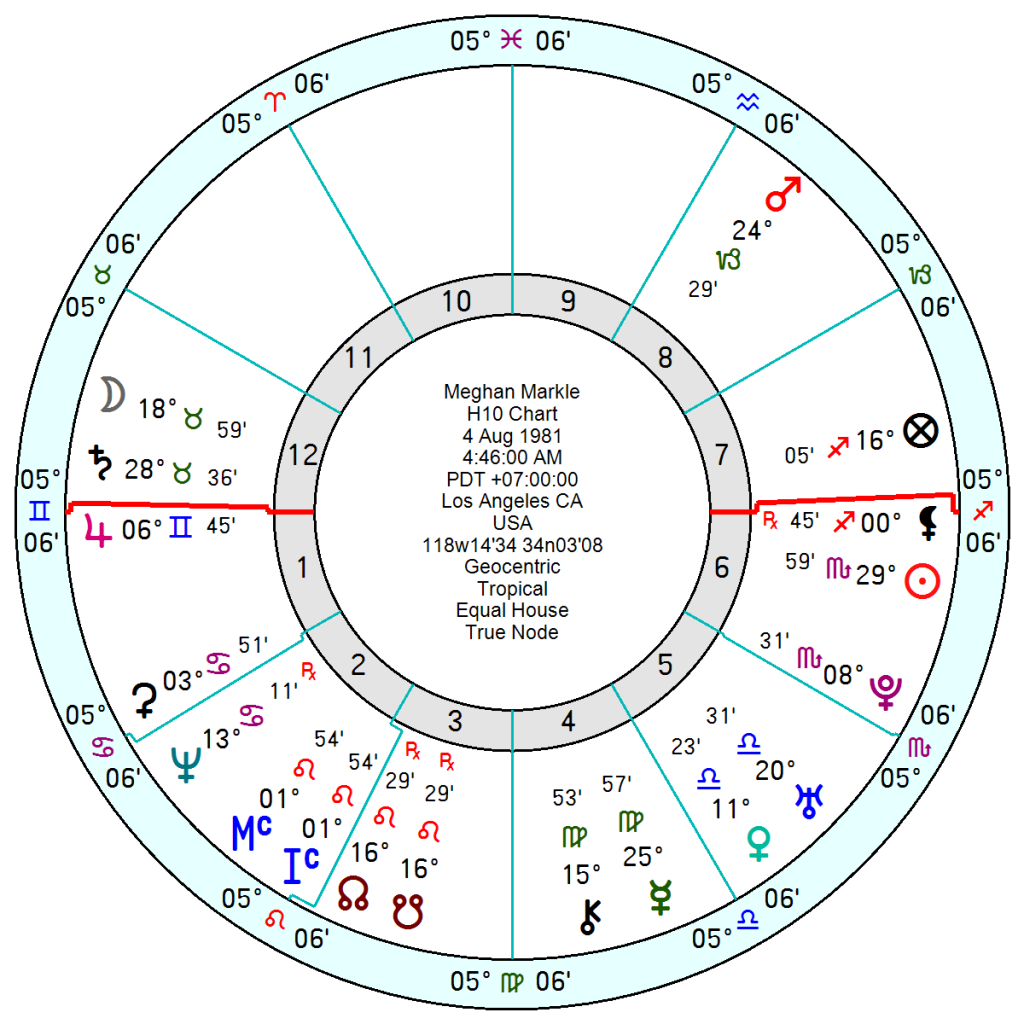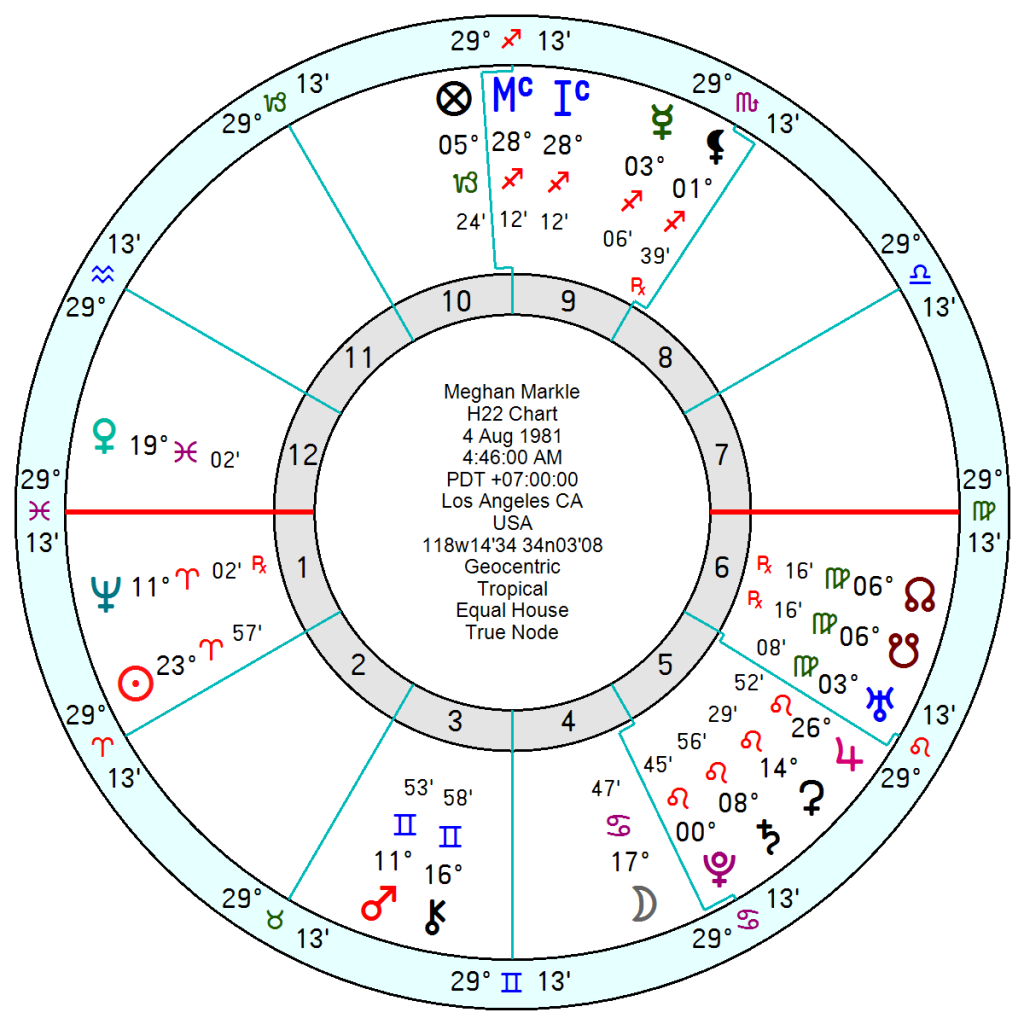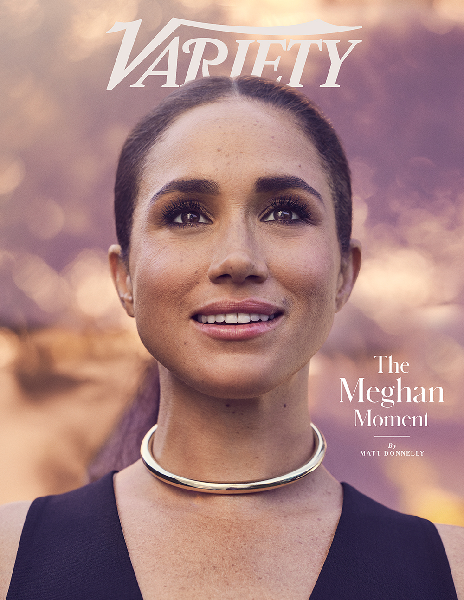 The Montecito roadshow appears to be hitting bump after bump with cancelled contracts, a coach-crash fandango on their recent New York trip with hysterical claims of death-defying paparazzi chases being firmly slapped down by the NY police and now being described as "grifters" and "talentless" by top industry types.
Hilary Rose in the Times apt as ever remarks: "Their career over there seems to be following the same trajectory as over here: fanfare, adulation, trouble, recriminations, exit stage left in a huff."
Quite how much of the disaster is hitting home with Meghan is not overly obvious from her chart. Harry is certainly on a downhill slide through an obstacle course for the next two or three years and won't climb out of his pit of woes until 2027 or so. [For previous Prince Harry post see May 9th.]
But Meghan is on a different part of her journey, still fuelled by ambition and aiming upwards. She is certainly beset by irksome and discouraging Saturn transits to a plethora of midpoints this year and next. Saturn also opposes her Sun/Moon midpoint, the close relationship significator, in 2024 which hints at a marital chill.
She has tr Uranus square her Solar Arc Midheaven (and Chiron) jolting her into a career change from early next month; with a catastrophe or two which even she can't ignore from mid this August to mid September – and those two transits repeat on and off till mid 2024. Uranus then moves into her 11th house from 2024 onwards for seven years altering her future plans and changing her friendship circle.
On second thoughts, although it is marginally obscure, her Solar Arc Midheaven conjunct her Chiron at the moment does suggest a painful change in career attitude, which can lead to healing, if a more spiritual direction is taken in future.
Tr Saturn through her 8th from December 2022 till early 2025 will throw her back on her own resources emotionally as well as money-wise. Reorganising her finances during this time will be a priority since there will be less generosity coming her way with tighter joint and business finances.
However she does have tr Jupiter moving through her 10th house of career and public reputation from March 2023 to May 2024 which is generally successful and will help to offset the negatives. Her Progressed Moon will also start to move through her 10th from this September for three years which is a time of striving at work which usually brings results. By 2026 tr Saturn will reach her Midheaven to start an eight year phase of consolidation in her career with usually good results – though where there has not been good preparation in the years before it can be when chickens come home to roost.
She'll have patches of good luck and new opportunities in 2024/25 alongside a few dashed hopes and failed plans. 2024 is also the time when her mid-life crisis peaks as tr Uranus opposes her Uranus – she may feel an urge to act recklessly and push to fulfil all the old ambitions which have not yet been realized.
From 2026 tr Neptune and Saturn in Aries will oppose her Moon for a downbeat family and domestic phase, moving on to oppose her Saturn Jupiter and finally square her Mars by 2030 – making the second half of this decade emotionally troubled. Tr Pluto will cap it by opposing her Sun by 2030 which will be a challenging time of forced change.
  She has strong 10th and 16th harmonics which are the self-defeating ones. The 10th is the wheel of fortune which brings success then the fall – much the same as her Jupiter Saturn conjunction (for those who aim too high). The 16th can bring dogged determination as well as shoot-in-the-foot tendencies. She also has a prominent 9th harmonic which can be humanitarian though also money minded. A well-aspected global-presence 22nd harmonic and her leadership Leo North Node suggest she can't be written off just yet as a total waste of space. Though the astrology only provides the map, it needs a helping hand to make it live out its full potential.
The MegHaz duet will splutter on for a while yet to provide media fodder and a diversion from weightier and gloomier matters elsewhere.