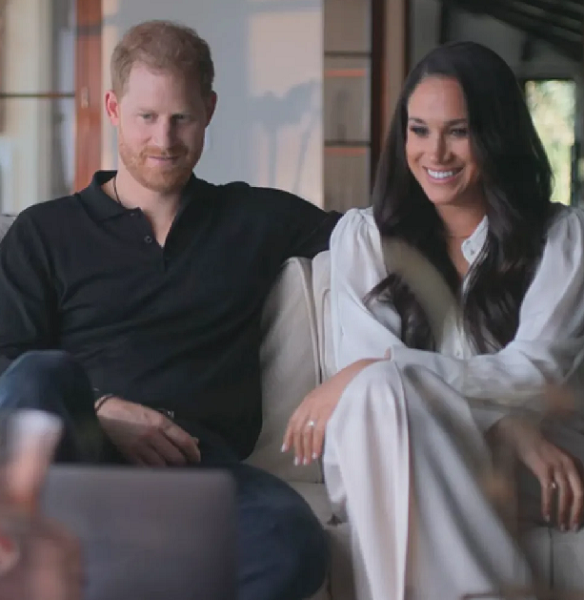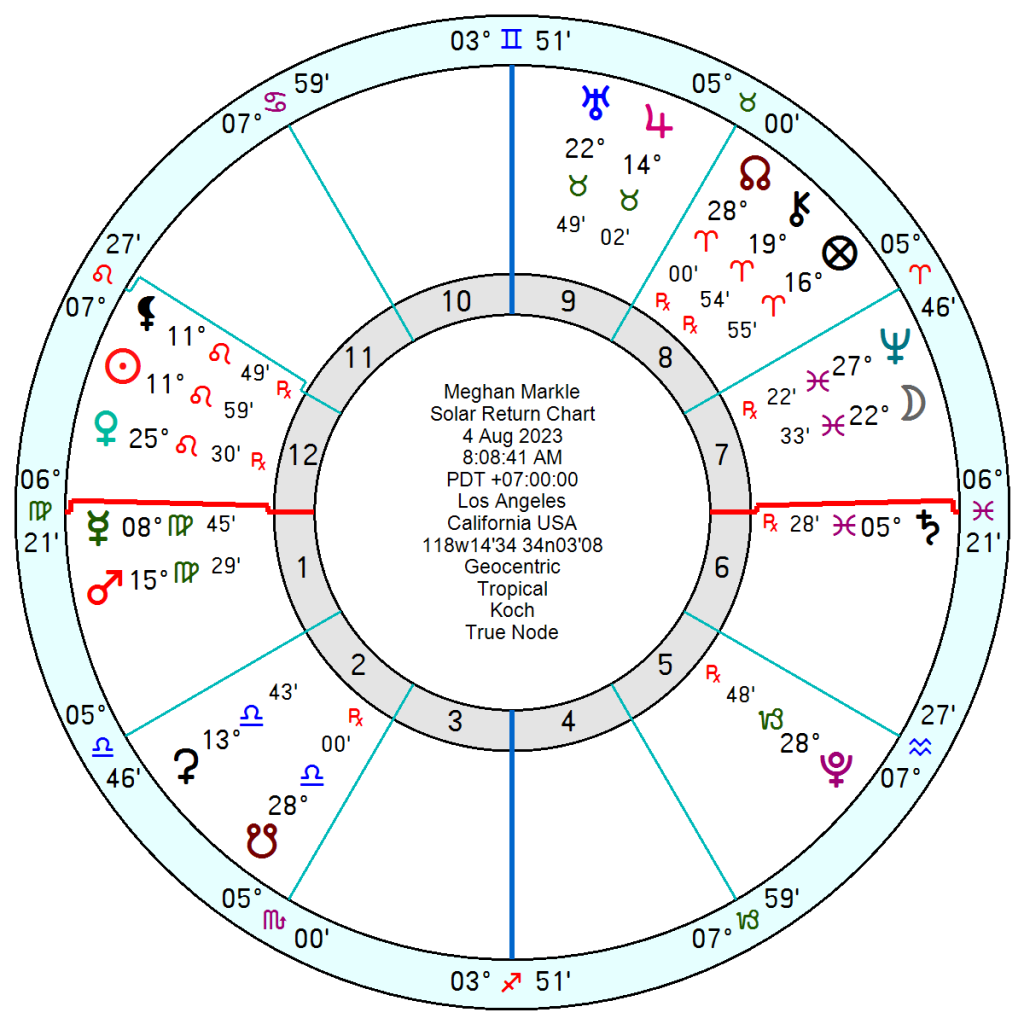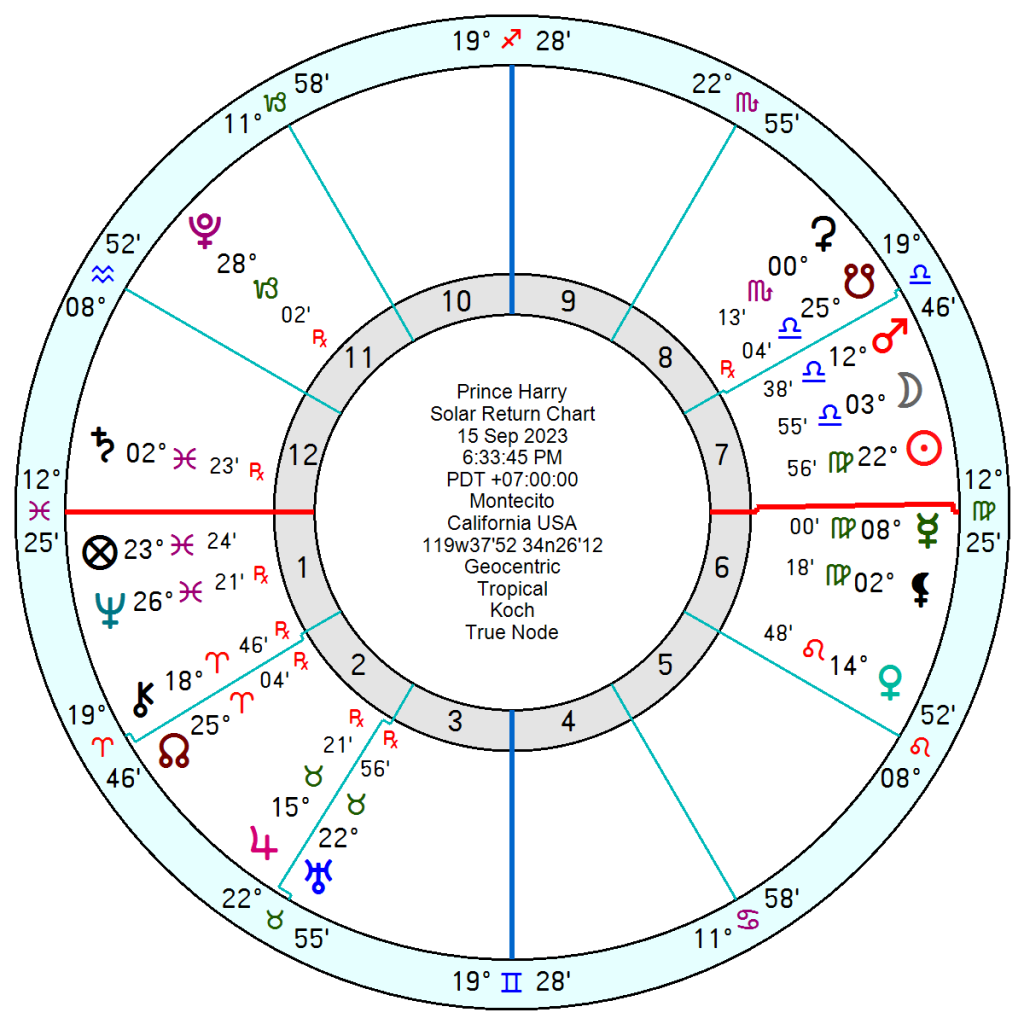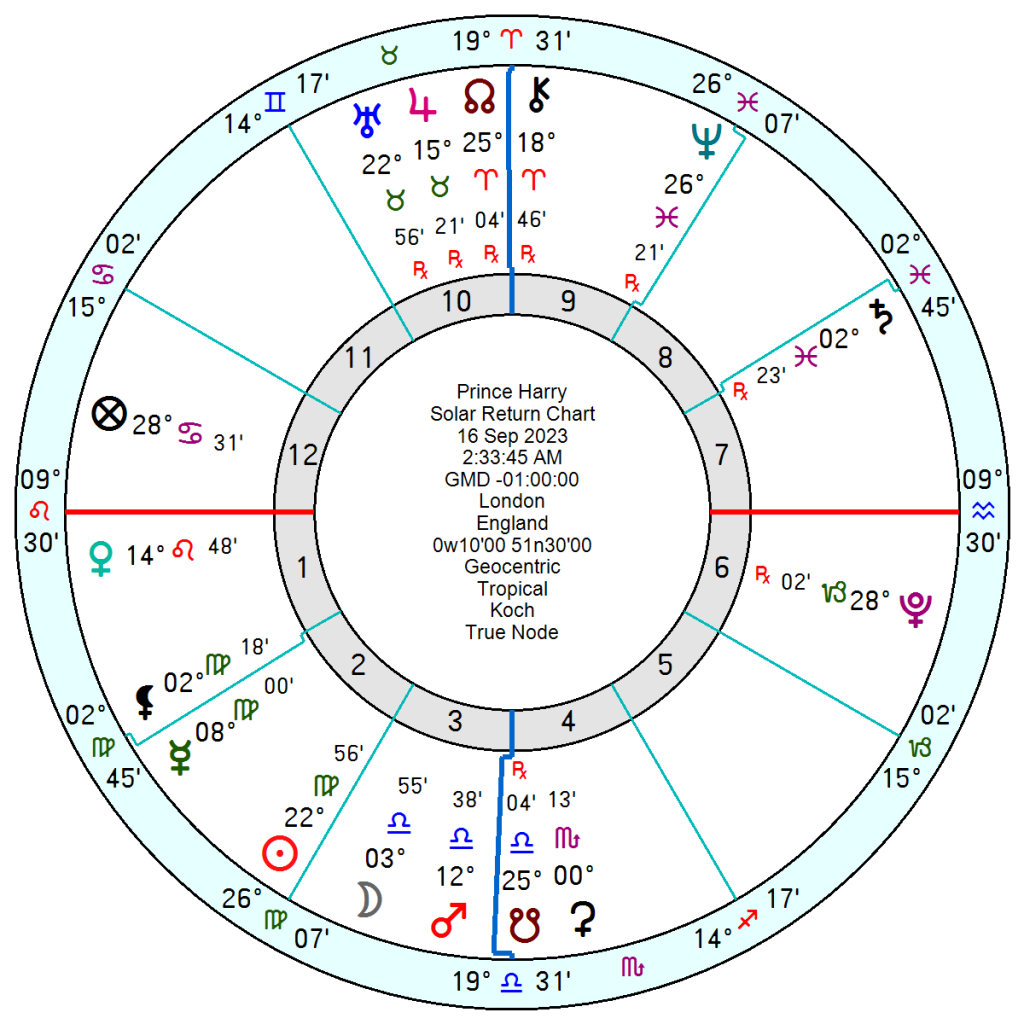 Meghan Markle's Solar Return from her birthday on Friday is mixed with a lucky 9th house Jupiter Uranus conjunction and a high-vitality Jupiter trine Mars in the 1st. So no shortage of get-up-and-go. A hidden 12th house Sun Venus could suggest creative activities behind the scenes though it is contradicted by an attention-grabbing 5th house Pluto.
The two main issues would appear to be 1) money with the North Node and Chiron in in the 8th suggesting it will take effort to cope with joint business responsibilities. And b) close relationships with a separated/critical Saturn on the Descendant and an uncommitted/disappointed Moon Neptune further into the 7th.
It'll be interesting to see how her SR 12th house Sun conjunct Black Moon plays out since it can indicate a sense of being an outcast and provoking a counter-culture urge to stand out against the conscensus.
Detail on her chart transits etc in previous post June 26 2023.
Harry's Solar Return from 15 September this year is less conflicted in some ways with an Earth Grand Trine of Uranus trine Pluto trine his Virgo Sun which suggests change certainly but also an ability to pull projects together. The only downside being it is formed into a Kite by Sun opposition Neptune – idealistic at best, muddled and evasive at worst.
  A California-located Solar Return, like Meghan hints that money and relationships will be the two key areas. The North Node and Chiron in his 2nd hints that effort will be required to get a grip and overcome past conditioning about being reliant on others.  And Sun, Moon, Mars in his 7th hints at vulnerability and dependence on a partner with arguments along the way.
  Taking a birth place Solar Return (not that he is likely to relocate) puts a lucky Jupiter in his 10th alongside Uranus – hinting at positive changes of direction with the potentially idealistic Neptune in the 9th of travel, perhaps pointing to his Africa project bringing satisfaction.  Money is again an issue.
His transits, Solar Arcs etc continue to be difficult until 2027 – See previous post Prince Harry 9 May 2023.