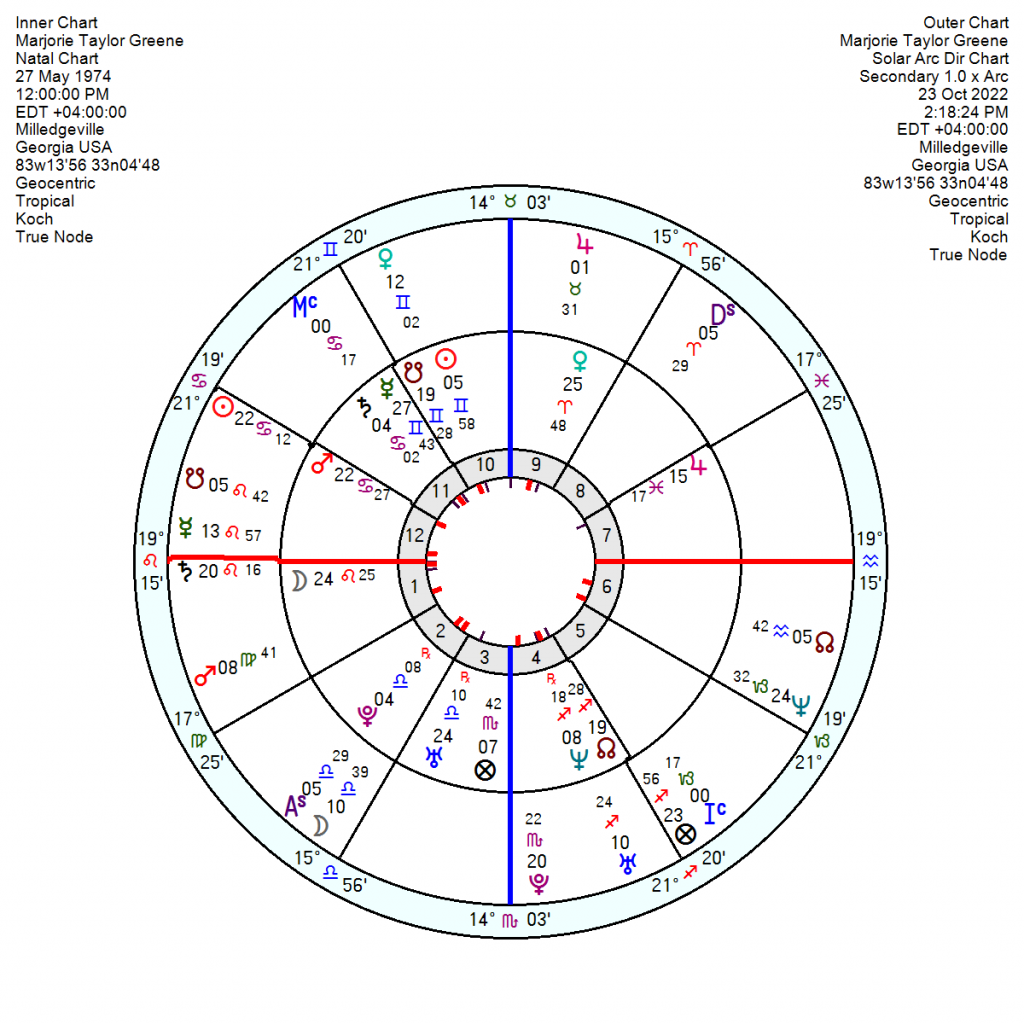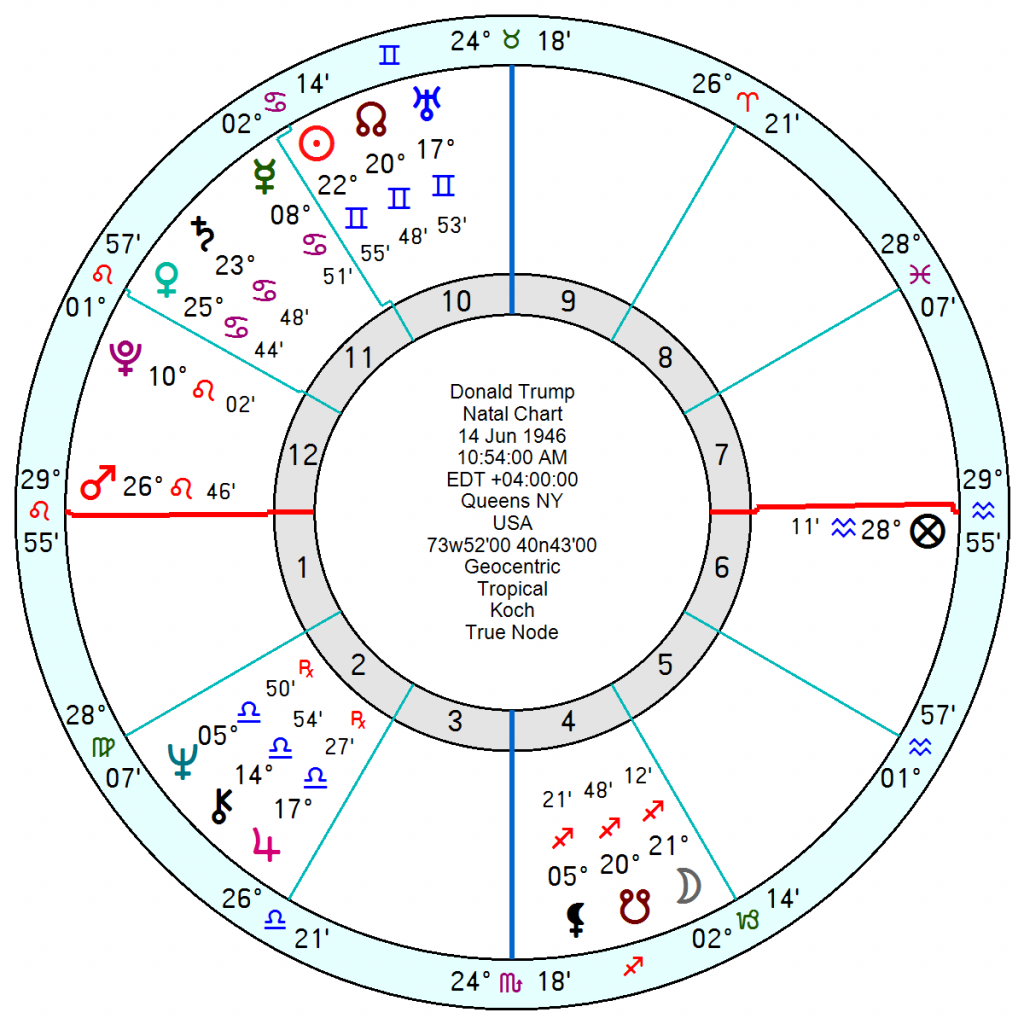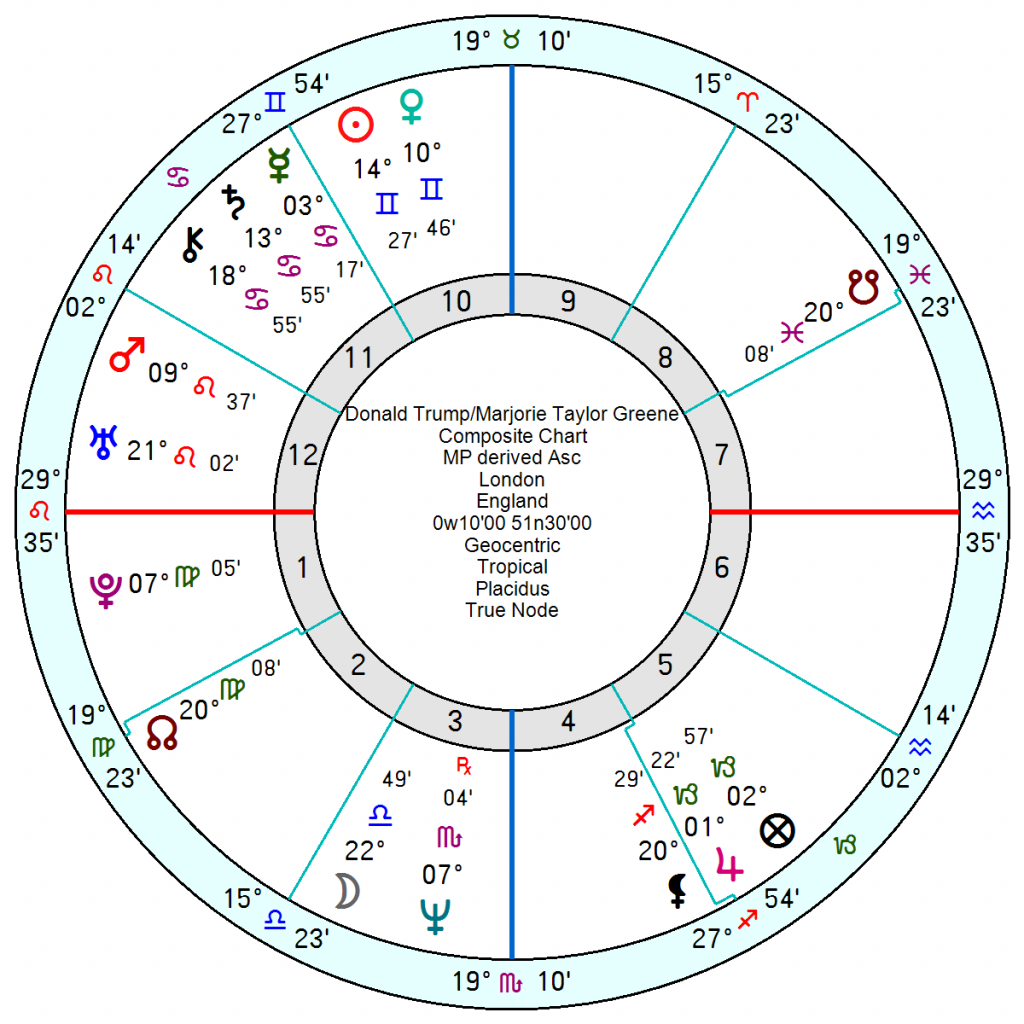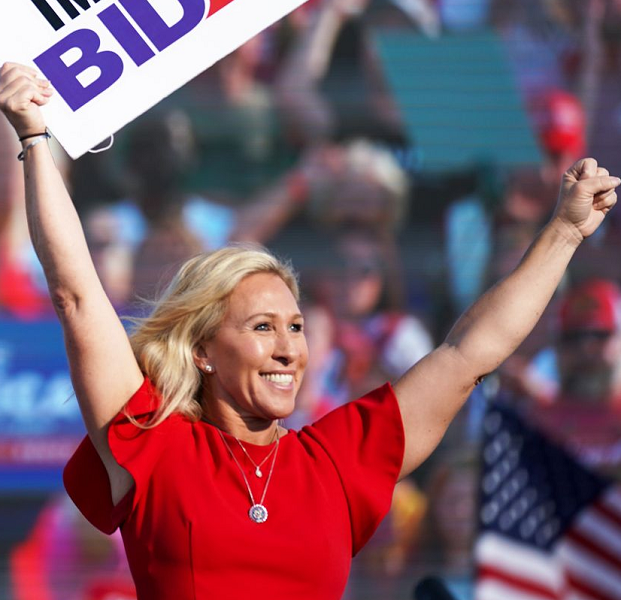 Marjorie Taylor Greene (MTG) the far-right Congresswoman and white supremacist, and antisemitic conspiracy theorist, has spread around her delusions over QAnon, Pizzagate, mass shootings, the alleged killings perpetrated by the Clinton family, and the 9/11 attacks. Before running for Congress, she supported calls to execute prominent Democratic politicians, including Hillary Clinton and Barack Obama and has equated the Democratic Party with Nazis and compared COVID-19 safety measures to the persecution of Jews during the Holocaust. In January 2022, her personal Twitter account was permanently suspended for posting COVID-19 vaccine misinformation; and during the Ukraine invasion she has promoted Russian propaganda and praised Vladimir Putin.
 She has repeatedly and falsely claimed that Trump won the 2020 election in a landslide victory that was stolen from him and is rumoured to be his running mate for a 2024 bid.  She is up for re-election in 2022.
Born 27 May 1974 she is a Sun Gemini opposition Neptune trine Pluto – stratospherically ambitious. She has a tough Saturn Mercury in a fanatical square to Pluto and an explosive, incendiary Venus opposition Uranus square Mars in Cancer. Her enthusiasm looks squelched until mid this November with tr Saturn square her Mars/Jupiter midpoint and she has a dashed-hopes tr Pluto conjunct her Jupiter/Neptune midpoint running now till December. 2023 and 2024 don't look great for her either with tr Pluto square her Mars/Neptune midpoint with disappointments extending into 2025.
Her relationship with Trump is a mystery since her combustible Mars is conjunct his Saturn with her Uranus square; and her (probably) Leo Moon is conjunct hid Mars. Though there is a connection of sorts from her North Node conjunct his South Node and Moon. And their relationship chart is fairly well tied together which will help though it is facing a few disasters until this December with a downhill slide thereafter.
A previous post: JULY 8 2021
Marjorie Taylor Greene is not only addicted to offensive, over-heated rhetoric but also to a warped Trumpian cum Nazi tactic of turning herself and her ilk into victims. She recently was forced to apologize for suggesting that mask mandates were similar to the Holocaust; and promptly went on to compare medical personnel offering vaccinations to Nazi brownshirts forcing prisoners to undergo experiments.
The House of Representatives which she only joined this January, voted to remove her from all committee roles on February 4, 2021, in response to her incendiary and violent statements. She will run for re-election in 2022.
Born 27 May 1974 in Georgia, USA, she is a Sun Gemini opposition Neptune trine Pluto; with a volatile and over-loaded Mars in excitable Cancer on the point of a T Square to Venus opposition Uranus; and a hard-edged, unyielding Saturn square Pluto. Tr Pluto is still exerting maximum pressure on her Martian T Square being square the Venus and Uranus till the end of this year. The December Sagittarius Solar Eclipse will oppose her Sun for a crisis of direction in which she may be forced to rethink her plans. She's also got a Neptunian failure or two and in genera high hopes not producing results through till late 2022.
Her Solar Arc Sun is conjunct her Mars probably mid 2022 which will produce a collision of sorts and is not good news, followed by Solar Arc Neptune in a paralysed, panicky square to her Uranus also in 2022 and then Venus in 2023.
She probably is enamoured of Hitler since his mesmeric Neptune Pluto in Gemini is conjunct her Sun and oddly enough both have Uranus in Libra. The relationship chart has a passionately connected composite Pluto opposition Jupiter square Venus
With Trump, it's trickier to see where the love comes from with his Saturn conjunct her focal point Mars; though her Sun falls in his 10th and her Leo Moon is probably attracted to all the fake glitter. Though their relationship chart again has a passionate Sun Venus square Pluto which will be rattled up by this December's Solar Eclipse.