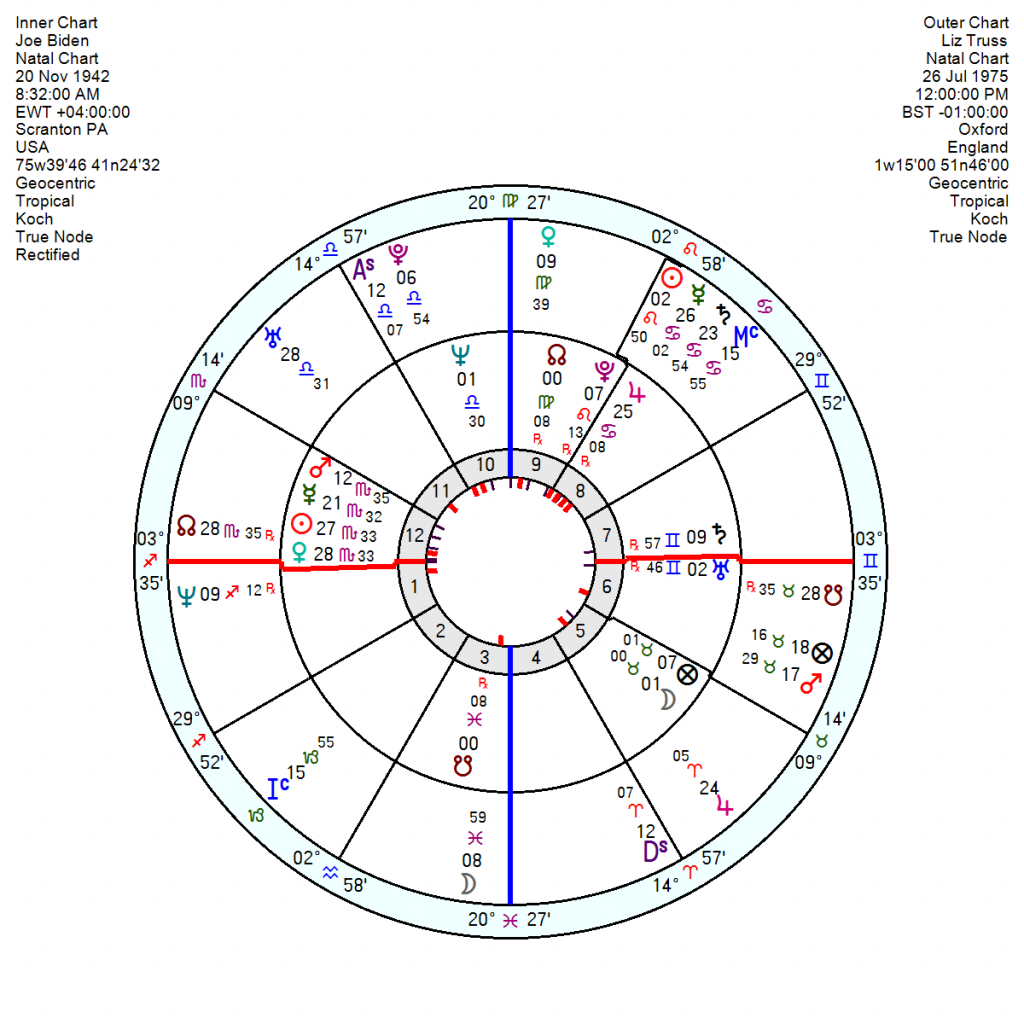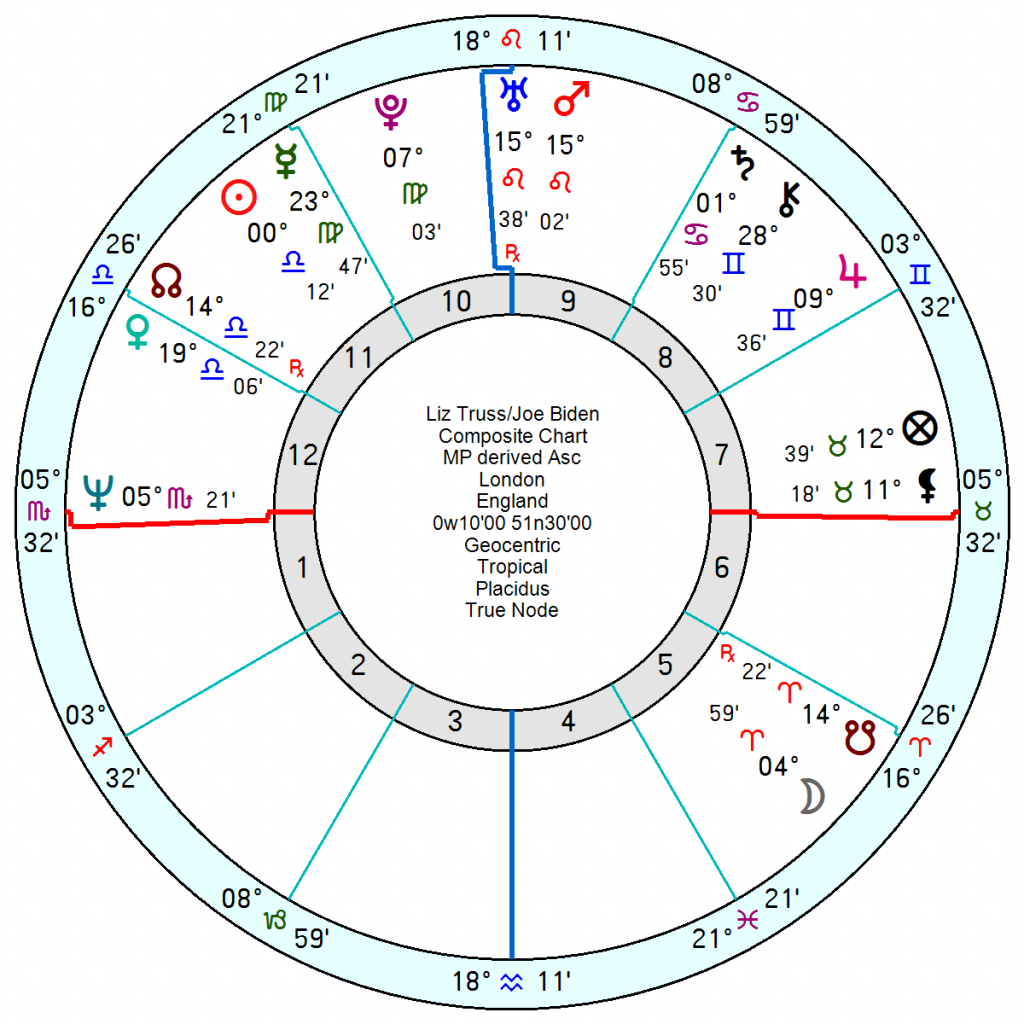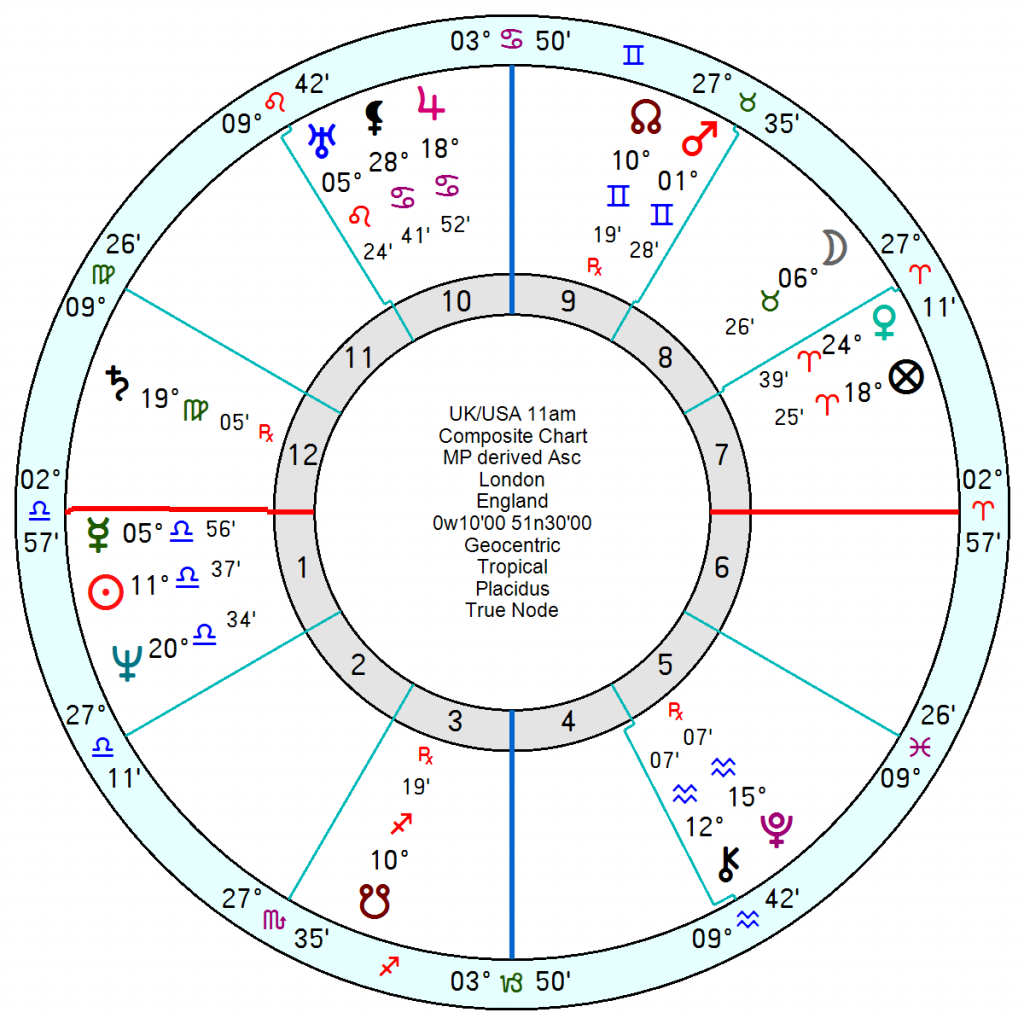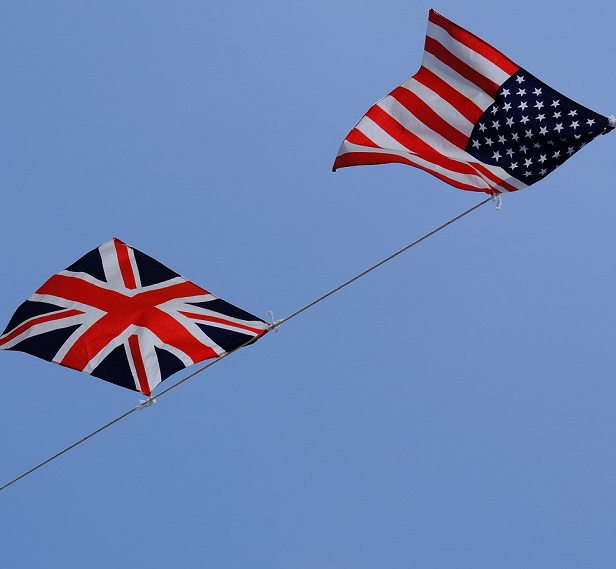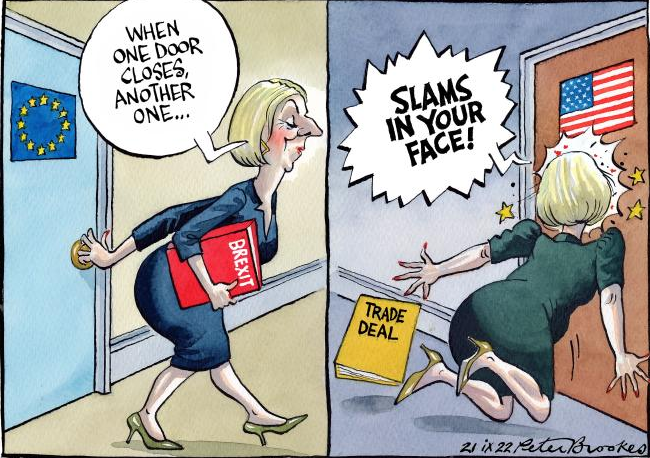 Liz Truss hot-footing it to the USA has made the surprising admission that a UK-US trade deal, seen as one of the biggest prizes of Brexit, essential to boost UK growth, is not likely in the next few years. The Northern Ireland Protocol is one stumbling block with some Democrats warning there can be no trade deal unless the matter is resolved.
A leaked 2018 UK government document assumed a US trade deal might boost Britain's gross domestic product by 0.2 per cent in the long term, and deals with India, Australia, Gulf States and south-east Asia might add a further total of 0.1-0.4 per cent to GDP over the long term. compared with official forecasts suggesting that Brexit would cut GDP by 4 per cent in the long term.
What is astrologically striking is that Liz Truss's relationship with Joe Biden which has a volatile, not to say explosive, Mars Uranus conjunction is flaring up into open discord at exactly the time when the USA/UK relationship chart is due for a major jolt.
Truss's Mars in Taurus was never going to sit comfortably with Biden's Scorpio Mars Mercury; nor was her evasive, disorganised Neptune opposing his Saturn going to make for a shared agenda or mutual trust. Plus her controlling Pluto falls in his 10th tempting her to micromanage his decisions; while her Sun is conjunct his Pluto making him think he's top dog and in control. Last but not least her overloaded and rigid Saturn in Cancer is conjunct his Jupiter, so she'll dampen his enthusiasm and then some. Not soulmates for sure.
All of this translates in the relationship chart into a tussle-for-the-upper-hand composite Jupiter square Pluto; a defensive, chilly Sun square Saturn; and a combustible Mars conjunct Uranus at 15 degrees Leo. Tr Uranus will light the touch paper to detonate the composite incendiary Mars Uranus this December to mid January and again in February to mid March.
  The USA/UK relationship chart has an emphasised Pluto at 15 degrees Aquarius which is on the focal point to a Yod inconjunct Jupiter sextile Neptune giving rise to an at-times illusory togetherness but one in which power and status plays a key role. The Pluto is also trine the composite Sun trine North Node, which doubles its effect, giving rise to a locked-together connection that has undertones of resentment and constant game playing. The UK/USA composite Pluto will catch the transiting Uranus square in December/January and February/March 2023 which will require a significant diplomatic reset; with aggravations continuing in 2024/25 with tr Pluto trine the composite Mars.
ADD ON: UK economy in summary. Tr Uranus is opposition the UK 2nd house Neptune now till mid October and repeating in the spring of 2023 = high anxiety about personal finances. Tr Uranus is also square the 5th house Venus ruling stock markets, speculation and new projects for jolts and jangles this year and early next. It'll be early 2025 before tr Uranus is clear of hard aspects to the UK's Fixed planets which is making this such a turbulent, uncertain period of rapid change. And 2025 also when there is an economic super-whammy of the wrong variety as the Solar Arc Uranus is conjunct the 8th house Mars. Once that clears, from 2026 onward tr Uranus is out of the UK 8th house and the stormy seas should calm down slightly.
This was never going to be an easy phase – several annis horribilis years.