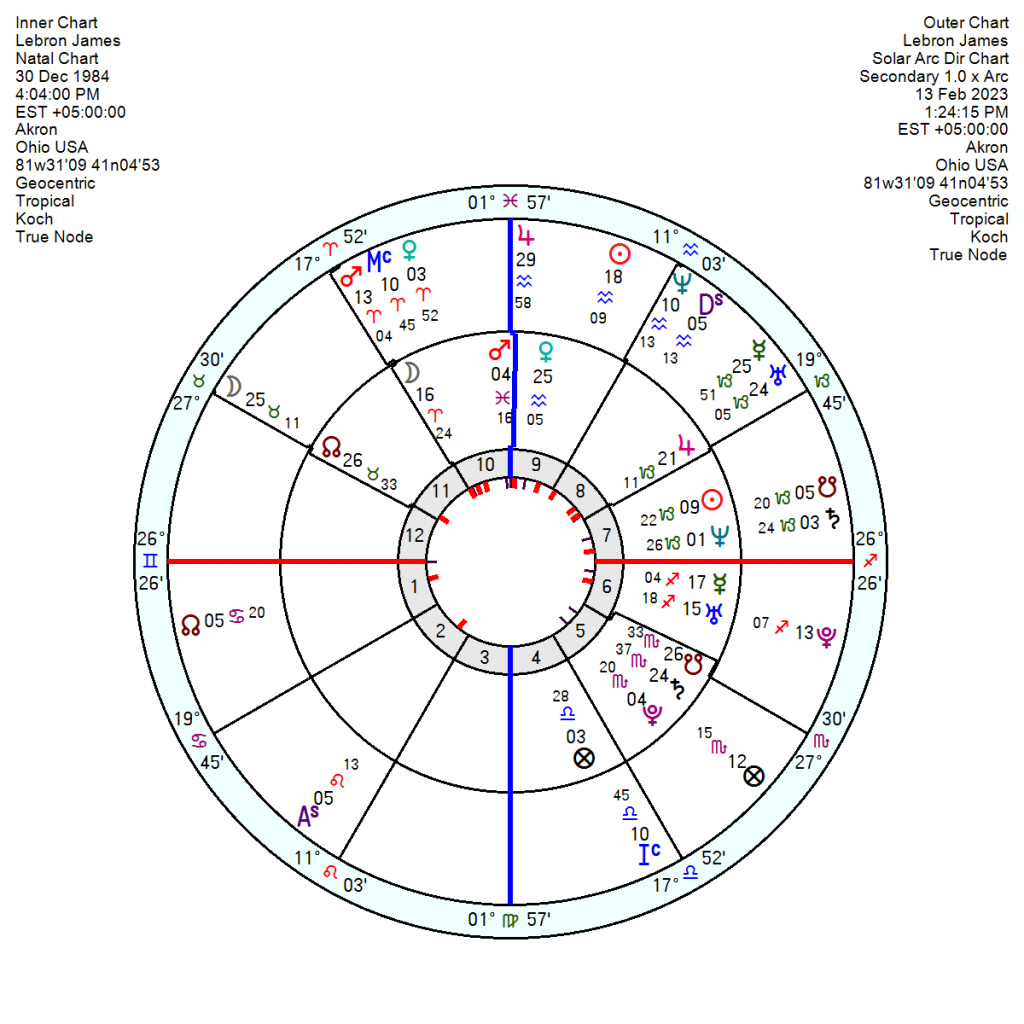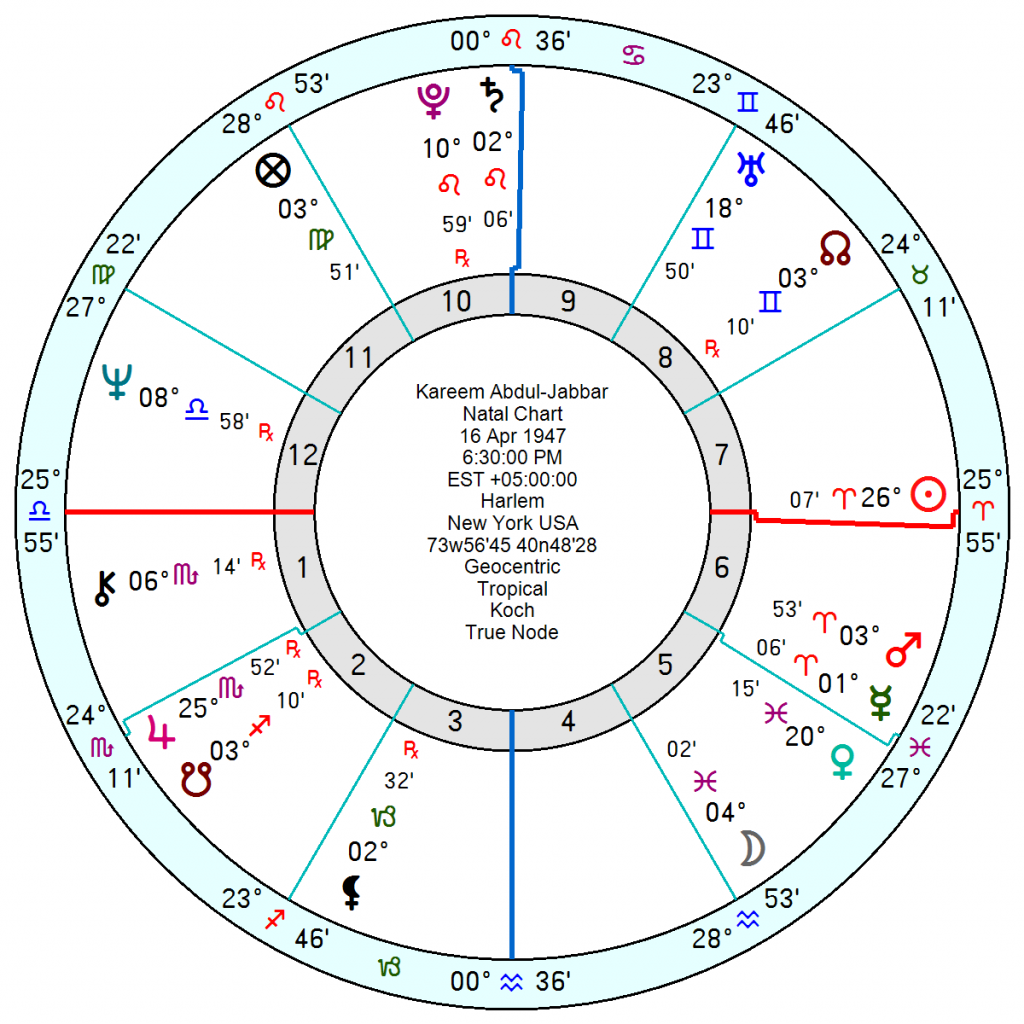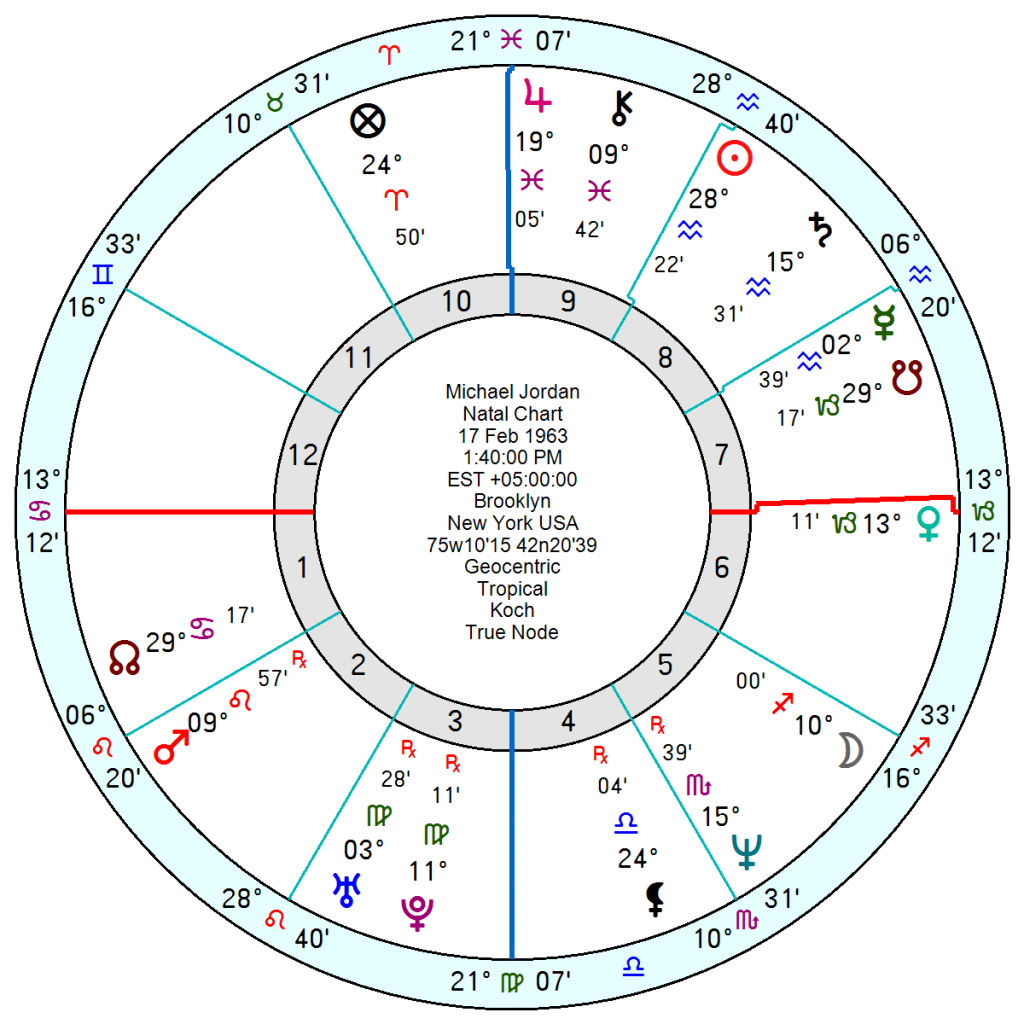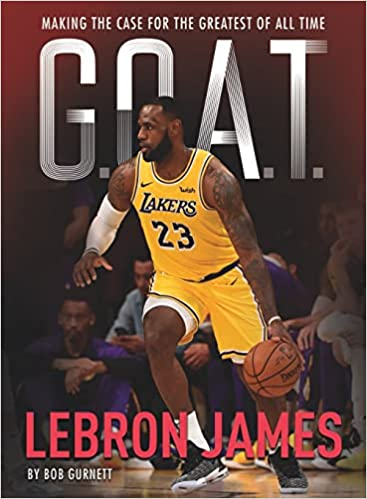 LeBron James has become the NBA's leading points scorer of all time, leading to heated discussions about whether he has overtaken Michael Jordan as the best ever basketball player. His six foot nine towering figure has now been at the top for twenty years.
  He was born 30 December 1984 4.04pm Akron, Ohio with a teenage mother and an absent criminal father and was largely brought up by a local football coach. He has an ultra-determined and also highly Neptunian chart with an ambitious and competitive Mars in Pisces conjunct his Midheaven trine Pluto in his sporting 5th house, sextile Sun and Neptune conjunct in Capricorn in his 7th house. His Moon is in fiery Aries trine Uranus Mercury in Sagittarius and he has Saturn in obsessive Scorpio in his 5th square Venus in Aquarius. Plus a financially lucky Jupiter in his 8th house.
He has taken over from Kareem Abdul-Jabbar's former record of leading points. Kareem was born 16 April 1947 6.30pm Harlem, New York and has both his Sun and Mars Mercury in pro-active Aries with his Sun quincunx Jupiter in money-attracting Scorpio; and his Mars Mercury opposition Neptune and trine/sextile a super-determined Midheaven, Saturn and Pluto in his 10th.
Michael Jordan dominated professional basketball during the 1980s and 1990s and was born 17 February 1963 1.40pm Brooklyn, New York. He has an Aquarius Sun with lucky, successful Jupiter in Pisces on his Midheaven in a confident opposition to Pluto and square a Sagittarius Moon. His Neptune is also emphasized being in his sporting 5th house and on the focal point of a T Square to a disciplined and hard-edged Mars in Leo opposition Saturn in Aquarius.
  All three have a resolutely determined Mars which rules competition. Michael Jordan and Lebron James both have a Pisces Midheaven and a Fire sign Moon. Kareem and LeBron have 7th house Suns and in all three cases their sporting 5th house is populated.
If anything Lebron James has the stronger global-superstar 22nd Harmonic but only marginally – all three sparkle.