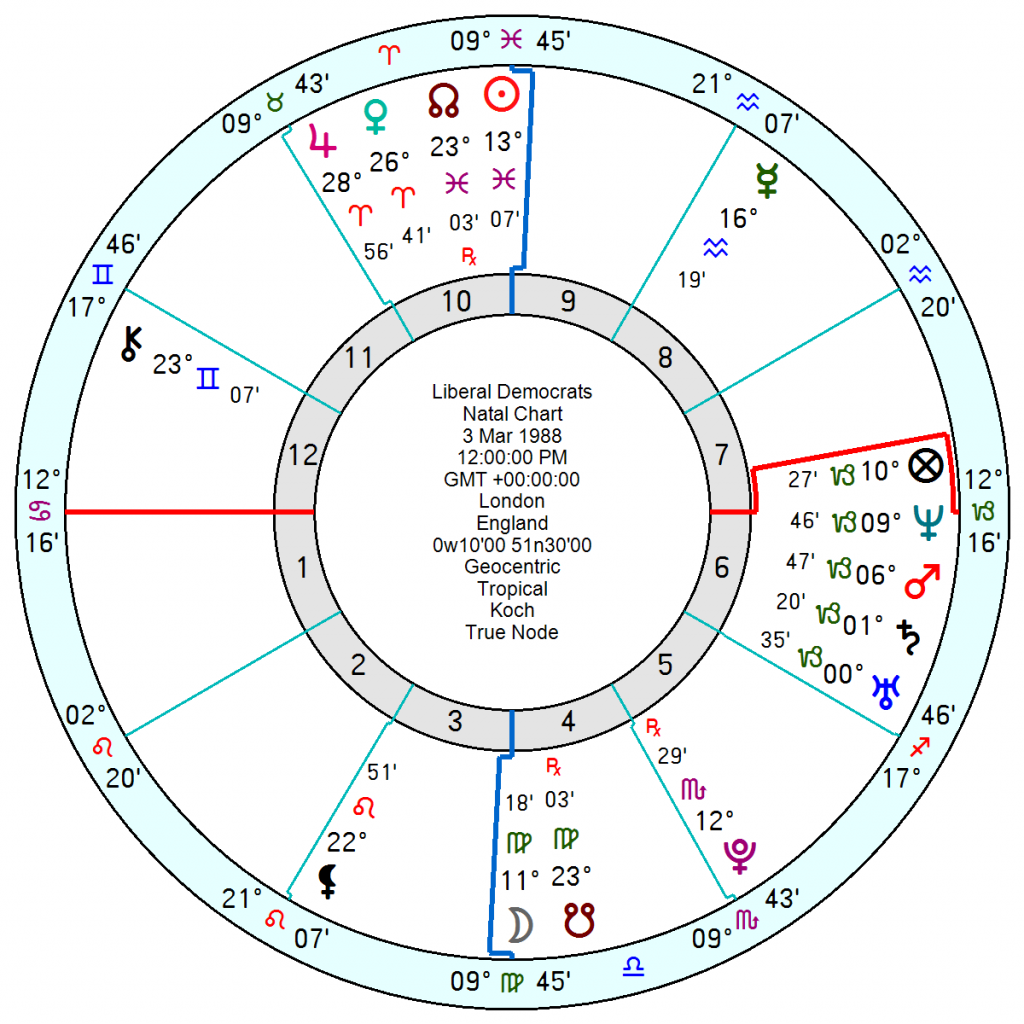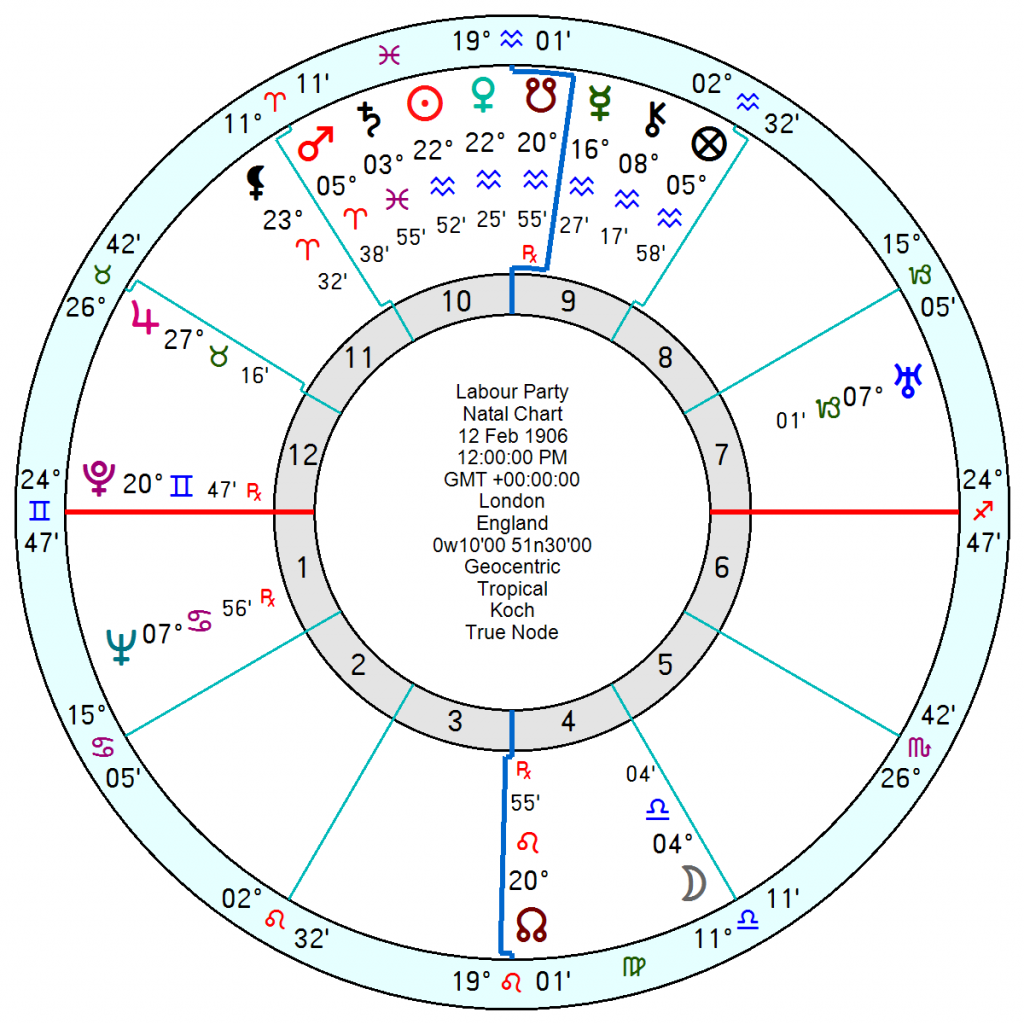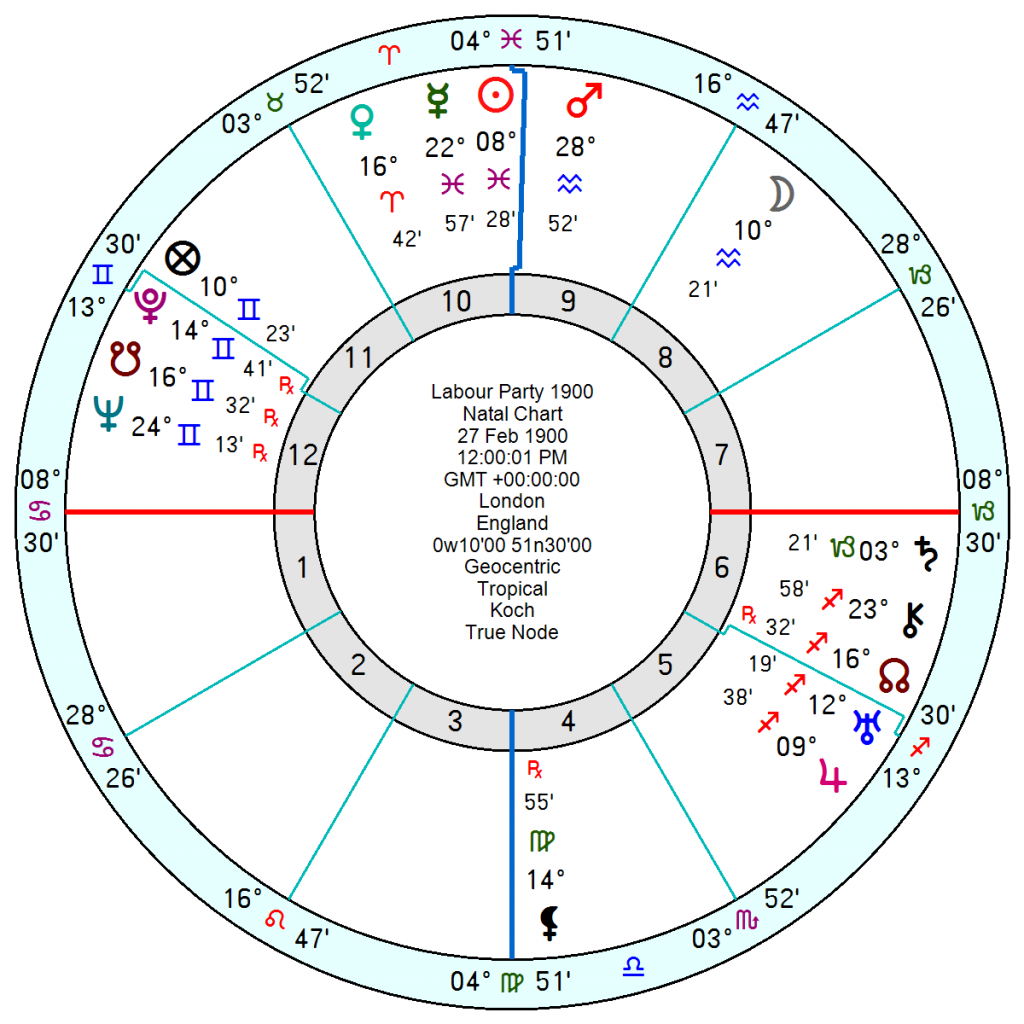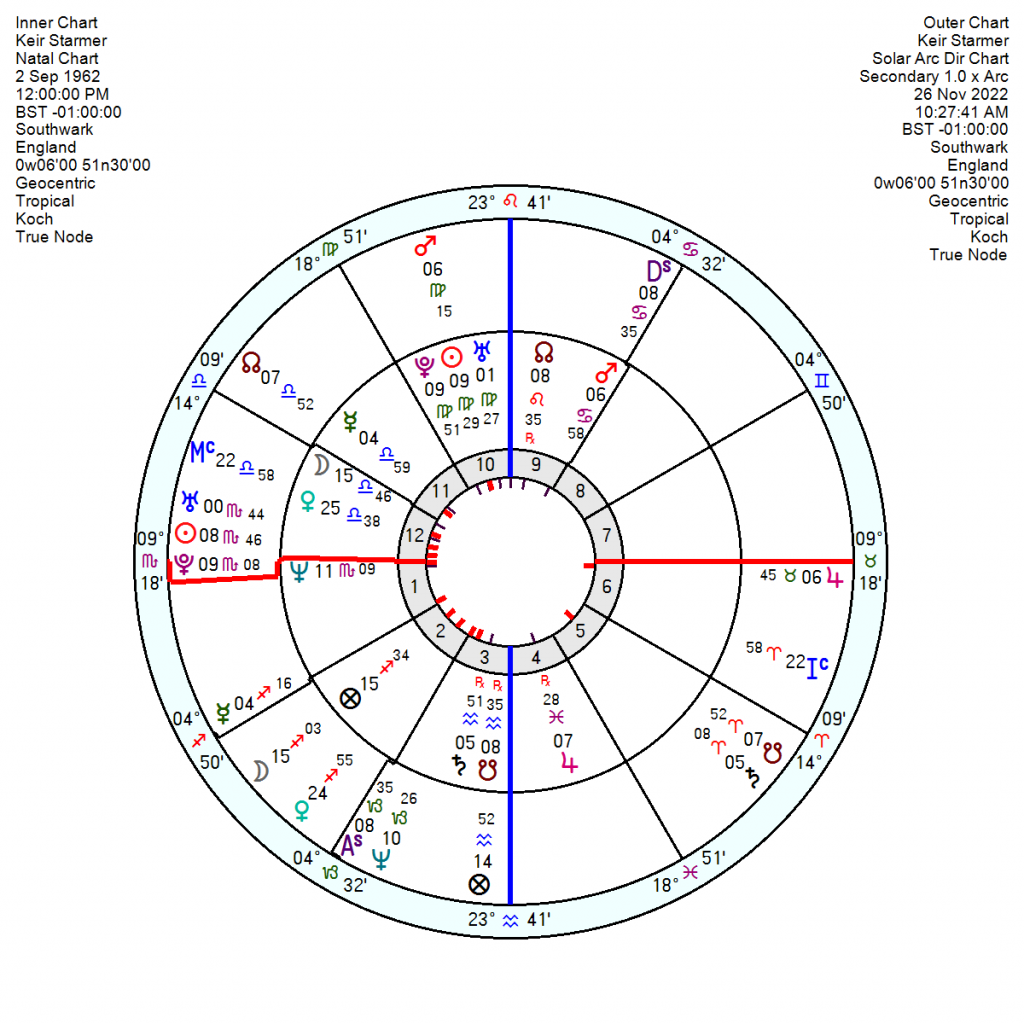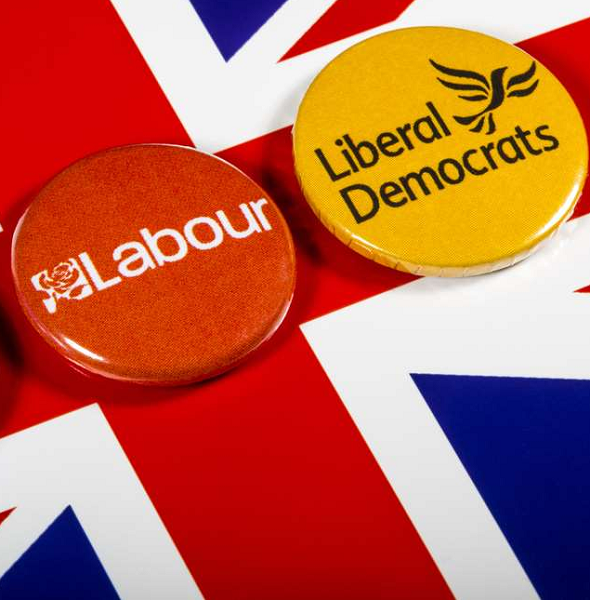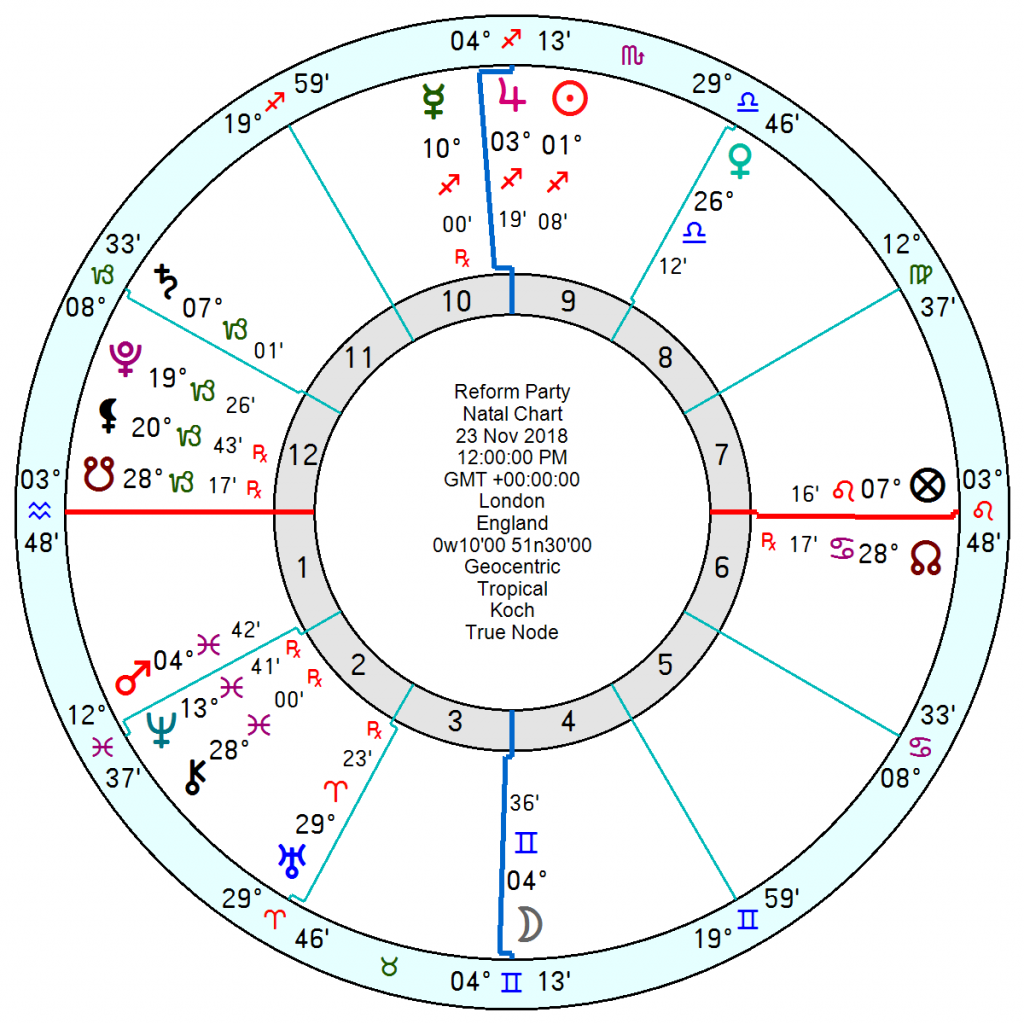 Labour and the Lib Dems, the opposition and third largest of UK parties, both look upbeat in 2023 with smatterings of success in 2024 or 2025 but not good beyond which seems odd given the sinkholes the Conservatives have created for themselves.
The Liberal Democrats, 3 March 1988, have a lucky, confident, successful tr Pluto square Jupiter through 2022 and 2023 alongside a few muddles and disappointments. By early 2024 there is a trapped, dead-halt, meltdown Solar Arc Mars square Pluto and with the exception of one lucky blip in 2025, what comes after is not encouraging. Tr Neptune entering Aries from 2025 onwards won't do them any favours as it squares their Uranus, Saturn, Mars for several years thereafter.
Ed Davey's Leadership chart 27 August 2020 11.35am London – (to be treated with caution since leaders come and go and their fortunes are not necessarily tied to the party's) – shows a depressing slog with anchors dragging through 2023/4 and a triumph in 2025 with the Solar Arc Jupiter conjunct Pluto.
The Labour Party 12 February 1906 chart has a successful, confident tr Pluto trine the Jupiter through 2022/23 though will also be contending with a downbeat tr Saturn conjunct Sun, Venus across this New Year moving into a Saturn Return by April, followed by tr Uranus square the Sun Venus which will see jolting changes running into 2024. Through 2024/25 there are indications of some success but a steep decline from 2027 onwards for a few years as tr Neptune is conjunct the Mars and then square Neptune and Uranus.
The Labour Party 27 February 1900 chart is less encouraging with an enthusiasm-denting 2024 from tr Saturn square the Jupiter Uranus and Pluto plus a catastrophic tr Pluto conjunct Mars/Saturn in 2024/25. And a run of setbacks and jangles in the three years following.
Keir Starmer's Leadership chart, 4 April 2020 10.45am has four significant Pluto transits to midpoints in 2023, one of which is successful, and the other three fairly dire – and one of the disastrous ones runs through 2024 as well.
  His own personal chart, 2 September 1962, does not indicate an easy few years ahead which may be personal issues rather than party ones and there is no way of sorting out without a birth time quite what is causing his problems. He has a downbeat tr Saturn conjunct his Jupiter and opposition his Uranus in 2023 and then opposition his Sun Pluto in 2024 alongside a raft of truly difficult Solar Arcs in 2024/25/26.
Add On: The Reform Party was set up on 23 November 2018 as a right-wing, populist Brexit party when there was a confident Sun Jupiter in Sagittarius opposition a Gemini Moon in an over-the-top-enthusiastic square to Mars in Pisces and Mercury in Sag square Neptune. So a high-wire, scattered Mutable whirlwind. Plus an emotionally excitable Venus opposition Uranus. Tr Pluto will be giving them uplift in a minor way sextile Sun and Jupiter between now and 2025; plus a go-ahead tr Pluto square the Sun/Jupiter midpoint in 2023/24. But there are just as many Neptune transits bringing disappointments as well. So some success but not overwhelming.