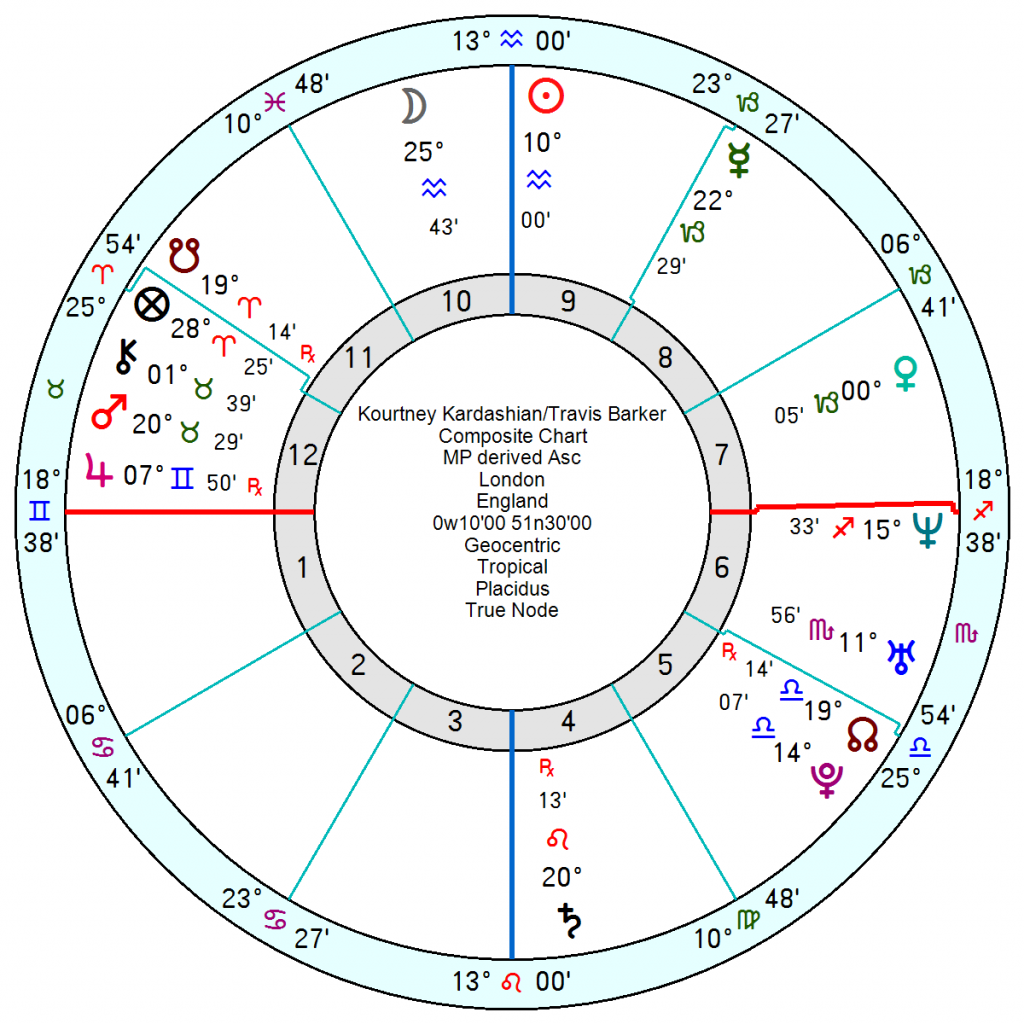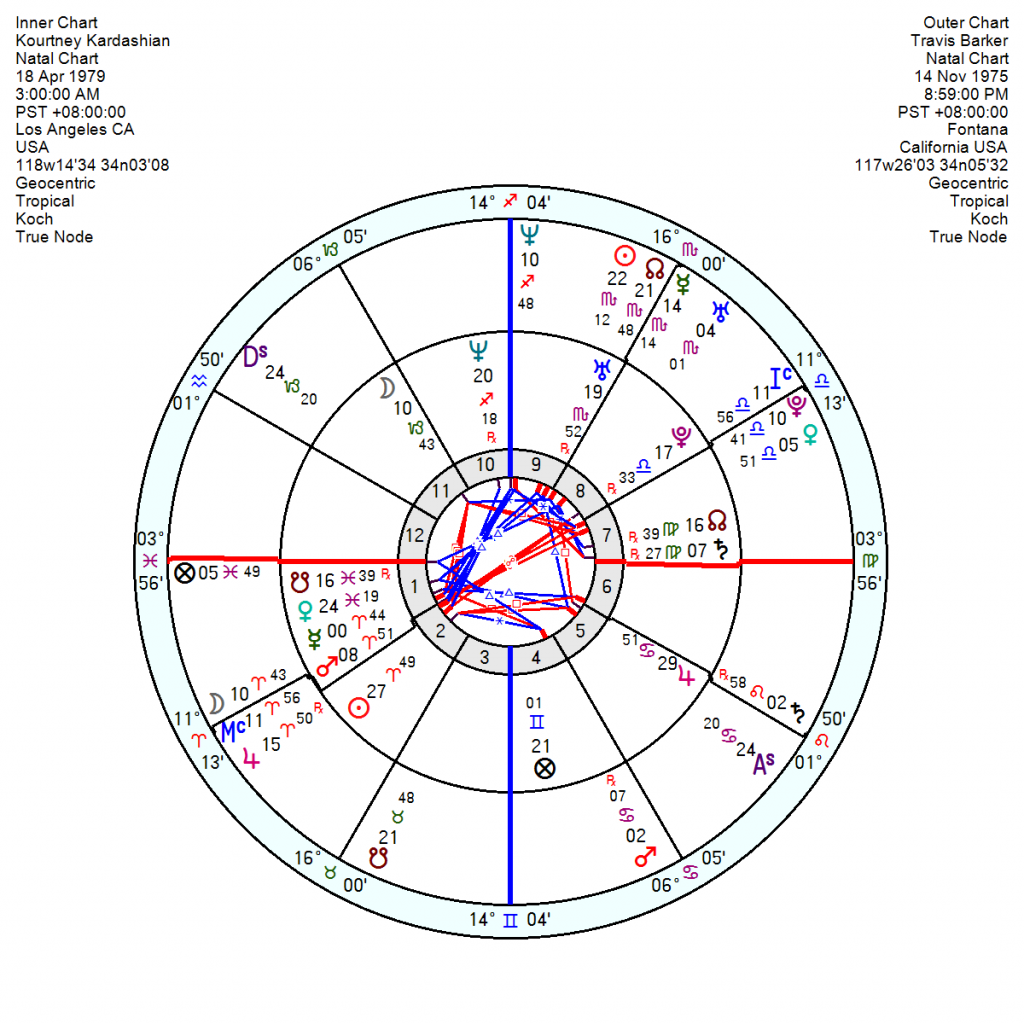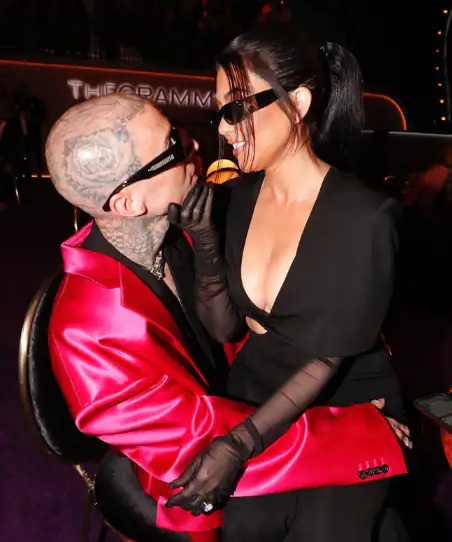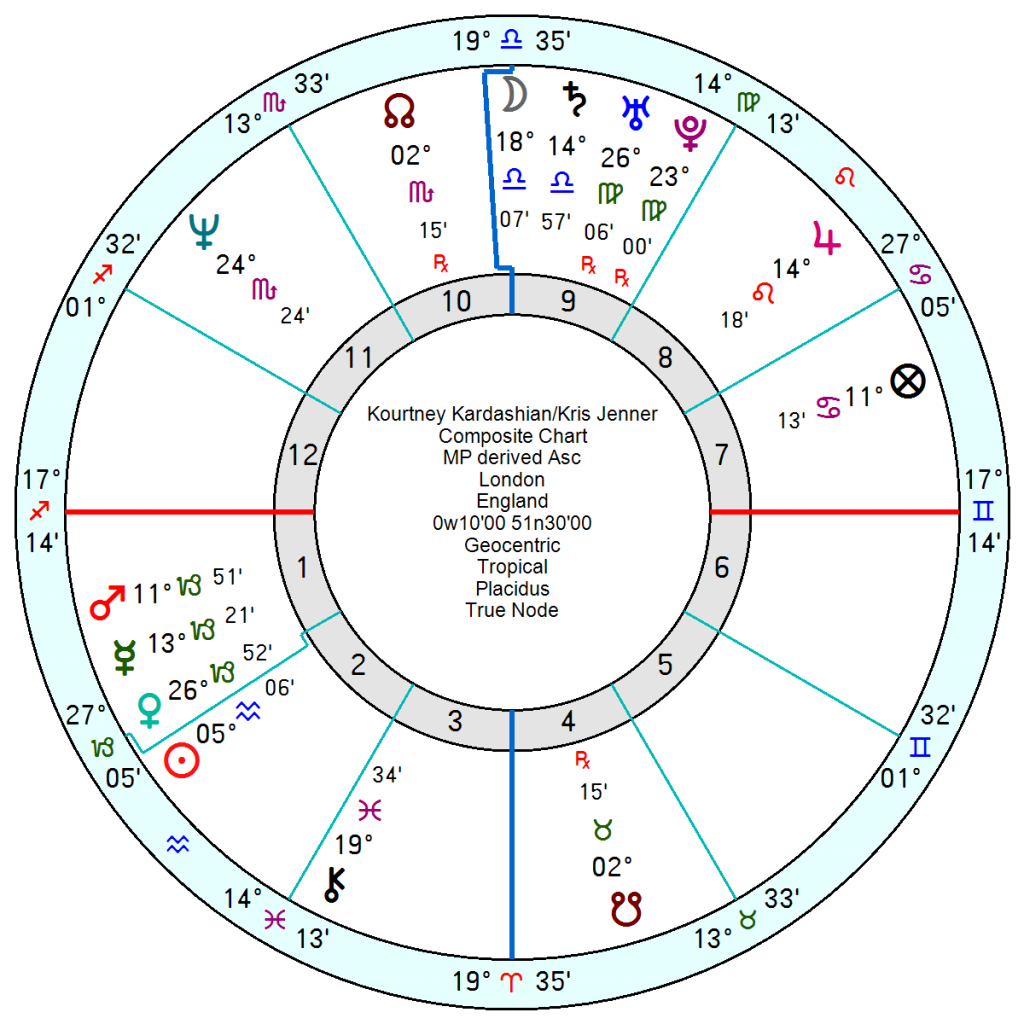 Just when you think the Kardashians can't sink any closer to the trash bin, they do. On the eve of the launch of a new show, Kourtney totters off after the Grammys, not entirely sober off, to an Elvis impersonator wedding chapel in Las Vegas to marry much-tattooed superstar drummer Travis Barker. Except they didn't have a licence so it isn't real. Despite the gulf between a Palm Beach flash feste and a Sin City dive there are intriguing astro-similarities between the weddings/marriages and relationships of the them and the Brooklyn/Nicola pairing.
The wedding chart has the not-quite-real Jupiter Neptune conjunction and the aggravated, hard-edged Mars Saturn conjunction. The relationship chart between Kourtney and her fiancée as is/was Travis Barker has a central composite Mars square Saturn tied into the composite Moon and widely to the Sun; as well as an over-hopeful Jupiter opposition Neptune.
They are both difficult personalities. She, 18 April 1979 3am Los Angeles has a financially-oriented 2nd house Aries Sun trine Neptune, opposition an 8th house Pluto and square Jupiter – pushily confident, intense but stuck in a life she doesn't understand and often can't control. Her Capricorn Moon squares onto Pluto and Mars in Aries which will add to her emotional stress and with Saturn on her Descendant she won't find close relationships come without hard work and karma. Her last beau, Scott Disick, with whom she had three children and a nearly-Las Vegas Elvis wedding, parted company after ten years. She has never technically married anyone.
Her musician squeeze, Travis Barker, 14 November 1975 8.59pm Fontana, CA, has previously had two extremely brief marriages. He's a Scorpio with an Aries Moon conjunct Jupiter opposition Pluto square Mars trine Saturn – which is one hot emotional mess as well. His mother died of an auto-immune disease before he entered high school and he was a stoner through his teenage years.
An Aries and a Scorpio are not intuitively a good mix and her Uranus is conjunct his Sun which is certainly not a recipe for a contented 24/7 love-in. Both have heavily stressed Moons tied into Mars, Saturn and Pluto which doesn't augur well either. Both have huge mother issues, whereas Brooklyn/Nicola have father issues. Hmm.
  If this was supposed to be a distraction from the black horror elsewhere in the news it has only succeeded in depressing me further. I suppose it could be seen as a live-action agony aunt situation. Real life as it is lived by washed up celebs and weirdos.  
Add On: The dynamic between Kourtney and mother Kris Jenner, 5 November 1955 6.42am San Diego, is tricky to put it mildly. Kris has a Sun, Saturn and Venus in Scorpio which clash with Kourtney's rebellious Uranus; and Kris's Mars is conjunct Kourtney's 8th house Pluto which will arouse deep-seated anger; with Kris's slippery Mercury Neptune also in Kourtney's 8th opposite her Aries Sun.
Their relationship chart has – surprise surprise – an angry, hard-edged, one-sided and unfair, emotionally cold composite Mars square Moon Saturn. With a complicated Venus trine Uranus Pluto sextile Neptune – emotional ambivalence writ large, illusions, hopes and possessiveness.
  Her previous partner Scott Disick, 26 May 1983, has a Sun Mars in Gemini opposition Jupiter Uranus which square onto Kourtney's Saturn and his Saturn Pluto in Libra square oppose her Aries Sun. I'm surprised it lasted ten years, even if it was on off, on off.  
Some parental patterns are almost impossible to unpick.