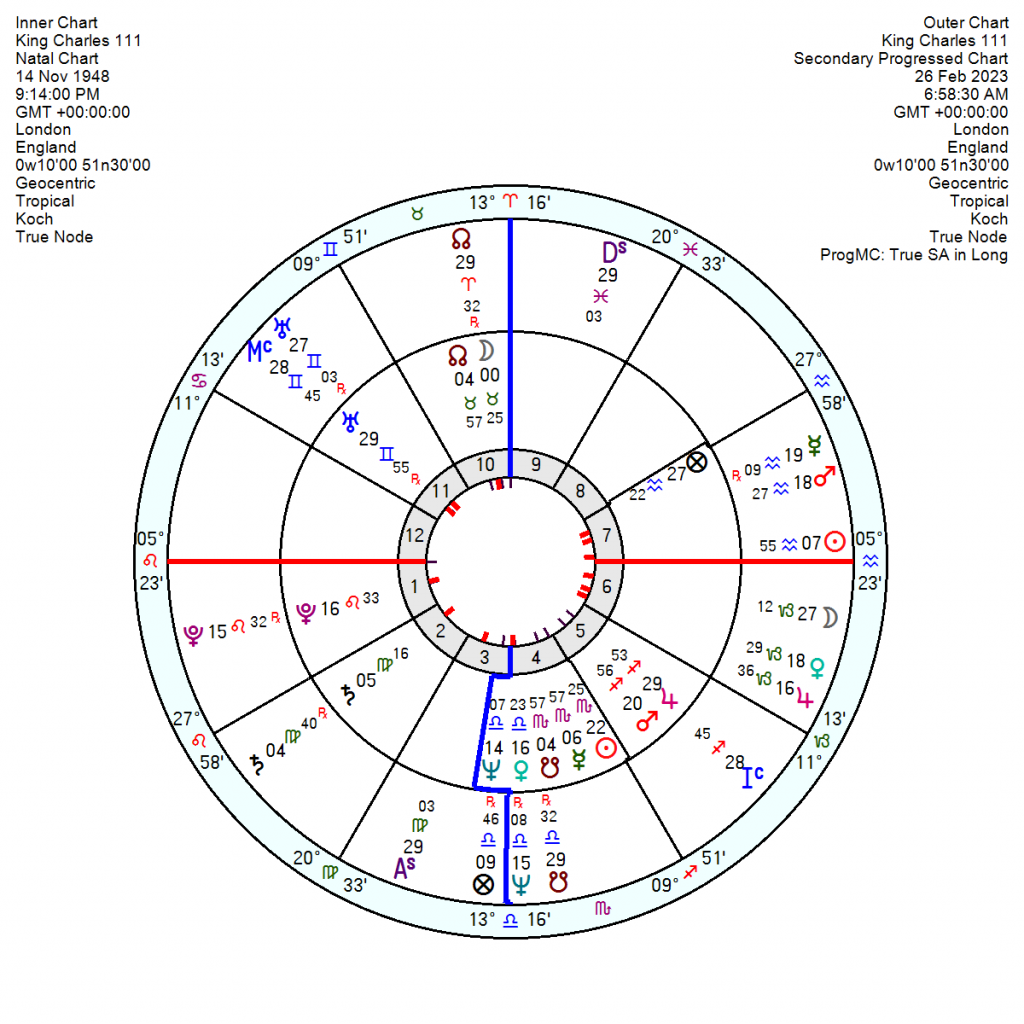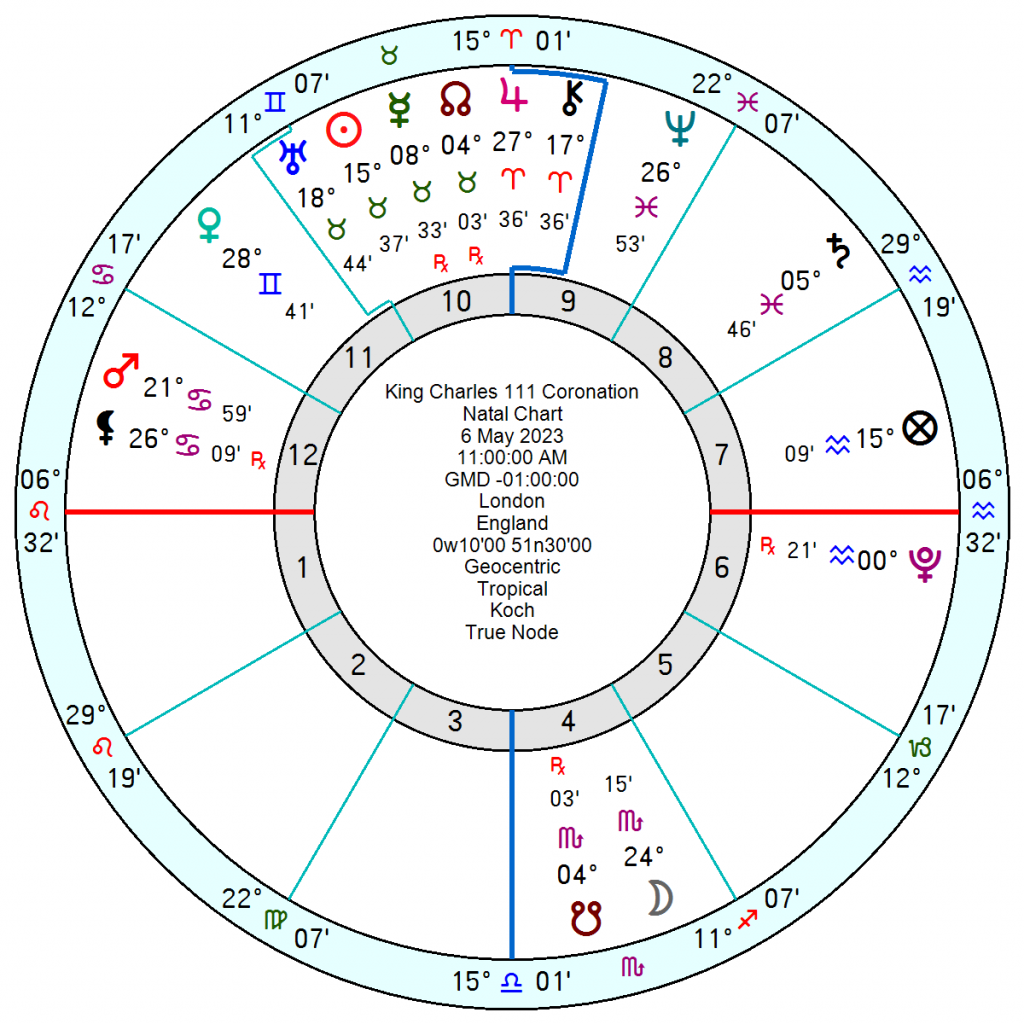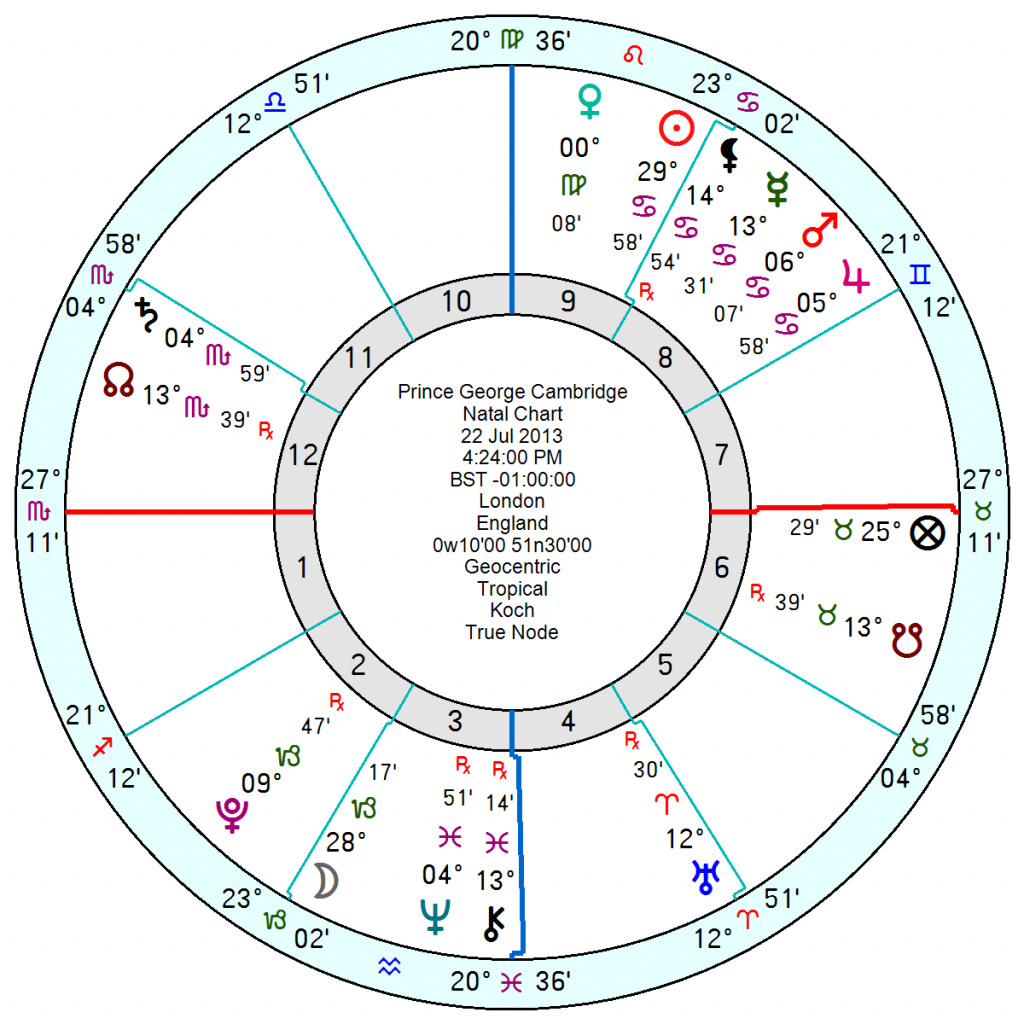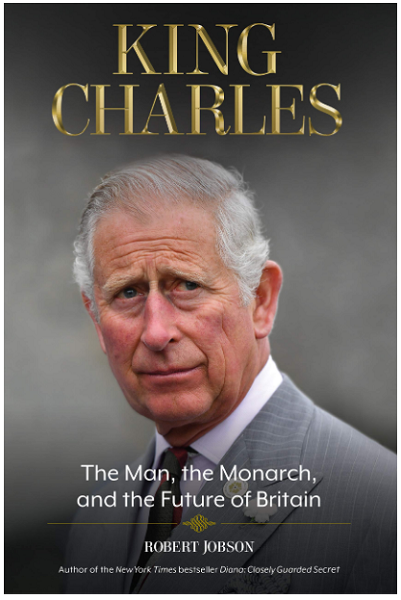 Born to be king was always said not to be in Charles' stars. It is certainly true that George V1 and V and Victoria had Jupiter in their 10th or close to their Midheaven. Queen Elizabeth did not but she did have a strong 1st house Jupiter. One the other hand Edward V11 had his Jupiter in the 12th – so it is hardly a hard and fast rule for a transcendent Jupiter to be a prerequisite for a Royal birth.
Charles' chart with a 10th house Moon suits him for a public career even a political one and his enthusiastic Mars Jupiter in the 5th inclines him to enjoy the spotlight. He's also private with a 4th house Sun and a defensive 1st house Pluto, and keen on house design with his creative Venus in the 4th.
  What sits over his Coronation on May 6th, picking up from late March, is tr Pluto square his Moon which will be emotionally intense and challenging both for family relationships as well, in his case, as for career progress. It can bring up power struggles and crises as well as cathartic moments where the past is let go. At his age it could also bring physical stress.
He will obviously be in a phase of considerable upheaval as he moves into his new role and tr Uranus making the final square to his Pluto from mid March to early April will bring either some disruption or an inner urge to throw out the old ways.
His Solar Arc Neptune is conjunct his Jupiter and opposition his Uranus for a few months ahead which will bring a mix of euphoria and worry. Where his chart indicates a slow down is in two years' time when his Solar Arc Saturn is conjunct his Sun, which timeline is also indicated on Camilla's chart.
One point which repeats in several of the charts (and it is beginning to haunt me) is 18 degrees fixed which tr Uranus gets to from late April across the Coronation. Tr Uranus will square Charles' Progressed Mars then, as well as Camilla's Uranus/MC midpoint and one of William's midpoints. Which may in their cases just be heightened anxiety around a momentous event. But it also repeats around other global charts.
Prince William has tr Pluto square his Jupiter across the Midheaven, moving to square his MC in 2024/25 – so a time of high confidence but also major challenges.
 It is thought that Prince George will be visible for the event, being now heir to the heir. He has quite a reclusive chart with an 8th house Mars Jupiter in Cancer trine a 12th house Saturn in Scorpio trine Neptune – and his Mars Jupiter is also opposition Pluto and square an inventive and rebellious 5th house Uranus. Despite his defensive personality he'll go his own way certainly on the romantic scene.
  His final degree and final minute 9th house Cancer Sun hints at an inclination to travel and be well-educated but it also opposes a Capricorn Moon.  Usually Full Moon types have very different kinds of parents, almost incompatible, and often divorced. Though there is no sign of that in his case – but what it leaves behind is an ambivalence about making decisions since the Sun (head/duty) pulls one way and the Moon (heart/want) the other. So he will be conflicted about his Royal responsibilities as well as everything else, particularly relationships.  Prince William has a New Moon in Cancer and Kate, another Full Moon, has a Capricorn Sun opposition a Cancer Moon – and her parents are still hitched. Princess Charlotte has her Moon inconjunct her Sun and Louis has a Moon square Sun.
Prince George is undergoing massive changes at the moment with tr Pluto conjunct his Moon and opposition his Sun – as he moves house, school and steps into a higher profile life, not all to his choosing by the look of it.