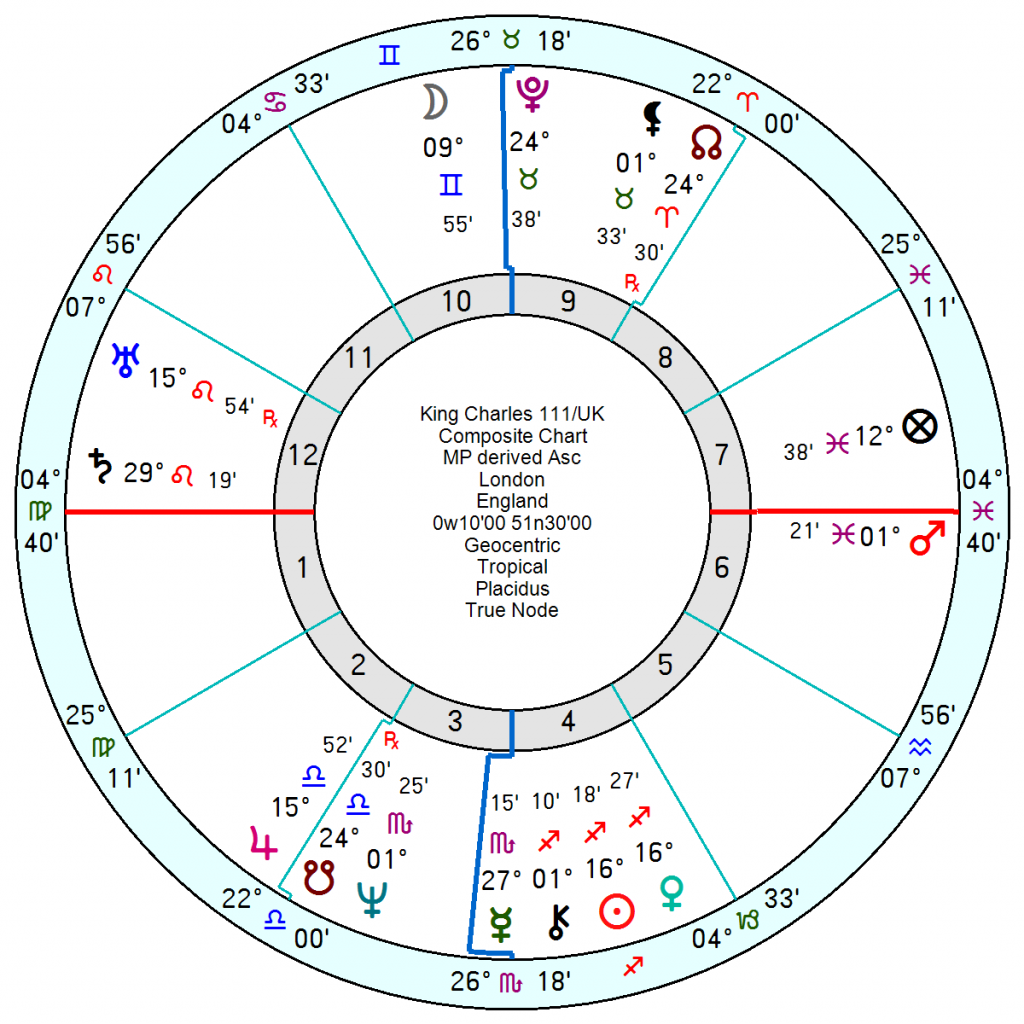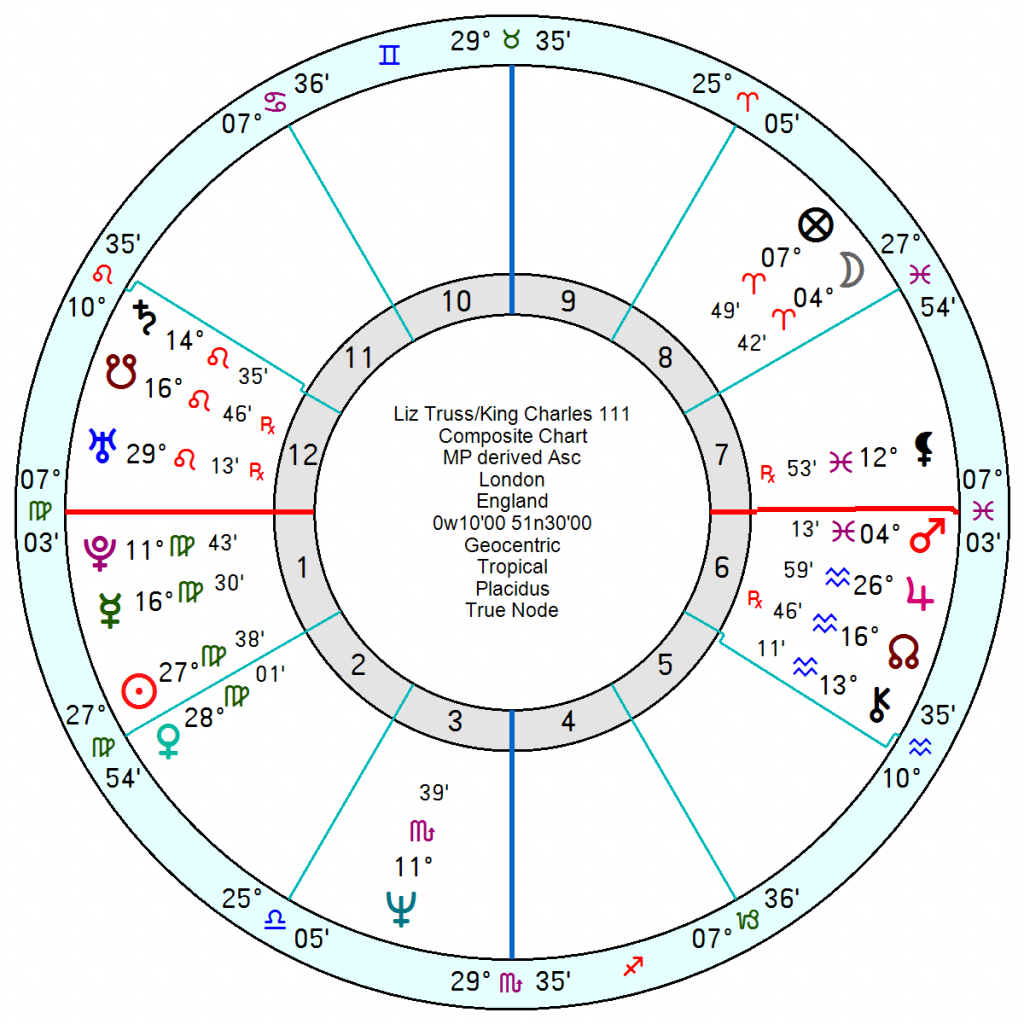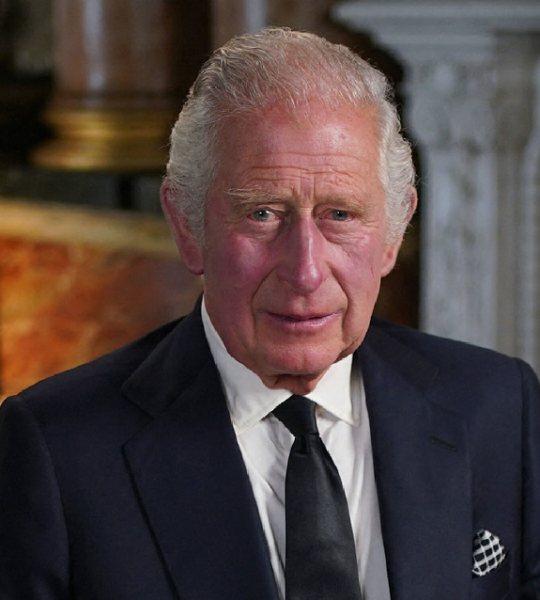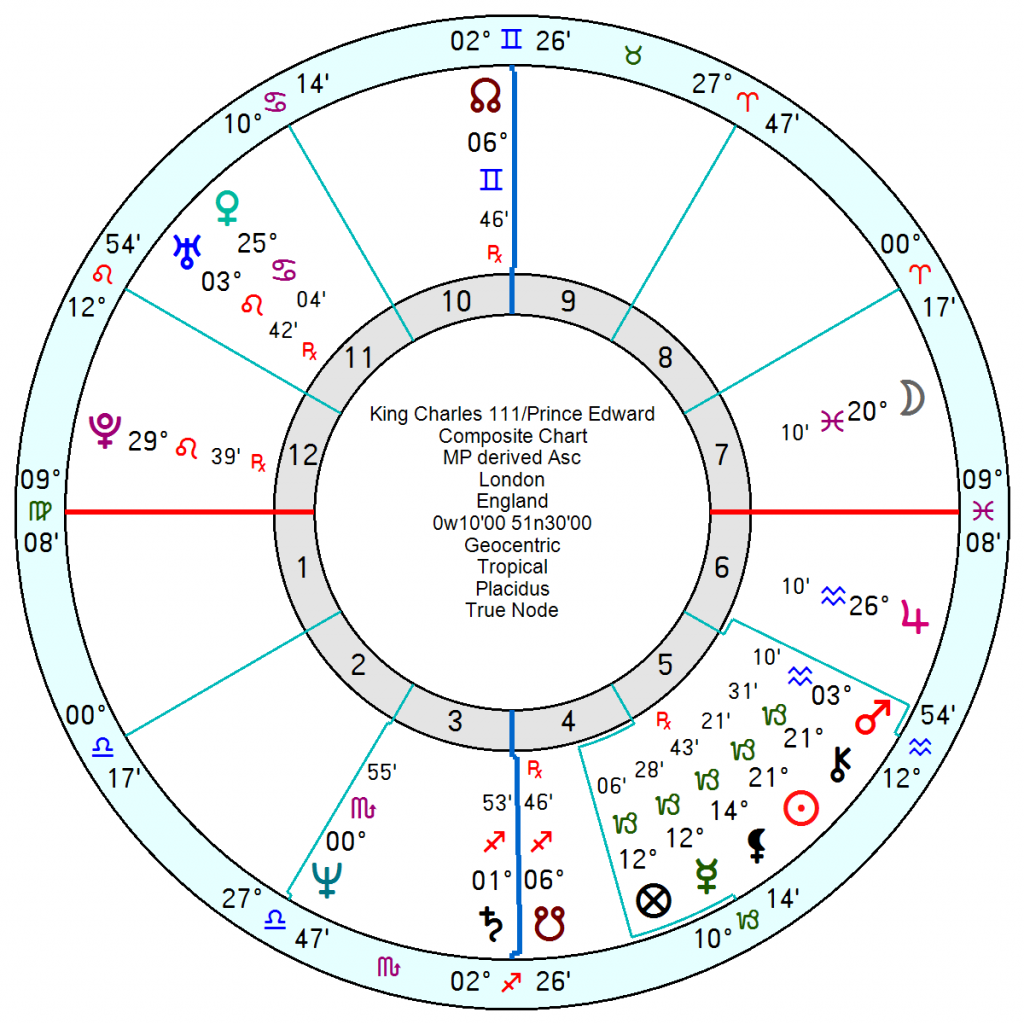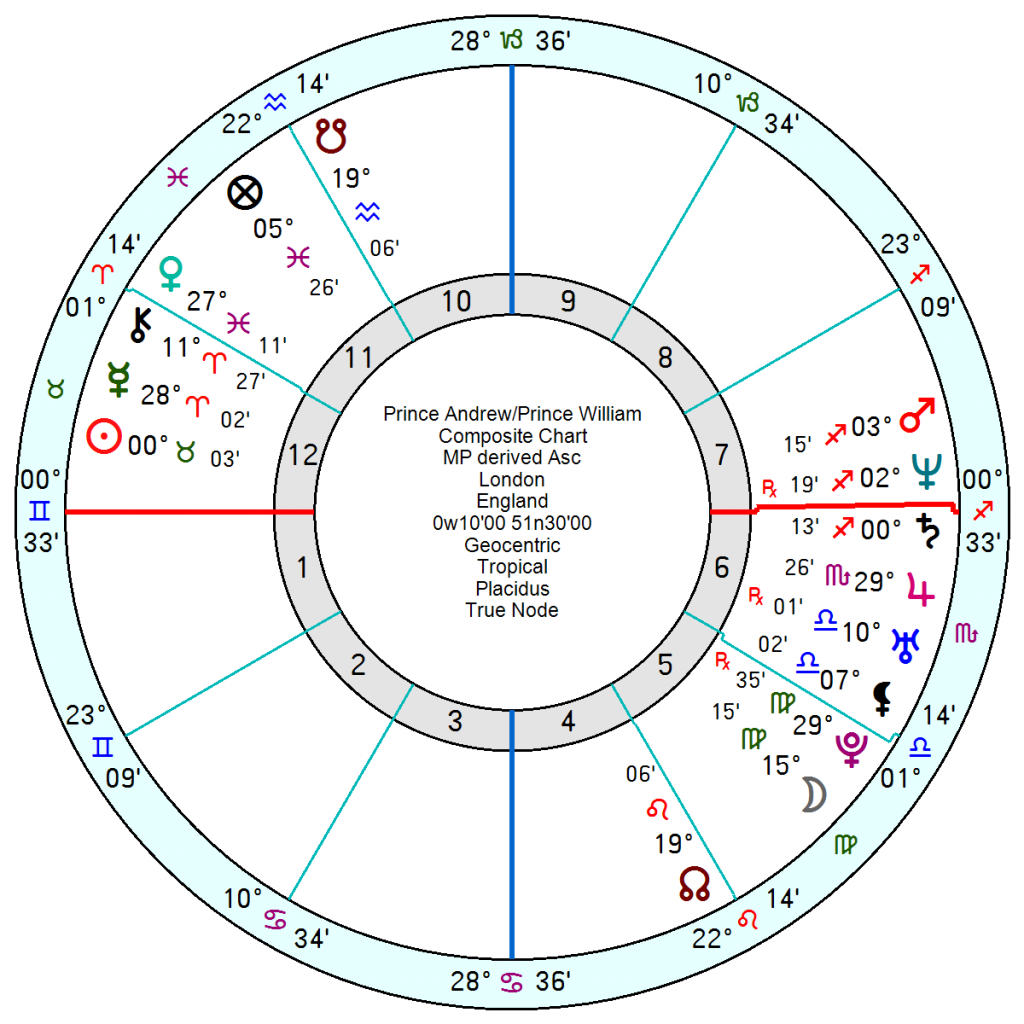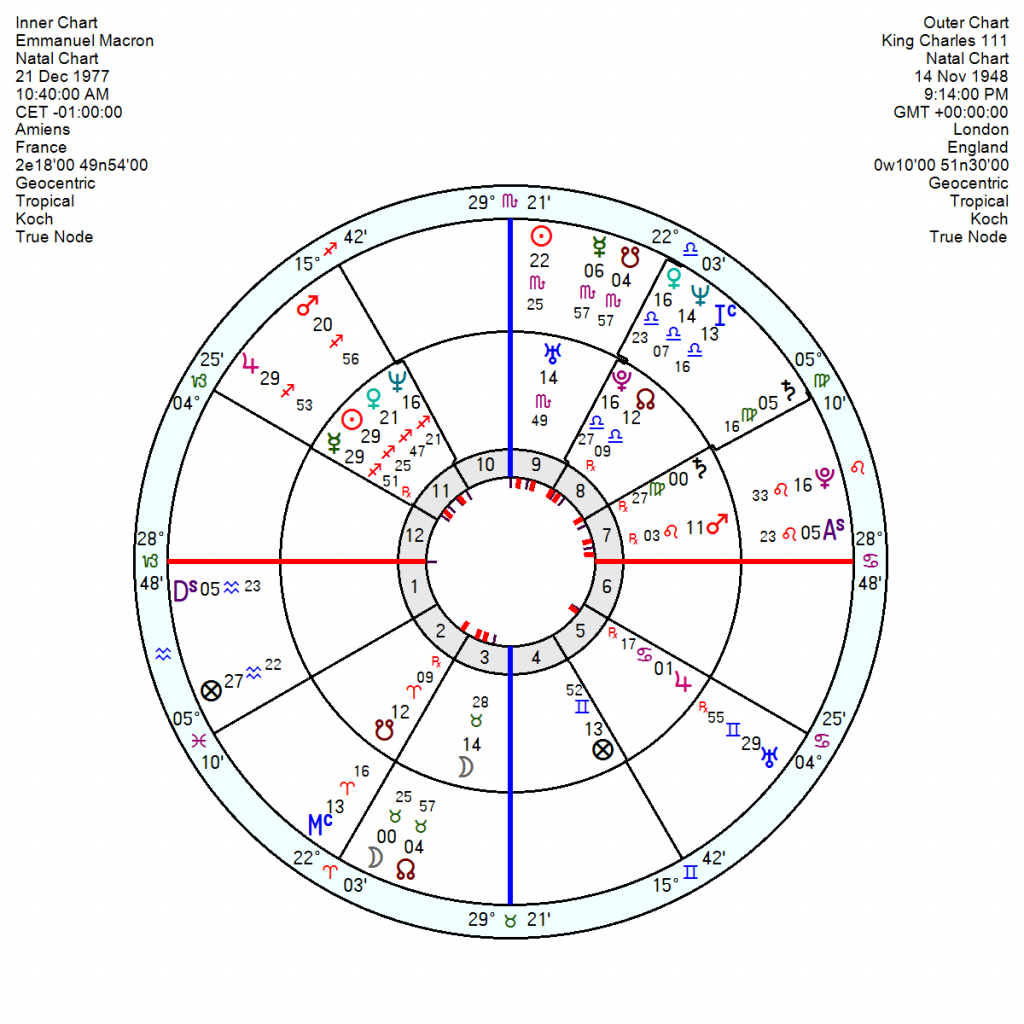 The third Carolean era begins on a high note with respect for the late Queen and her glorious send off touching the heart of even the most ardent republican. But whether Charles, basking in her glow and without a guiding hand from an experienced and esteemed prime minister as she had, will glide easily into his new role is questionable.
Massive change is visible on his personal chart with tr Uranus square his 1st house Pluto until early 2023, which always accompanies a revolution in lifestyle and in his case image as well. And tr Pluto squaring his 10th house Moon throughout 2023 and 2024, will bring immense challenges and pressures in his career with power struggles ongoing which always ensue with Pluto around. Perhaps in part due to his intention to slim down the monarchy and institute far-reaching changes. And all at a time of high anxiety for him with Neptune bearing down heavily on his freedom-loving Uranus Jupiter.
His relationship chart with the UK is chained-together but strained with a composite Saturn opposition Mars square Pluto opposition Mercury likely to cause divisive and hostile arguments which will reverberate through the first three or four years as tr Saturn and tr Uranus wend their way round that Grand Cross. There is affection for him but he's likely to cause great irritation as well. And confusion through 2023/24.
His relationship with Liz Truss is distrustful and suspicion-ridden on both sides with a composite Saturn square Neptune; as well as implacably and explosively opposed on certain issues with composite Mars opposition Pluto and Uranus. With sprinkling of friendliness added to cover a few cracks. But it will get ratchety in January next with tr Uranus square the Saturn with more discord in April and on and off into early 2024. With disappointment and evasions undermining confidence with tr Neptune opposition the composite Sun and Venus in 2023/24.
Relations with other Royals:-. To be remembered there are always undercurrents in all families which the astrology pinpoints which individuals may not be aware of. And the Royals are more of a pressure cooker tribe than most. Plus some are knocking on in years and despite longevity in both parents there is no saying that certain influences of separation may point to a physical not an emotional experience.
Charles' relationship with William which has a complicated push-pull composite Sun, Uranus, Pluto conjunction has been through many changes but is clearly more settled than in the past. There will be moments of uncertainty and worry throughout 2023 with tr Neptune opposition the composite Saturn; and a few rocky moments over New Year as tr Uranus opposes the composite Mars Neptune conjunction. Charles' vulnerability to being upstaged may be a problem as Will and Kate prove a more photogenic attraction. But it won't last long.
Charles gets on well with Princess Anne as long as both can lead their independent lives. Their composite Sun square Moon Uranus suggests that close confinement would be a mistake. There'll be a few blips in early 2023 and a business-like coolness throughout the year; with the possibility of a more enthusiastic joint push in 2024/25.
What intrigues me is his relations with Edward and Sophie, since she has stepped recently into high prominence and seems a capable pair of Royal hands. Charles' relationship with Edwards will be labouring under considerable confusion in 2023/24 and will be seriously aggravated in 2025/26. With a damper on good feeling with Sophie in 2023 and muddles and disappointments in 2024/25.
Charles' relations with Harry always were fraught and bitter with a composite Mars square Uranus Pluto which will make both feel trapped. It has been sagging under disappointing Neptune transits for the past two years and will continue to be so till February 2023. What is crucial ahead will be how both handle tr Pluto conjunct the composite Midheaven, dictating the path ahead for their togetherness. Tr Pluto conjunct the composite MC from late March 2023 on and off till late 2024 could transform their relationship path in a positive way after a long struggle or break it up altogether.
He's not overly enamoured of Meghan with aggro and frustration stretching ahead over the next three to four years.
Prince Andrew is the blot on the landscape that needs bulldozed out of sight permanently. C's relationship with him was always cool and argumentative/competitive with a composite Moon square Saturn and a Sun Mars conjunction. This year confusion reigns between them; in 2023 a chill will descend and by 2024 there will be a further upheaval. Charles is no fan of Sarah Ferguson, even less so ahead than before.
Andrew's personal chart indicates a life-changing fork in the road now with his Yod focal point Uranus at 18 degrees Leo catching the tr Uranus square now until early 2023. Pluto pressures from tr Pluto conjunct his Mars Venus in late Capricorn which is Solar Arc Moon is also conjunct which will make this year and next emotionally anguished and bitter. Plus a good deal of activity around his 8th house Mercury with his Progressed Mars approaching and exact in 2024, which could detonate a few more unsavoury financial scandals into the open. 2024 will also see tr Uranus opposition his Scorpio Moon which can coincide with a house move – so it may be he moves out of Windsor Park.
  Andrew's relationship with William has never been good with a mistrustful and exasperated composite Saturn, Neptune, Mars conjunction. It is forcibly pulling apart at the seams through 2023/24 with tr Pluto square the composite Sun; tr Neptune undermining the Venus Pluto, and then tr Uranus elbowing the Saturn, Neptune, Mars conjunction in 2025/26– it looks unlikely he'd keep any doors open for a come back.
Add On: Charles' bro-romance with French President Emmanuel Macron forged at last year's climate change conference may make France the surprise choice for his first state visit ahead of a Commonwealth trip. The Foreign Office is understood to be keen to utilise the diplomatic power of the monarchy to build bridges with major European neighbours post-Brexit.  Charles and Macron have a friendly link with Macron's Sagittarius Sun conjunct C's Jupiter and Macron's Venus conjunct C's Mars. Both have Saturn in Virgo and Moon in Taurus; and Macron's Pluto is conjunct C's Venus for a shared passion in environmentalism. There will be scratchy moments as well but overall they are singing off the same hymn sheet. Though whether that falls foul of Truss's hardline policies against the EU remains to be seen.
A bombshell revelation from – yet another – Royal book, this one by Angela Levin, suggests that Andrew lobbied his mother to forbid Charles's proposed marriage to Camilla. 'A senior insider told me, he had a treacherous request. "He tried to persuade the Queen to block Charles marrying Camilla by being quite poisonous, mean, unhelpful and very nasty about Camilla." His claims included that she was insufficiently aristocratic and that she was not to be trusted. The same individual went on to say that "when Diana was alive, through her friendship with Andrew's wife Sarah, [Duchess of York] she plotted with Andrew to try to push Prince Charles aside so Prince Andrew could become Regent to Prince William, who was then a teenager.'
"Andrew lobbied very hard with the hope that Charles would not become king when his mother died, and that William would wear the crown. His behaviour was very, very negative and extremely unpleasant to Queen [Elizabeth], who disagreed. I was told it was one of the rare occasions he didn't get his way. Nonetheless, he was apparently very angry that he couldn't rule the country in some way. He remained so hostile to Camilla's emergence and acceptance that it's doubtful it has ever been forgiven."
  If a smidgeon of that is true it is mind-boggling. It certainly spotlights Charles and Andrew's composite highly competitive Sun Mars conjunction in their relationship chart. Around that time tr Saturn in Cancer was opposing the composite Sun Mars. And Saturn was also casting a freeze on the Queen and Andrew's relationship in hard aspect to the delusional Sun opposition Moon Neptune on their composite chart – bringing a reality check. Pity the Queen never quite woke up to his true colours.
Around this time Camilla was not invited to a Royal family Windsor do but Andrew turned up with his special guests – Ghislaine Maxwell and Jeffrey Epstein. Nuff said.