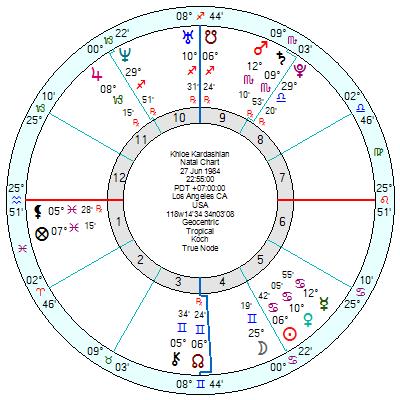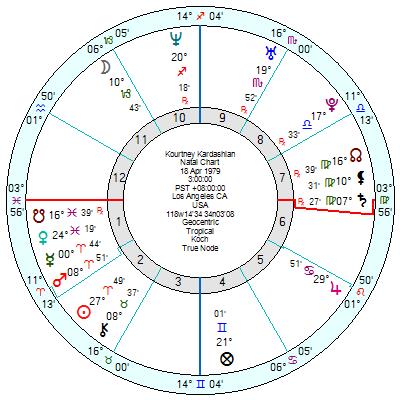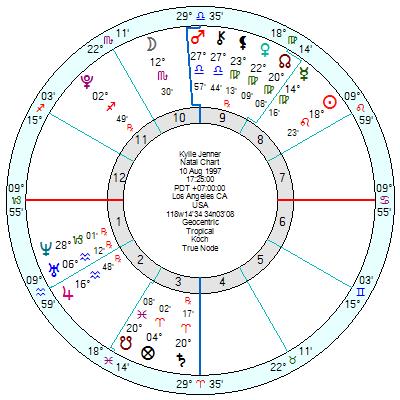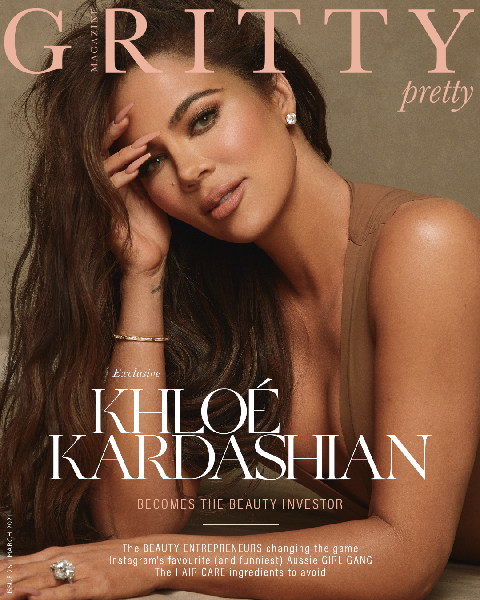 Khloe Kardashian suffered a cataclysmic misfortune when unedited and un-air-brushed bikini photographs of her appeared on the net. She then wailed about how difficult it is to live up to fans' demand for perfection without clearly stopping to consider how much she and her ilk have contributed to distorting young women's idea of what femininity looks like. The celebrity influencer culture is fighting with claw and manicured fingernails to remain relevant with two of the other Kardashians having now unbelievably achieved billionaire status on the back of beauty and fashion businesses. 
  What often strikes me about such women's charts is how truly difficult they are – most often with afflicted Mars or heavy Pluto. And yet they project this flawless outer image like a polished vase with – one suspects either nothing inside or harbouring a churning cess-pit of dark feelings.
She has a charming Sun Venus Mercury in Cancer in her performing 5th house opposition Neptune Jupiter – ethereal, head-in-the-clouds. Yet her Sun Mars Mercury also trines Saturn Mars in Scorpio which is a seriously compacted reservoir of resentment and fear.
Her older sister Kourtney has Pluto in the 8th opposition Mars, with Mars quincunx Saturn. Next sister Kim has a Sun Pluto conjunction with Mars sextile Saturn and semi-sextile Pluto and a raft of hard-edged midpoints. Half-sister Kendall has Mars square Saturn; and Kylie Mars opposition Saturn. Mars Saturn certainly instils discipline but it does not engender a natural and spontaneous approach to life.
For previous post on Kim Kardashian see January 6 2021.
Pic: By Eric Longden – Vimeo