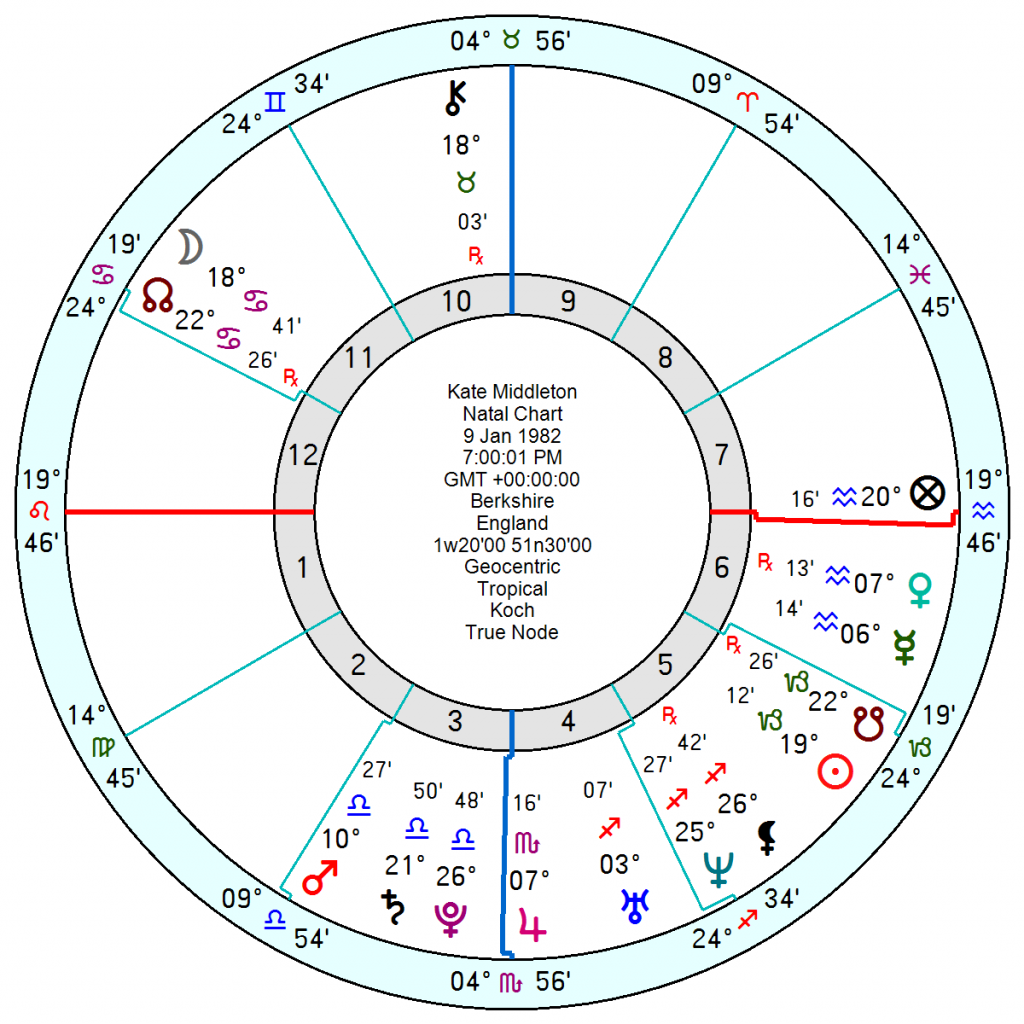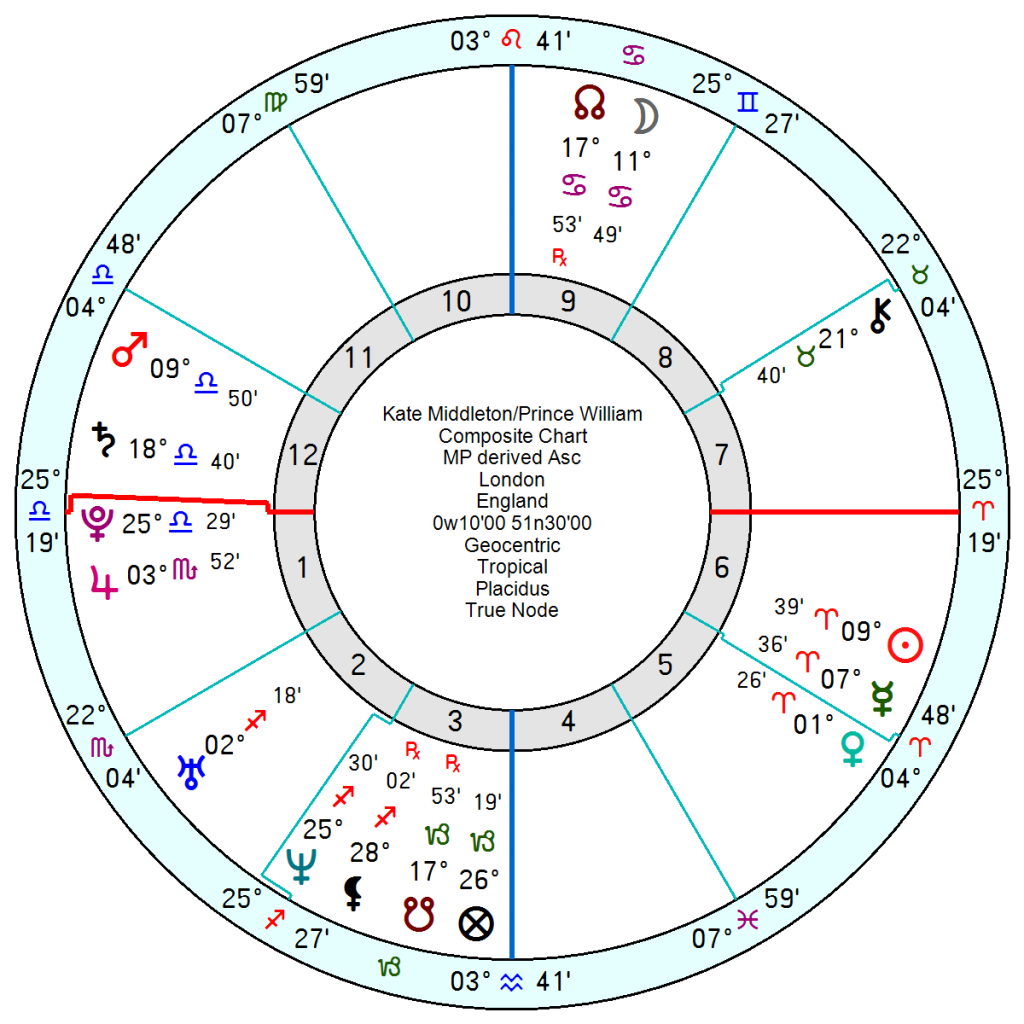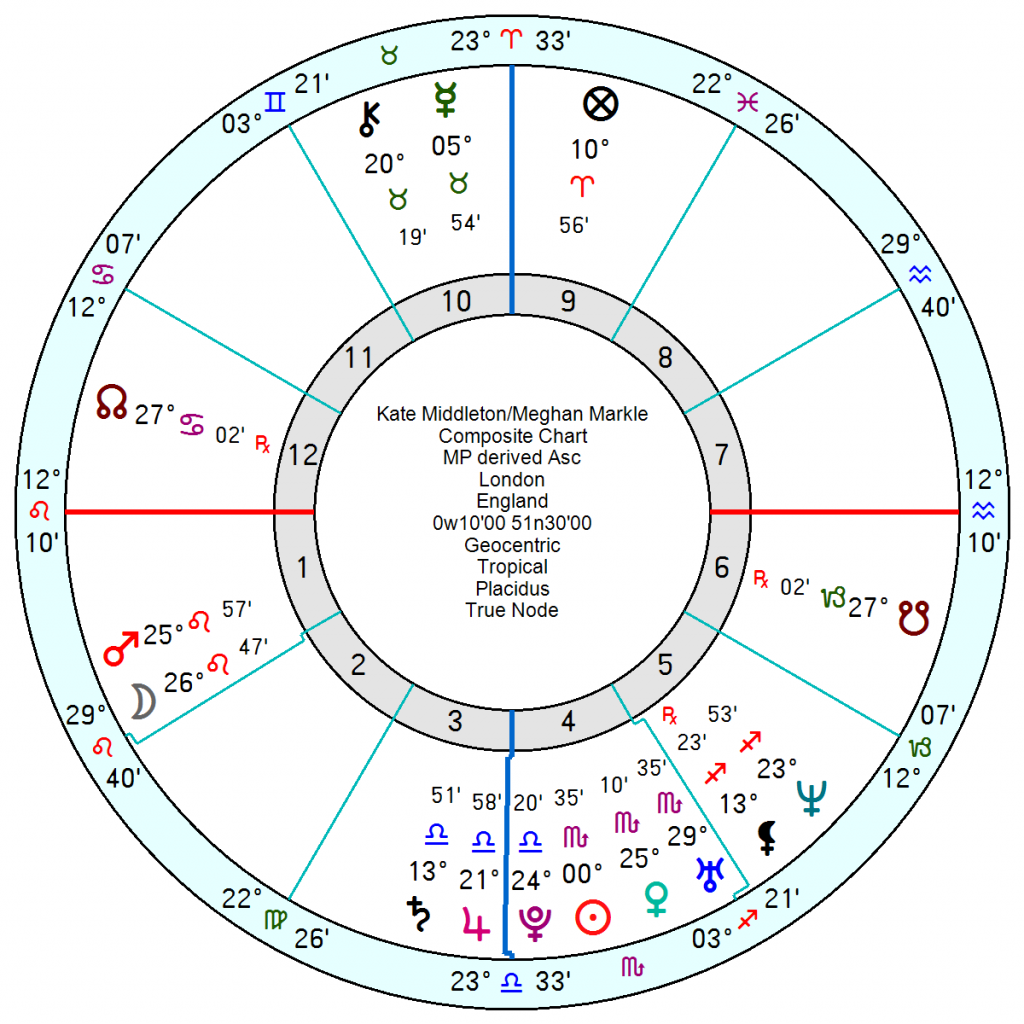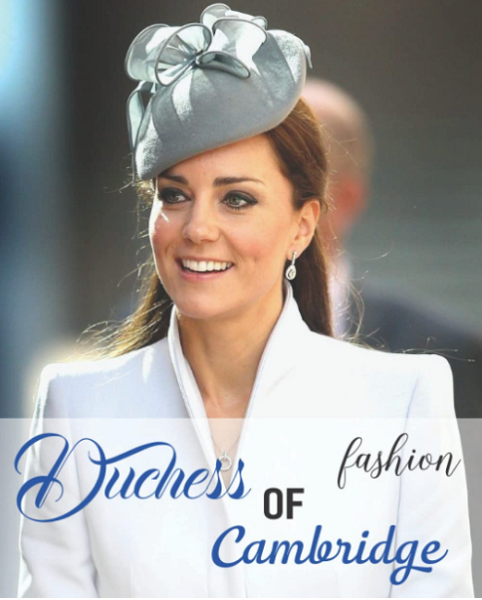 The Duchess of Cambridge sails serenely on, wreathed in smiles, always elegant, a fulfilled mother and wife, morphing effortlessly into the challenging role of future consort. Yet she has a beyond-difficult chart.
Born 9 January 1982 7pm (from memory) Berkshire, she has a sociable and ambitious 5th house Capricorn Sun which opposes a friendly and family-oriented 11th house Cancer Moon. So she was born at the time of the Full Moon, usually an indication of temperamentally incompatible parents which leaves the offspring constantly pulled between their head and their heart, unable to decide what they want.
However in her case the Full Moon is pulled together by a formidable collection of Mars, Saturn, Pluto in Libra. That would leave precious little leeway for young Kate to express or even know what either her head or her heart wanted for herself. Her mother Carole from all accounts was hellbent on producing perfect daughters and ones who would have a chance of elevation through a marriage of rank and money.
Carole Middleton is a Sun Aquarius with a beyond-stubborn Pluto opposition Mercury square Saturn in Scorpio. But she and Kate do get on well with Carole's Sun conjunct Kate's Venus, Carole's Jupiter conjunct Kate's Moon and opposition her Sun and their relationship chart isn't too alarming.
There's no doubt a backbone of reinforced steel is needed to withstand a Royal lifestyle and the capability of suppressing personal needs in favour of public smiles – which Kate's Venus Mercury in Aquarius square Jupiter in Scorpio is custom built for. So a stamina-building, selfless childhood was probably a necessity.
  She's moving into a hard-working and responsible fourteen years ahead with tr Saturn rising above her Descendant, hitting her eight year peak from 2028 onwards. Even before then Jupiter moving across her Midheaven from June 2023 for a year will see her glowing with confidence and attracting praise and success. She's out of what has been an exceptionally tough few years with first tr Uranus in Aries and then tr Pluto in Capricorn hammering at her Mars, Sun, Moon, Saturn and Pluto and marriage significator Sun/Moon midpoint since 2012/13 – starting with the birth of Prince George. The last and final push is on till early this December with tr Pluto square her Pluto – and after that it will be less pressured.
 Though she is running into her midlife crisis (38 to 42) with the Neptune square Neptune at the moment and tr Uranus opposing her Uranus in 2026. In her case this may be more significant, since my experience of women with Sun Pluto hard aspects, is that often they don't come into their own and empower themselves until into their forties. They pull away from their younger submissive selves and take control. So a different facet of Kate may emerge.
Though what may pull against that marginally is her Progressed Mars going retrograde in January 2024 which often coincides with a time when there is less ability or motivation to be assertive. It can accompany a setback or a drop in vitality but could also be the walls of the monarchy closing in on her as she buckles down for the marathon ahead.
She will have to look after her health with Pluto moving through her 6th and crossing her Mercury and Venus ahead.
  There is a great deal more to her than meets the eye and indeed possibly more in her than she is conscious of since she learned early on to bury a good deal of her individuality.
In marrying Prince William she found a partner with a similar emotional background since his Cancer Moon squares Mars and his Mars is conjunct Saturn is conjunct Pluto. Their relationship would go through a few trials with the disruptive tr Uranus square tr Pluto of last decade but that has now cleared. Though neither are easy personalities.
Her relationship with Meghan Markle is not going to improve, indeed the tensions will intensify with tr Pluto square the composite Sun in 2023/24 and tr Uranus will cause major upset as it hard aspects the volcanic Moon Mars square Venus Uranus in 2024/25.