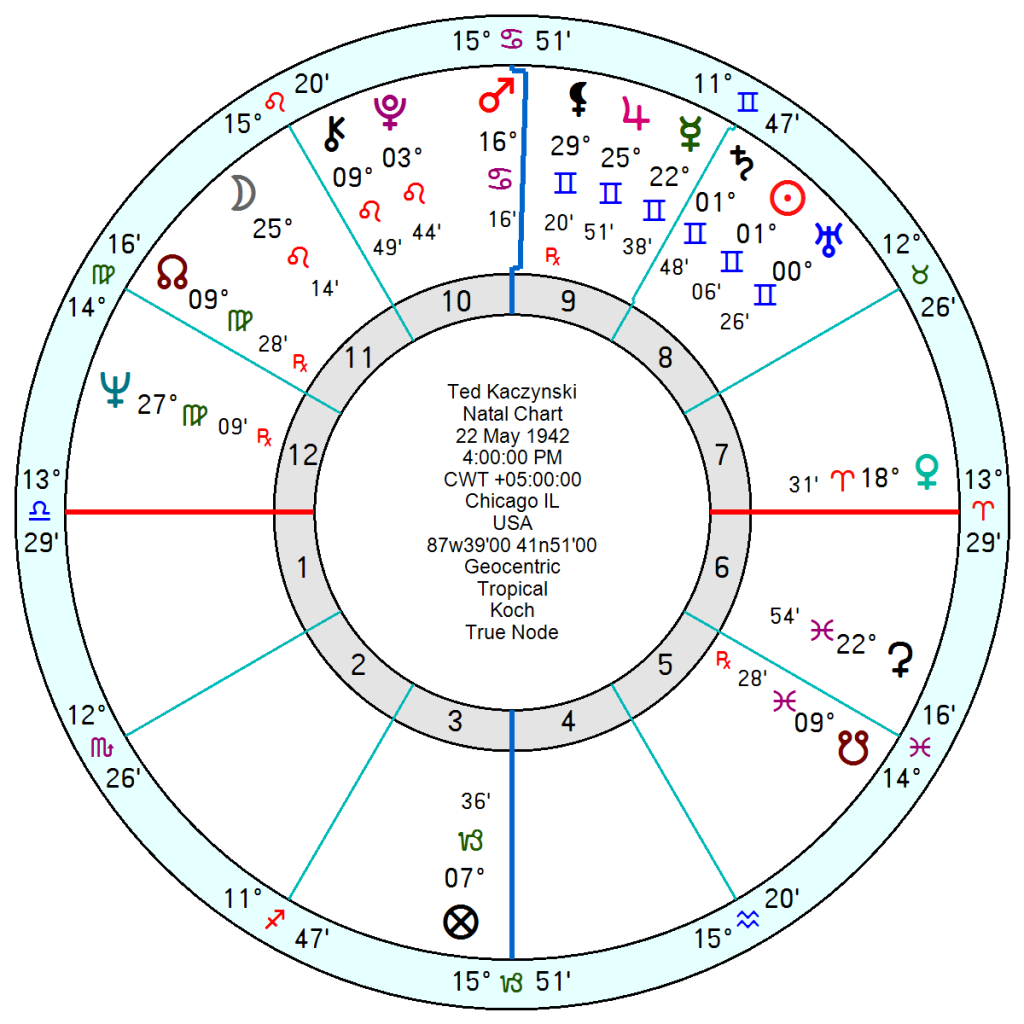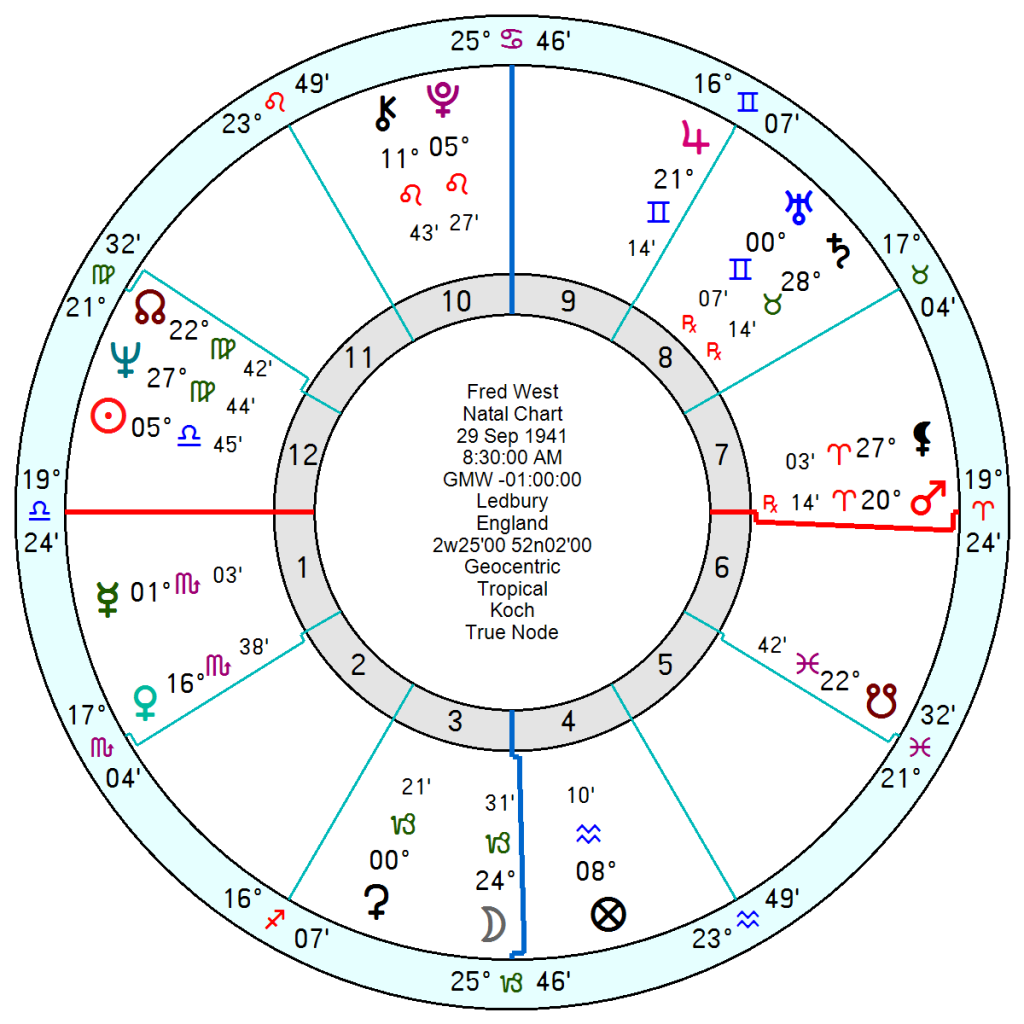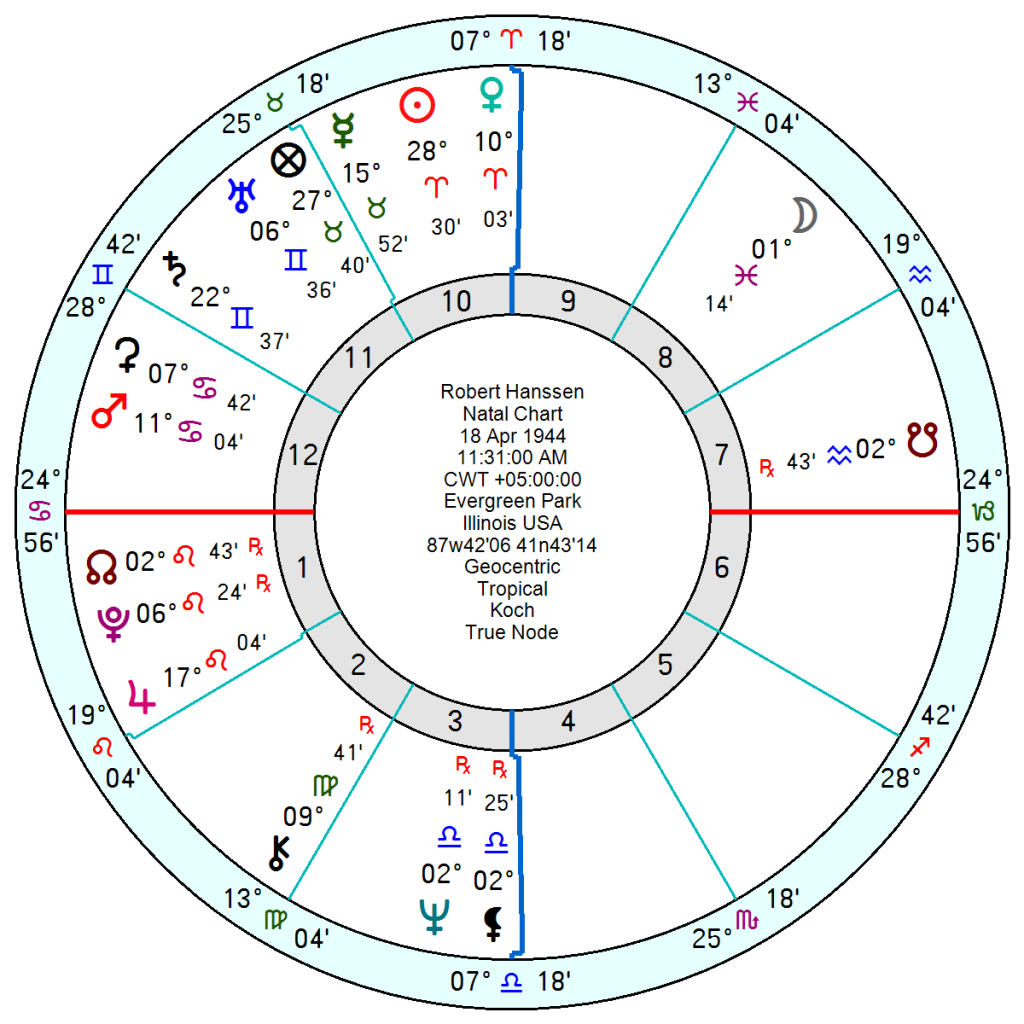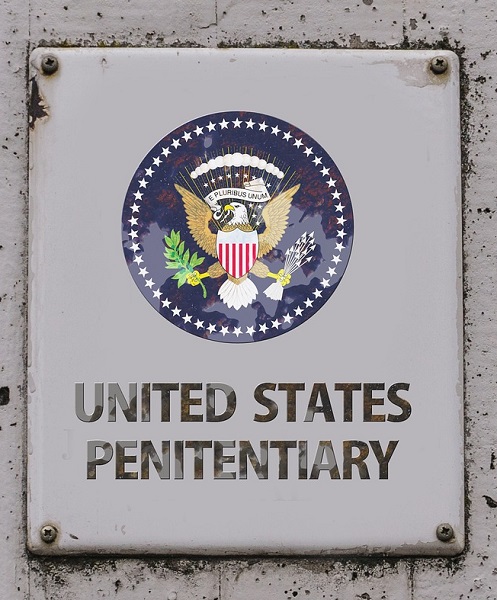 Two criminal oddities have died in prison – Unabomber Ted Kaczynski of suicide and former FBI agent Robert Hanssen, perpetrator of the worst intelligence disaster in U.S. history when he sold information to the Russians, of natural causes.
Kaczynski, born May 22, 1942 at 4pm Chicago, was a prodigy, up at Harvard at 15, a mathematician, who abandoned his academic career to pursue a primitive lifestyle. He murdered three individuals and injured 23 others in a nationwide mail bombing campaign against people he believed to be advancing modern technology and the destruction of the natural environment.
He had a chart eerily similar to UK's Fred West, a serial child rapist and killer, with an 8th house Uranus, Sun, Saturn conjunction trine a 12th house Neptune and sextile Pluto in the 10th. West had a marginally earthier chart and also suicided in prison while awaiting trial.
  Kaczynski had a charming Leo Moon trine Venus in Aries sextile a 9th house (of education) Jupiter Mercury in Gemini. He would be driven by the unconscious urges of his 8th house planets and his 10th house Pluto giving him an intense need to be in control.
Add On: The mystery was always how Kaczynski transformed from a star mathematics student to a terrorist. When he went up to Harvard, too young at 16, he was involved in a CIA-backed  mind-control experiment run by Harvard psychologist Henry A. Murray. The program (MK Ultra) sought to understand how to control subjects' minds, using harsh interrogation techniques. Professor Alston Chase, author of a book about the Unabomber, argued these experiences at Harvard  helped create the Unabomber. They did "shape his anger and legitimize his wrath."
 During that period of Kaczynski's life – 1958 to 61 – tr Pluto in early Virgo was square his 8th house Uranus, Sun, Saturn in Gemini which would dredge up his deeply buried unconscious. Even more tellingly his Solar Arc Mars was then conjunct his 10th house Pluto making him acutely frustrated, enraged and fearful, trapped and powerless. The potential for him to flip into acute mental illness was always there but such grotesquely irresponsible experiments may well have tipped the scales.
https://www.washingtonpost.com/history/2023/06/11/unabomber-ted-kaczynski-harvard-experiment/
Robert Hanssen, 18 April 1944 11.31am Evergreen Park, Illinois, an FBI agent, was an oddball with a religious background, member of Opus Dei and a perverse need to have his sexual relations with his wife filmed and viewed by a friend. Over 22 years he made £1.4 million in cash by selling US intelligence documents to the Russians. He was sentenced in 2001 to fifteen life terms without the possibility of parole, incarcerated until his death.
He had a 10th house Aries Sun and Venus also in Aries on his Midheaven. His Venus was in a Half Grand Sextile opposition Neptune and sextile Uranus and sextile Pluto. Charming and talented with his Venus, like Kaczynski, square Mars in Cancer. His 8th house Pisces Moon was square Uranus and on the focal point of a Yod inconjunct Pluto sextile Neptune. It is not entirely clear where his wildly contradictory traits came from – extreme religiosity v sexual perversion; love of country/dislike of Russians v treason/spying.
His Jupiter in Leo was on the cusp of his 2nd house which would certainly give him a taste for money and the good life. And his 8th house Yod Moon would make him emotionally unbalanced, disorganised, lacking solid emotional foundations. His Moon is also a singleton, the only planet in Water. The rest of his chart is Fire Air – a hot air balloon loose on the ocean. Kaczynski was also mainly Air Fire.