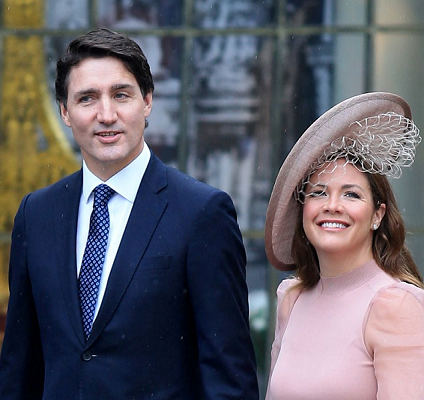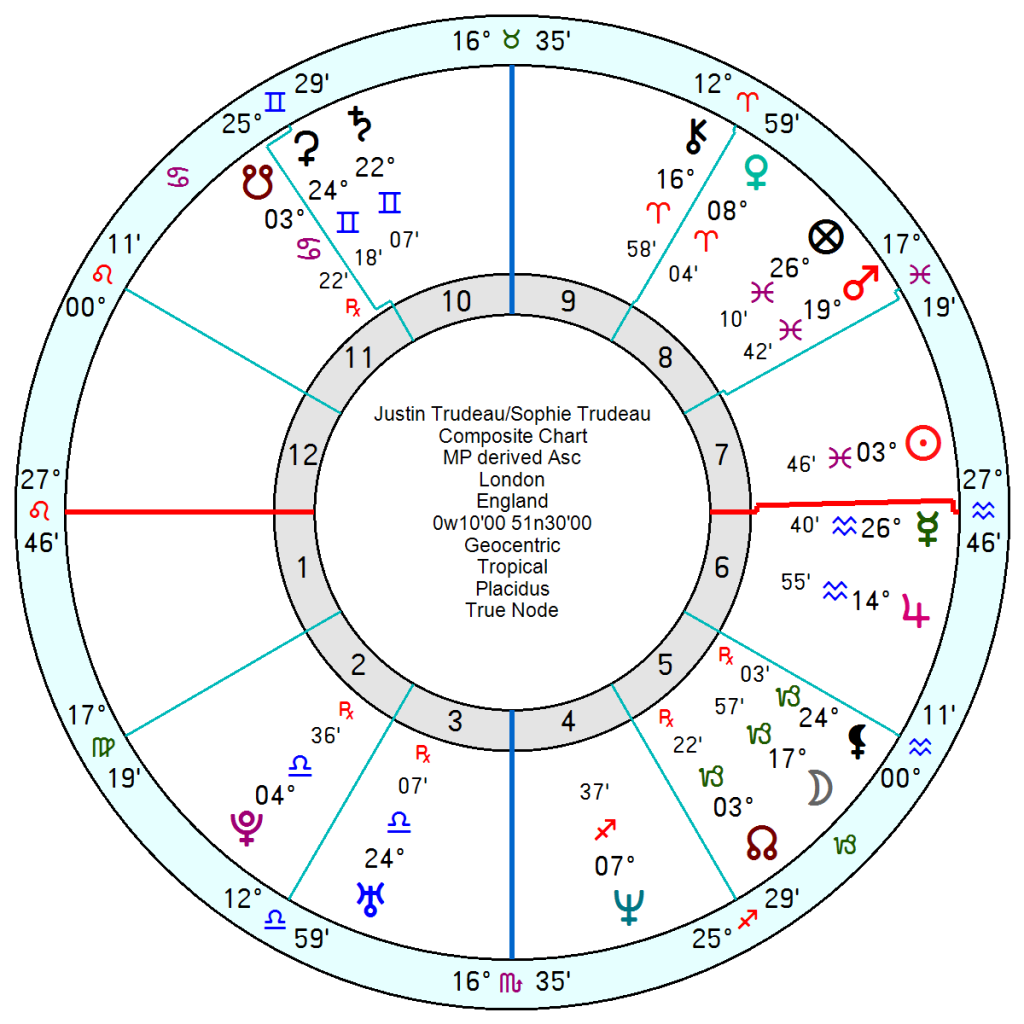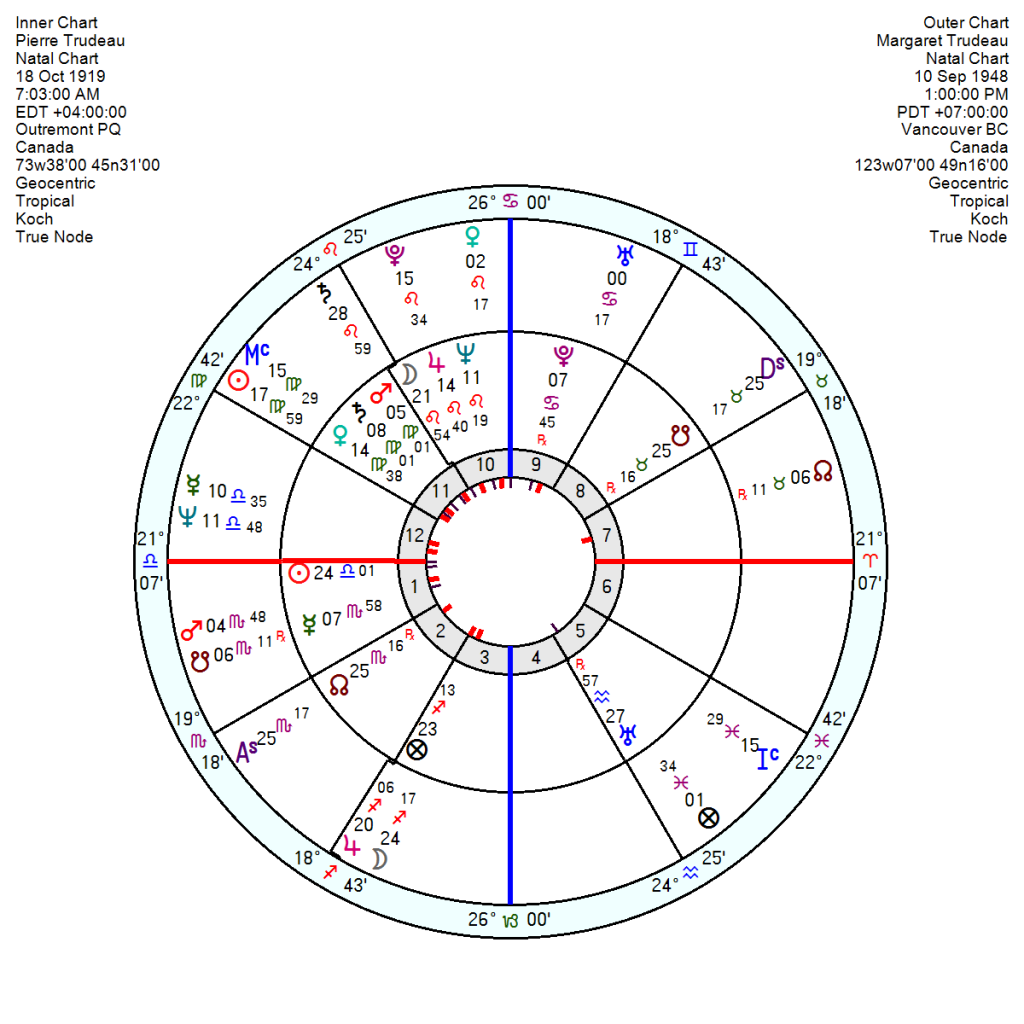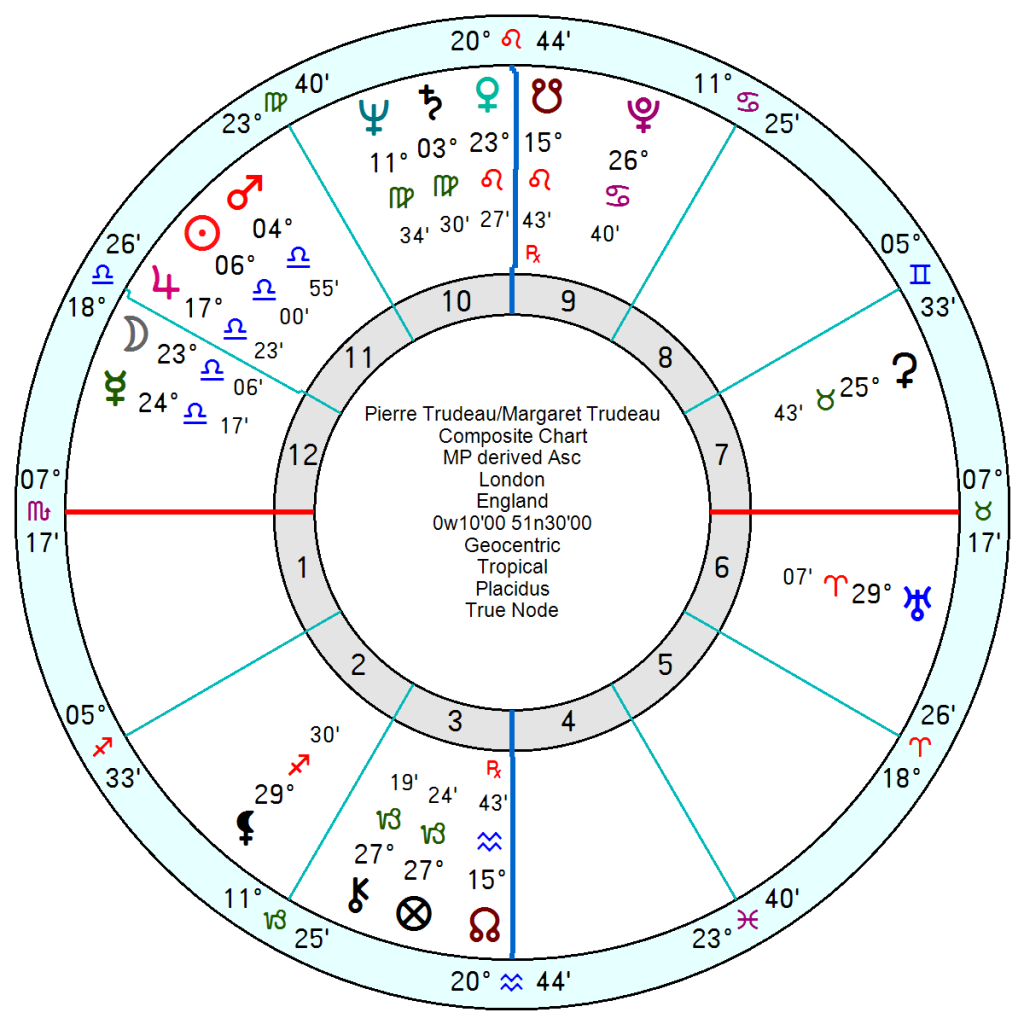 Justin Trudeau, the Canadian PM, is separating from his wife of 18 years Sophie. They have been seen together publicly less frequently in recent years, though they attended the coronation of King Charles III together in May.
He has spoken about the challenges in their marriage, writing in his 2014 autobiography: "Our marriage isn't perfect, and we have had difficult ups and downs." They began dating in 2003, when she was working as a TV personality and since then has become known for her charity work around mental health and eating disorders. His father Pierre Trudeau, a former PM, also announced his separation when in office, as he split after six years from Justin's mother Margaret.
Justin Trudeau, 25 December 1971 9.27pm Ottawa, Canada, has all the classic Astro-signatures for a marital separation. Neptune has been moving through his 7th house of one-to-one relationships for several years bringing disappointment and lack of commitment. And it has been joined almost simultaneously this year by transiting Saturn which usually widens cracks and his Progressed Moon, which shows up emotional lacks – so the time had come. His Sun/Moon midpoint, the marriage significator, was also wilting last year with tr Saturn conjunct and will be upended in 2024 with tr Uranus square.
His wife, Sophie, 24 April 1975, is a steady Sun Taurus though it is in an independent-minded opposition to Uranus. Her Jupiter in pro-active Aries is in a super-confident opposition to Pluto square a downbeat Saturn. Her Venus in sociable Gemini is in an idealistic (unrealistic) opposition to Neptune and square an excitable Mars in Pisces.
His earthy Capricorn Sun chimes with her Taurus Sun and his Venus in friendly Aquarius is a good fit with her Venus in Gemini. But that apart it does not look too entwined a connection. He's an odd mix of do-or-die- determined and overly controlled with a Mars opposition Pluto; and vague/creative/neurotic with Neptune opposition Saturn. Her Libra Moon is around his Uranus and opposes his Aries Moon with her Saturn square his Moon – much unpredictability and rigidity in their home life.
Their relationship chart does have a hint of passion from a composite Venus opposition Pluto; but there is a disappointing/unrealistic composite Sun square Neptune; and worse a Mars square Saturn. This last suggests a relationship in which one had to suppress their identity to keep it afloat – which always leads to resentment. Tr Saturn is conjunct the composite Sun and square Neptune this year; with tr Neptune having been undermining Mars and Saturn last year.
Her chart has tr Pluto square the Uranus this year and square her Sun in 2025/26 so she's on a journey of considerable change.
Their relationship is nothing like as tempestuous as was that of Pierre and Margaret Trudeau, which regularly hit the headlines. It had a competitive, argumentative composite Sun Mars conjunction and a disruptive Uranus opposition Moon Mercury square Pluto.
  Pierre, 18 October 1919 7.03am Outrement, Canada, was a supreme charmer with a Libra Sun on his Ascendant and a radiantly hopeful Jupiter Neptune in Leo in his 10th and an inconstant Uranus in his romantic 5th. Margaret Trudeau, 10 September 1948 1pm Vancouver, was later diagnosed as bi-polar and had a 10th house Virgo Sun with a volatile 8th house Uranus trine a 12th house Mars in Scorpio.  
ADD ON:
Justin Trudeau is heading into an unpredictable 2024 with tr Uranus conjunct his Midheaven from August 2024 onwards into 2025 which suggests a change of career direction, forced or voluntary (assuming birth time is accurate). Worse, he has a panicky-failure tr Neptune conjunct his Mars from May 2024 into 2025; and then joined by tr Saturn both oppose his Pluto in 2025. So his ruthless determination will crumble into a puddle.
His Term chart, 26 October 2021 is also in trouble this year with tr Pluto in a paralysed, scary square to the Mars and square the Sun/Mars midpoint for more of the same into and throughout 2024. He will get some luck from tr Uranus square the Jupiter – but it won't outweigh the negatives.