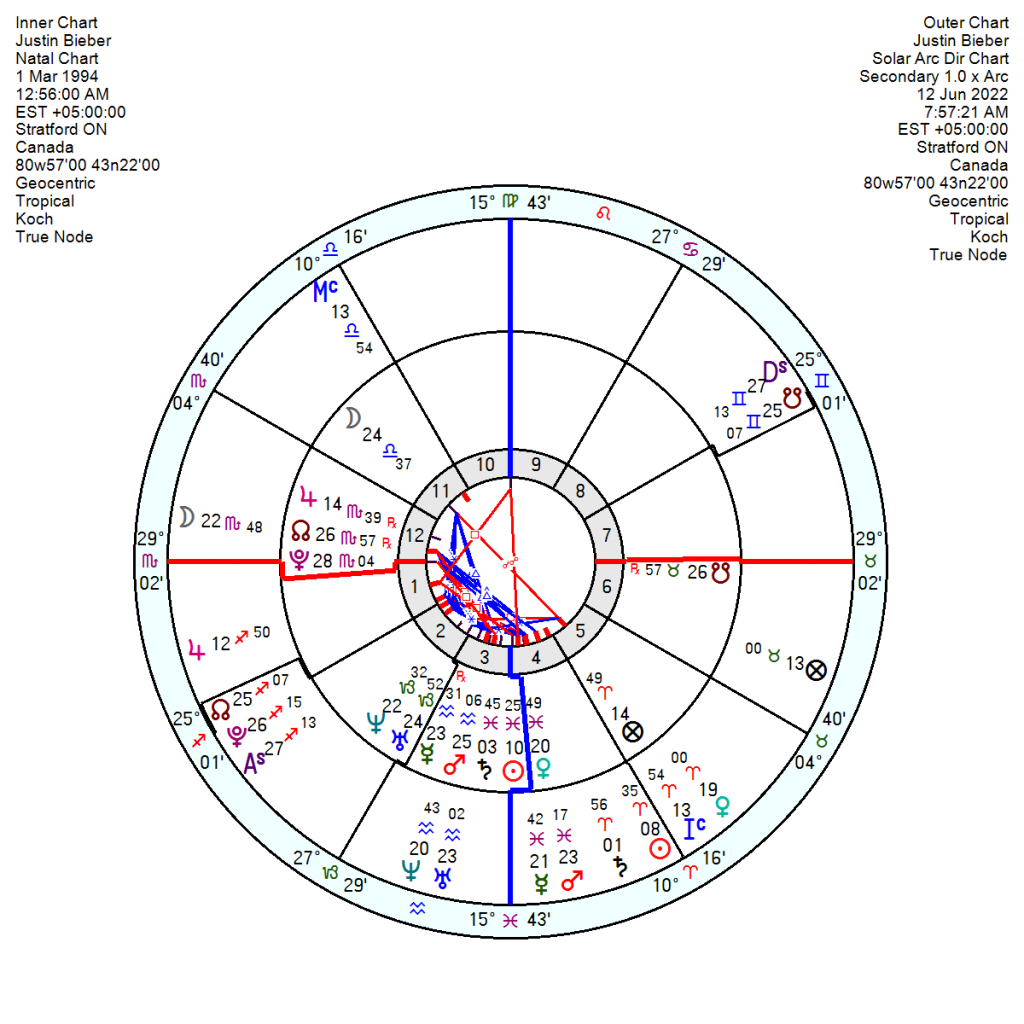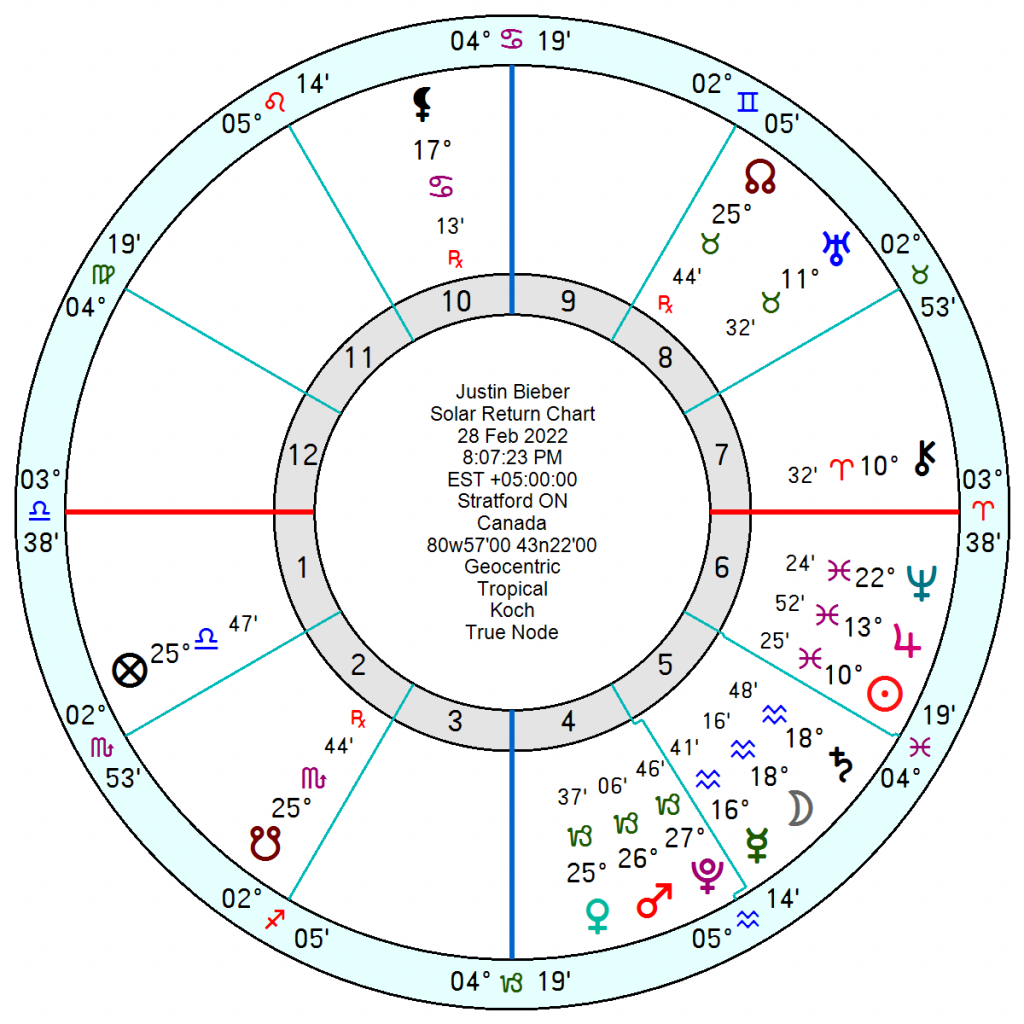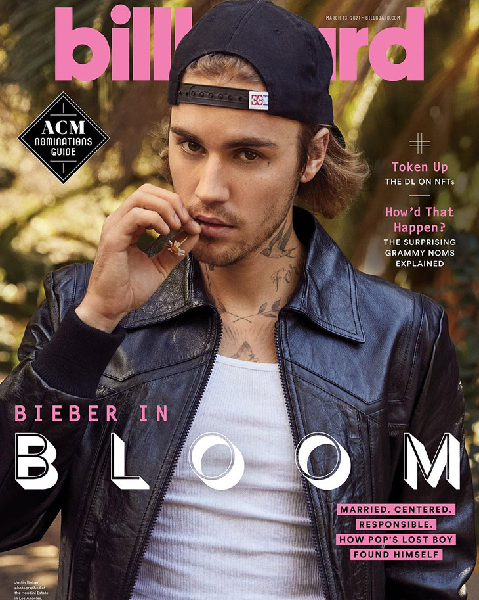 Canadian popstar Justin Bieber has cancelled a series of shows on his latest tour after a virus caused "full paralysis" on one side of his face. He said he had been diagnosed with Ramsay Hunt syndrome which is usually treated with steroids, antiviral medication and facial rehabilitation. Information varies but a third to a half of sufferers recover completely, some don't. A surgeon said: "Some people [recover] very quickly – in three weeks – others can take several months. It's a very unpredictable exercise."
He was born 1 March 1994 12.56am Stratford, Ontario, and has a musical Sun Saturn and Venus in Pisces trine Jupiter in Scorpio. He has two other key elements in his chart which are coming together by Solar Arc which is always an indication of a life-changing period. He has the highly-strung and often talented Uranus Neptune of his generation which aspects his Water planets; and he has an influential but challenging and crisis-prone Pluto North Node square Mars Mercury, a legacy from a messy childhood.
His Mars square Pluto is catching not only the Eclipses this year but also the tr Saturn hard aspects from late this May on and off until March 2023 so he will be facing rolling setbacks and frustrations. His Solar Arc Uranus is also conjunct his Mercury now followed by Solar Arc Neptune conjunct – starting a few years of anxious concern and obstacles.
His Pluto on his North Node will give him the potential to influence the masses but the Scorpio North Node on its Nodal Half Return this year hints at the need for a rethink.
The lessons of a Scorpio North Node can be harsh, demanding a complete break with the past in order to undergo a profound transformation. Sometimes this can be a physical setback. Two examples come to mind though of an extreme variety – John Addey, the noted astrologer, who had keen sporting abilities until struck down young with arthritis which turned his attention to the study of astrology and philosophy. The other is Melanie Reid, a Sunday Times columnist who was left tetraplegic after a horse accident and writes inspiring weekly pieces about her disability.
I hasten to add that not everyone with a Scorpio Node will be hit with such devastating effects and the transformation process does not always have to be somatised (= lived out through the body). Others will go through the process in other ways. And not everyone lives out their North Nodes, some cling tenaciously to the old patterns and exit as they came in.
  Bieber does have his Progressed Moon moving through his 12th at the moment which is reasonably minor but is often a more inward looking time of endings and sorting out his life and that's around until late 2023. What will be encouraging is Jupiter moving into his outgoing and entertaining 5th house from February 2023 onwards which should bounce him out into more activity. Though it is also his year of his Saturn Return which can be heavy going, sobering and a time to face hard reality.
His Solar Return for this year does look stuck, scary and exasperated with Mars Pluto in his 4th. Next year's not so much so.