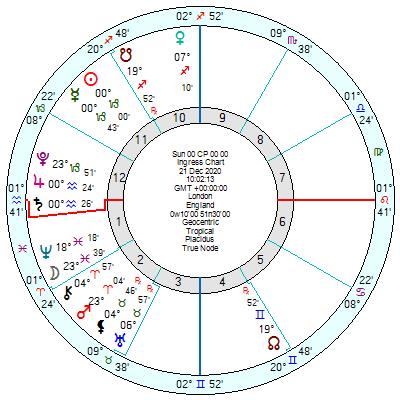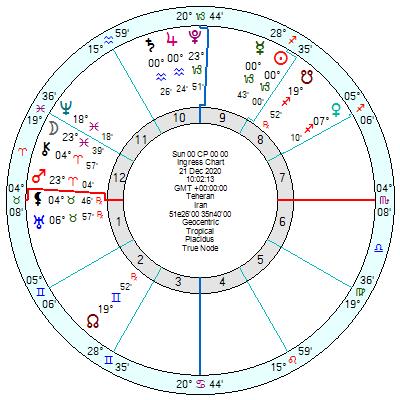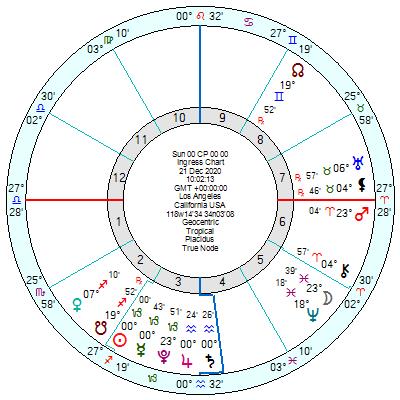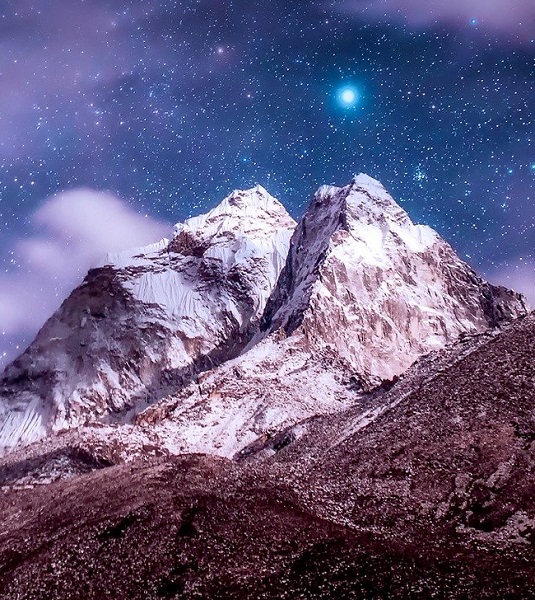 The Jupiter Saturn conjunction in Aquarius, exact on the solstice this December is significant for several reasons. As an astronomical event it will be rare. Despite these two planets coming together in a conjunction every 20 years, they will be closer visually than at any time in several centuries.
Such astronomical alignments aren't always noteworthy astrologically speaking. But this one is the first step in a momentous shift out of earthy, money and power-oriented Capricorn which has been the dominant theme for the past twelve years and is the harbinger of a revisioned landscape moving forward in this decade. Pluto will move into Aquarius in 2023, followed by Uranus into Gemini and Neptune into Aries – an ideological, technological driven, scientific Air/Fire emphasis rather than leaden materialism.
The third lesser reason is that the conjunction falls on the Ingress of the Sun into Capricorn, always reckoned one of the key points in the year, painting a theme of what lies ahead.
The key locations for this Ingress with be London, Korea, Iran and Los Angeles with the conjunction fall on the axis for each. Intriguingly with Brexit (of whatever variety) galloping towards a finish line the Jupiter Saturn due is conjunct the Ascendant located to London. The Brexiteers will no doubt hope this heralds a brave new world. Though a 12th house Pluto square a 2nd house Mars suggests financial road-blocks and dirty-dealings, and a confused, indecisive, delusional 1st house Moon Neptune squaring the Node is also a worry.
  Set for Seoul in South Korea, close to the North, it puts Pluto on the Descendant with Jupiter Saturn in the 7th – so that region will be on alert. The change of USA President is no doubt weighing on Kim Jong Un, now that his buddy Trump has departed.
For Teheran the Ingress has Pluto conjunct the Midheaven with Jupiter Saturn in the 10th so is likely to also be an important location for the same reason as North Korea. And Joe Biden's chart relocated there has his determined Mars in Scorpio exactly on the Descendant, so is likely to be an area of intense concentration for him.
  Los Angeles? Who knows?  It has the Jupiter Saturn exactly conjunct the IC, which could perhaps bring grassroots pressure for a less greedy less capitalist approach to movie making?  Small hope!
  Jupiter is expansive, optimistic, fosters ideals and visions of a better life. Saturn is restrictive, realistic, insists on a tangible result from efforts and on facing life as it is. Finding the balance between idealism and materialism is crucial when these two come together. Having hope and common sense at the same time.
  A similar astronomical phenomenon of Jupiter and Saturn being so close together hasn't occurred since July 1623 (in Leo)and before that March 1226 (in Aquarius). In 1623 the USA was stocking up with settlers in New Plymouth after the Mayflower's landing in 1620. 1226 – nothing of great note that I can see.