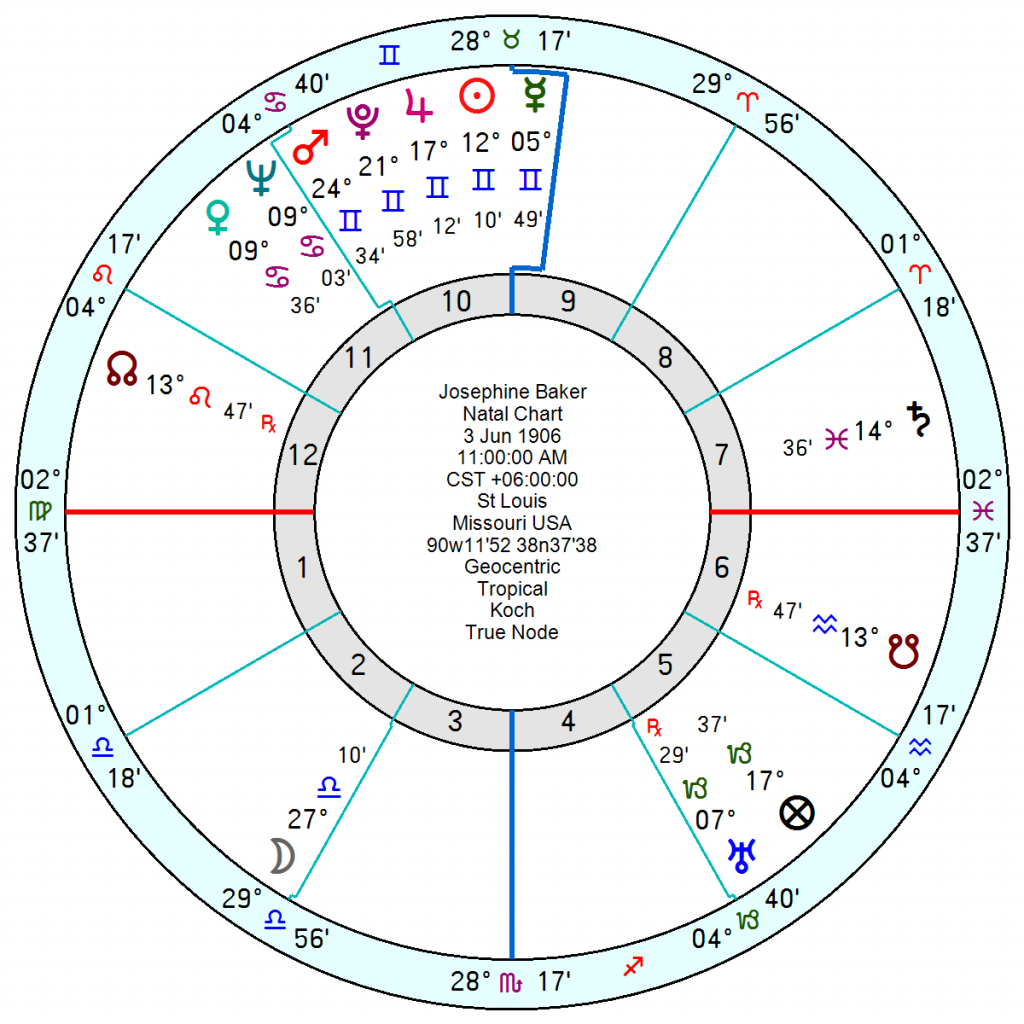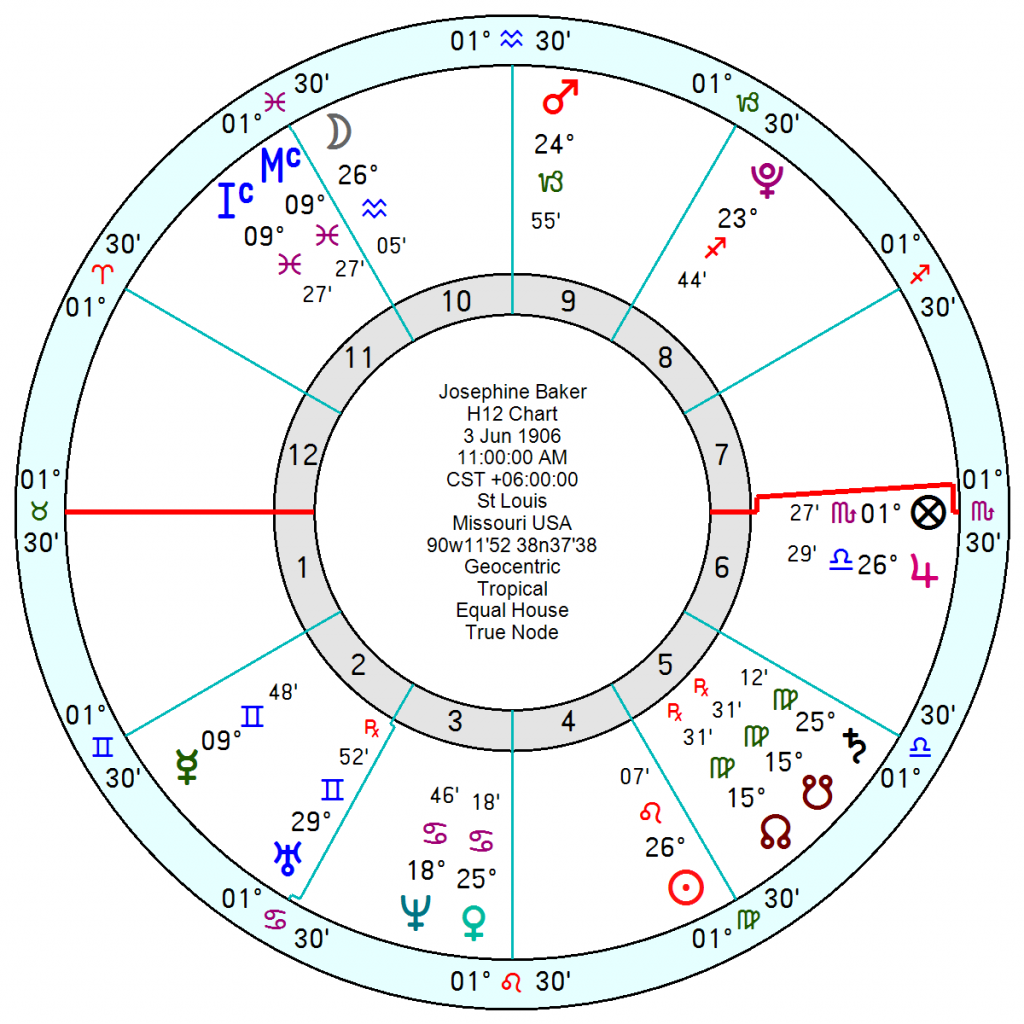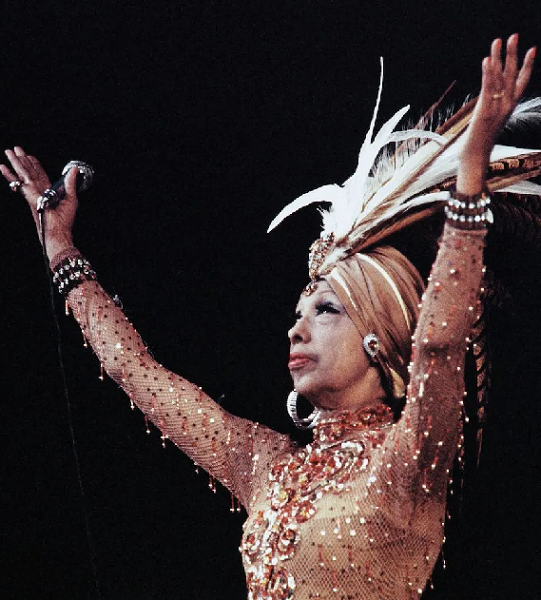 Josephine Baker, the American Folie Bergere dancer, who started life as a street kid in segregated Missouri and went on to become a World War II spy for France and resistance fighter; as well, later, as a civil rights activist in the USA, is being given an honoured spot in the Pantheon, a monument to national heroes. She is the first black woman to receive the honour and will lie alongside  Jean-Jacques Rousseau, Victor Hugo and scientists Pierre and Marie Curie.
Born 3 June 1906 St Louis, Missouri, 11 am (biography?) she never knew her father, started work at 8 as a live-in domestic for white families where she was abused and eventually ran away to marry twice in her teens, at 13 and 15, before moving to Paris. There she became an icon of the city's Jazz Age in the Roaring Twenties (Neptune in Leo), accentuating many African stereotypes of the colonial time in a banana skirt and little else. She became a French citizen after her marriage in 1937 to Jewish industrialist Jean Lion, who suffered from anti-Semitic laws; and at the outbreak of war offered her services to French counter-intelligence services and De Gaulle, working as an informant.
After the war, she became involved in USA anti-racist politics, fought against segregation during a 1951 performance tour of the US, causing her to be targeted by the FBI, labelled a communist and banned from her homeland for a decade. She spoke at the 1963 March on Washington where Dr Martin Luther King gave his famous "I have a dream" speech. Baker adopted 12 children from all over the world as part of a "Rainbow tribe", living in a castle in the southwest of France.
What a life.
She had five planets in Gemini square Saturn in Pisces – her Sun, Mercury and upbeat Jupiter with her Jupiter conjunct a formidably courageous and attracted-to-danger Mars Pluto conjunction. The Saturn square would give her problems early on with low self-esteem and setbacks but would also instill a work ethic. She emerged from a brutal childhood to become her own woman.
She also had a creative and idealistic Venus Neptune in Cancer in the signature opposition to Uranus of the time. Significantly she also had a 'leadership; North Node in Leo so was never destined to spend a life like her mother in poverty.
While I am not entirely convinced by the birth time since it doesn't show France as a key location for her, it would put tr Pluto going through her 12th during WW11 which would make sense. And even without an accurate birth time, her Solar Arc Neptune Venus opposition Uranus were crossing her leadership Leo North Node in the hidden 12th then which would also fit.
Her creative 5th and especially her musical 7th Harmonic charts were well aspected. But it was her victim/healer 12th which is outstandingly strong, linking the Sun and Moon to a revolutionary Uranus Pluto and confident/lucky Jupiter.
The kind of person who should make all of us shut up and stop complaining about our tough lives and making excuses.