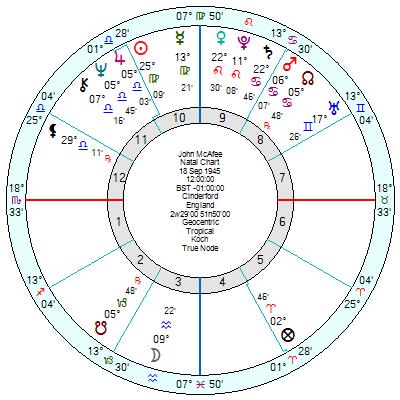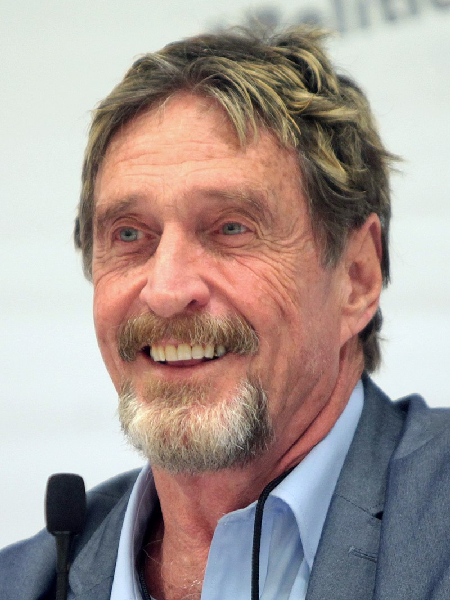 John McAfee, the antivirus software pioneer has killed himself in a Barcelona jail after learning he would be extradited to the US on tax evasion and fraud charges.
A troubled but inventive maverick, he had been beaten by his alcoholic military father, who shot himself when McAfee was in his teens. He himself developed a severe addiction problem, doing acid before work, snorting cocaine off his desk while drinking a bottle of whisky in a day. He got clean in his late thirties and started his field-leading anti-virus software company which he ultimately sold for $7.7billion in 2010.
But his life despite being drink/drug free was hot mess, with three marriages, the final one to a former prostitute and he had a harem of lovers. He settled in Belize to avoid tax evasion charges but fled after being implicated in the murder of a neighbour. He made no effort to hide that he didn't pay US tax, saying repeatedly that he didn't believe in the system.
  He was born 18 September 1945 12 noon (rectified time) Cinderford, England, and had a Virgo Sun square an experimental and rebellious Uranus in the 8th. His Uranus was also in a wide Air Grand Trine to an Aquarius Moon trine Neptune Jupiter in Libra, formed into a talented Kite by Moon opposition Pluto. Such a prominent Pluto would make him obsessive, stubborn to the nth degree with extraordinary staying power and considerable issues around sexuality and control. A bulldozer who disliked any authority figures. 
He also had his Mars in Cancer conjunct the North Node square Jupiter Neptune and Chiron in Libra. Jupiter Neptune is often found in high-finance charts or where there are illusions, delusions and dreams beyond sense.
If his birth time is reasonably accurate then Mars and Uranus both in his 8th would get his hackles up about paying taxes, never mind having a control-freak Pluto.
This year he has had tr Saturn and tr Uranus both in hard aspect to his Moon and Pluto, the driving rod of his Grand Trine which would stoke up his wilfulness and refusal to be boxed in to unbearable levels.
  He had a strong businessman's, get-it-together 5th harmonic; an experimental/genius/breakthrough 13H; a global superstar 22H; and a wheel of fortune, good and bad 10H.
An intriguing and impossible man.
Pic: Gage Skidmore