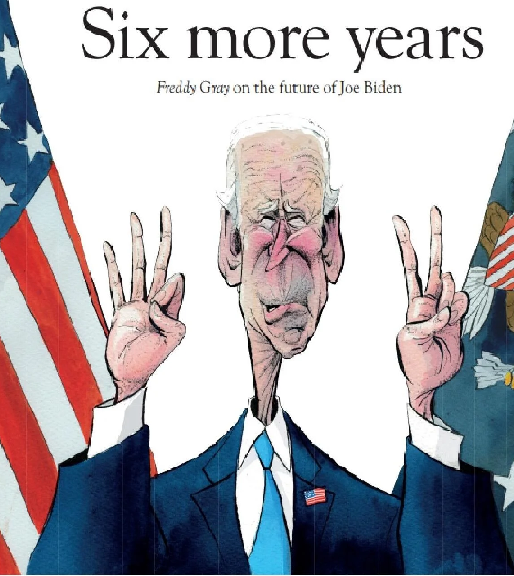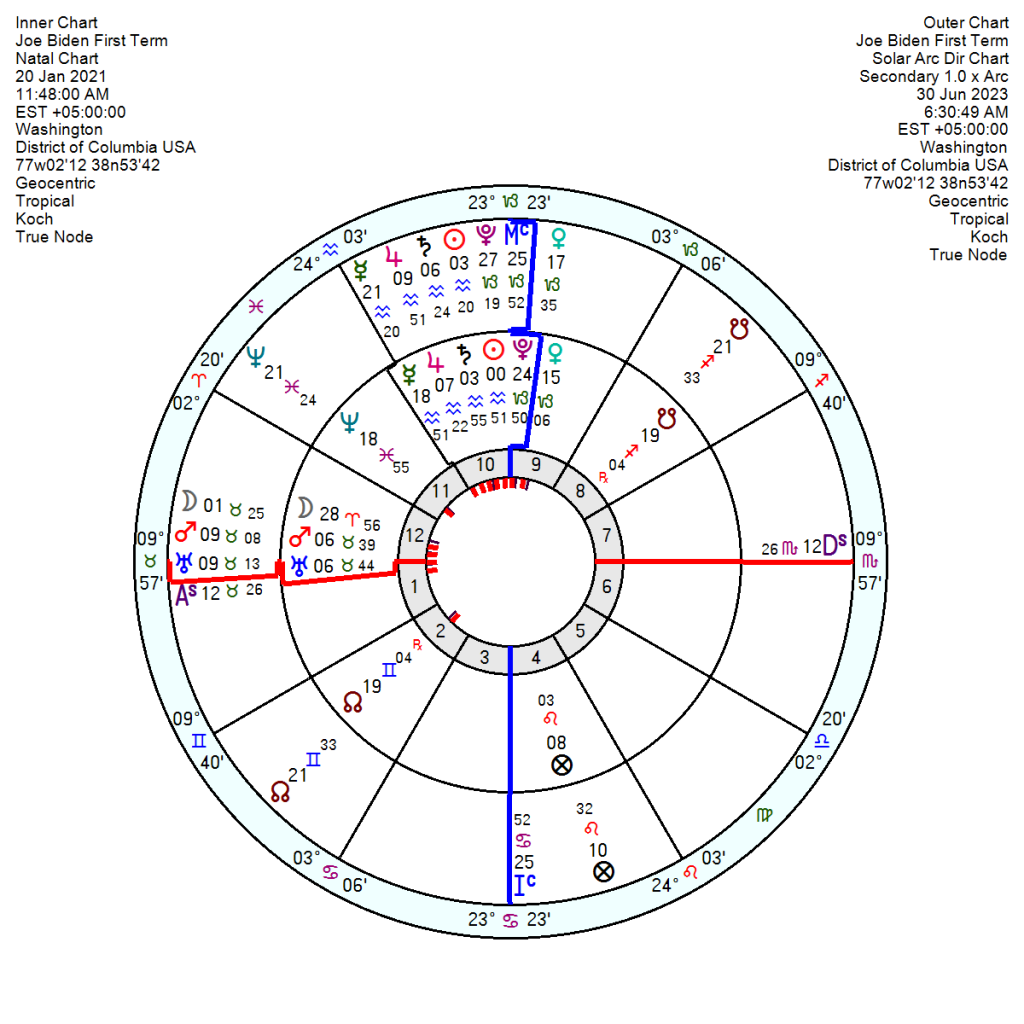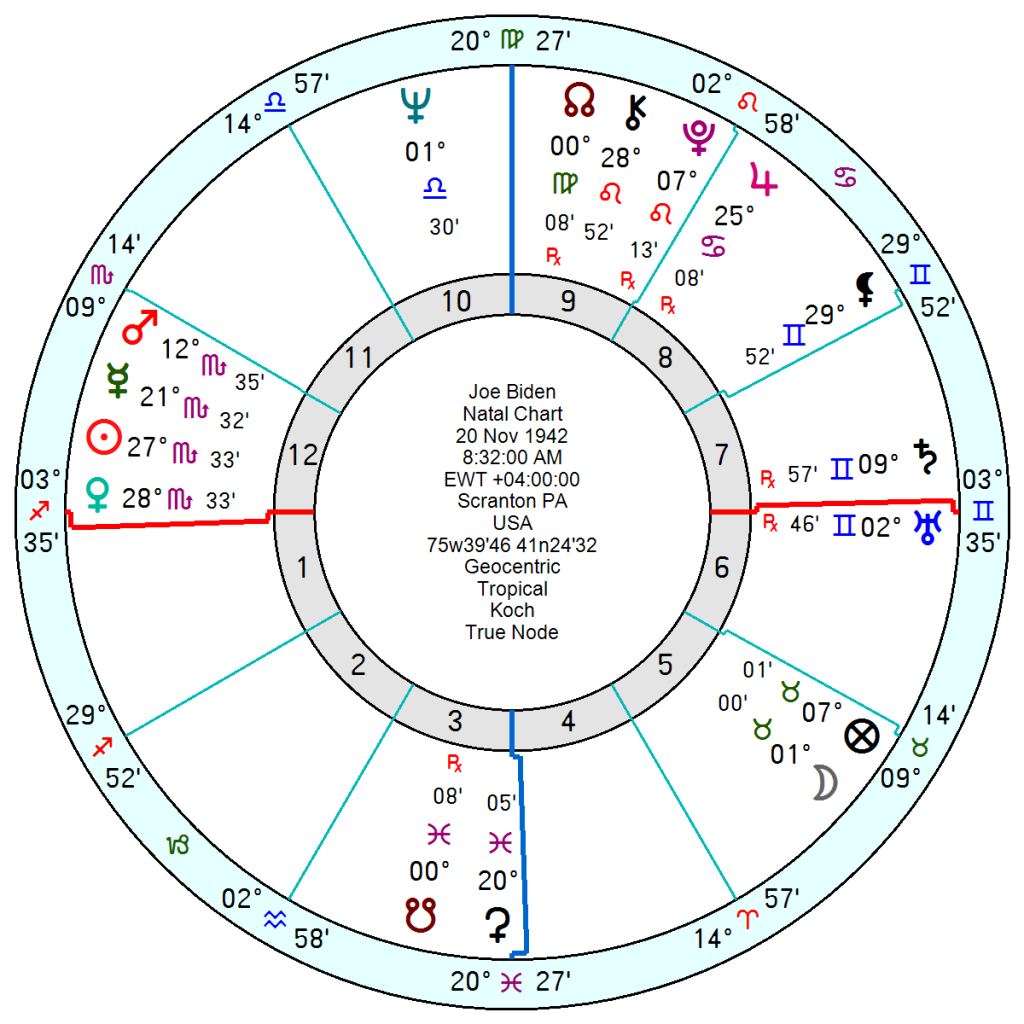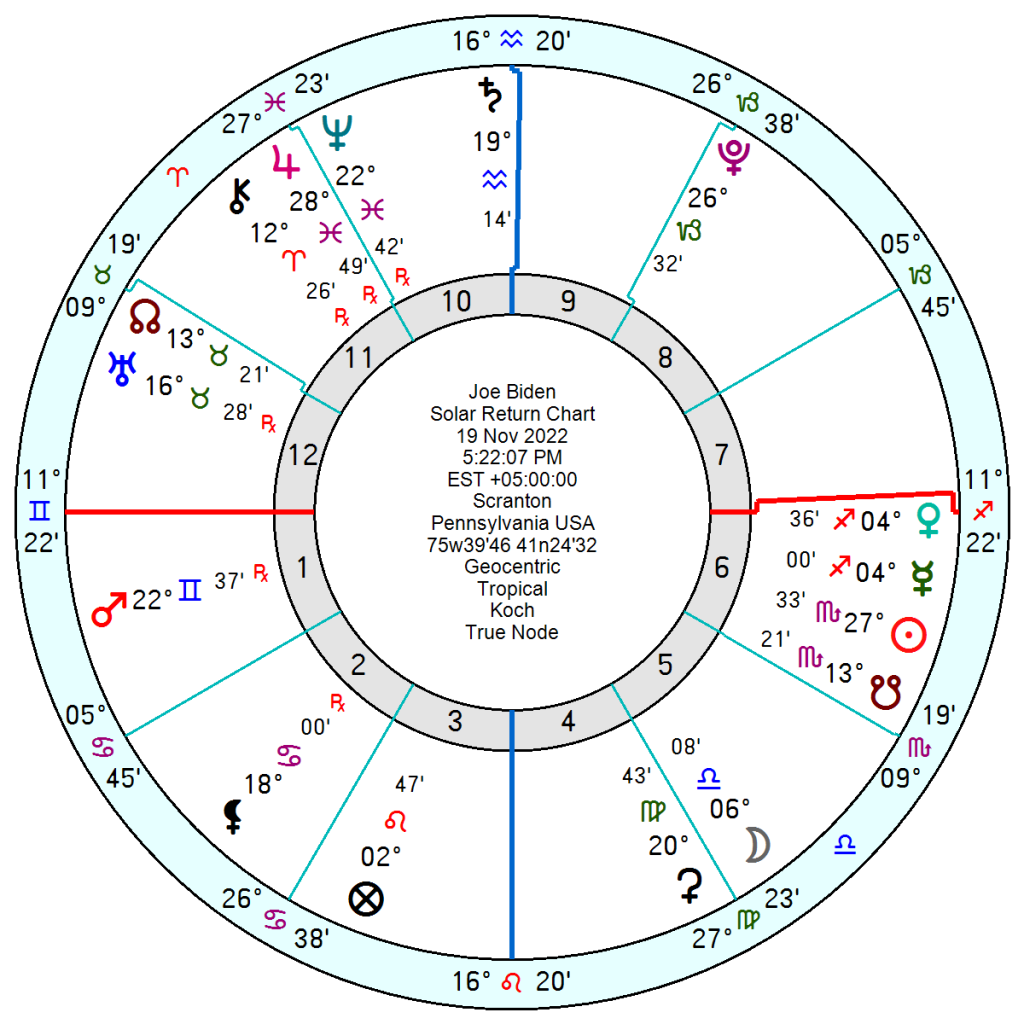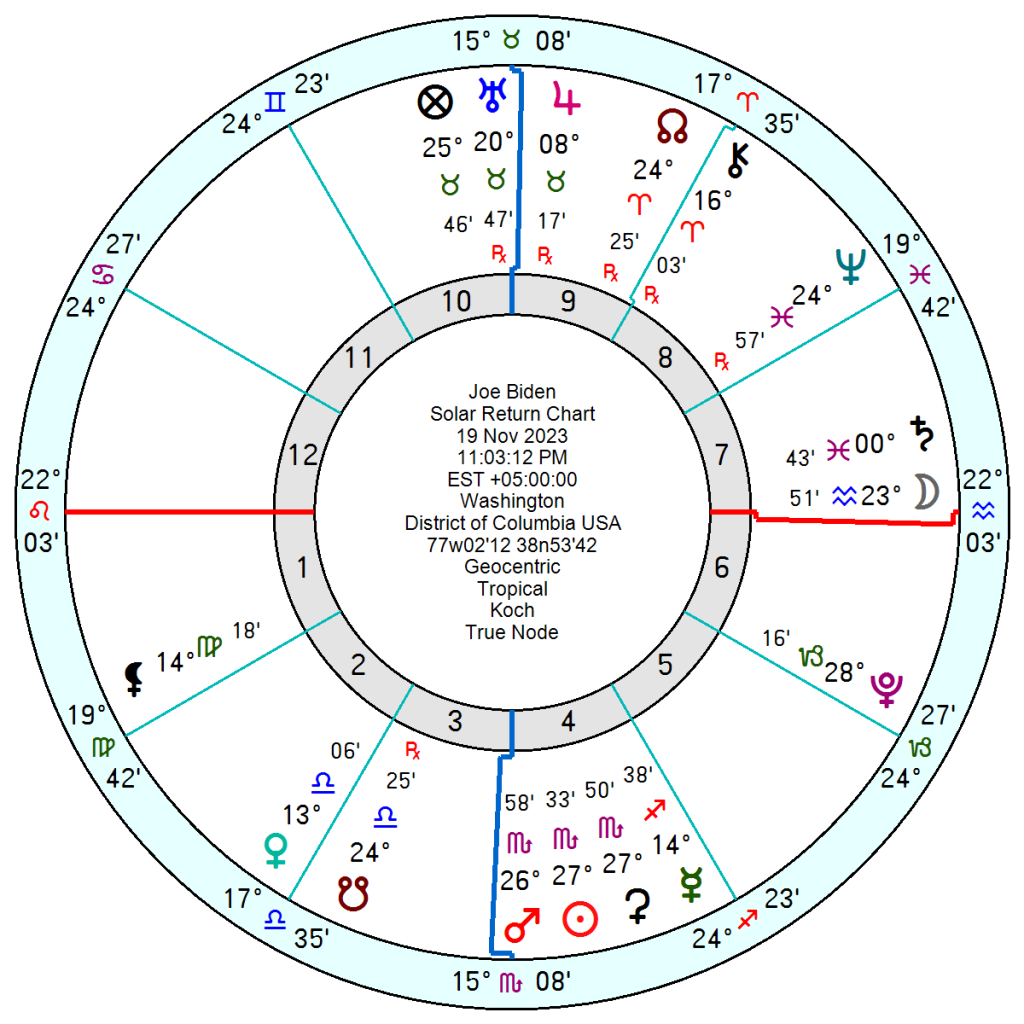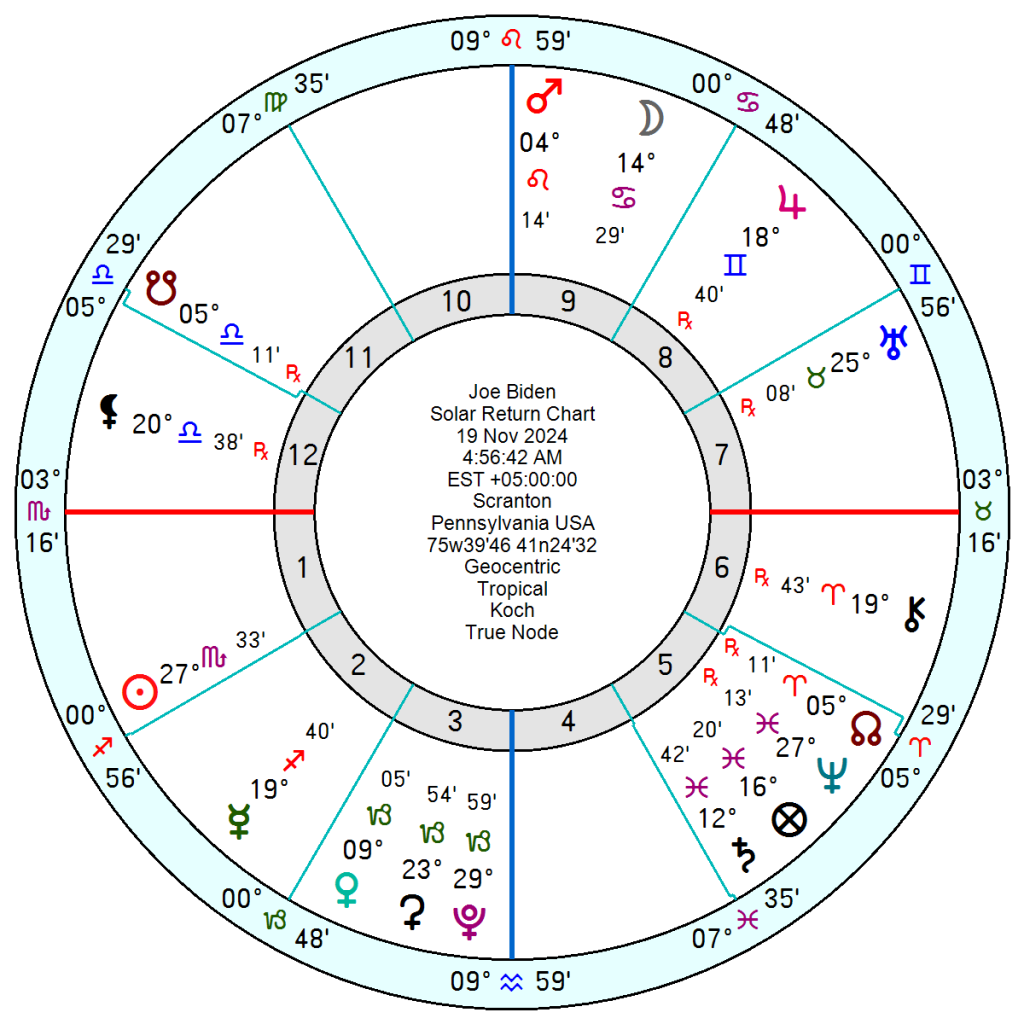 The trickiest phase of Joe Biden's term in office is approaching fast, as questions are being increasingly asked about his health – verbal and physical stumbles, high cholesterol, acid reflux, frequent coughing, osteoarthritis of the foot and spine, and now sleep apnea. Age increases the risk of developing sleep apnea which can lead to cardiovascular disease and other symptoms such as forgetfulness, fatigue and sleepiness as well as sleep deprivation which is one of the strongest causes of cognitive decline. If he stood and won in November 2024, he would be 86 at the end of his second term.
On his 2nd Term, chart the Solar Arc Saturn closes the square to Mars exact in three months but in effect before then (and after for a few months) and then square to Uranus in four months. Followed by the Term Solar Arc Sun closing the conjunction to Saturn, exact in six months. All of which is accident-prone and obstacle-strewn, suggestive of setbacks, explosive and unsettling events, which may not be health-related but an indication of internal or external political turbulence. But a high stress time, for sure.
His personal chart highlights major confusion this month and through July, returning across the New Year into January, and September, October to late November 2024. Late this November to late December looks disaster-strewn, could be ill health or outer calamities. March 2024 will be jangled and high stress, even more so July into August 2024. On the positive side he will rev up his engine confidence-wise from late February 2024 with tr Pluto opposition his Jupiter/Pluto midpoint and that returns late May to mid July, and is in place across the Inauguration – it usually means a hint of success. But at the same time tr Pluto squares his Moon which could suggest a domestic/family or emotional period of crisis and forced change.
He has such a raft of negatives it is tricky to see how it will work out. Through 2025 tr Uranus in his 6th house of health opposes his Sun and Venus for significant change; plus a confused and calamitous midpoint extending through 2026 – which does not suggest clear thinking or resourceful action.
He is enormously stubborn with a stellium in Scorpio with his Mars Mercury in Scorpio square Pluto and his stubborn Taurus Moon also square Pluto.
Solar Returns can be less than helpful at times, though accurate at others. But for what they are worth:
His Solar Return from November 2022 to November 2023 has Sun Mercury in the 6th house of health and work with a nervy Uranus in the 12th and Saturn on the midheaven which can be restrictive.
SR Nov 2023 to Nov 2024 – a held-back, hidden Sun Mars in the 4th opposition a change-of-career-direction Uranus on the 10th square a dependent Moon on the Descendant; with Pluto in the 6th house of health.
SR Nov 2024 to Nov 2025 – all systems-change Sun opposition Uranus; and a frustratingly stuck and enraging Pluto opposition Mars on the midheaven.
Even if he did scrape through, he'll never make it to the end of a second term in any kind of compos mentis shape. The party elders should be exerting pressure except there is no obvious replacement. But there might be if he did the graceful thing and step back.