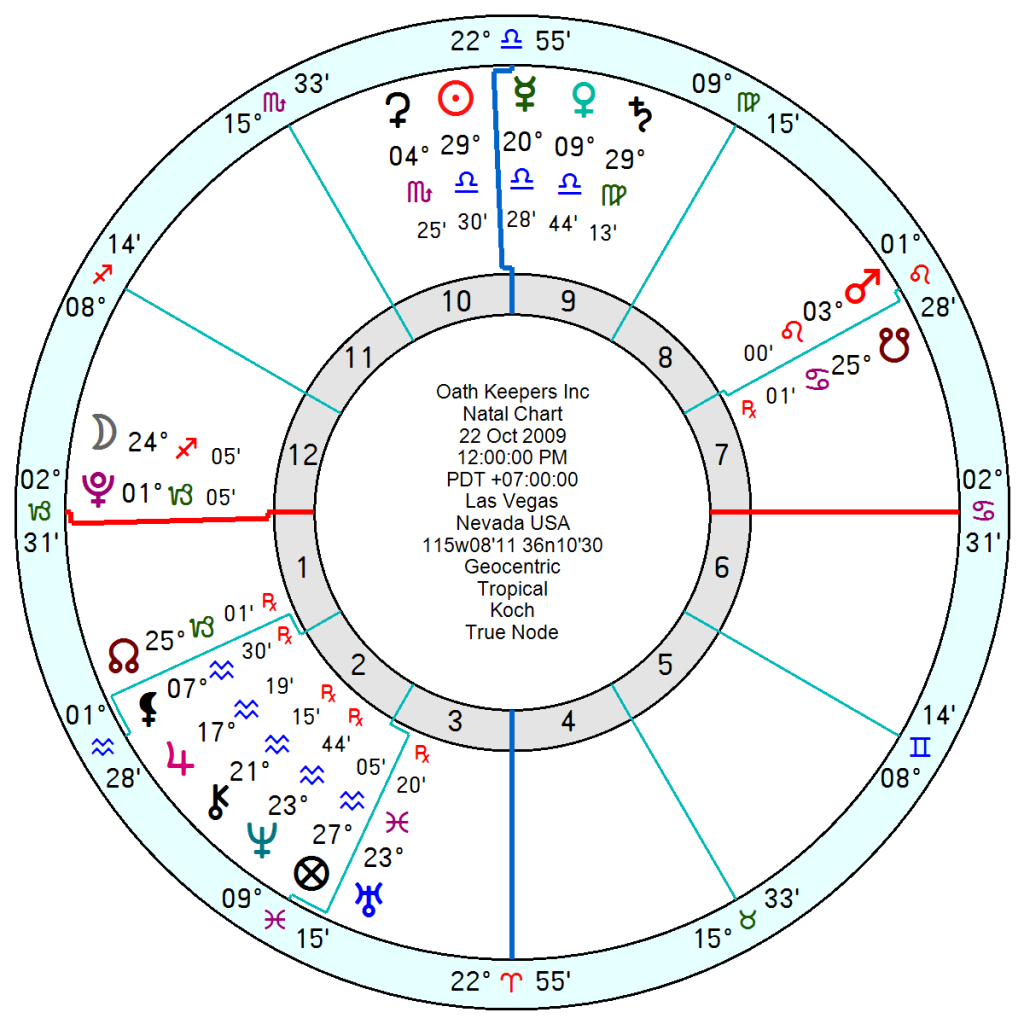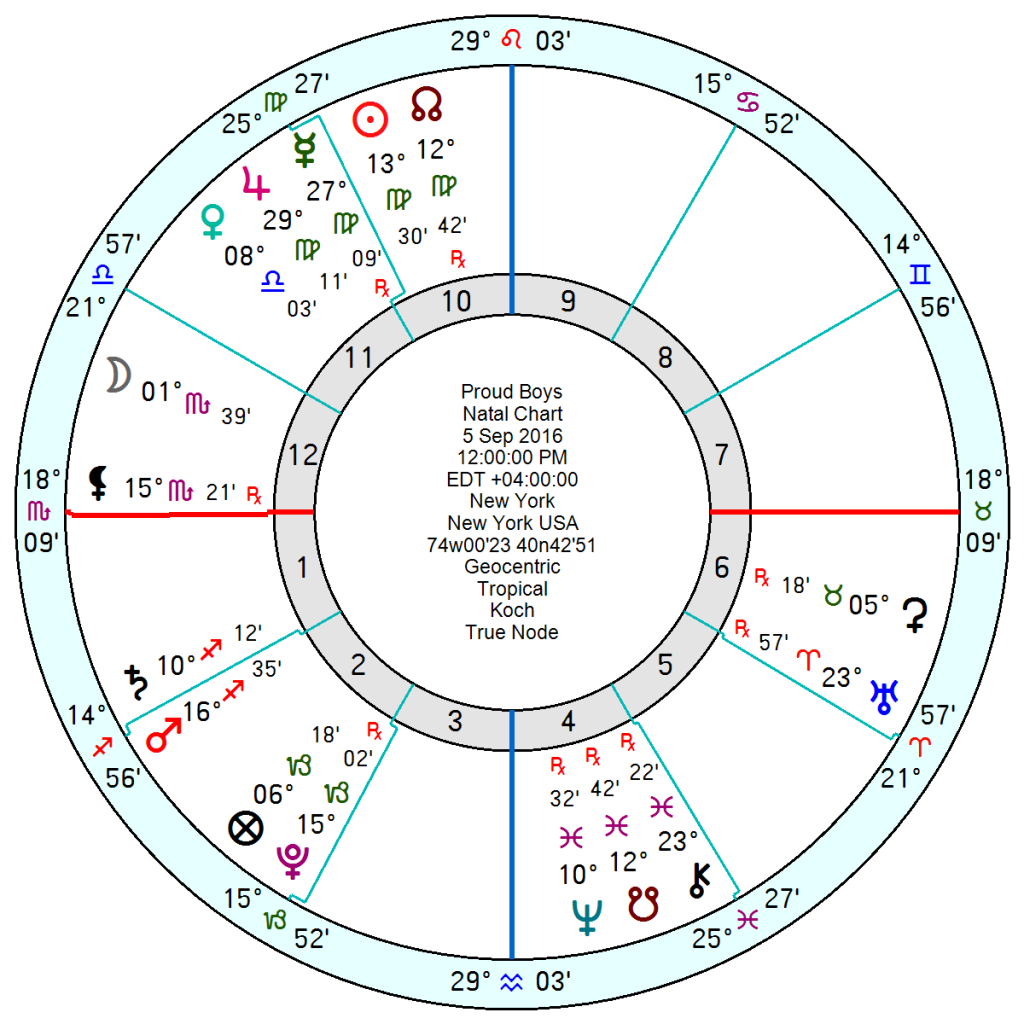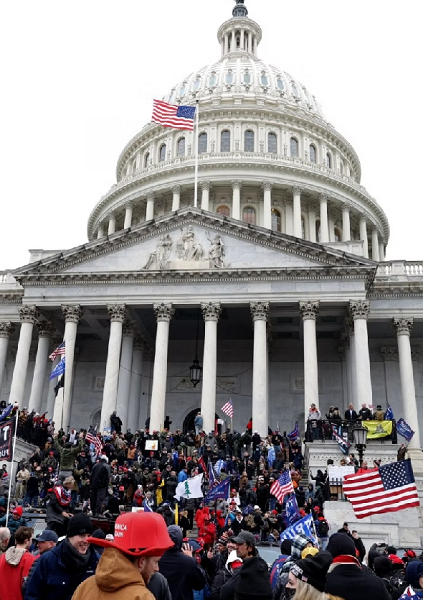 Leader of the far-right militia Oath Keepers, Stewart Rhodes, has been sentenced to 18 years in prison for his role in the US Capitol riot, the longest yet given to a January 6 rioter. Prosecutors had asked for 25 years. Three other members were sentenced to 12 years, eight and a half and four years respectively in jail.
The judge expressed concern about Rhodes' violent rhetoric, including a threat to hang former US House Speaker Nancy Pelosi.
The Oath Keepers was founded 22 October 2009 by Rhodes, no birth date only 1966, and the organization has an aggressive Sun square Mars in Leo which is being ground down by tr Pluto square the Sun in 23/24 and tr Pluto opposition the Mars for a complete dead-halt in 2025 if it hasn't happened before.
The dictatorial, autocratic Uranus opposition Saturn in a controlling and unyielding square to (Moon) Pluto is being undermined by tr Neptune over the next three years. Basic meltdown time.
From a previous post May 5 2023:
The Proud Boys follow the Oath Keepers – both USA far-right, anti-government militia groups – in paying the price for their hell-raising attack on the Capitol on January 6th 2021 with the aim of preventing Biden from taking office. Hundreds of other rioters have already been jailed for their roles in the armed siege, during which one protester was shot dead and hundreds were injured, including more than 150 police officers. One officer who was beaten by Trump supporters died the next day. Four more took their own lives in the weeks that followed.
Several members of the Oath Keepers, have already been convicted of seditious conspiracy and now four Proud Boys' leaders have been convicted in what has become the biggest DoJ investigation ever. The leader Enrique Tarrio was not in Washington on the day of the riot, but prosecutors said he had planned and directed the attack on the Capitol. The jury were told the Proud Boys saw themselves as "Trump's army". Tarrio's defence team tried to put the blame on Trump, claiming the group was incited by the president during his address outside the White House before the riot, when he urged his supporters to "fight like hell". Trump himself faces a criminal investigation into his role in the attack.
The Proud Boys, an exclusively male North American far-right neo-fascist organization was set up on 5 September 2016, which gives a Virgo Sun North Node trine Pluto and opposition Neptune square Saturn Mars in Sagittarius. Mars Saturn has military overtones. A focal point Mutable Saturn is a malcontent and self-righteous; and a focal point Mutable Mars is impatient, inclined to scattergun anger. There is also a more traditionally revolutionary Uranus in Aries square Pluto.
This conviction occurs as the Saturn has moved by Solar Arc to exactly conjunct the Proud Boys Mars – which is a classic collision-setback influence. That chart would certainly fit with the Sibly USA Sag rising chart.
The Oath Keepers, 22 October 2009, is tied into the USA chart through its Capricorn North Node hooking into the USA Mercury opposition Pluto in Capricorn. Its under extreme pressure this year with undermining circumstances continuing into 2024 – with tr Pluto square the Sun for a wipe-out transformation and tr Neptune moving to oppose the Saturn also in 2024.
The January 6th attack happened when tr Pluto Mercury in Capricorn on the Midheaven were triggering the fanatical/rabble-rousing USA Mercury in Cancer opposition Pluto. Worse the transiting Pluto Mercury were square Mars which is ruthless and brutal – and also tied into Saturn in Aquarius conjunct Jupiter which squares Mars Uranus in Taurus. An incendiary moment which lit up the USA chart in quite the wrong way.
The rhetoric is not quite as raucous as it was but Pluto won't clear its transit to the USA Pluto (and Mercury) till the end of this October and being Pluto will take time to wind down. Once the Pluto Return is over and done with perhaps along with mopping up lose ends from January 6th it may be time to wipe the slate clean and see where a rebuild for a new phase can begin.